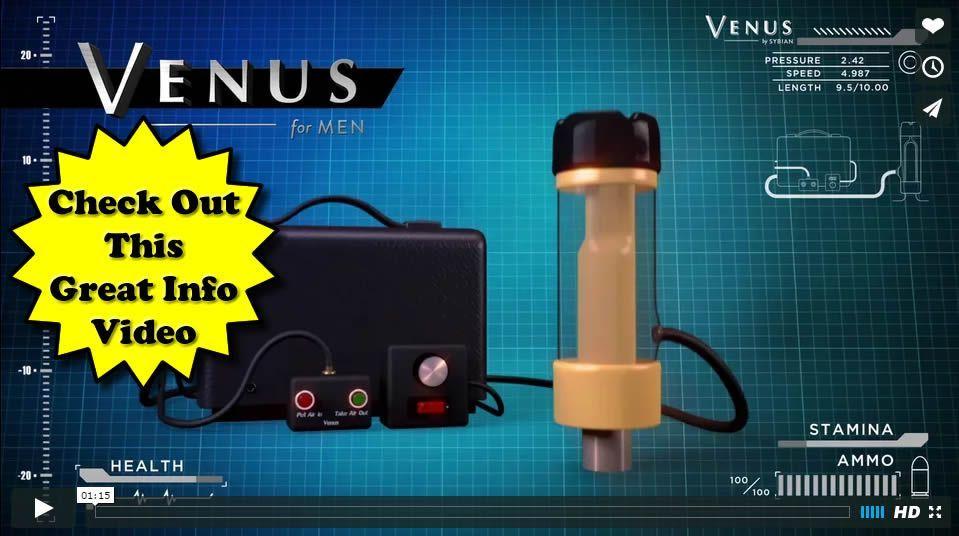 Click the image above to view the great info video from the manufacturers ABCO (opens in a new window).
What Is The Venus?
The Venus uses an electrical motor to move a diaphragm that draws air in and out of the custom receiver into which your penis is inserted. You control both the speed and how much air is moved to alter the sensations produced - more on that in a moment. It works in the same way that a milking machine works and it does so very well I can tell you. As far as male masturbators go, it's at the top of its league.
Delivery
Fmachinefun do an amazing rental service on sex machines like the Venus and Sybian and for the obvious hygiene issues a new attachment is sent with every booking and these aren't returned giving you peace of mind that the one sent to you is in fact a new one and not one that has been "recycled" - Ewww.
The rental machine that I reviewed arrived in a sturdy aluminium box secured with a combination code padlock and once you open it up you can get all of the bits and pieces out. According to Ian if you buy a new one then it is delivered in a very sturdy plain tri-wall cardboard box with absolutely no indication as to its contents on the outside.
Delivery was by a mainstream courier and I was given a one hour delivery window which was great as it meant that I didn't have to stick around all day. One point of note though is that I didn't get a one hour window for the pick up but that wasn't a problem for me.
Features
The Venus comes with a custom fitted receiver. You need to take five intimate measurements of your penis and whilst this sounds onerous it is very important (I can't stress that enough) as the receiver needs to be a snug fit to enable the Venus to work correctly so no exaggerating guys! Basically they are several girth measurements together with a length measurement. You can see which ones are required HERE.
The Receiver is a clear perspex tube that has a natural rubber liner running through it. This is where you slip your happy chap in and at one end is a black cap with a one way valve that lets air out of the tube when you slide in. One side of the tube has a connector for a large hose that runs to the Venus.
There are actually three types of receiver and these are the normal masturbator, a penis enlarger variant called the "Pump" and a head/nipple massager set that is much smaller.
I received a masturbator receiver to review and this is the most common one in use as, lets face it if you get one of these then you are probably doing so to use it for masturbation. The fact that it can also be used as a penis enlarger is an added bonus in my book.
ABCO the maker of the Venus also produce a textured stroke sleeve that can be fitted inside the receiver for added texture and stimulation if you need it.
By far the largest component is the Venus itself and it measures in at 6"(15cm) x 8"(20cm) x 9.5"(24cm) and it weighs 5kg (11 lbs). It is basically a large black box with some connectors on the front and these are for the power cable, the speed controller and two connectors for vacuum hoses. The large hose goes to the Receiver and the small one goes to the Vacuum Control Box. It was a bit intimidating connecting everything up but actually there is nothing to it and as all as the items can only fit onto their respective connector you really can't go wrong.
Use
So how did the Venus perform? I must admit to being very excited at the thought of using it on my stunt cock and for this first test I wanted to be in complete control so out came the wrist and ankle cuffs, a gag and a blindfold. I immobilised him up against a door and got the Venus ready by applying lots of water based lube (Sliquid Naturals H2O) to the inside of the receiver and also to his by now hard cock.
He was obviously looking forward to it as well as he already was sporting a nice erection. After some teasing by whispering in his ear what I was going to do I switched the power on and the Venus came to life. Looking inside the receiver I could see it opening and closing in time with the motors revolutions and I experimented by speeding it up and slowing it down again. It can go from 8 rpm to an amazing 300rpm. I slid two fingers inside the receiver and it felt very good indeed and I teased my stunt cock by telling him exactly what I was doing.
I let the tip of his cock enter the receiver and it was quickly sucked in to the hilt and the receiver then started sliding back and forth along his cock totally hands free. I loved the sight of it and his moanings told me that my stunt cock was definitely enjoying the action. I just stared at the receiver sliding back and forth thinking to myself that this really must feel good.
Experimenting with the air remote buttons I added and removed air from the system to alter the length of stroke. It was very easy to go from long gliding strokes to short ones just by pressing the buttons on the remote. The second remote speeds up or slows down the action and I really enjoyed playing with both remotes alternating the sensations for my stunt cock.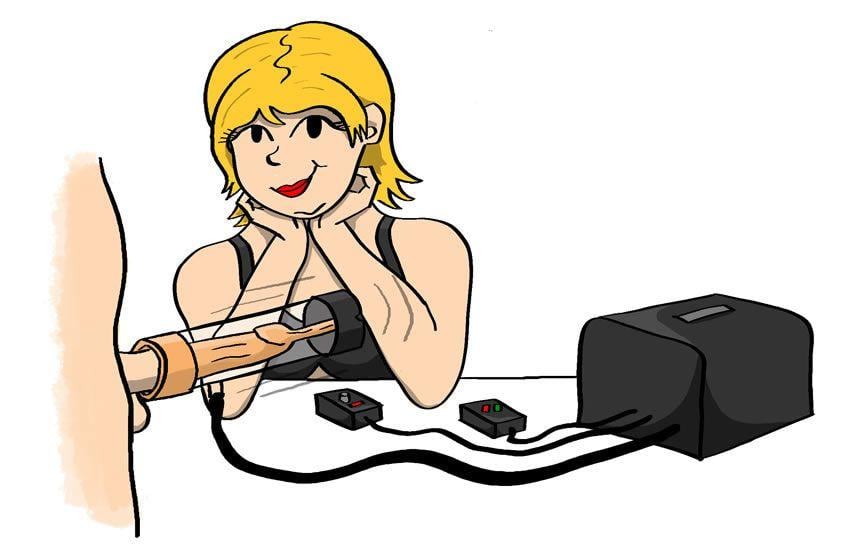 I cranked up the speed and needless to say it didn't take him long to have literally a knee trembling orgasm and the Venus just carried on milking him dry right through his orgasm. I only stopped it after it looked like his legs would actually give way. I was amazed at how powerful his orgasm was, talk about a "knee trembler".
The first words out of my stunt cocks mouth when I took the gag out were - "F*#!%ing hell that was incredible".
Now he had obviously blown his load into the receiver so it was time to see how easy it is to clean.
No body fluids get into any of the Vacuum tubes and cleaning the Reciever is very easy to do as you can strip it down and wash it under a tap before re-assembling it again. I recommend using warm water and a sex toy cleaner.
You just pull off the hose and refit the nipple cover to the connector on your receiver. Take it to a sink and then remove the black cap from the end. You can then flush the receiver through and clean it out or you can strip it down completely. If you buy a Venus it comes with a holdall for the pipes and receiver and a cleaning kit that consists of a soft long brush similar to a babies bottle cleaning brush. You don't get these with a rental machine because I guess you could never clean them properly between users. Cleaning was very easy but make sure that the inside of the receiver is dry before putting it away.
Make sure that the small metal vent in the receivers end cap is clean. Add a drop of WD40 to it but don;t let it come into contact with the liner material. Use a toothpick to make sure that the ball valve is clean and free to move. The WD40 helps keep it moving and also helps lube and body fluids sticking to the inner workings of the valve whern you wash it.
Performance
Well I was very impressed and every time that we have put it to the test it has done the trick and what surprised me the most was just how controlable it is. This little machine would be perfect in any dungeon and is ideal for domme/sub play. Yes it's great on your own but if you hand the controls over to someone else it can be one hell of a wild ride.
I think at this point I should hand over the reigns to my stunt cock so that you can get his perspective on what it actually feels like.
"I would like to point out for the record that I don't usually blow my load in under two minutes but that is how long I lasted whilst enjoying my first taste of the Venus. This thing has really opened my eyes about how good male masturbators can be. Yes Fleshlights are a lot of fun but this thing is really in a league of its own and on a fast setting with a long stroke it literally tries to milk you until you feel like it is going to suck your balls through the tip of your cock. I have had many great orgasms with the Venus and I don't care what Joanne wants next in terms of sex machines, we are going to be getting one of these. I really can't fault it. The custom fit receiver feels great and it's also easy to clean. Make sure that you use lots of water based lube inside the receiver. The performance of the Venus is eye wateringly good."
The only downside to the Venus that I can think of is all the pipes and wires but that can't be helped and the design can't really be improved upon. It is quiet in use even on the faster settings and I do believe the manufacturers advice that it can help build stamina and control, it is really easy to control and a hell of a lot of fun.
I want to try out a set of the nipple suckers as I love having my nipples sucked but what I am really interested in trying is placing one of them over my clit to see how that feels.
Key Features
Key features:
Quiet smooth operation
Personalised (sized) masturbator
Easy to control
Multiple uses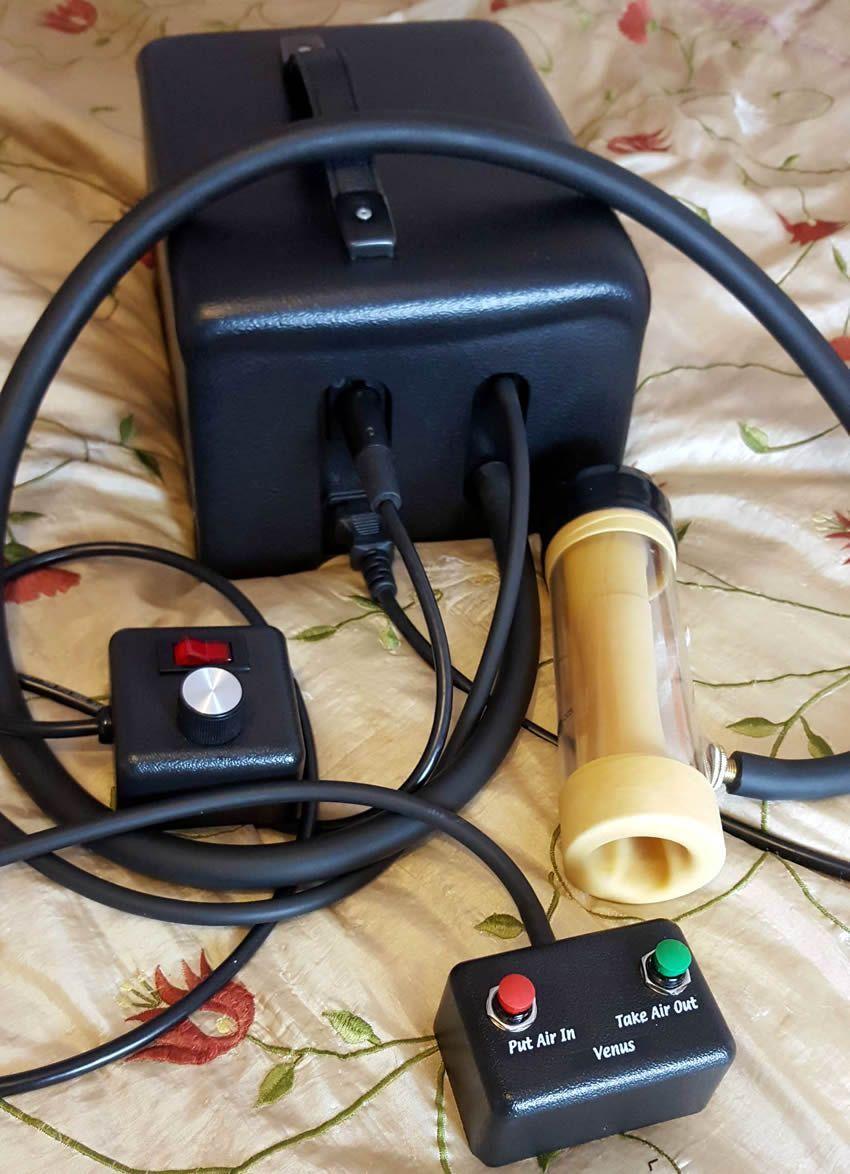 Final Thoughts
This is the first male masturbation machine that I have reviewed and I am very impressed. I'm not surprised at how good it is though coming from the makers of the Sybian - my all time favourite sex toy. It is expensive but you do get what you pay for in this world and this is the best male masturbator that I have seen and tried and believe me I have done a lot of research into this field of pleasure.
If you don't want to buy one or fancy trying one first then check out Ians amazing rental service and you can use the discount code JOANNE5 to get 5% off a rental booking or the machine itself. If you go on to buy a machine after renting one from him he gives you a discount of half of what you paid for your rental booking so its a good way to try before buying.
Recommendations
I would recommend this sex toy to:
Anyone looking for a hands free masturbation method.
Anyone looking for lots of control and personalisation.
Anyone looking for a masturbator/developer.
I wouldn't recommend it to anyone who:
Doesn't like suction coupled with movement.
Joanne's rating
Where Can I Get One From?
In the UK you can try or buy a Venus from fmachinefun.co.uk, a 3 day rental booking would costs £85 plus the courier fee and you get to keep the receiver at the end of the booking. Future bookings have a large discount as their is no need to send another receiver.
If you live in the US or Canada then check out venusformen.com
I was sent this toy in order to review it and this review doesn't contain any affiliate links.
I would love to hear what you thought of this review. What can I do better, what did you like? Let me know in the comments form below. Thank you for taking the time to read it. Joanne xx