As usual, this product arrived from Bondara under very plain cover, and it arrived very quickly after dispatch. It is good to know that Bondara takes customer discretion very seriously. After you open the plain packaging box you get to see the dildo in its own box.
The Velvet Touch Silicone Realistic 8 Inch Dildo comes in a very plain Bondara branded box. The dildo is held inside sealed in a plastic pouch so that you can be assured that no-one has tampered with it in any way.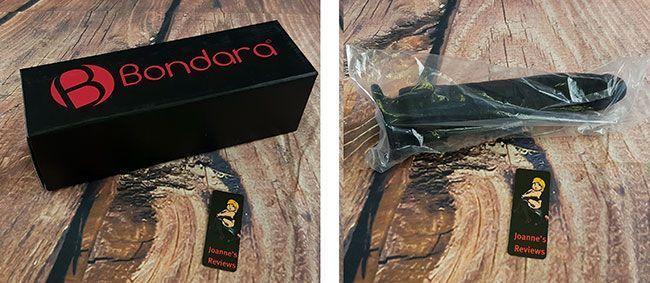 The dildo is packed in a Bondara branded black box in a sealed plastic pouch
The dildo is made out of body safe silicone, a material that in my opinion is the best choice for insertable sex toys. It is totally non-porous unlike jelly or TPE materials and is latex and phthalate free. Silicone dildos can be easily sterilised in a 10% bleach solution or even by boiling. If you boil this dildo, then wrap it in a tea towel to keep the silicone away from the hot pan sides. This is how I sterilised it after reviewing it so that sub'r' could give me her opinion on it.
The silicone blend is a lovely one, squeezing it in your hand will cause it to squish nicely, and you can almost fold it in half as it is very flexible.
It isn't a huge dust and lint magnet, but like all silicone sex toys, it does collect a bit of fluff. This is an incredibly cheap dildo retailing for £16.99 (£12.49 on sale at the moment), and so I didn't expect a storage bag to be included so here is a little top tip. Once you have cleaned it in warm soapy water and used an anti-bacterial sex toy cleaner on it make sure that it is totally dry and then store it in a sealable sandwich bag until you need it again. This will keep the dust and lint off it, and it will be ready for use at a moments notice when you get the urge to pleasure yourself with this beautiful silicone phallus.

The blend of silicone used in this dildo is really nice
The base of this dildo features a fantastic suction cup with a recess obove it suitable for strap-on 'o'rings, so this dildo is also ideal for pegging or strap-on fun and games. The suction cup is powerful, and after using it one evening, I simply stuck it to a mirror overnight before cleaning it properly in the morning. It held fast and was actually difficult to remove, so the suction base gets a huge thumbs up from me.
So this dildo isn't just a run of the mill dildo, the suction cup also means that you can stick it to a shower cubicle wall for some serious shower fun or even stick it to the bottom of the bath - to stop yourself sliding around for safety of course.
The shaft has a lovely gentle upward curve to it, and this gives you a little g-spot pressure as you thrust with it, nothing too intense but you can feel the glans of the dildo rubbing your g-spot as it slides in and out.

The gentle upwards curve on this dildo gives nice g-spot pressure
The veins on the shaft are subtle, and I usually enjoy more pronounced textures on my dildo, but I found these very pleasant indeed. This dildo is 1.5"/3.8cm in diameter which makes it a relatively slim dildo, it is 8"/20.3cm of which just 7"/17.8cm is insertable.
The glans on the dildo has a nice tapered tip that aids insertion and the coronal ridge is well-formed giving great stimulation as you thrust with it.
I really enjoyed taking it all inside me, but it was when enjoying some high-speed thrusting by hand that I really got the most benefit from it. The feeling of the glans rubbing my g-spot coupled with the high-speed movement was terrific. I came hard and almost squirted, but I didn't quite get there.
I then fitted it to my flat plate dildo adaptor on the Shockspot fucking machine to see how it would feel on a fucking machine and that blew me away, and yes I squirted that time. This is a surprising little dildo that I thought wouldn't fit in with my style of masturbation, but it did. I love the fact that it isn't a challenge to insert and it's great for long slow, lazy wanks as well as high-speed action.


This is a dildo that is great for fast thrusting due to its gentle features
After sterilising it, I gave it to Stunt Cock to pass on to sub'r', and she had a fantastic time with it too. She also squirted, but that may have been because it was Stunt Cock using it on her, but round two saw her squirting at her own hands as well. She commented at how nice it felt in use especially when thrusting with it.
Now I am not saying "this dildo will make you squirt" but as both of us can squirt this dildo did the trick for both of us. It feels fantastic in use, and it doesn't leave you sore afterwards due to its relatively smooth surface and small cross-sectional area.
This dildo is also available in purple for those that don't want to go to the dark side. I think that the purple one looks gorgeous.

The Velvet Touch Silicone Realistic 8 Inch Dildo is lots of fun and fantastic value for money
This suction cup dildo from @Bondara is great for thrusting and ideal for strap-on play.
Click to Tweet
Key Features
Key features:
Body safe silicone, phthalate and latex free
Strong suction cup base
Suitable for strap-on harnesses
7" insertable length
Final Thoughts
I am delighted with this little dildo, it is so much fun to use, but most importantly it is a body safe silicone dildo that is incredibly cheap at the moment as it is on sale. Even at its full price, it is a bargain.
It is so functional, not only do you have a dildo great for thrusting but the suction cup gives you so many more play opportunities and as it is strap-on compatible that also gives you more options.
I usually prefer dildos with lots of texture, and this one has given me pause for thought, it feels so nice when thrusting with it and even its subtle textures feel great.
If you are looking to add a fantastic new addition to your sex toy collection, then this is one to consider, and both the purple and black ones look great.
I was sent the Velvet Touch Silicone Realistic 8 Inch Dildo by the lovely Annabel at Bondara and I would like to thank them for giving me the opportunity to review it for them.
Joanne's rating
Where Can I Get One From?
Grab one of these fantastic Velvet Touch Silicone Realistic 8 Inch Dildo in Black from Bondara for just £12.49, they are currently on sale when I published this review and usually cost £16.99, so if you are quick you can grab a bargain.
Bondara has a huge range of BDSM products, sex toys, lingerie and accessories and it's definitely worth checking out their site. If you have never shopped with them before you can get upto 15% off on your first order.
Check them out and don't forget to tell them that Joanne says "Hi".
Disclaimer - I was sent the Velvet Touch Silicone Realistic 8 Inch Dildo in Black to review free of charge and this has in no way affected the outcome of this review. This post contains affiliate links and if you purchase something when you follow one of these links I may receive a small commission at no cost to you. For more information check out my disclosure page.