About Bad Dragon
Bad Dragon have a great reputation for producing quality silicone fantasy sex toys, their range and service is second to none. They were founded in 2008 when there weren't many fantasy sex toys available and have carved their own niche in the market place. They offer extensive customisation of their products in terms of their choice of colours, material firmness and even custom colours.
They also offer the option of the CumTube on several models and this allows the toy to shoot out CumLube (or any other liquid), Bad Dragon's own range of personal lubricant to simulate a creampie.
They push the envelope in terms of materials and technology and are now market leaders having earned their well deserved reputation for customer care. They have an army of loyal fans, of which yours truly is one of them.
Delivery
All of the Bad Dragon sex toys that I have bought in the past have been adoptions, which is the term used for ready made off the shelf buys and this one is the first custom toy so it wasn't delivered as quickly as my previous buys. That isn't a problem as remember this was a custom cast and I chose my own colours and material densities. It only took about two weeks to arrive from the US which is great.
As ever the packaging was nondescript, the outside of the box was very discreet and once opened the Bad Dragon fantasy begins with nice packaging that you open to reveal your new toy. Bad Dragon also sent me a bottle of CumLube together with a pin badge and a lanyard. I will be wearing these with pride to the next convention I attend.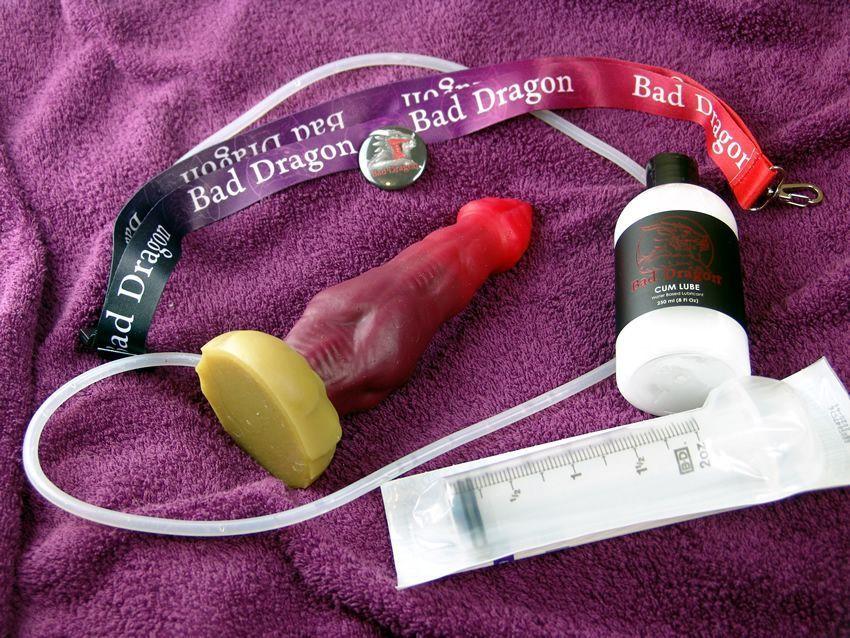 Features
This Vasu the Naga dildo is made form 100% body safe platinum cure silicone in two densities. The base is made of a medium density blend whilst the body of the dildo is soft silicone. This means that I can easily mount it to one of my Fucking Machines by mounting the base to a universal mount/a, the dildo is very soft which is great as these machines can really give you a good pounding.
I decided to go for the standard colour for the Vasu which has a sandy colour to the base with a deep purple shaft which transitions into a post box red at the tip of the dildo. The way that the colours blend into one another is seamless.
The vasu is a lovely shaped and colourful toy. Like most silicone toys it is a dust and fluff magnet so make sure that you keep it inside a bag between uses to avoid it collecting fluff. Top-Tip - I use resealable sandwich bags and they are great for this purpose.
My medium is 8" (20.3cm) long and the head is 1.55" (4cm) in diameter and the knot is 2.2" (5.6cm) in diameter. The table shown below details the sizes available and their dimensions, there is one to suit everyone.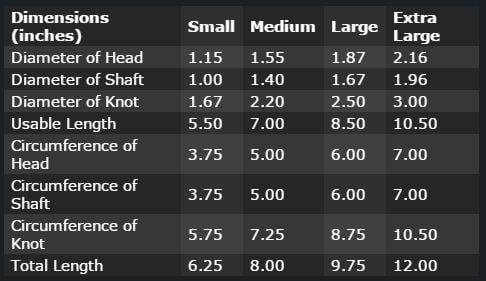 The shaft is incredibly flexible and it's possible to actually fold this dildo in half. There's a good deal of 'squish' when squeezing this toy and that makes it very comfortable in use.
This is a good size toy for me, large enough to enjoy without stretching me too far, that said I couldn't quite fit the knot fully inside, so that's something I will need to work on. The ribs might look slight but give great texture in use.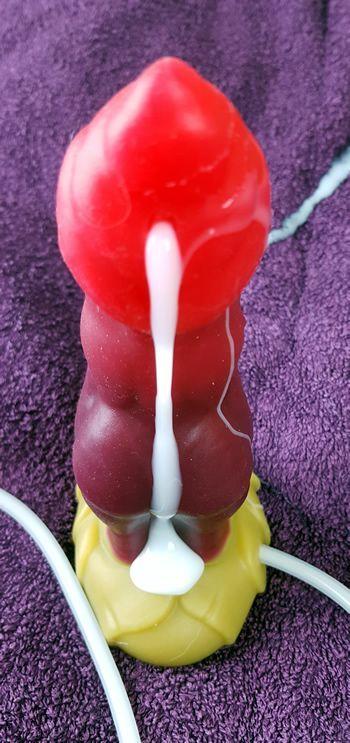 A definite plus with this toy is the tapered tip as it allows for further penetration than most standard shaped dildos, giving an extra sensation as it hits my cervix and runs under it. It's a really pleasant sensation that I love and I will be looking out for more pointed soft dildos to try.
The cumtube is another added bonus, the tube is long enough to make it easy to use without it getting in the way. The syringe fits tightly over the tube, which means that when fitted correctly, it doesn't fall off, so that's something you don't need to worry about.
The syringe is large, making it very easy to use with one hand, just don't push down too hard if you only want a little lube to come through the dildo. I love cum play and the CumTube really brings this toy to life and makes things really easy on a Fucking Machine as you don't dry out.
Cleaning is very easy, just don't dry it on a towel or any other fluffy surface. To clean the cumlube tube, simply empty the syringe, then fill it and empty it several times with warm water. Then fill the syringe with clean warm water, fix it onto the cumtube and flush the cumlube from the cumtube to clear it through.
One word of caution though, make sure the dildo is facing down in the bath or sink, especially if you forgot to clean out the tube a few days ago. Once the pressure builds up, it does squirt quite far, and cleaning up this lube from the wall is not as easy as you would like, due to it's stringy texture.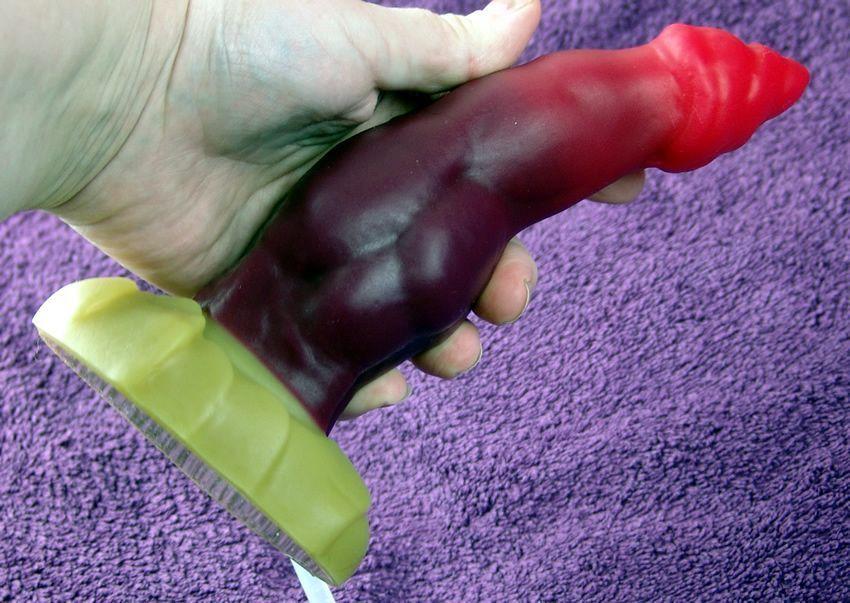 Use
The first time I used the Vasu it was by hand. I filled the syringe with CumLube and attached it to the cumtube, depressing the plunger until a trickle of the cumlube came out of the end of the dildo. I rubbed this into my pussy lips and clit and it felt really nice.
I was really ready for this toy and could have got away with not using any lube at all and pressing it into my pussy was very easy and it effortlessly spread my labia and entered my vagina. I loved the feeling of the tapered tip gently teasing me open and it didn't take me long to get the head of the dildo inside. I love the various diameters and textures on this toy and enjoyed pushing it even further home.
Some toys can actually hurt when they come up against my cervix but the Vasu was different, I felt the tip touch me there and then it slid under my cervix so I could get even more of the toy into me. That felt amazing and I almost managed to get the knot inside but alas I couldn't.
I'm sure I will eventually though and it gives me a good excuse to keep trying. The knot is very wide and feels amazing.
I love the different levels of stretch that you feel with this toy as you fuck yourself with it as there is such a disparity in diameters along the toy, and this feels amazing.
I really got turned on though when I pressed the plunger on the syringe a bit and made the toy fill my pussy with cumlube. Everything suddenly got wetter and sloppier and this feeling sent me over the edge into a great orgasm. Upon pulling the toy out I was left with a well fucked pussy that was dribbling cumlube as if I had just received the worlds biggest creampie and that was a very horny feeling too.
The nice and wide base makes riding the Vasu very easy as well as being a great handhold.
Fucking Machine Friendliness
My second session saw me fitting a Universal Dildo Mount to my Shockspot Fucking Machine and I used some medical cohesive bandages to secure the dildo to the mount. I primed the cumlube syringe and then got into position with the dildo angled correctly to be able to give me a good seeing to.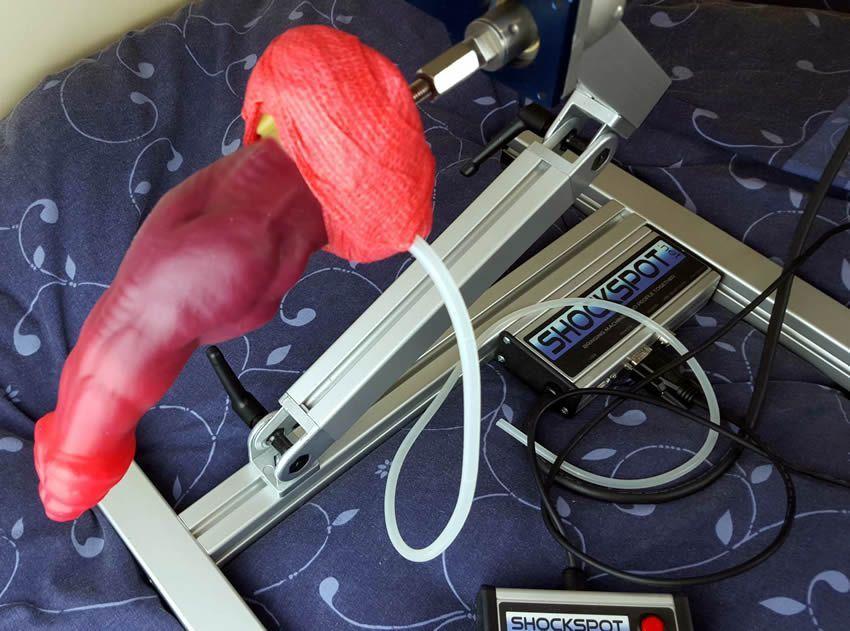 I was using the machine manually and so I adjusted the depth of penetration dial to slowly make the dildo slide in as far as I could take it before I set it to a long stroke and then adjusted the speed dial before pressing the on button. The machine sprang into life and I just laid back and enjoyed a long slow fuck with the tip of the dildo rubbing against my cervix before almost withdrawing completely.
I regularly operated the cumlube syringe to fill myself with cumlube and I felt it trickle out and run down over my bum. The added wetness caused all sort of wet squelching noises to be emitted from my vag which was a tad embarrassing but it felt incredible.
When I was ready to come I ramped up the speed before stopping it dead deep inside me as my orgasm washed over me, I also pumped the rest of the cumlube into my eager pussy at this point and I gave myself two orgasms one straight after the other and it felt incredible. I just lay there for what felt like ages with the Vasu buried deep inside me and cumlube trickling out of me - it must have been quite a sight LOL.
Performance
I can't fault the Vasu at all, it really is a superb dildo and a lot of fun by hand or on a Fucking Machine. The base is easy to hold and the variety of diameters on this dildo together with the great textures make it feel incredible in use. I will continue using it in order to take the knot as doing that on the Elden dildo I have feels incredible.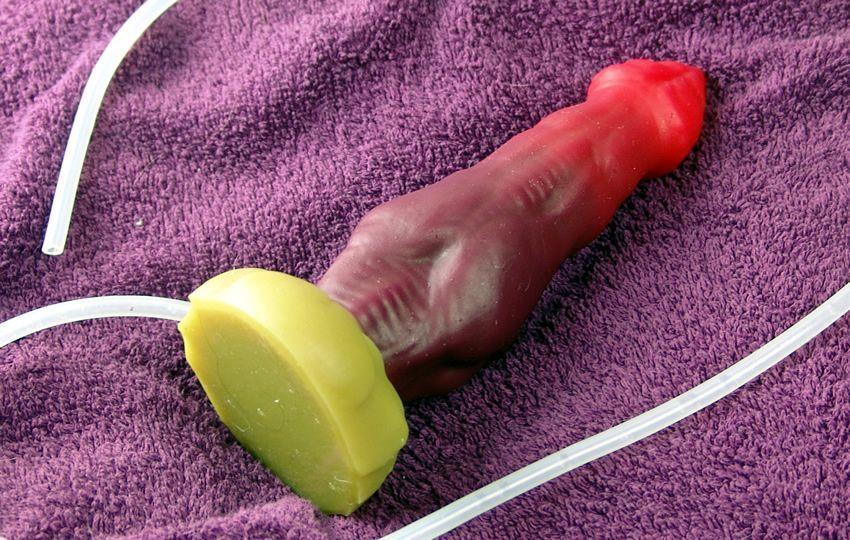 Key Features
Key features:
100% body safe platinum cure silicone
Choice of firmness ratings, I opted for a medium base and soft shaft
Great texture and different diameters
Flexible
Cumtube for creampie fun and games
Final Thoughts
Every sex toy that I have used from Bad Dragon has been exceptional and this one again lives up to my expectations. It is made out of very high quality body safe materials and if you love fantasy dildos then you will love this one, I particularly like the soft pointed tip and the cumtube.
Recommendations
I would recommend this sex toy to:
Anyone looking for a body safe silicone dildo that can ejaculate.
Anyone looking for a fantasy dildo.
Anyone looking for a dildo with a knot for fantasy tie play.
I wouldn't recommend it to anyone who:
Joanne's rating
Where Can I Get One From?
You can get the Vasu The Naga from Bad-Dragon.com from $55, it's a very reasonably priced body safe sex toy. Check out the amazing range of fantasy dildos and masturbators available from Bad-Dragon.com.
I was sent this toy in exchange for a fair and accurate review of it and this review contains no affiliate links.
I would love to hear what you thought of this review. What can I do better, what did you like? Let me know in the comments form below. Thank you for taking the time to read it. Joanne xx