I bought my fucking machine adaptor from www.fmachinefun.co.uk
---
Delivery
The adaptor arrives quickly in a small cardboard box bearing no indication as to what was inside. Ordering to delivery time was 48 hours.
Features
I have tried other "universal" dildo adaptors in the past but they have all fallen short of my expectations, being either too complicated, difficult to look after and clean or they just didn't work as the dildo would fall off. I am delighted to be able to report that this one does infact do exactly what it's supposed to do and it's just so simple. The adaptor plates are made in the US and imported by www.fmachinefun.co.uk.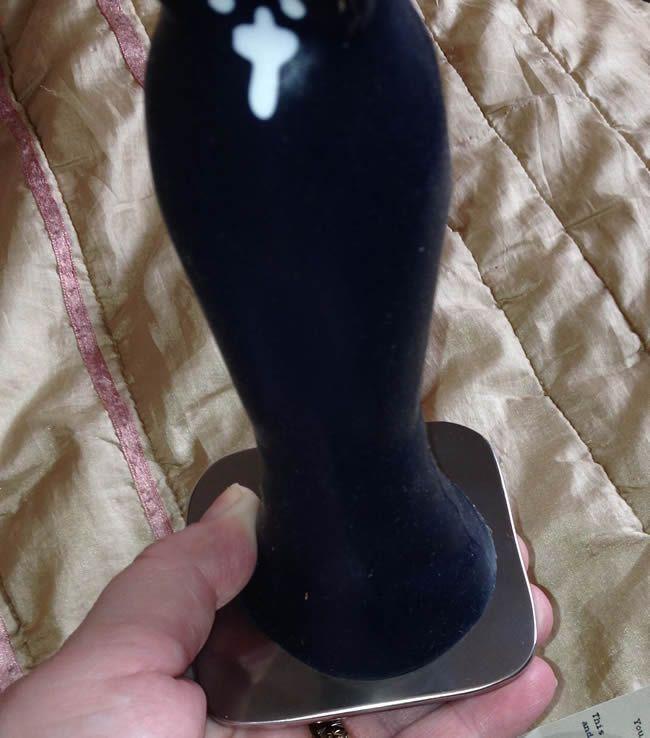 The system consists of a stainless steel plate that is 3 inches (7.5cm) by 3 inches (7.5cm), a smaller one is also available. This gives you an area that you can attach suction base dildo to or any other type of dildo. A bolt is welded to the back of the plate and this goes into a female adaptor, this adaptor is then used to secure the assembly to your fucking machines thrust rod. It has an 8mm thread and so is compatible with the F-machine, the Gigolo and the Shockspot. A locking nut is fitted to the thrust rod to enable you to clamp everything together using some spanners (not supplied). I usually just do this nut up hand tight and it's fine for me.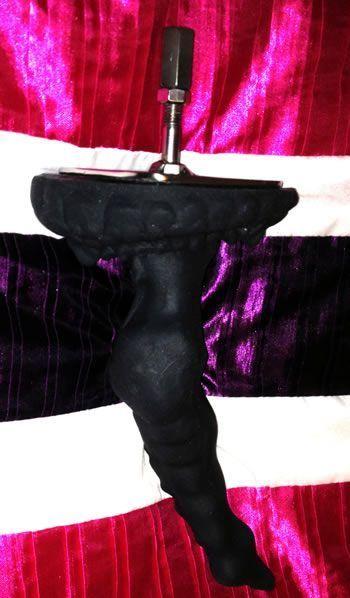 This system comes with a roll of medical cohesive bandage which is used to wrap around the base of the dildo and the adaptor to secure them to each other. The cohesive bandage is stretchy and sticky so it binds to itself. It doesn't leave any residue on your toys which is good to know.
Simply wrap the bandages tightly around the base of your toy and the adaptor before tearing it off from the main roll and smoothing the remaining bit down. It will hold the dildo tightly in place ready for action.
The bandage is re-usable as you can unroll it after your session and roll it round something to use again. I would advise against this though is it isn't expensive and you can't clean it between uses so i would always recommend using a fresh section of cohesive bandage.
Cohesive bandages are available in lots of different colours from chemists, vets or from www.fmachinefun.co.uk.
Use By Hand
You can remove the adaptor from your fucking machines thrust rod and continue to use your dildo by hand but why would you want to do that when you have gone to all of the trouble of mounting it. The option is there though should you want to do so.
Performance
Now here is where it really gets good. I can now use all of my dildos on my fucking machines and that gives me some incredible playtime opportunities
One of my favourite uses of this adaptor is to use it to mount my Bad Dragon Flint dildo which allows me to fuck myself with it hard and fast to an amazing orgasm. I make the dildo ejaculate inside me as I slide over the edge into the mother of all orgasms using its cumtube and some cumlube or Spunklube Pink.
Trust me a Bad Dragon dildo going in and out at four thrusts a second followed by a sticky creampie will do it for me everytime. I love feeling it all trickle out of me after sliding the dildo out of me.
As long as you tightly wrap the cohesive bandages around the toy and base of the adaptor it won't fall off. This technique is only good for dildos with a flared base though. I have another adaptor for straight dildos and vibrators that I will be reviewing separately.
Key Features
Key features:
100% Stainless Steel
Easilly mount flared based dildos
Cohesive bandages securely attach the dildo to the adaptor
Use all of your collection on your machine
Final Thoughts
I love this adaptor, it has meant that I am now not stuck with the Doc Johnson Vac-u-lock range of sex toys but I can pretty much mount anything on my machines and my favourites are my Bad Dragon dildos.
The universal adaptor costs £42.95 and it comes with a roll of cohesive bandage.
Where Can You Get It From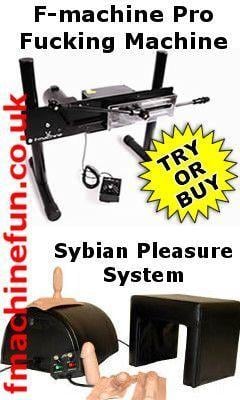 www.fmachinefun.co.uk

This is the site that got me interested in Fucking Machines and Sex Machines and they are a firm favourite of mine for their customer service and great down to earth attitude. Nothing is too much trouble and they are very helpful and a great source of information on sex machines in general.
They are the people that I rented a Sybian and got my F-Machine Pro from.
For anyone interested in trying a Fucking Machine or Sybian out before spending a lot of money on one it makes a lot of sense to check them out. Feeling kinky? Try out a sex machine for yourself in the comfort of your own home.
They run both a shop and a great rental service where you can hire a F-Machine Pro or a Sybian to use in your own home and I can attest to the discreet service that they provide. They include new attachment with their rental machines and you get to keep them so you are safe in the knowledge that they aren't recycling them "Eeew what a thought".
Check them out and don't forget to tell them that Joanne says "Hi".