I was again delighted with the delivery of the machine from sexmachines.co.uk, it arrived quickly and under plain packaging. Everything that I have received from sexmachines.co.uk has arrived discreetly and efficiently.
This is a machine that doesn't come in a posh retail box; you get a plain cardboard box which is fantastic for discretion when you are taking receipt of your new sex machine.
The first thing I did before even assembling the machine was to read the instructions. This is a machine that is so simple to put together that you probably don't even need to understand the manual as it is simplicity itself. However, I always recommend reading the manuals as they contain very pertinent safety information.
The uFuc Pro is securely held in two layers of foam padding to ensure that it arrives with you undamaged, The top layer carries the fucking machine, and the lower section has the base, legs and control box.
Assembly
I managed to put the machine together using just the tools supplied (a spanner and an Allen key) in under five minutes. It was a very easy process.
The manual contains clear colour pictures of the build process, and it is very straightforward to follow so well done sexmachines.co.uk on that point.
You just use the four Allen headed screws to secure the legs to the solid base and tighten them with the Allen key. The base is made out of solid steel, and it is very weighty. This is important as it gives the machine great stability in use.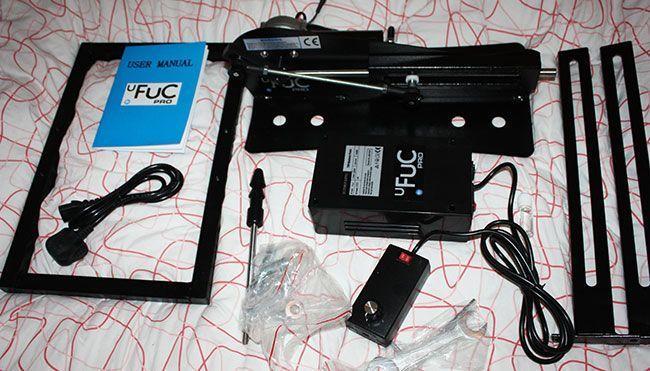 Putting all this together is a lot easier than it looks
Once the legs are upright, you offer up the fucking machine and then fit two locking handles and washers. These adjuster handles allow you to quickly raise or lower the machine on its legs as well as set it to any angle. You can even use this fucking machine vertically which gives you lots of options for playing with it.
That is the hard part taken care of, and it was a doddle. Next, you just plug the motor cable into its socket on the power supply box and then finally plug in the power cable and attach it to the power supply box as well.
The power supply box is plastic, but that is common to lots of other sex machines in this price bracket.
This machine is a derivative of the popular Blue Balls XL machine, but this one is heavier and much more sturdy.
When you buy one of these machines from sexmachines.co.uk, you can add some handy options to your order such as an extended 3-year warranty for £49 or thrust rod extenders to give the machine extended reach. However, if you are a penis owner or have a partner with a penis, then I recommend getting the Fleshlight adaptor as you can then use this machine for machine milking which is a lot of fun.
There is a slightly cheaper machine available based on this model which is the uFuc Pro. That one has less torque and a lower maximum speed, it's also noisier as well, so this is the one that I would recommend.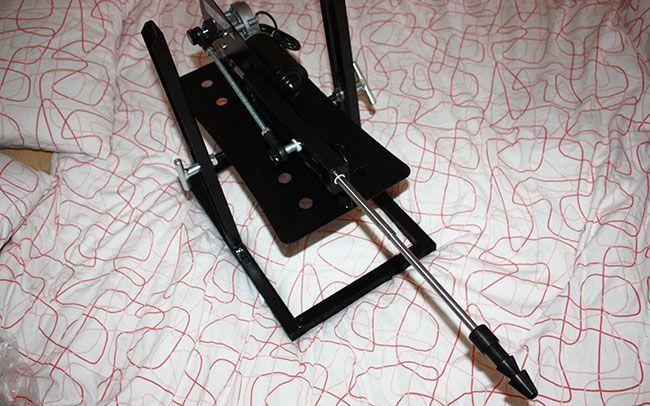 The uFuc Pro is a powerful machine that looks great
Operation
There are two on/off switches; the first is the master switch on the power supply box. The second is on the remote and allows you to instantly stop the machine if you need to.
This style of fucking machine gives you four main parameters that you can adjust, these are:
Height - this is controlled by unlocking and then tightening the two handles.
Angle - this is set when you adjust the height, and it allows you to align the thrust rod with the orifice that the dildo will be penetrating.
Length of thrust - This is easy to set, and you do so by unlocking the adjustment nut on the flywheel arm side of the link arm. This allows you to slide the link up and down the arm before tightening it again. The depth of thrust is twice the distance between this adjustment nut and the rotating shaft coming out of the gearbox. A spanner is supplied to do this task.
Speed - The last thing that you can adjust is the speed of thrusting. This is the only thing you can change while you are using the fucking machine as to change the others you need to stop the machine to adjust them.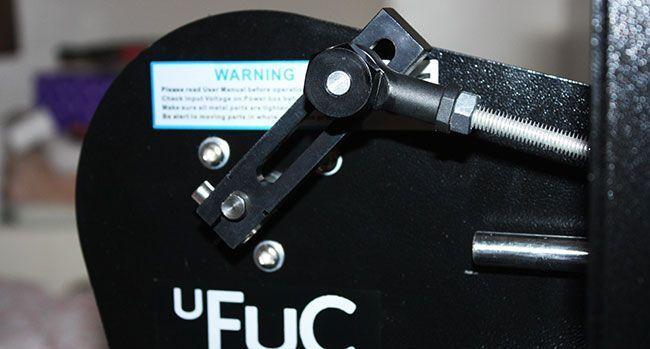 It is easy to adjust the thrust length at the link arm
The speed controller also acts as an off switch when you rotate it fully anti-clockwise. It is easy to turn, and the machine is responsive which makes it easy to fine adjust the fucking it is delivering.
It is important to not set too much of a thrust length as if you do so you risk bottoming out the dildo and that can be painful. Start with a short thrust length and increase it in future sessions.
Top Tip: If you are playing with a partner then get them to manually rotate the motors arm by hand before switching the machine on. That way you can experience the full thrust depth to make sure that it is set correctly before switching the machine on.
Performance
I had a fantastic time getting to know this fucking machine. The motor is quiet, and the nylon bushes used for the thrust rod help to keep the noise down. The low noise levels mean you can spend more time enjoying the ride rather than worrying about the neighbours realising that you are a kinky thing.
It has a lot of power, even managing to start a double ended dildo slowly when it was fully inserted after I had stopped it on purpose. Some cheap machines don't have the torque to do that, and you go from stop to high speed, but this one is smooth and fantastic. I was genuinely impressed.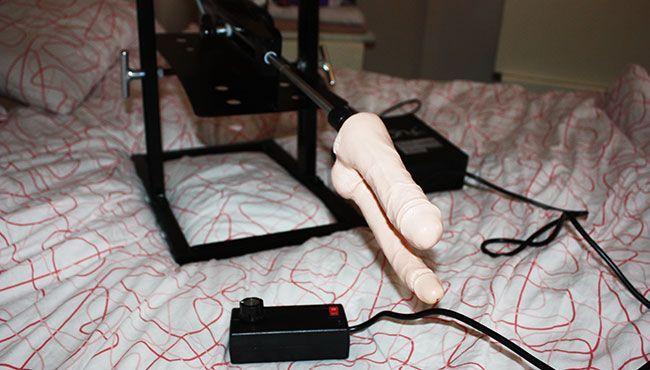 The uFuc Pro has bags of power even handling a double dildo with ease
Quick Stats: 72-watt 24V industrial motor, Stroke length can be adjusted using a spanner (1" to 6"), Stroke speed: 0-240 rpm (infinite settings), Torque: 40-in-lbs, Horse-power: 1/9thThis torque means that this is a great option if you are looking for a fucking machine for lots of anal fun. You need more torque for anal fucking than vaginal fucking as it is tighter and the uFuc Pro handle itself well when used for anal pleasure.
The solid base means that you have a cracking platform for the machine to run on. When using it on the bed I did get a bit of rock, but that was the bed moving and not the machine on its legs.
When using it on the floor, it was solid. I particularly like the fact that you can set this machine to run vertically and that is great for bondage sessions where I can be tied up on a cross or frame and just fucked. This gives you the functionality that you will find on only a few machines and it is always good to have options.
I was more than happy with the speed of the thrusts and couldn't take it on its fastest setting. Again, I was pleasantly surprised. For a sex machine priced at the lower end of its peers, you get a great machine for your money.
There is something amazing about being on the receiving end of a good fucking by a sex machine. I never get tired of that feeling of control and performance, being able to increase or decrease the speed easily as my arousal builds. Fucking machines never tire, fucking machines aren't selfish, they just do what they are designed to do. They also don't wipe their cocks on your sheets after you have come as well LOL.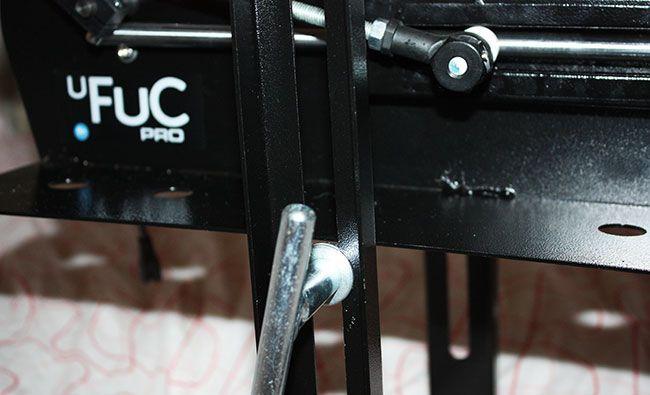 The height and angle are easy to adjust using the two stainless steel clamps
This is a machine that uses the Vac-u-lock system to attach dildos, and I never recommend machines that don't use this system. Why? Well, it's simple, there are just so many dildos available that use the Vac-u-lock system including the all-important body-safe silicone ones.
Why would you want a dildo that takes ages to unscrew and that is made out of non-body-safe materials when you can swap one in seconds with the Vac-u-lock system.
Top Tip: When using Vac-u-lock dildos put some cornflour inside the dildos hole before fitting it as it acts as a lubricant and makes removal much easier when it comes to swapping dildos.
When it comes to storage, you will need to use the tools to strip it down again unless you have somewhere that it will fit in while assembled. This is the only disadvantage I can find with it, but you can strip it down or assemble it in under five minutes, so it isn't a huge problem.
The uFuc Pro is a fantastic fucking machine for anyone on a budget. See why Joanne likes it so much in her review of it.
Click to Tweet
Key Features
Key features:
72-watt 24V industrial motor
Stroke length can be adjusted using a spanner (1" to 6")
Stroke speed: 0-240 rpm (infinite settings)
Torque: 40-in-lbs
Stable base
Vac-u-lock compatible
Final Thoughts
If you have never tried a fucking machine or are looking for your first machine, then the uFuk Pro is a cracking option. It gives you power and control coupled with almost infinite position possibilities.
I was genuinely impressed by its performance and stability coupled with its quiet operation. It is a great fucking machine that will give you lots of pleasure and its performance means that it will satisfy even the most experienced of fucking machine users. You get a very good machine for £418.80 which is cheaper than other machines with similar performance.
I was sent the uFUC PRO v.2 Fucking Machine by sexmachines.co.uk and I would like to thank them for giving me the opportunity to review it for them.
Joanne's rating
Where Can I Get One From?
Grab one of these fantastic fucking machines from sexmachines.co.uk for £599.00, check out their site as they are the UK's largest sex machine suppliers and they have an incredible range of machines for every budget.
Check them out and don't forget to tell them that Joanne says "Hi".
Disclosure
Disclaimer - I was sent this machine to review free of charge and this has in no way affected the outcome of this review. This post contains affiliate links and if you purchase something when you follow one of these links I may receive a small commission at no cost to you. For more information check out my disclosure page.