Delivery
Discretion is often the primary concern people have when ordering sex toys and products online. The concern about how it will be packaged is a real one, and I am happy to say that PeepShowToys.com never let us down in that regards.
This dildo arrived in very plain packaging, so no-one knew that inside the package was a tentacle dildo looking like something from an old mariners tale.
The dildo comes with a lovely lint free drawstring bag, and this helps to keep lint off the silicone dildo's surface.
The Xenuphora silicone dildo arrives sealed hygienically and it came with a drawstring storage bag
It was hygienically sealed inside a plastic pouch so we had peace of mind that it hadn't been tampered with or indeed used by anyone after departing the Uberrime dildo foundry.
Design and materials
The Xenuphora is a fantasy dildo designed to resemble a tentacle, and it looks absolutely amazing. The level of detail is fantastic, but that brings some problems which I will discuss later in this review.
It is made out of a soft (10A Shore hardness) but not too squishy blend of silicone that is a delight to hold and play within your hands. It feels even better once inserted and I am happy to say that its performance matches its looks.
The Xenuphora dildo in all of its respeldent glory
Silicone is my go-to material for sex toys and Uberrime use this material in all of their sex toys for the following good reasons.
Firstly, silicone is non-porous, and so bacteria can't find safe haven within the surface of the toy, unlike other sex toy material choices. Secondly, silicone is both latex and phthalate free, which makes it hypo-allergenic and body-safe, just what you want in an insertable sex toy.
The Xenuphora is so flexible that you can fold it in half without damaging it in any way.
The Xenuphora dildo is incredibly flexible and that makes it very easy to use
The two colours used in this dildo look amazing, they are joined by glitter that makes it glisten and sparkle. This is an effect that I love, this dildo is a work of art, from the sculpting to the colour choices and the glitter. Uberrime has once again blown us away with their bright and vibrant colour schemes.
The marble effect caused by the fusion of Mermaid Blue, Lavender, True Red pigments and glitter does look fantastic as I am sure you will agree after looking at these pictures, even though they don't really do it justice.
Measuring in at a total length of 6.75"/ 17.1cm; with an insertable length of 5.5"/14cm and a maximum diameter of 1.4"/3.6cm, this is a dildo sized for everyone.
The Xenuphora features a broad base, which makes it stable when standing on a flat surface, this makes it a lot of fun to straddle and ride.
The Xenuphora dildo next to a soft drinks can for scale
The base has some delightful horns and protuberances that feel amazing against your clitoris and perineum. The back of the dildo's shaft has a ridge running down it that also provides lots of sensations when in use.
The shaft has a good curve on it that pushes the uniquely designed tip against your G or P spot for intense stimulation. This tip is almost arrow-like and feels nice as it is inserted.
The most striking feature of the Xenuphora though is all the sucker details on the shaft. The sixteen suckers look amazing and produce some fantastic sensations as you thrust it in and out.
The underside of the base is also a work of art. The dicksmith who hand poured the silicone into the mould for this dildo elegantly left his mark. The bottom has swirls on it in the two silicone colours, it is unique and stunning. As each dildo is hand made, they are all bespoke, and no two will ever be the same, and I love that fact.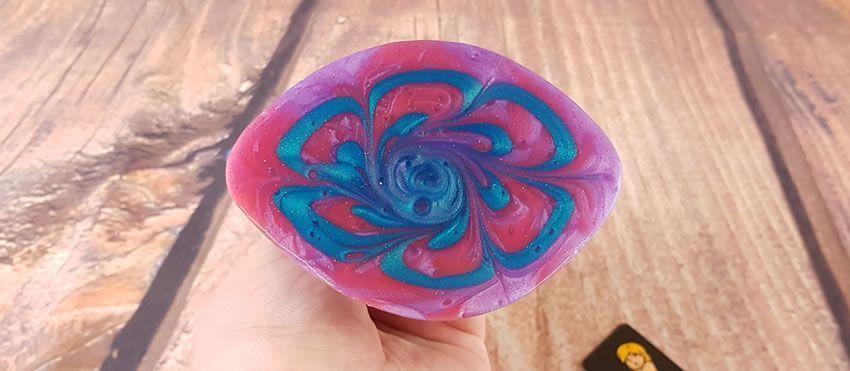 The patterns and swirls on the base of the Xenuphora dildo are unique as each is hand poured
Cleaning
These delightful little suckers feel incredible in use, but they make this dildo a pain in the bum to clean properly after use. You see, they are vag-goo traps, and you need to take your time when cleaning this dildo to ensure that you get it all out.
I actually now have a dildo-toothbrush that I got just to clean this dildo as it is so problematic, with so many areas for vag-goo to get into. That said though I still love the little suckers though as they are delightful in use.
To clean wash it thoroughly in warm soapy water and then if you wan't you can use an anti-bacterial sex toy cleaner on it. Make sure that it is thoroughly dried before placing back in its drawstring storage pouch.
The ridge on the back of the Xenuphora dildo is a really nice feature
Performance
This is a dildo that almost caused a riot as we decided who would get the honour of using and reviewing it "in the biblical sense". I let sub'r' enjoy it as she loves fantasy dildos, especially tentacle ones.
She loves the girly colour combinations and the glitter too. Her preferred method of masturbation with it is to slowly stroke with it, enjoying all of those fantastic suckers as they tease the inside of her vagina.
Make sure that you use lots of good quality water-based lube with this dildo as you will need it because of the texture. I can highly recommend Sliquid Naturals H2O and Secret Play Natural.
The suckers and the shape of the tip of the Xenuphora dildo look and feel amazing
The length was perfect for her, and she could take it all, grinding the base into her clitoris, and this is something that she commented on as feeling amazing.
It gave her lots of g-spot stimulation, and she easily achieves orgasms with it that are strong and highly enjoyable. She loves to thrust it into her pussy as she comes and really enjoys clamping down upon it. On average it takes her about fifteen minutes to orgasm while playing with the Xenuphora (your mileage may vary LOL).
The Xenuphora is a dildo designed for intense stimulation as you thrust and the shape and textures ensure that its performance is top notch.
Use it with the tentacles up or down for two different sensations, and that curve really works wonders as you thrust. The base is comfortable to hold onto as you thrust but you may find it getting slippery with lube so have a towel or hand cloth handy.
Grab an @Uberrimedildos Xenuphora Silicone Tentacle Dildo from the lovely people over at @Peepshowtoyscom and settle in to enjoy the pleasures of the deep.
Click to Tweet
The texture on the shaft of the Xenuphora dildo feels amazing as you thrust with it
Key Features
Key features:
Body-safe silicone
Lots of texture
Soft and flexible
Suckers, lots of lovely Suckers
I would recommend it to:
Anyone who likes softer toys that are very flexible
Anyone looking for their first fantasy dildo
Anyone with a low cervix
Anyone who enjoys lots of textures
I wouldn't recommend it to:
Anyone with eyesight problems as it is hard to see into all the detail to make sure it is cleaned thoroughly
Anyone looking for a toy that is low maintenance and easy to clean
Final Thoughts
Uberrime have once again come up with a fantastic dildo design. Made from body-safe platinum cure silicone, it is a toy that will last for years and give you lots of delightful play times.
We love the colours and patterns all over it, and the texture is just sublime, if you like lots of texture, then this is the dildo for you.
The Xenuphora is an excellent addition to anyone's fantasy dildo collection, especially if you have a love of tentacle ones just like sub'r'.
I was sent the Uberrime Xenuphora Silicone Dildo by PeepShowToys.com and I would like to thank them for giving me the opportunity to review it for them.
Joanne's rating
Where Can I Get One From?
Grab one of these amazing fantasy dildos from PeepShowToys.com in the US for just $65 and let this tentacle dildo slither its way into you to deliver some very wet and watery orgasms.
Check them out and don't forget to tell them that Joanne says "Hi".
Disclosure
Disclaimer - I was sent the Uberrime Xenuphora Handmade Silicone Fantasy Tentacle Dildo to review free of charge and this has in no way affected the outcome of this review. This post contains affiliate links and if you purchase something when you follow one of these links I may receive a small commission at no cost to you. For more information check out my disclosure page.