Delivery & Packaging
Once again I can't fault PeepShowToys on their customer service and the fact that they dispatch their goods in very plain packaging.
While my postman may be beginning to wonder why I get so many packages in the mail, he still has no idea just how many of them contain phallic quim pleasers. It's good to keep him guessing.
The Splendid Dildo arrived with a nice clear set of care instructions and a delightful silky draw string storage bag. This is great as silicone sex toys always tend to be a bit of a dust magnet. The dildo itself was sealed inside a plastic pouch.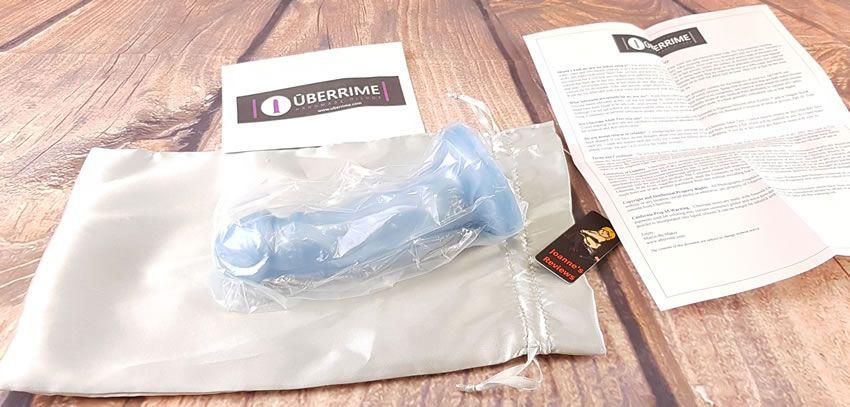 I love the fact that you get a storage bag and detailed care instructions from Uberrime
Design and Materials
This dildo was formerly known as the Splendid Gentleman. To be honest, I think that is a pretty apt name for this modestly sized dildo. It isn't going to open the door for you, but it sure is going to give you a great time in the bedroom.
First off, let me tell you about the material it is made from. It is a dual-density silicone dildo, and that is great for several reasons.
Silicone is phthalate and latex free, making it body-safe and hypo-allergenic. It is also my go-to material for sex toys, I love it for its soft touch and non-porous surface. This latter point is crucial as it makes this dildo so easy to clean. Just wash it in warm sopay water before drying it thoroughly.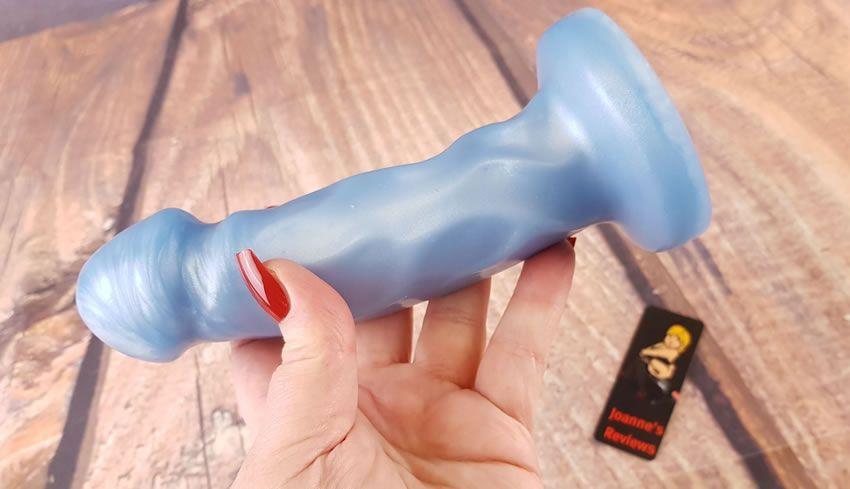 I love just holding this dildo and squeezing it, marveling at how the dual-density silicone feels
Being a dual-density dildo, it makes it feel much more lifelike. It is coated in a very soft blend of silicone which has a lot of give when squeezed.
Inside this silicone outer layer is a much firmer core, and together, these two different silicones make the Splendid feel very lifelike.
It has minimal droop when fitted into a strap-on harness or just held horizontally yet you can bend and squeeze it. This makes it very comfortable to use at any angle.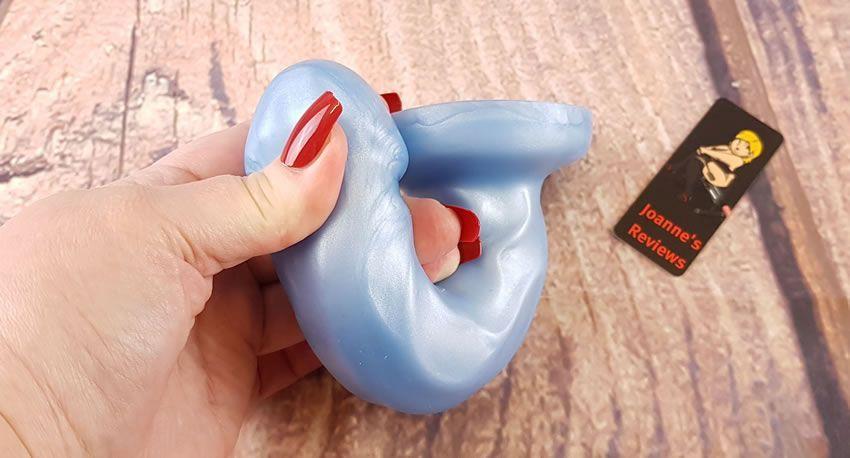 The Splendid Dildo is incredibly flexible even with its stiffer silicone core
All Uberrime dildos are made by hand, and so each one is bespoke. No two dildos will ever look the same because of this hands-on manufacturing process. This makes them even better in my opinion, over the mass-produced offerings from other manufacturers.
I just love the colours of this dildo, it is available in four colour options. This one being the Pearl Blue, you can also get this dildo in Pearl Rose, Pearl Violet, and Pearl Green.
The pearlescent pigments create a beautiful marbling effect that glistens in the light. It really is a beautiful colour option, and it looks so enticing.
The swirls on the base of this dildo look amazing, it's like staring into a slowly revolving whirlpool.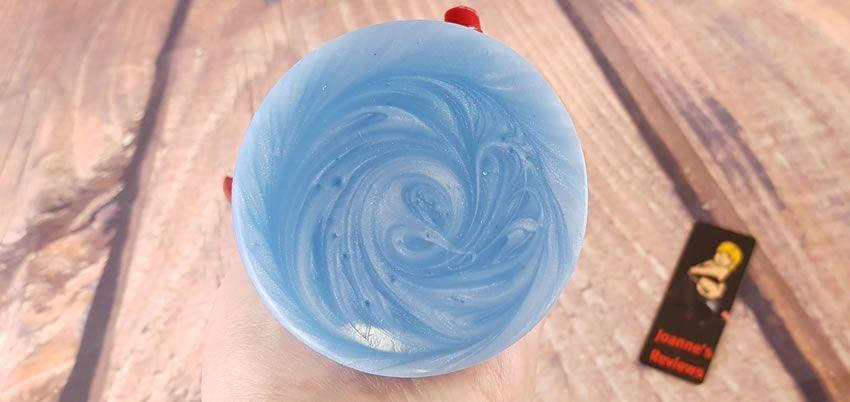 The swirls in the pearlescent silicone look fantastic
The shape of this dildo is perfect for some fantastic g-spot or prostate play sessions. The upward curve provides just the right amount of pressure on these spots when thrusting with it.
I love dildos with good curves to them as I find them much more stimulating than their straight counterparts. I am pleased to say that the curve on the Splendid dildo is just perfect for my likes.
It's this curve that makes this such a versatile dildo to use. Depending on whether you have the curve up or down when you thrust, it can feel totally different.
The shaft of the Splendid dildo has stylised veins running around and down its length. These provide some divine stimulation when you thrust with this dildo. I love pronounced textures and thought these veins wouldn't do much for me, but I was wrong, they feel sublime.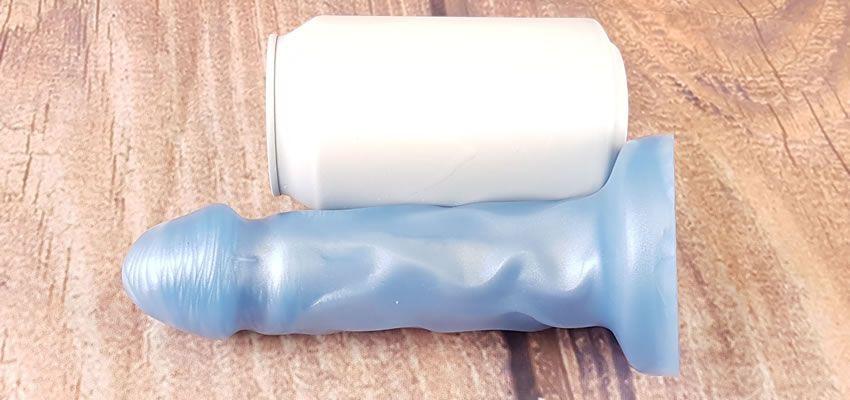 The Splendid dildo is modestly proportioned
The broad flat base makes this a dildo that you can comfortably ride or fit to a strap-on harness. I made sub'r' fit it to hers, and I must say it looks incredible in a harness (it also feels great when on the receiving end too).
Lengthwise the Splendid Medium is an average dildo in terms of its length measuring in at 6"/15.2cm in length of which 5.5"/14cm is insertable. It's slightly broader than average in terms of its girth though measuring in at 1.67"/4.2cm in diameter at the widest point of the glans. The shaft measures in at 1.6"/4cm in diameter.
Performance
Yes, the Splendid looks impressive, but the proof of the pudding is in the eating I guess. I know that you know what I mean by that, and so it was on to physically testing the Splendid.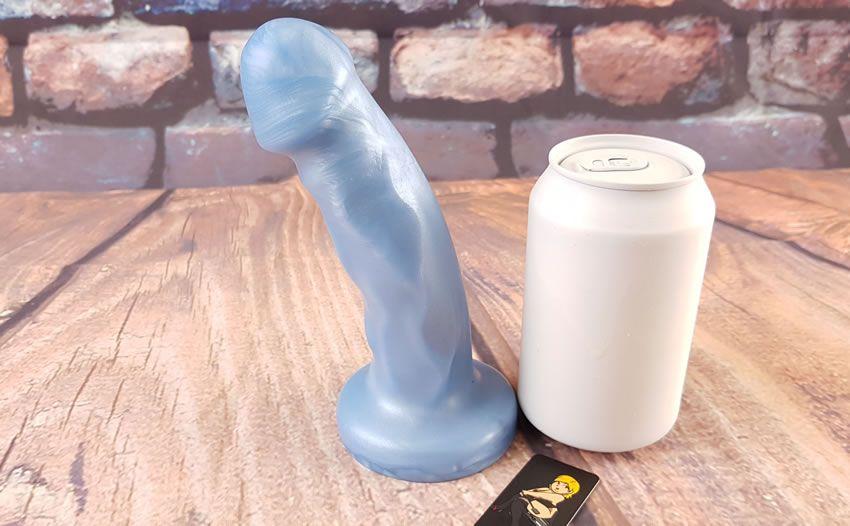 The Splendid dildo is a nice dildo to thrust with for beginners and experienced dildo lovers alike
This one has been double tag teamed by myself and sub'r'. As soon as she saw its beauty, she fell in love with it and so I have given it to her. I was interested to see if she enjoyed it as much as I did.
I am happy to confirm that both of our pussies really got on well with it and she even enjoyed some anal play with it as well.
So what does it feel like in use?
The first thing to remember is always to use a good water-based lube when quimsticking. Both sub'r', and I use Sliquid H2O and Secret Play Natural lube as we both have sensitive pussies and these two lubes work well for both of us.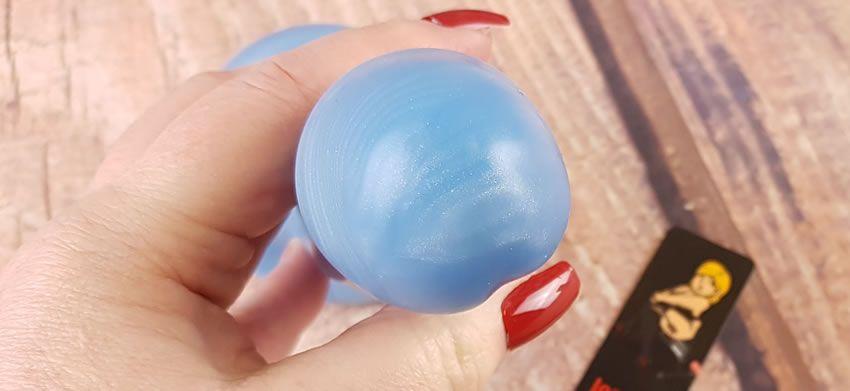 The Splendid dildo has a well defined glans that feel very nice as you insert it
The well-defined glans feel fantastic as it opens you as you guide it into your awaiting orifice. I always love the feeling fo the pressure building up before my vagina spreads open like a flower to accept what is being offered.
That feeling of opening up and feeling the dildo slide inside feels sublime, especially as the coronal ridge pop inside me. I can never get enough of that feeling and often masturbate just moving the glans of a dildo in and out of me enjoying the sensation of being opened repeatedly.
As you continue to slide the Splendid (it really is an apt name) dildo into you, those veins come into play, and you can really feel every one of them teasing you as you continue to penetrate yourself.
Both of us can take it fully, and the feeling of the base pressing against my clitoris feels incredible, especially when thrusting hard with the dildo.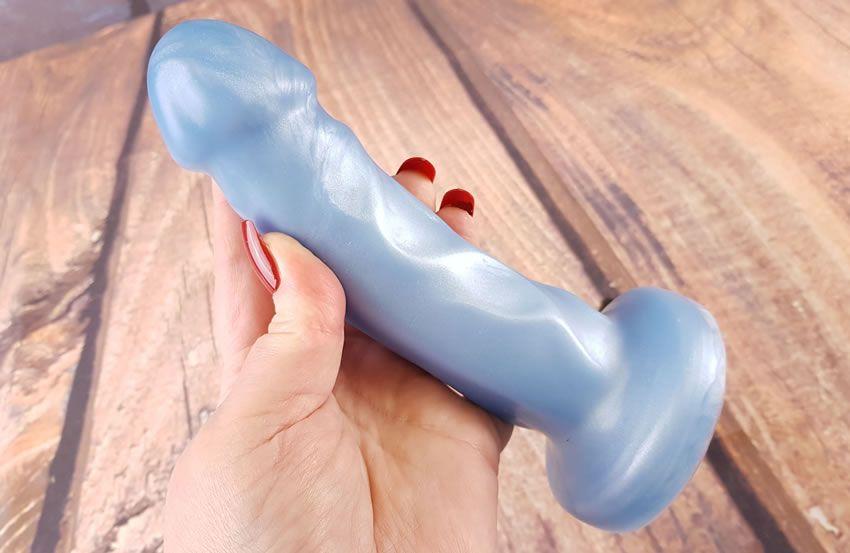 The Splendid dildo is easy to hold and lots of fun to thrust with
This is a dildo that is suited to both slow and sensual strokes as well as those hard poundings that feel so good when you are so horny you need an orgasm, and you need it now!
Both of us really enjoyed the pressure that it exerts on our g-spots, and we both achieved orgasms quickly with the Splendid dildo. I must admit though that sub'r' can get off with it much quicker than I do though. Not that enjoying slow lazy wanks with it is a bad thing.
It was when sub'r' started playing with it anally that she really, really enjoyed it. The size was perfect for her, and the rich textures, especially that coronal ridge on the glans made her climax hard and quickly when it was used on her bum.
This is a dildo suitable for any hole, its proportions and textures coupled with the delightful dual-density silicone make it a winner.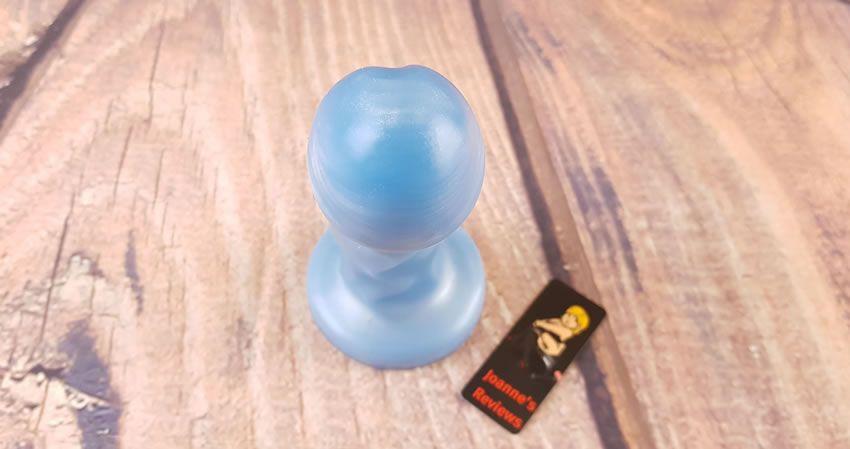 The Splendid dildo is a fantastic dildo no matter what orifice you use it in
The Uberrime Splendid Dual-Density Silicone Dildo from @uberrimedildos looks amazing and feels great too. Grab one from @peepshowtoyscom. It's a great dildo for g-spot or p-spot play and the dual-density silicone feels amazing.
Click to Tweet
Key Features
Key features:
100% body-safe silicone
Dual-density to give it a more realistic feel
Great for G-Spot or P-Spot play
Four colour options
Strap-on compatible
Modest proportions
Wide base
Nice details and textures
Easy to clean
I would recommend it to:
Anyone looking for a body-safe dildo
Anyone looking for an average sized dildo
Anyone who enjoys texture on their dildos
Anyone who wants a good g-spot or p-spot dildo
I wouldn't recommend it to:
Anyone looking for a rigid dildo
Anyone looking for a long dildo


The Splendid dildo is another dildo from Uberrime that feels as good as it looks
Final Thoughts
Yet again, Uberrime has created another dildo that not only looks amazing but has the performance to match.
PeepShowToys.com stock a great range of Uberrime dildos as well as lots of other body-safe products that are worth checking out.
Both of us really like the Splendid dildo, it is modestly proportioned, but with the glans and texture, it feels bigger than it is. This makes it an ideal dildo for anyone wanting to feel full and also to enjoy some textures as they thrust.
The dual-density silicone blend is fantastic, and this is such a nice dildo that I don't think that I have a chance in hell of getting it back off sub'r' who has fallen in love with it.
I was sent this fantastic Ubberime Splendid Dildo by PeepShowToys.com and I would like to thank them for giving me the opportunity to review it for them.
Joanne's rating
Where Can I Get One From?
Grab one of these fantastic dual-density silicone dildos from PeepShowToys.com where you can pick one up for just $69.99.
Check them out and don't forget to tell them that Joanne says "Hi".
Disclosure
Disclaimer - I was sent the Uberrime Splendid Dual-Density Silicone Dildo to review free of charge and this has in no way affected the outcome of this review. This post contains affiliate links and if you purchase something when you follow one of these links I may receive a small commission at no cost to you. For more information check out my disclosure page.