Delivery
This dildo arrived from PeepShowToys.com in the US very well packaged in a plain cardboard box. My postman still has no idea how much I enjoy quimsticking, and that is something I am keen to continue (both the quimsticking and the clandestine nature of it).
It came with a very nice silky draw string bag and an envelope containing product care information from Uberrime together with a $5 gift card from PeepShowToys. I am not sure if they send them out with every order but I have my fingers crossed for you.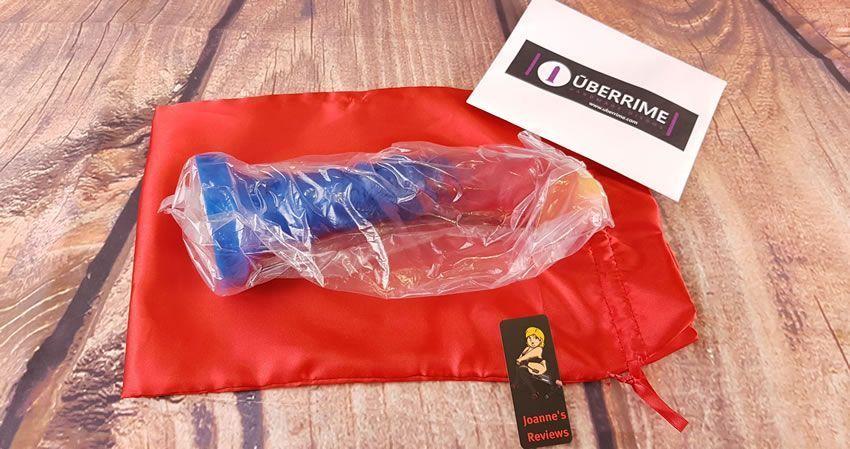 I was delighted to see comprehensive instructions from Uberrime and a drawstring bag
Design and materials
The Night King Dildo from Uberrime was inspired by the icy Night King of GoT fame. It is available in two colours, the first is true to form silver & bright blue to dark blue. It looks incredible and really does match the characters colouring in the TV show.
This one, however, is the Fire and Ice edition. It features a stunning blend of flaming yellow to a red mix of colours on the upper shaft transitioning into a beautiful bright blue for the lower half. It really is a thing of beauty, and I could spend all day just admiring its colouration.
This dildo features a delightfully formed glans that almost pops into you as you insert it. With a very pronounced coronal ridge that you really notice as it enters you, in fact, it is one of my favourite features on the dildo.

The lovely glans on this dildo aids insertion and it lterally pops inside you
The shaft features some very well defined veins that all meet forming a ridge on the back of the shaft. These veins feel incredible, and I just love the sensations that they generate as I thrust with this dildo. They are soft but well formed so even though you can deform them, you still feel every texture in use.
I am delighted to say that this is a 100% body-safe dildo made out of non-porous silicone. That also means that it is latex and phthalate free as well. Silicone is my go-to material for insertable sex toys, and this blend feels incredible.
Silicone dildos are so easy to clean, you can just use warm water and soap to clean it. You can even place it in the dishwasher on a sterilise cycle. But, remember to remove your dildos from your dishwasher before your mother-in-law thinks she is being helpful by loading the dishwasher for you.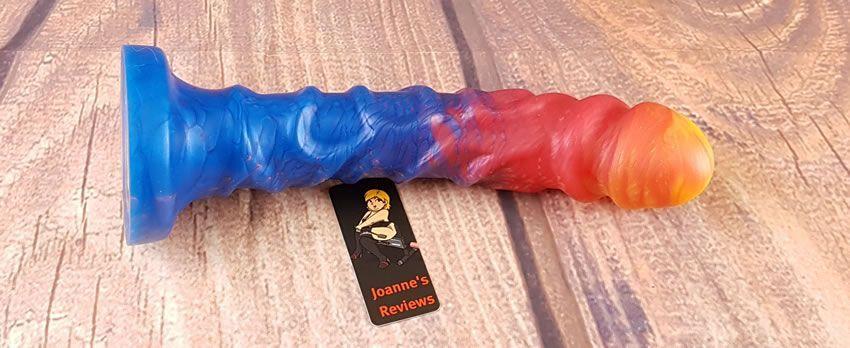 The texture on the shaft feel incredible and the colours really pop
The shaft is nice and soft so you can really enjoy giving it a gentle squeeze, it's also very flexible too, which makes it really easy to use.
I have to hold my hand up to swinging it around like a helicopter blade above my head, marvelling at its flexibility.
While it is a soft blend of silicone (approximately shore 8A), this doesn't mean you can't feel all those rich textures as you thrust it in and out. On the contrary, it feels sublime, and you can really feel every ridge and valley as it passes in and out of you.
This is a pretty long dildo, measuring in at 9"/22.9cm long of which you can enjoy 8"/20.3cm of this royal phallus. It has a maximum diameter of 1.7"/4.3cm which makes it a very filling dildo.

The length of this dildo is a bonus when it comes to using it
Its length makes it really easy to use, especially if you have a fuller figure. Long dildos are much more fun to use as you can draw them over your clitoris as you thrust with them for added stimulation.
Each of these dildos is hand mixed, and poured with care and attention to detail that marks Uberrime out from the crowd.
This means each Night King Dildo is bespoke, a unique creation that you can own knowing there isn't another one exactly like it anywhere in the world.
The broad base makes it harness compatible, and the base features an absolutely stunning design. The dicksmith who created it marked his work by creating some beautiful swirl shapes that again are unique to this dildo.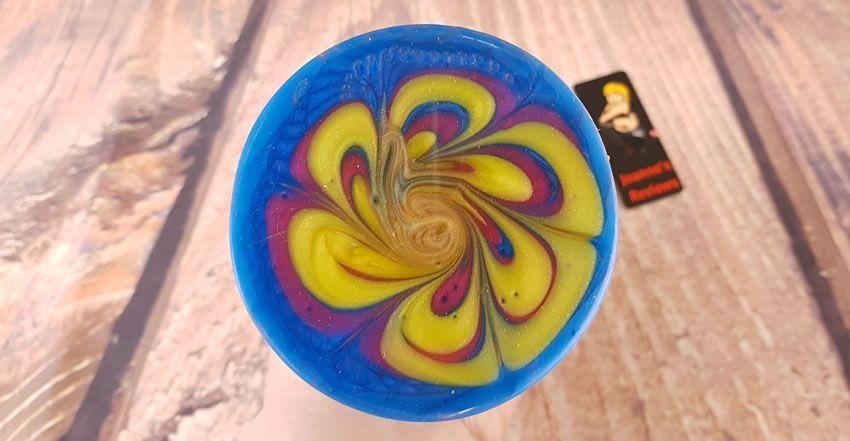 The pattern on the base is both beautiful and unique
Performance
I don't think that this is a dildo that I will ever tire from enjoying as it just feels so good. I'm a bit of texture queen, and my vagina loves textured toys. This one really makes it purr, and with it, I find orgasms are easily achieved.
I love thrusting with it, as those textures just feel amazing. I delight in the feeling of all that texture stimulating my vagina as I enjoy the Night King.
Its length and flexibility allow me to draw it back and forth over my clitoris as I fuck myself with it.

The flexibility of this dildo is fantastic and it makes it so easy to use comfortably
When drawn over my clitoris, each ridge sends sparks through me that quickly have my free hand clawing at the sheets. A combination of clit play and deep penetration is precisely how I love to play, and it is an easy task with the Night King Fantasy Dildo.
With its broad base, this is a sex toy suitable for any orifice, and if you plan on using it anally, it is going to feel incredible with all that texture. Alas, it is too wide for me to take analy, but I am sure someone is going to take great delight in that type of play.
With all that rich texture you will need a good water-based lube such as Sliquid H2O or Secret Play Natural. If the Night King is indeed well hung with a phallus like this one, it isn't "Winter" that will be coming, it will be me.

The texture coupled with its flexibility make using it a truly fantastic experience
Orgasms are so much more pleasurable when you have something deep inside you to clamp down upon. I love how clenching down on the Night King feels when I orgasm with him inside me.
Don't get me wrong I love clitoral orgasms, but I much prefer to have something inside me as I masturbate and orgasm, the Night King fulfils that role admirably. It takes fantasy sex toy play to the next level.
Bring on the Night King, I am so ready for him.
The Night King Dildo from @uberrimedildos looks as good as it feels. Grab one from @peepshowtoyscom and embrace the Night King. Winter may be coming but you will be too with this fantasy dildo.
Click to Tweet

I can't adequately describe just how good this texture feels when you thrust with this dildo
Key Features
Key features:
100% body-safe silicone dildo
Long and with excellent textures
Soft and flexible
Harness compatible
Bespoke, each Night King dildo is unique
Two colour options available
I would recommend it to:
Anyone who loves dildos with lots of texture
Anyone who enjoys long dildos for deep penetration
Anyone looking for a great strap-on compatible dildo
Anyone who enjoys fantasy dildos
Anyone looking for a fantastic body-safe dildo
I wouldn't recommend it to:
Anyone who doesn't like deep textures
Anyone looking for a stiff dildo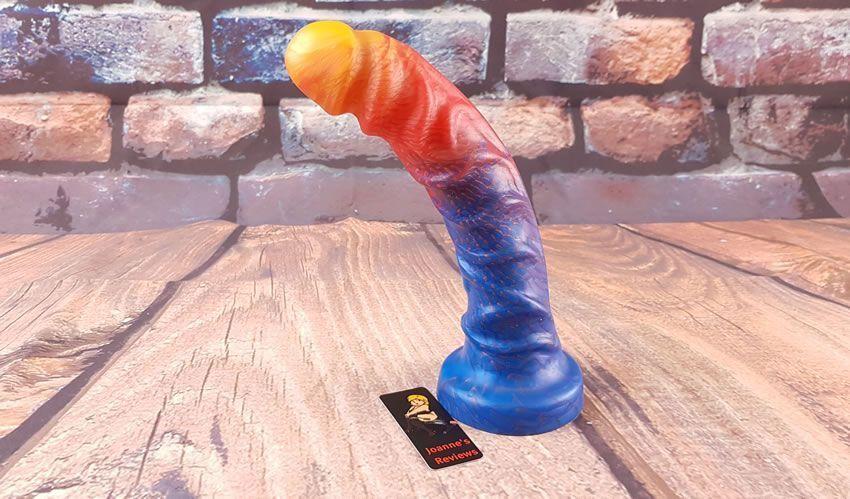 Uberimme have created a thing of beauty with the Night King Dildo
Final Thoughts
I have really enjoyed reviewing the Night King Dildo for PeepShowToys.com and to be honest, I have used it more than I usually do when reviewing a dildo. It is just sooooooooo good.
I love fantasy dildos, they usually have more texture than penis-shaped dildos as the creators can really use their imagination and exaggerate features.
The texture on this dildo is amazing, and I just love letting it glide over my clitoris as I fuck myself with it. The combination of deep penetration, coupled with the toe-curling clitoral stimulation is a heady mix that allows me to climax quickly.
The Night King Dildo looks fantastic with either colour scheme, and the blend of silicone is excellent. Uberrime have really done an excellent job of it, and their dick-smiths do a tremendous job on their artisanal creations.
If you are looking for a fantastic fantasy dildo, then this is the one. It is very filling, covered in the most delicious textures and I honestly can't fault it.
I was sent these Uberrime Night King Fantasy Dildo by Peepshowtoys.com and I would like to thank them for giving me the opportunity to review it for them.
Joanne's rating
Where Can I Get One From?
Grab one of these amazing dildos from Peepshowtoys.com for $85.99 and embrace the Night King, Winter may be coming but you will be too with this fantastic silicone dildo.
Check them out and don't forget to tell them that Joanne says "Hi".
Disclosure
Disclaimer - I was sent the Uberrime Night King Fantasy Dildo to review free of charge by Peepshowtoys.com and this has in no way affected the outcome of this review. This post contains affiliate links and if you purchase something when you follow one of these links I may receive a small commission at no cost to you. For more information check out my disclosure page.