Delivery & Packaging
Once again, PeepShowToys can be relied upon to deliver their wares quickly, and most importantly, very discreetly. Discretion is the number one worry that most of us have when ordering sex toys online. But you needn't worry when ordering from PeepShowToys in the US.
This dildo arrived under plain wrapper, and my postman has no idea that he was delivering a silicone quimstick for me to enjoy.
The Helios comes sealed in a plastic pouch so you can rest assured that it hasn't been tampered with on its journey to you from the Uberrime dildo forges.

The no frills packaging helps to keep the costs down and it's good to get a storage bag.
Materials and Design
Uberrime makes all of their stunning dildo works of art with body-safe platinum cure silicone. This means that the Helios is phthalate and latex-free as well as being non-porous. It also means that bacteria cannot live within the surface of the dildo, and that it is straightforward to clean.
Cleaning is easy, just use warm soapy water taking extra care to clean inside those delicious twisting textures on the shaft of the Helios. Once clean you could use an anti-bacterial sex toy cleaner, but you don't really have to. You could also clean it in a dishwasher on a sterilise cycles or soak in a 10% bleach solution before rinsing and drying.

The Helios Sun God Silicone Dildo is a bespoke thing of beauty.
The Helios Sun God Silicone Dildo is available in a stunning range of colours including fluorescent yellow and orange, together with this blend of pastel fluorescent purple & pink & blue.
The blend of silicone used is a medium-soft silicone (≈7.5A Shore Smooth-On silicone blend), and it has a nice amount of 'squish' when squeezed. I love this type of silicone as I relish the feeling of clamping down on a dildo as I orgasm and get the best results from softer blends of silicone.
Like most silicone sex toys, it is a bit of a lint and dust magnet, but the good news is that it comes with a lint-free drawstring storage bag. This means that once clean and dry you can pop it into the bag and seal it in there until the next time you want to play with it. If it does get some lint or dust stuck to it, then a quick rinse under a tap before use will take care of that.

The bulbous glans and delicious texture on the shaft feel sublime in use.
The Helios Sun God Dildo has some striking features. Firstly, there is the bulbous glans on the tip and this has a very pronounced coronal ridge which feels fantastic as you insert it. Secondly, the shaft features some breathtaking textures in the form of twisting ridges that run down the length of the shaft. These flutes flare out at the base making a lovely pattern around the shaft that feels as good as it looks.
The broad base makes it stable when stood on a flat surface and you can enjoy riding it like this.
The base features a beautiful design created by the dick-smith who poured the dildo. As this dildo is hand made, everyone will be unique, bespoke as it were. Your dildo will be unlike anyone else's, and I love that fact. Dildo decadence in the most delightful way possible.

The base of the dildo is a work of art with a delightful design.
The pattern on the base finishes off a beautiful colour scheme where the pigments used really shout out loud and proud. The best bit is that the pigments used are UV reactive, so get it under a black-light to see it change before your very eyes, glowing in the darkness.
The Helios is a beautifully proportioned dildo measuring in with a maximum diameter of 1.95"/5cm and an average shaft diameter of 1.66"/4.2cm. Its total length is 7.9"/20cm, and you can insert up to 6.75"/17.1cm of that which makes it a good length for hard thrusting.

The Helios Sun God Dildo is well proportioned and not too large.
Performance
Having reviewed other Uberrime dildos lately such as the Xenuphora, Splendid and the incredible Night King Dildo, I had high expectations for the Helios Sun God Dildo.
One thing I love about fantasy dildos is the creativity that has been put into them in terms of look and also texture. I love my dildos to have character and to look different. Unless I am using an ultra-realistic dildo cast from a real penis like the Cutler X, I prefer my dildo to be as freaky as possible.
The textures on the Helios could be described as freaky, I would prefer to describe them as sublime instead though. Those twisting flutes coupled with the well-defined glans means that thrusting with the Helios Sun God Dildo is almost divine.

The shaft of the Helios Sun God Dildo is covered in lots of lovely texture.
I love the feeling of inserting it, feeling the glans pushing open my labia and stretching the entrance to my vagina. As I build up pressure, it almost pops inside me.
Then I feel every one of those flutes twisting inside of me as I push it in further and that really gets me going. I have enjoyed screwing it into my pussy as well as vigorously fucking myself with it. The twisting flutes delightfully massage your vaginal walls.
The Helios is so flexible you can actually fold it in half, and that flexibility makes it easy to thrust with from any angle or position. My preference is to allow the flutes to caress my clitoris as I fuck myself with it. Not only do I enjoy the internal sensations, but the added clitoral stimulation means I always cum hard with the Helios.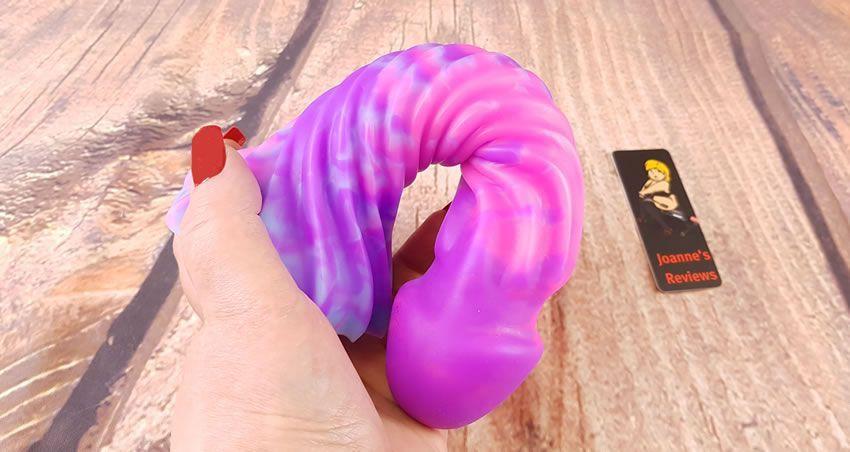 This dildo is so flexible you can use it at any angle with ease.
The shape of the glans also gives you some good g-spot stimulation, it isn't as pronounced as with the Uberrime Splendid, but it feels good none the less.
The helios is just too big for me to take anally, but I know that anyone who does use it back there is in for one hell of a ride. These ridges are going to feel amazing as you thrust it in and out again.
You can even attach the Helios Sun God Dildo to a strap-on harness using the ring system, for some intense strap-on play. Using it on a flat surface allows you to kneel over it, lowering yourself onto its delightful textures.

This is a dildo that you can savour and worship. It feels superb inside you.
The Helios is just so much fun and I have had a blast reviewing it for PeepShowToys.com in the USA.
The Helios Sun God Silicone Dildo from @uberrimedildos is a fantasy dildo that is covered in some delicious texture. Grab one from @peepshowtoyscom and let the Sun God's light shine between your legs.
Click to Tweet
Key Features
Key features:
Body-safe silicone fantasy dildo
UV-reactive colour pigments
Hand poured - made in the USA
Delicious spiral flutes give great texture
Medium/soft silicone blens gives good flexibility and squish
I would recommend it to:
Anyone looking for a body-safe dildo
Anyone who likes lots of texture
Anyone looking for a flexible dildo
Anyone who likes their dildos soft and flexible
Anyone looking for a flat based dildo that is harness compatible
I wouldn't recommend it to:
Anyone who doesn't like fantasy dildos
Anyone who doesn't like dildos with lots of texture
Anyone who doesn't like brightly coloured sex toys
Final Thoughts
The Helios Sun God Dildo is another fantastic addition to the Uberrime range of silicone dildos. It packs lots of lovely texture in a beautiful form, and the colours are amazing.
This is a dildo that will appeal to anyone who loves lots of texture on a dildo, and it isn't so big as to put most people off trying it. As each is bespoke, you are basically buying a one-off every time you buy an Uberrime dildo. That means yours will be a unique piece of dildo craftsmanship.
There is nothing that I would like to change about the Helios, it is perfection embodied in a silicone form. I am glad that I decided to review this last from the dildo sent to me by PeepShowToys as it is fantastic. I am sad that it is the last one though, as these reviews have given me a taste for Uberrime dildos.
Alas, this is the last sex toy I have to review from PeepShowToys. Please do check them out as they carry a dizzying range of body-safe sex toys to choose from and the Uberrime ones get a solid recommendation from me.
I was sent the Uberrime Helios Sun God Silicone Dildo by PeepShowToys.com and I would like to thank them for giving me the opportunity to review it for them.
Joanne's rating
Where Can I Get One From?
Grab one of these fantastic silicone dildos from PeepShowToys.com for just $79.99, and let your chosen orifice bath in the light of the Sun God.
Check them out and don't forget to tell them that Joanne says "Hi".
Disclosure
Disclaimer - I was sent the Helios Sun God Silicone Dildo to review free of charge and this has in no way affected the outcome of this review. This post contains affiliate links and if you purchase something when you follow one of these links I may receive a small commission at no cost to you. For more information check out my disclosure page.