Packaging
Uberlube was designed and is manufactured in their Chicago-based lab. They produce in small batches so that they can monitor and ensure accurate quality control.
I can comment on the delivery packaging that Uberlube uses when shipping their products to customers as we were given these by hand.
The small display box that the Good-To-Go Traveller Kit comes in looks just like the bottle, clean, stylish and straightforward. It looks lovely and sets the tone for this product.

We were given some Uberlube samples at Erofame to review
Materials
Uberlube is sold in glass bottles. These are both stylish, easy to use and clear, enabling you to see the contents easily. This is great as you know when you are running low so you can order some more before you run out and enter a "dry spell".
I like the glass bottles, they are recyclable, which is always a plus in my book. The refillable case is a really lovely touch as it allows you to keep a bottle to hand when travelling, without worrying that the pump could be pressed. Plus if anyone sees it, they have no idea what it is, so privacy is guaranteed.
We have this discreet bottle in our play bag where it is always to hand. We have the silver version of the Traveller bottle, but you can also get a black version if that is more to your taste. You can get top-up packs which contain two small pump bottles for the Traveller style dispenser.
The lube is controlled by pump action dispenser, and it comes out in measured amounts. So you don't end up getting too much lube with each press of the pump. This prevents wastage and allows you to dispense just what you need.
Both the Traveller and the 50ml bottle have great pumps that work well and more importantly, won't leak if the container is left on its side.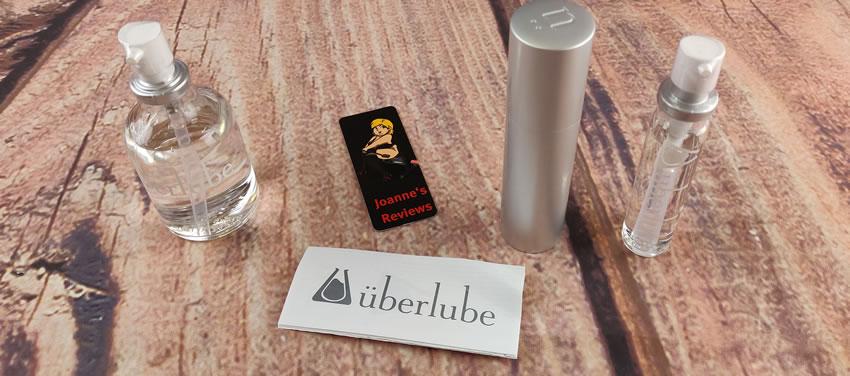 Uberlube is avaialable in a number of sized bottles and the fantastic traveler set
So why choose Uberlube?
Well, it really is an excellent lube. Free of parabens, preservatives and petrochemicals. It is also latex compatible, works underwater and is suitable for people with sensitive skin. It is also condom friendly, which in my opinion is an essential property in any lube.
This gives you more options for play than some other silicone-based lubes on the market. If you have a private pool or jacuzzi and like to play in it then why not try Uberlube. Unlike water-based lubes, Uberlube works underwater, in the shower or anywhere that makes other lubes choices impossible to use.

Uberlube comes in glass bottles with a very nice pump dispenser
Because Uberlube is also non-staining, you don't have to worry about ruining your favourite bedding or clothing etc.
Uberlube is silicone-based lube. It didn't have any adverse reaction on any of my silicone dildos and butt plugs I am happy to say. But, if you are concerned about that test some on a small area of your toy.
As with other silicone type lubes, Uberlube lasts really well, and you really only need a tiny amount as it also spreads really well and quickly. As it is a very runny lube, it could get messy if you get a little pump happy, so remember to try less first.
Being runny can also make it harder to get in precisely the right spot, unlike thicker lubes. I found it best to pump directly onto where I needed it. Having said that, the added benefit of having a thinner lube is that it does not mask the feel of skin on skin or texture.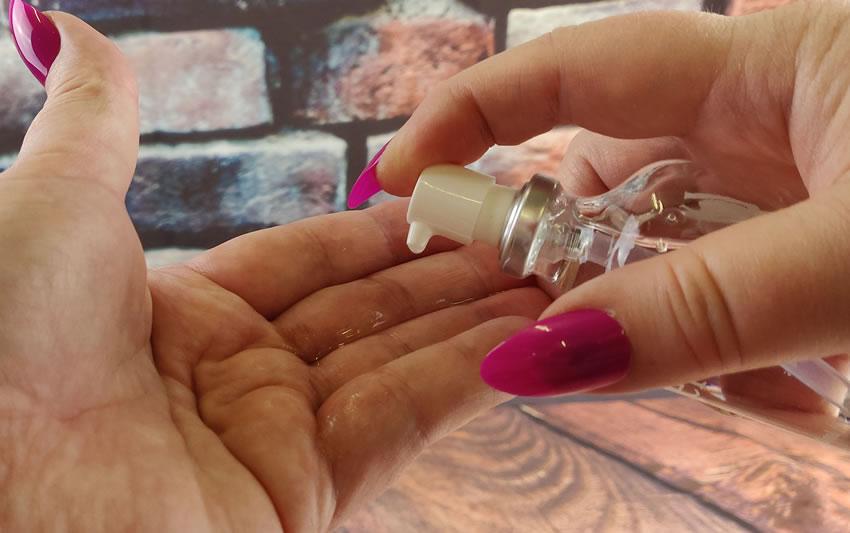 Uberlube is very runny so be careful where you dispense it
I love the fact that it is scentless and tasteless. In the past, I have often used lube with my partner, to find that the taste is awful when play has changed to oral pleasure. Uberlube does not leave me trying to discreetly wipe my tongue (if you get what I mean).
Eventually, Uberlube sinks into the skin, leaving no residue, stickiness or oily feel to the skin. However, if you do drop some onto a hard surface, you need to use warm soapy water to clean it up properly. Otherwise, it will get very slippery, indeed until you do so.
The only negative comment I have regarding the Uberlube containers is that while they arrive with a seal around the pump. They do not come with a lid or clip to stop the pump being activated if put into a toy box.
I was surprised to hear of some of the other ways you can use Uberlube. You can use it on your hair to prevent hair frizziness. It is also used by athletes to avoid friction burns or rash.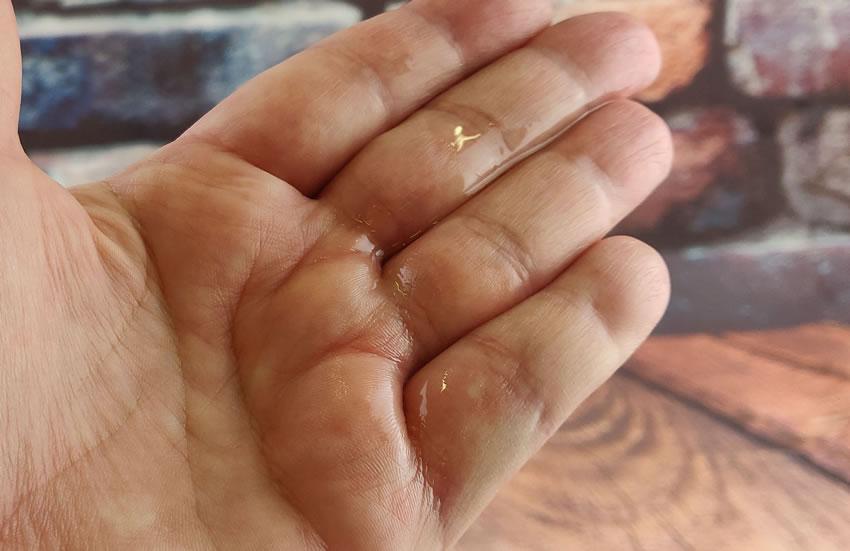 Uberlube is very runny as you can see, I prefer to dispense it directly where I need it
That is a perfect use for this lube as it is really long-lasting and stays in place well. So if you enjoy running or are a gym queen, imagine how you could use it on your nips or any other area likely to rub against your clothing.
As Uberlube is latex compatible, you could use it as a shining liquid. The manufacturer recommends adding two drops inside a condom to increase pleasure and of course, add some to the outside too to help your partner enjoy penetration.
We found that Uberlube does indeed last for a long time, and when its properties fade, you aren't left with the sticky feeling commonplace with a lot of water-based lubes.
The only time I would not recommend its use is when enjoying electrosex or e-stim. Silicone lubes can bond to conductive rubber rendering it useless, so keep it away from your conductive rubber electrodes. It is also an insulator so you wouldn't really want to use it for electro play anyway.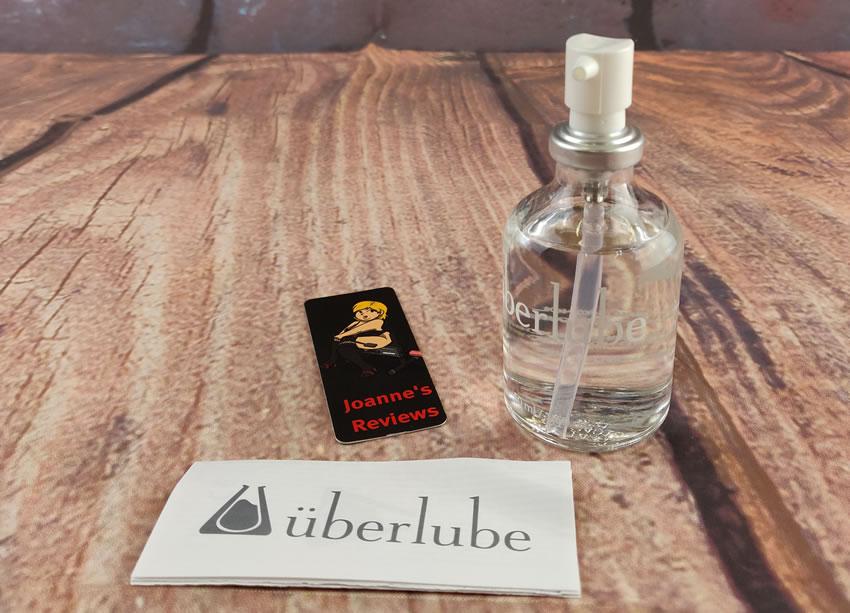 I recommend getting the 50ml bottle as its great value
Looking for a lube that is condom safe, discreet and works underwater? Check out @Uberlube for a fantastic example of a long lasting silicone lube.
Click to Tweet
Key Features
Key features:
Long lasting silicone based lube
Avaiable in a discreet travel case
Waterproof lube that can be used underwater
Leaves skin soft and fresh
Does not stain
Not scented
I would recommend it to:
Anyone looking for a long lasting lube
Anyone looking for a travel lube
Anyone looking for a lube which is body-safe
Anyone looking for a lube that has other uses
I wouldn't recommend it to:
Anyone looking for a lube to use when doing e-stim play
Anyone with a silicone allergy
Final Thoughts
Uberlube is a brand of lube that I am delighted to recommend as I now use it (a lot) due to its long-lasting properties. I especially enjoy using it when enjoying my fucking machines where I need an effective lube that will last. High-speed fucking sessions are so much fun with Uberlube.
If you are looking for a reliable lube with lots of other uses, one that will last a long time and is condom friendly then check out Uberlube. It provides long-lasting lubrication wherever you need it and leaves you skin feeling soft and supple.
I was given this lube to review by Uberlube themselves and I would like to thank them for giving me the opportunity to review it for them.
Joanne's rating
Where Can I Get One From?
Grab some of this fantastic lube from Uberlube in the US for $15 with free shipping (within the US) or for the rest of the world you can get Uberlube on Amazon.
Amazon: Uberlube Good To Go Travel Sized Silicone Lubricant 15ml Silver
Amazon: Uberlube Luxury Lubricant 50ml
Check them out and don't forget to tell them that Joanne says "Hi".
Disclosure
Disclaimer - I was given this Uberlube to review free of charge and this has in no way affected the outcome of this review. This post contains affiliate links and if you purchase something when you follow one of these links I may receive a small commission at no cost to you. For more information check out my disclosure page.