About Uberkinky

Uberkinky are one of my favourite sex toy retailers. Their site is packed full of very useful and interesting advise together with amazing sex toys to fulfill anyone needs and desires.
Stephanie Taylor founded Uberkiny in 1988 when she set forth on an unmatched crusade to bring sex toys to the masses through newspaper and magazine adverts. In 1998 the Uberkinky website was first unveiled and they haven't look back since then. They have been trading for over 27 years now and their reputation for quality products and great customer support just goes from strength to strength.
Their number one priority to offer the finest quality and most unique adult products available together with impeccable service every time. They have never let me down and this is why they get a very strong recommendation from me.
You should check out their amazing guides on their site, they are incredibly informative and we can all learn something new from them. Their infographics are often hilarious but always very educational.
Check out their range of Inflatable Sex Toys they have some really kinky offerings together with this great 11 Inch Inflatable Dildo.
Delivery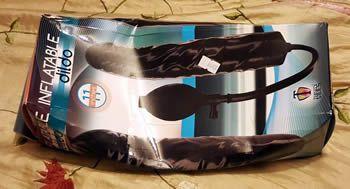 This toy arrived in plain packaging very quickly and it carried absolutely no indication as to its contents on the outside of the packaging. However, my postie or someone else on its journey to me (and this is in no way Uberkinkies fault) decided that as the package isn't fragile it was a good idea to play rugby with it. The box arrived crushed but the dildo inside was absolutely fine.
This dildo actually arrives deflated and so the rough treatment wasn't a problem at all.
Features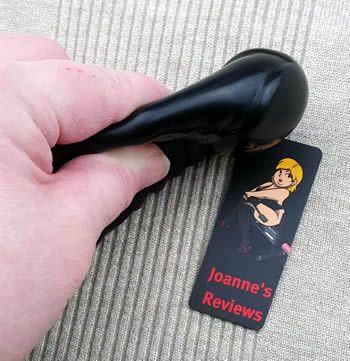 As I have already stated the dildo arrives in a deflated state inside its bag within the retail box. The pump itself is fairly rigid so that isn't flat packed when you remove the dildo from its packaging. It was a simple job of squeezing the bulb a couple of times to bring the dildo to its normal size.
I can safely state that this is the first flat pack dildo that I have ever owned.
The pump is well made and it is very easy to inflate the dildo using it and also to deflate it again by using the valve near the pump.
In its normal (un-inflated state) it has an eye watering insertable length of 11 inches (24cm), a circumference of 6.25 inches (16cm) and a diameter of 1.96 inches (5cm). This makes it a relatively large dildo even before you pump it up.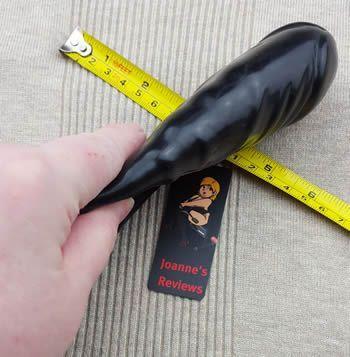 When inflated it swells along its length to be 8.25 inches (21cm) in circumference, with a diameter of 2.55 inches (6.5cm) and this feels very nice indeed.
It gains 2 inches (5cm) in circumference when inflated and this makes for some amazing sensations when it is inserted in you.
It's made out of rubber and contains no phthalates or latex which is good news for anyone with a Latex allergy. It is a pity that it isn't made out of Silicone as that would be the icing on the cake.
When deflated it is very soft and flexible but if you pump it right up it goes rock solid giving you two different sensations in use.
It has a very prominent coronal ridge so if you like a dildo to have a well defined 'bell end' then you are in for a treat, it also has well defined veins which add some great texture to its sides.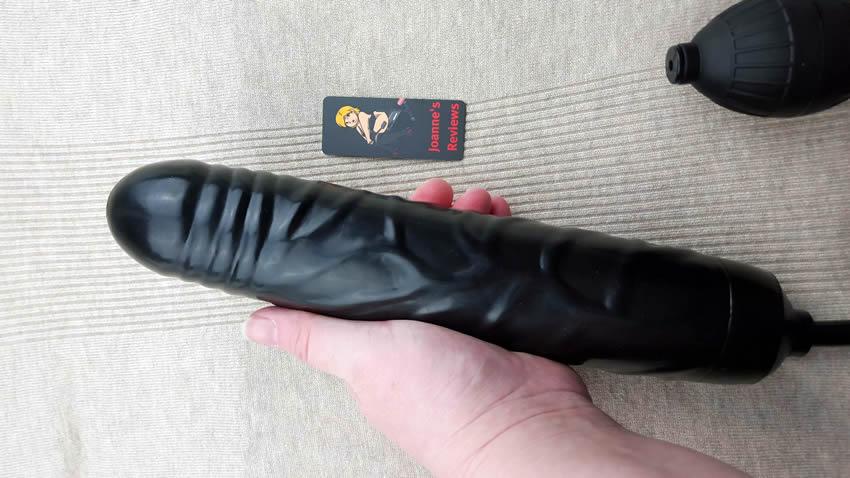 Use
I have to admit to being a bit nervous about inserting it the first time as it is quite a beast, however horniness soon overtook sensibilities and it was on with the testing. I used copious amounts of Sliquid H2O lube on both myself and the dildo before inserting it.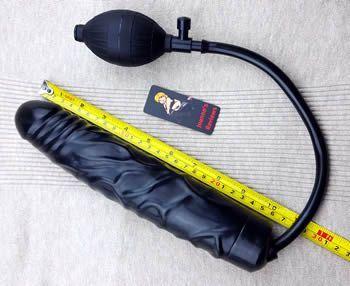 The long length makes it very easy to handle in play, you can even enjoy the added sensation of inserting it partially inflated, then pumping it up more whilst it sits inside you for a fantastic full feeling.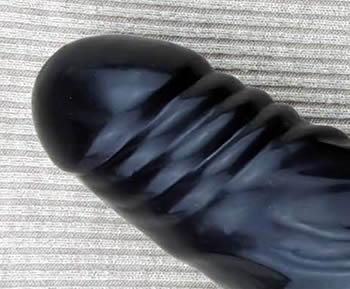 I have to state for the record that the glans on this toy feels great when inserting it and I spent a bit of time just moving it back and forth enjoying the coronal ridge teasing me. It love toys with good textures and this one ticks that box for me. I soon managed to get more than I thought I would be able to inside my pussy and it was time to play with the pump.
The more you pump it up the more rigid it becomes. When fully inflated the veins that run the length of the dildo are also more pronounced and rigid, giving incredible stimulation when playing.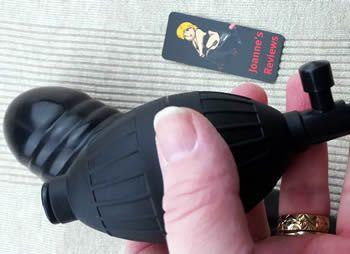 I like to use the pump slowly for gentle stretching and you very quickly build up an amazing feeling of being incredibly full of cock and it feels great to stretch the walls of your vagina like that. Keep hold of it though as once inflated if you clench your muscles you will send it flying out of your pussy.
The pump and valve are very easy to use and I enjoyed inflating it then deflating it over and over again. I am amazed at just how hard this toy goes when fully inflated and it almost feels like a solid dildo at that point.
I had no problems getting myself off with this toy but it takes longer than vibrating dildos, I can highly recommend using it with a Lelo Smart Wand for explosive orgasms.
Unfortunatlly as the hose for the pump comes straight out of the end of the dildo I am unable to mount it on a fucking machine but I have had so much fun with it I fancy looking round for an inflatable dildo that I can mount. Using something like this on a Fucking Machine would be incredible and just the thought of it has me moistening up nicely. Something like the Trinity Vibes Inflatable Suction Cup Dildo would do nicely.
Cleaning is very simple, just inflate it and give it a good clean with warm soapy water and your favourite sex toy cleaner. It is likely to be porous though so don't swap it between partners and clean before you use it.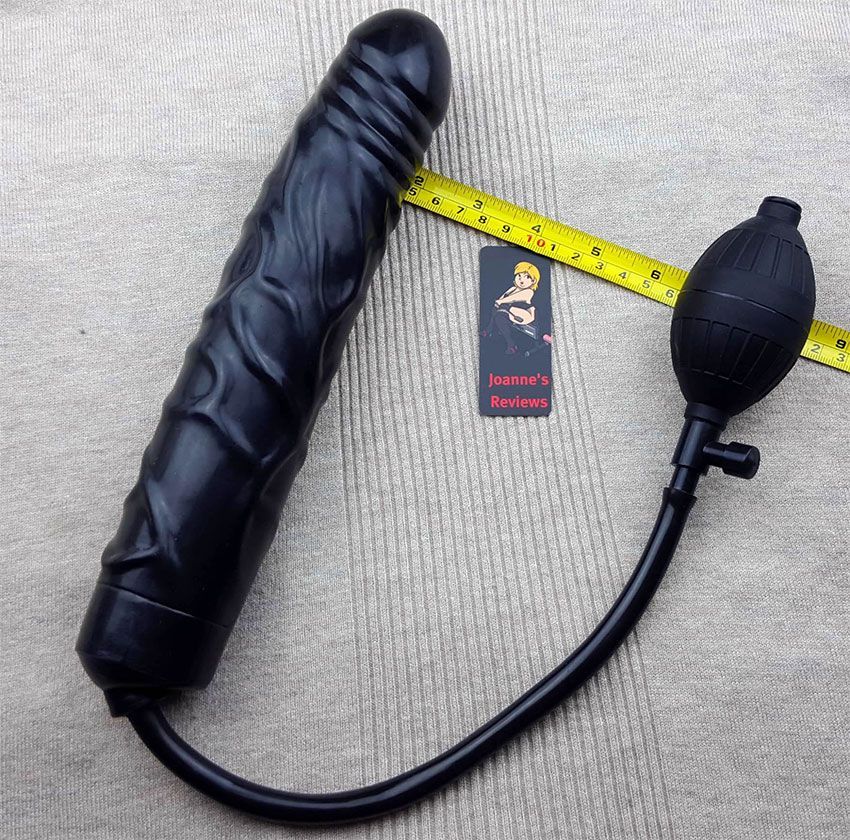 Performance
I holds the air well, and doesn't deflate on its own. I really enjoyed the added girth when I pumped it up. The texture, especially the coronal ridge feels great and I like the way that it gets stiffer when you pump it up.
I really enjoyed the fact that I could vary the girth of the toy during play without having to stop and start with two separate dildos.
I would recommend that you don't store it with anything sharp, as this is one toy you don't want to have to bin because you have punctured it accidentally. The skin of this toy does feel thick, so I don't think it would be easy to puncture, but you definitely don't want to put it to the test.
Key Features
Key features:
Rubber construction
Pump with integral valve
Gets harder as you inflate it
Hollow core
Final Thoughts
This is my first inflatable sex toy and to tell you the truth I was very nervous before using it as it is a big boy even before pumped up. However after using it multiple times I can say that the feeling of being so full that it gives you with just one or two pumps of the bulb feels very intense and I love it.
This is not a first timer toy, simply because of its girth, but if you like the fuller feeling that a larger toy gives then I highly recommend giving this one a try. I will definitely be using it again and wan't to try and inflatable toy on a fucking machine now.
Recommendations
I would recommend this sex toy to:
Anyone looking for a toy to stretch them.
Anyone looking for a toy with variable girth.
Anyone looking for a long toy for deep penetration.
I wouldn't recommend it to anyone who:
Isn't used to girthier sex toys.
Doesn't like rubber.
Where Can I Get One From?

You can get the Trinity Vibes 11 Inch Inflatable Dildo from Uberkiny.co.uk for just £39.99 plus P&P. They have a huge range of other Inflatable Sex Toys and Dildos to choose from. Check them out and don't forget to tell them that Joanne sent you xxx.
I was sent this toy in order to review it and this review doesn't contain any affiliate links.
I would love to hear what you thought of this review. What can I do better, what did you like? Let me know in the comments form below. Thank you for taking the time to read it. Joanne xx
---

If you enjoyed reading this review then check out my other reviews of Uberkinky products:
Website links:
---