Tremblr Male Milking Machine
The Tremblr Will Leave You Totally Dry
You can imagine my delight when I was approached by Ian from fmachinefun.co.uk asking if I would be interested in reviewing a new male milking machine from the manufacturers of the F-machine Pro Fucking Machine (www.f-machine.com). My interest was piqued when I was informed that they are producing a male milking machine to rival the Venus. The Tremblr (no that isn't a typo) is almost ready for general release and by the time you get to read this review it will be just about ready so I am honoured to have been allowed to review one of their pre-production machines for them.
Well I was very impressed and every time that we have put it to the test it has done the trick and what surprised me the most was just how controllable it is. This little machine would be perfect in any dungeon and is ideal for domme/sub play. Yes it's great on your own but if you hand the controls over to someone else it can be one hell of a wild ride.
Now I thought this was an amazing machine but the manufacturers have actually made over 30 tweaks and changes to make it even better, if you are interested in just how good it really is then read on for the juicy bits.
Be sure to check out the manufacturers excellent video on the Tremblr at the bottom of this review.
Having reviewed the Venus I was curious to see how it would compare so I awaited its delivery with mounting excitement.
I didn't have to wait long to see if the Tremblr really is a match for the much-vaunted Venus.
So what Is The Tremblr?
The Tremblr just like the Venus is a male milking machine that borrows its concept from modern farming technology. It uses an electric motor to turn a rotating arm that is connected to a piston. This piston in turn is connected to a receiver via a hollow tube and air is drawn in and out of the receiver. The penis is sucked into the receiver and it is massaged and sucked to orgasm. You can control the amount of air 'sucked' and the speed of the machine to produce some amazing sensations. So it really is a sort of milking machine.
Delivery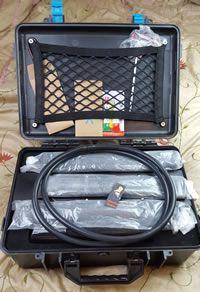 When the tremblr arrived, I must say I was immediately blown away by its overall presentation. It arrived well-packaged and upon opening the packaging box I was greeted with a very large black lockable ABS case. The complete Tremblr and all of its accessories are contained within this lockable case which is great.
One problem with the Venus was the plethora of tubes, cables and two control boxes that had nowhere to be stored. However, the Venus does come with a pouch to store some of the ancillaries but the Tremblr takes care of this issue by storing absolutely everything inside its case. A case that can be locked and this is a great feature for privacy.
Features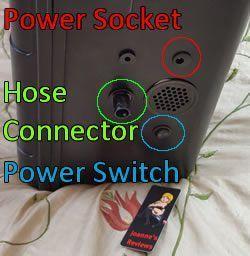 As I have already stated the Tremblr lives in its carry case that has a sturdy handle, two locking clasps and a loop to allow you to secure it closed with a small padlock to keep it away from prying eyes so its ideal for anyone with nosey family members or flatmates. It is a very non de-script case with the exception of the F-Machine logo on the top of the box.
The left hand side of the case has the power switch, power cable socket and the connector for the hose (more about that in a bit) together with an air vent. The right side has a cooling fan inlet that pulls air past the motor and moving parts to keep them cool in their enclosed space.
As soon as I unclipped the two locking latches and opened the trembler I was really taken aback with how stylish and beautiful yet functional the design actually is. The case contains absolutely everything including:
Lower section:
Power supply and cable, this is similar to a laptop power supply
Power adaptor
The motor and vacuum pump sits in the center of the lower part of the box
The receiver
Cleaning brush
Three sizes of receiver liners
Remote Control
Upper Section which has an elasticated net to hold everything in place
Hose
Tools
Glue and repair kit
Instructions
Everything is held securely inside the case in custom fitted foam liners or the elasticated webbing pouch in the lid, I love the fact that everything has its place and you can easily see if you have forgotten to put something back inside after a session with it.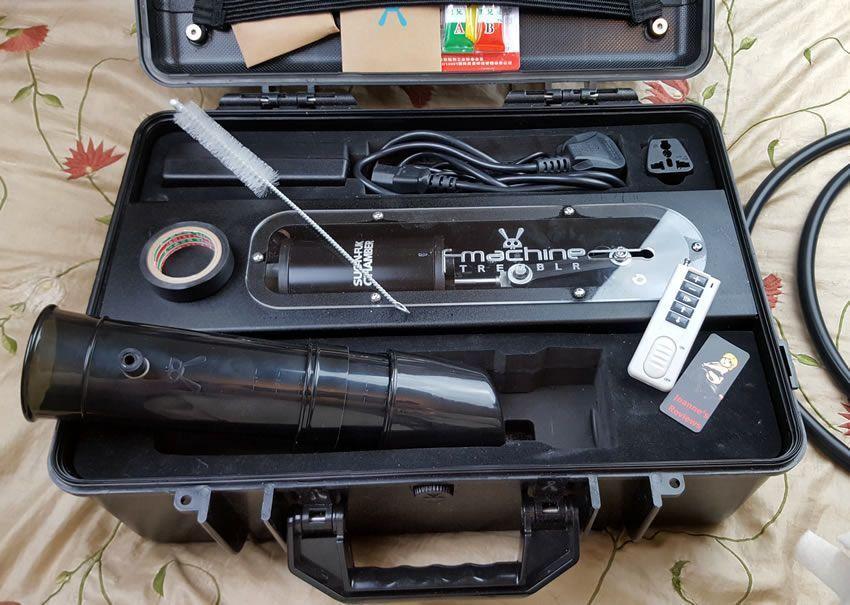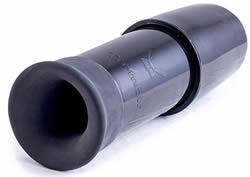 The first thing you need to do is assemble your receiver and this takes about 45 minutes but you only have to do this once. f-machine.com have created an excellent instructional video showing how to do it. Three different diameters of liner are included and it is important that you select the right size for your own penis as it needs to be a snug airtight fit for the Tremblr to work correctly.
I personally enjoyed building up the receiver but I know that some people will want to get straight on with using it so f-machine.com are planning on offering pre built receivers as an option when you buy a Tremblr which is a great idea. All of the tools and material you need building up the receiver are included in the box including a hacksaw, sandpaper, masking tape, scissors and epoxy glue. There is an excellent video linked below that shows the process of making up the receiver. If you don't fancy building it yourself then opt for one of the pre-assembled ones.
CLICK HERE to view an excellent video from the manufacturer on YouTube showing the process for building up the receiver.
Update 16/5/17
The Tremblr is now on sale and rather than having to build up your own receiver it's supplied with three different sized ones which is great.
As it now comes with three ready assembled receivers you no longer get the tools needed to make one. These three receivers cater for about 95% of penis sizes and custom receiver kits are available on the F-machine.com website which include the tools needed to make a custom receiver.
Here are the specs from the manufacturers website - f-machine.com
Extremely rugged and discrete carry case
Wireless remote control (start stop, speed control, suction power/travel)
Ultra-lightweight masturbation receiver (hands free)
180 strokes per minute top speed - that's 3 per second
Powerful yet silent industrial spec motor & speed controller
Adjustable pump power
Internal storage compartments for standard accessories
Fits 95% of penis sizes (supplied with 3 receiver sizes (M, L, XL) or order an extra receiver pre-built to your spec)
110/240V auto switching power adaptor suitable for most power supplies globally
Machine viewing window with blue activation LED's and machine cut-out red LED
Inbuilt electric cooling fan for extended usage in even the hottest situations
Supplied with all tools and hardware for maintaining and adjusting your machine
1 year manufacturer's warranty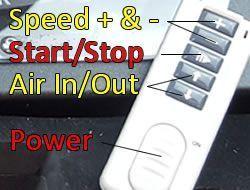 One way that F-Machine.com have managed to reduce the number of cables and tubes over the Venus is that the control valves are within the main housing and everything is controlled by a small remote control that takes a small battery similar to the ones in car alarm fobs. The remote has a telescopic antennae (I didn't need to extend it at all) an on/off switch and five buttons. The top two (+ & -) control the speed of the Tremblr's motor, the middle button starts and stops the action and the lower two buttons control how much air is in the system which in turn control how high the receiver sits on your penis.
Top Tip: If you place the remote back into its storage slot with the battery inside then insert it upside down. If you put it in the right way up then the foam housing can actually switch the remote on as you insert it which will drain your battery in storage. By putting it in upside down this prevents this from happening.
Use
So how do you use the Tremblr? Well whilst it looks complicated it really isn't, just remove the power supply and cable from the box and plug it into the wall before connecting the power cable to the socket on the left hand side of the Tremblr. Make sure the power switch is in the off position before attaching the plug.
Remove the receiver and attach the hose to the boss on its side then attach the other end to the boss on the left side of the Tremblr. Put lots of water based lube inside the Receiver before switching on the unit. You will see a lovely blue LED glow inside the working parts area of the Tremblr under the clear window telling you that it is ready to go.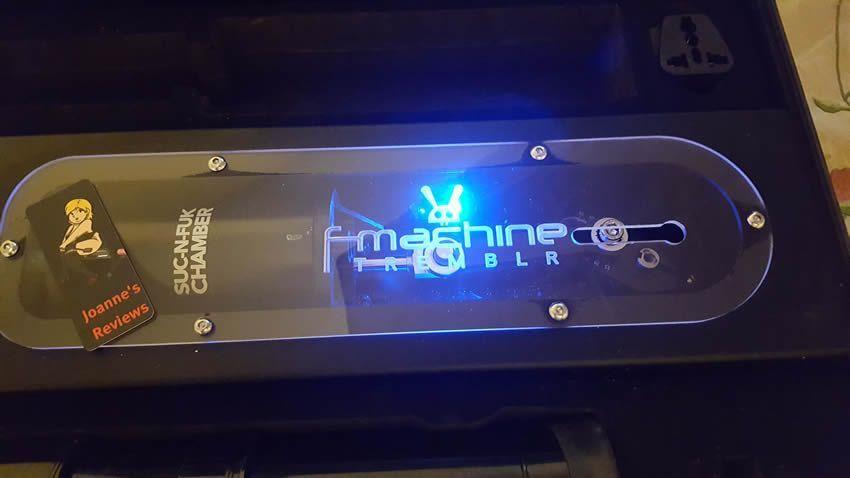 Switch on the remote control and then press the middle "play" button and you will see the motor turning the arm which in turn pushes the piston in and out drawing air back and forth from the receiver, looking inside the receiver you can will it opening and closing beckoning you forth.
Slide your penis into the receiver (whilst smiling like a Cheshire Cat) and it will be sucked inside, air is displaced through a one way valve on the top of the receiver as you are sucked inside. You can start playing with the Tremblr when you are either soft or hard as the receiver will get you hard as it strokes and sucks you. The action of the air being moved in and out of the receiver will cause it to ride up and down on your penis massaging and sucking it as it does so.
This ability for the machine to suck you hard is great for anyone suffering from an erectile disorder and it means you don't have to worry about anything at all as it does all the work.
The controls on the remote allow you to speed up and slow down the action as well as control how much air is in the system to be moved about and this can alter the effect. There is one adjustment that you need to be aware of as depending on the girth of your penis and the liner used you will need to adjust the length of the pistons travel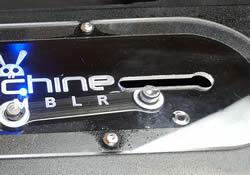 and this is easily done with the tool provided through a slot in the viewing window of the tremblr. You will see an allen headed bolt securing the connecting rod to the rotating arm and you just undo it so that it is slack before moving the bolt along the arm which features a graduated scale for accuracy. Move it away from the crankshaft to increase the amount of air being moved (for thinner penises) or move it towards the crankshaft for thicker penises. Once you have found the setting you want you can then tighten up the bolt and you are ready to go.
This is a huge improvement over the Venus that required you to remove its cover and then to undo and remove a bolt connecting the link arm to a flywheel and placing it in one of only five places before closing everything back up again. This was a slow process and not ideal if more than one person will be sharing the machine (with either condoms or separate receivers). The Tremblr has much finer adjustments possible carried out in only a few seconds so well done for coming up with a great solution to the adjustment problem guys.
You will find it very easy to alter the depth of stroking action as well as the speed of it all with the remote control so you can sit back and enjoy the ride.
The only thing I don't like is the fact that the main hose is a little bit too flexible if that makes sense? It means that it is quite easy to kink so you need to be aware of that and route it so that it can't kink. The hose supplied with the Venus is much thicker.
Performance
To say that I was impressed with the performance of the Tremblr would be an understatement, it is so easy to both set up and use that you can quickly get down to business and simply enjoy it for what it is - a male milking machine. Now obviously I am not qualified in the genital department to say just how good it is in action so I will hand over to my stunt cock for his take on it but I can say that strapping him down and using it on him took our play to even higher levels of kink and enjoyment.
It really does make a pleasant change to be able to edge and tease him with a machine as it is usually me on one of my fucking machines getting that sort of attention. So over to my tamed "Stunt Cock" for his comments on the Tremblr.
"I have to admit that just as the Venus did, the Tremblr got me off in under two minutes the first time I used it. I found the stiffer liner in the receiver just as enjoyable as the thin ones on my Venus receivers and the fact that I can use either is a great advantage. Well what can I say really except - WOW. It really does what it is designed to do and that is milk you dry. I found that within a couple of goes of it I had the adjustment mechanism on the rotating arm set for a perfect blowjob effect and I could use the remote to alter where the receiver was stroking me from just the tip of my cock to the whole thing. The Tremblr is great for long sessions of edging where you can use the speed and suction controls to edge yourself but it is even better with a partner at the controls, handing over the remote to let them bring you off in their own style. One thing I really liked about the Tremblr is the fact that it is self contained in its own storage box and can be locked away between uses to keep it away from prying eyes. It has so many good features but the best bit is the shear functionality of it. You can start off flaccid and it will suck you hard before giving you some amazing orgasms. Afterwards it is really easy to clean up and put away ready to go at a moments notice."
His face was a picture when I first used it on him as I had tied him up so I could just get to know the controls and settings and in under two minutes it was all over, I was giggling and stunt cock had a very red face. Needless to say he lasts much longer with it now that it is set up for him and he has learnt how to control it very well indeed. I still love finding him sat there with a huge grin on his face doing "research for the review" as he calls it with the receiver bobbing up and down on his lap.
Cleaning afterwards is very easy, as no body fluids get into the pipe at all you can simply disconnect that and put it away. You can then use the included bottle brush to clean out the receiver. Pop the end cap off and run warm water through the receiver whilst using the bottle brush to clean it out, it really is as easy as that. Make sure that you air dry your receiver before putting hte cap back on and placing it back in the Tremblr carry case.
Key Features
Key features:
Extremely quiet and smooth operation
Three sizes of receiver available
Very easy to control with the remote
Very discreet packaging to lock it away
Upto 3 strokes a second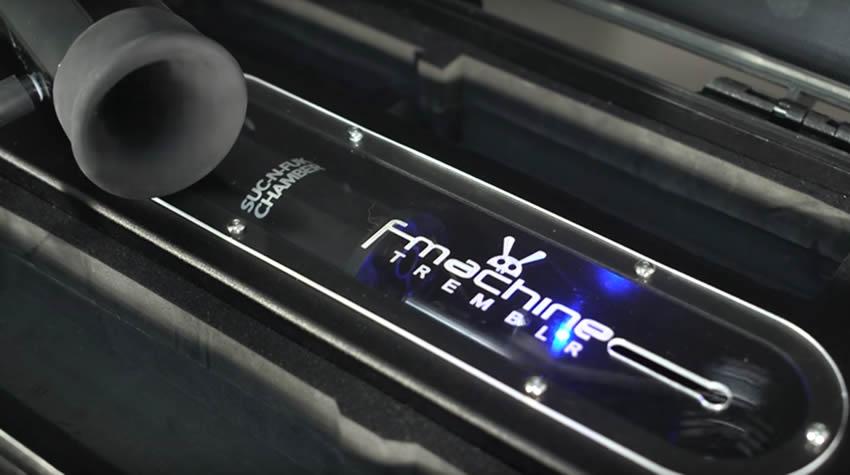 Final Thoughts
This is the second milking machine style of male masturbator that I have reviewed and it is a really impressive piece of engineering designed with one purpose in mind. I cannot overstress the thought that has gone into the design of the Tremblr, they really have ticked all of the boxes and have come up with what could indeed be the perfect male milking machine. The Venus is an amazing piece of equipment but the Tremblr addresses all of its shortcomings and actually improves on several features. The Venus now has a 'stiff' contender to deal with and I am sure that the Tremblr will be a hit within UK and also international markets as it has so much to offer. It really can give you a hands free orgasm and feels incredible in use. As it is also compatible with existing Venus receivers, it can be a great addition to anyones toy collection even if you already own the Venus.
Recommendations
I would recommend this sex toy to:
Anyone looking for a hands free masturbation method.
Anyone looking for lots of control and personalisation.
Anyone looking for a male masturbator.
Anyone in the BDSM dungeon scene.
Anyone who already has a collection of Venus receivers.
Anyone who struggles to get an erection when masturbating.
I wouldn't recommend it to anyone who:
Doesn't like suction coupled with movement.
Joanne's rating
9.6Overall10Design10Features10Functionality9Ease of use9Price
Where Can I Get One From?
In the UK you can buy a Tremblr from Uberkinky or Bondara. The price is set at £599 which brings it in at under the cost of a Venus.
In the UK you can also buy a Tremblr from fmachinefun.co.uk as well.
I was sent this toy in order to review it and this review does contain affiliate links.
I would love to hear what you thought of this review. What can I do better, what did you like? Let me know in the comments form below. Thank you for taking the time to read it. Joanne xx
---
---
A very informative video from the manufacturer showing you the Tremblr including it in action
Additional Info
Overall Rating:

9.6
You May Find These Articles Interesting
15 comments
Leave a comment