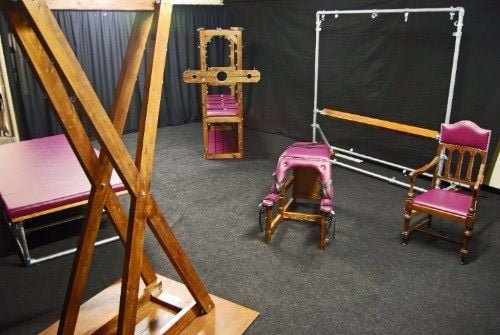 I have been using this dungeon for over a year now and it's fantastic. It features top of the range equipment, friendly staff and it doesn't cost the earth to hire. TP Dungeon Studios sits in an old industrial estate, tucked away from prying eyes. There is no sign on the outside of the building about what is inside. Parking is available right outside the front door. That means if you are bringing equipment you won't have to carry it far.
The dungeon is run by a lovely couple Ian & Lousie. They show everyone around on your first visit and explain the dungeons policies. They will also show you how to use the various items of equipment if you are new. They'll then leave you to yourselves for the duration of your booking. They're great at putting new visitors at ease. Both of them are very knowledgeable about their equipment and the scene in general.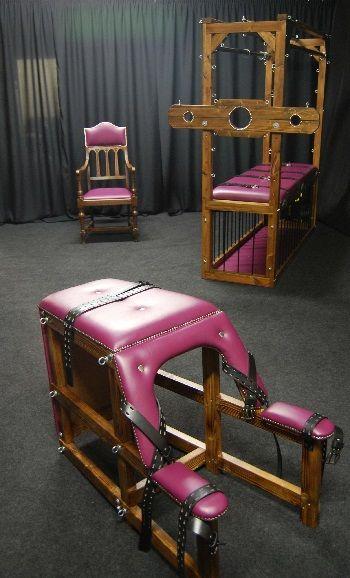 The dungeon areas floor is carpeted and it has black sashes adorning the walls. This dungeons equipment is all colour co-ordinated in a stunning purple colour. This is a nice break from the usual reds and blacks found in lots of other dungeons. The equipment is hand made by artisans and is both functional and also of very a high quality. Your first visit will have you looking round with glee as you try to take in all the kit available to you. It will all lead to some very memorable times.
The Dungeon is broken down into two main areas, the main dungeon floor and a rest area. This area features a sink, kettle, music system and a fully stocked fridge together with a comfy sofa. These two main areas can cordoned off with a black curtain should you need to do so. This is the main dungeon area and it is where you will have most of your fun and games. There's a short corridor lined with equipment racks and also professional studio lighting.
You will find a full range of whips, floggers, restraints and all sorts of other useful little kinky items. You can then integrate what you fancy into your play sessions. The leather hood is incredible and the spreader bar also is a lot of fun to use.
There is a separate room accessed through the rest area that's kitted out as a medical play room. It comes complete with a gynae chair for those intimate examination play sessions. Infront of the chair is a huge mirror so that anyone in the chair can watch themselves and this can be a lot of fun. Medical wipes, gloves even a Hitachi wand are available in this room. Your imagination is the limit to how you use this facility.
In the cooler months the dungeon can start off a little chilly. There are many space heaters dotted around that are very capable or warming it up in around 20 minutes. We always end up turning them off as they do their job very well. In summer it stays nice and cool inside. Temperature wise it is a very comfortable dungeon to use once it has warmed up.
Now there are only two downsides with this dungeon. The first is that the toilets are shared with other business units on the estate. This means that you will need to be dressed when using them. It's a short ten meter walk down a corridor to these facilities. The other downside is that there is no shower available. This isn't a show stopper but something to be aware of.
This is what we call our local, even though it is an hour and half's drive away from home. It's the dungeon that we keep going back to because of the amazing owners and their superb facilities. We feel so at home there and the equipment is perfect for the sorts of play that we like.
You can buy lengths of rope and also Vac-u-lock dildos there. One great thing about this dungeon is that you can include rental of a fucking machine and/or a Sybian. It's ideal for anyone curious about that sort of play.
The fucking machine is a Sneaky Pete Pro which is a clone of the F-machine Pro that I have. It's a capable machine, the Sybian is as you know is a legend in its own right. You can read my review of the Sybian here.
They charge:
Fucking Machine Hire: £25 for the hire plus £13-£27 for a Vac-u-lock dildo if you don't bring one of your own.
Sybian Hire: £30 for the hire plus £20-45 for a Sybian attachment if you don't bring one of your own.
I cannot stress how much these two machines can add to an already amazing session in a dungeon. It adds to the spice and with the equipment you can get very imaginative in how you include them in your play. You can see the dungeon in this review of three of the new Sybian Attachments that we recently did.
TP Dungeon Studios have been very sensible with their prices and it's rates are:
Up to 4 hours booking - £60 total.
6 hours booking - £85 total.
8 hours booking - £105 total.
Take your tie tease fun to the next level in TP Dungeon, follow @TP_Dungeon.
Click to Tweet
Key Features
Key features:
Excellent equipment
Refreshments provided
Whips, paddles, chains and other restraints provided
Medical room for medical play
Sybian and Fucking Machine available for hire
Studio lighting available
Final Thoughts
I can honestly say to anyone looking to try a dungeon for the first time then TP Dungeon Studios is the dungeon to try. It's centrally located in the UK, so it's the perfect beginners dungeon whilst also catering for anyone with experience. It has so much to offer, great equipment and you can let yourself go in here and enjoy yourself. As you are in the middle of a business estate so you can be as loud as you like without worrying about the neighbours hearing you.
At £60 for four hours of rental it's incredible value for money and is a great way to experience the dungeon scene. Go on, live out your kinkiest fantasies in a dungeon.
Where Is TP Dungeon Studios?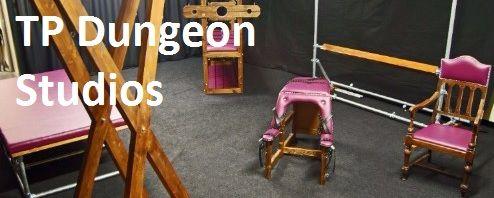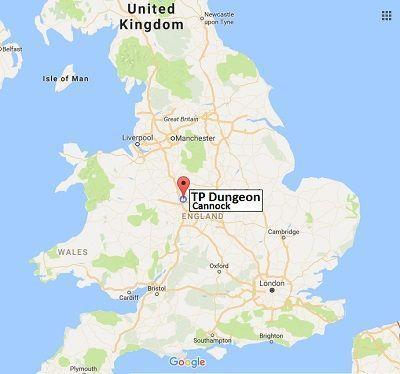 TP Dungeon Studios is centrally located in Cannock, South Staffordshire in the UK so it's accessible to most people who fancy trying a dungeon out.
They are just 10 minutes from junction 11, or junction 12 of the M6, north of Birmingham, or 5 minutes from junction T7 of the M6 Toll.
The dungeon is a short five minute taxi ride from the local train station that is linked to Birmingham New Street station and there are lots of hotels close by with prices starting from £35 a night.
Whilst is might seem like a big jump to take your play to the next level it can be very rewarding and I can highly recommend this dungeon as it's just so good.
I was not asked to review this dungeon, I did so as I enjoy using it so much and it will be a complete surprise to them when they read it.
Check them out and don't forget to tell them that Joanne & Stunt Cock say "Hi".
Disclosure
This review does not contain affiliate links, for more information about affiliate links check out my disclosure page.