I didn't have to wait long for it to arrive. Everything that we have ever received from Meo has arrived quickly and discreetly which always puts a smile on my face as let's face it; it's a long way from Germany to my dungeon.

The sholder bag comes flat pack in a plastic sleeve which minimises any waste
This shoulder bag arrives in a sealed plastic pouch; I like the minimalistic approach to packaging from Meo as it both keeps costs down and means less waste. I didn't hang around as I wanted to get to grips with this shoulder bag to see how it would fit in with my plans.
But I had to wait as Joanne can be such a taskmaster, she took the bag off me to do these pics, and so I had to bide my time. I must say she did an excellent job of them though.
Once I got the bag back again, I was able to give it the old-fashioned calibrated eyeball. I liked what I had in front of me. The bag is made out of black Polyester with other materials used for the side pouch and the zips.

The sholder bag sits comfortably across your back held in place with the single strap
It is a shoulder bag, and as such you only get one strap. It's designed for you to put your head and your left arm through and under the strap and it then sits snuggly across your back with the strap running diagonally across your chest.
To quickly remove it you can split the strap in half as its two parts are held together with strong velcro. This makes it very easy to remove, especially when it is full and hanging on your back. The strap also has several loops on it that can be used to attach carabiners and any other clip-on objects.
The strap features a small mesh mobile phone pocket that can also be used for car keys or whatever you want to keep there.

The chest strap carries two loops and a mesh pocket for a phone or keys
The main pocket has a zip with two zippers so that it can be accessed from the top or bottom which is excellent for access. It has a volume of 12 litres which is adequate for my needs. In fact, it is perfect.
The reason why I was looking for a new play bag is that my old one was just too big. A large bag means that you inevitably fill it and that made it incredibly heavy, and I was continually carrying too much BDSM kit around with me.
This smaller bag means firstly it is good on my back and secondly, I have to pay more attention to what equipment I want to take with me to a play session. That means I always have the right kit with me and I am not caught short with empty lube bottles and all the rest of the detritus that always ended up at the bottom of my old bag.

The shoulder bag features a mesh pocket on the side and a small zippered pocket as well for valuables
You also get a small zippered pocket that is good for valuables and a mesh pocket on the side of the bag. I like to use this to store a bottle of lube, black latex fisting gloves and a pair of punishment panties. Yes, you read that right, punishment panties. My submissive doesn't wear panties, and if she needs to be punished, I can hardly spank or cane her as she would enjoy that far too much. So the punishment for her is to be made to wear panties and to stand in a corner being ignored, therefore wasting valuable play time. It is a very effective punishment.
I also love the branding on the back of the bag from Meo. It carries their logo at the top of the bag, and it also has a kinky message on it too - "Come play with me". I love it and it as I am always open to suggestions it is good advertising on my back.
So what can you fit in a 12-litre shoulder bag? Well, let me tell you exactly what's in it at the moment and here is a picture of it in the garden:
Six latex gloves, a bottle of Man Cunt Lube, a bottle of Cock Candy, a pair of punishment panties, two 10m lengths of bondage rope, a collar, a leash, a pair of wrist cuffs, a pair of ankle cuffs, a paddle, two floggers, a cane, a ball gag, a blindfold, a roll of bondage tape, two nipple clamps, a 2B e-stim control box, an e-stim bipolar electrode with its cable, an electronic bondage time lock and a packet of condoms. Not bad really and about half of what I used to carry - my back thanks Meo for that.
My cane sticks out of the top, but it did in my last bag too, but you are not going to get a shoulder bag where it doesn't. The cane almost makes the bag look like some sort of kinky transmitter on my back.
I love how comfortable it is to wear, once slipped over your head and onto your back it fits very snugly indeed. The velcro on the chest strap means that there is a lot of adjustment to be made for different chest sizes.
This shoulder bag can be used for other non BDSM activities like carrying your kit to the gym or use it as a daysack to carry what you need around with you. Take it on holiday, to the pool or use it for your daily needs. It is great quality, and it looks fantastic. It is a modest size measuring in at (W x H x L): 34 x 45 x 13 cm = 13.5 x 17.7 x 5 inches.
I like it, and it has now proven itself during several BDSM play sessions with sub'r' as it is perfect for our needs. It is now my play bag of choice so I can get rid of my old one. Does anyone need an old BDSM playbag with the capacity of a skip?
Looking for a great general purpose sholder bag with some kinky branding? Check out this one from @MEO_TEAM that is great for BDSM kit.
Click to Tweet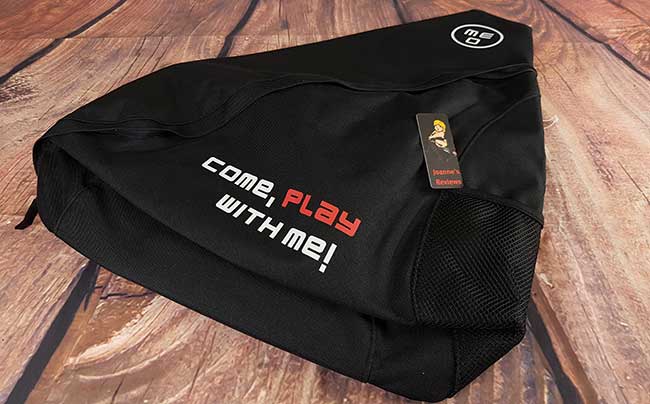 I love the Meo logo and the message emblazoned on the back of the bag
Key Features
Key features:
Quality materials
One large pocket, one small zippered pocket and two mesh pouches
Single strap held together with strong velcro
Fun branding
Double zipper on the main pocket
Final Thoughts
This shoulder bag from Meo really does fit a need that I had, and it performs very well indeed. I have used it for several kinky BDSM sessions now, and it still surprises me at how much kit I can carry in it without going overboard.
I love the branding, and the "Come play with me" slogan from Meo is perfect for my style of fun. The small mesh pockets are incredibly useful, and the small zip pocket is ideal for my valuables. Having the double zip on the main pocket means that I can carry canes and crops with them sticking out of the top. This is a very flexible solution to the problem of carrying your kit around.
I use it for BDSM kit, but it would also be great for everyday use as well. If you are looking for a new bag, then give this one from Meo a thought and check out their other wares on their site too.
I was sent the Toy Bag from MEO - Monostrap Backpack by Wolf at Meo.de and I would like to thank them for giving me the opportunity to review it for them.
Joanne's rating
Where Can I Get One From?
Grab one of these extremely useful bags from Meo.de, you can get one for just 19,90 € (£17.44) which is great value for money. At that price you can justify getting one for your play kit.
Check them out and don't forget to tell them that Joanne says "Hi".
---
---
Disclaimer - I was sent the Toy Bag from MEO - Monostrap Backpack to review free of charge and this has in no way affected the outcome of this review. This post contains affiliate links and if you purchase something when you follow one of these links I may receive a small commission at no cost to you. For more information check out my disclosure page.