As usual, Meo dispatched this product to us quickly and very discreetly which is excellent as our nosey neighbour always likes to watch the postman walking up to our house. I think she may have a bit of a thing for him to be honest.
Once again Meo has opted for a minimalistic approach to the actual product packaging, and I wholeheartedly support this as it produces less waste and keeps the costs down for both them and their customers.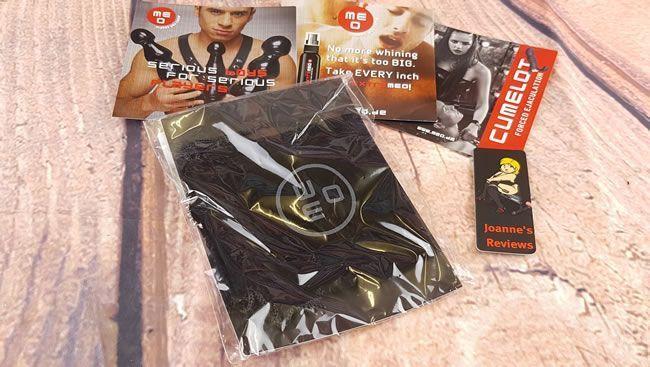 I like the no nonsense approach to packaging from Meo as it creates less waste
The TOP pendant and necklace arrive in a clear pouch that contains the product together with a black branded drawstring pouch for storing it. We also received some flyers promoting other Meo products, they often include them with orders, and I like them. Their advertising is spot on theme and as they have so many amazing products I find that these flyers are a great way of showing me some products that I may have missed on their website.
Let me first cover a few points of vocabulary, a Top in the BDSM world is the Dominant partner, someone who takes the lead, spanks, flogs, controls, dominates, well, you get the picture. A Bottom is a submissive partner, on the receiving end of the Top's administrations. A Switch is someone who enjoys both roles and can switch from one to the other. Wikipedia has an excellent brief article on the differences between Tops, bottoms and switches.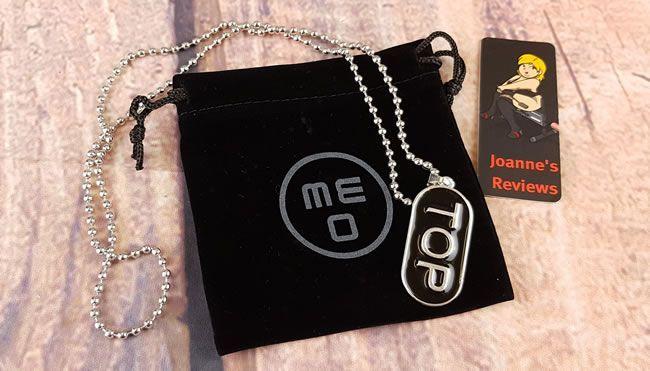 The inclusion of a drawstring storage pouch is a nice touch
Symbolism is very common in BDSM, and it is incorporated into lots of different play activities. Take collars, for example; these are visible symbols of ownership and submission; they also mean a lot to the wearer and person who fitted it to the wearer. Some submissives get tattoos or can even be branded at the more extreme ends of the BDSM scene to show a symbol of their submission.
Symbolism in BDSM is epitomised by the Handkerchief Code that emerged as a way of symbolising your likes and role to others.
But what do Dominants or Tops wear to symbolise their Dominant role? Well apart from their body language lots of Dominants dress to impress and to assert their Dominance, and this is where this product comes in.
Rather than leaving anything to chance it announces loud and proud that you are a Top and not a Bottom (you can get one for a bottom too from Meo), it asserts Dominance through its symbolism
.


The pendant is nice and thick, feeling chunky and having a nice weight too
What is it?
The Top Necklace is a very nicely made dog tag style pendant on a ball chain. It is worn around the neck, and its length is just perfect for me. It means that the pendant sits just above the neckline of my shirt showing the pendant off in all its glory. It isn't too heavy, but it has a comfortable quality feel to it that feels good when you have it on. The stainless steel pendant is nice and thick, this gives it a quality feel to match its looks.
The pendant measures in at 0.8"/2cm x 1.6"/4cm.
The chain has an easy to open and close quick connection as it is too short (20"/50cm) to place it over my head when putting it on. I have to break the chain and then refit it around my neck. The chain is the type you often find on sink plugs, and it takes me back to my years of service in the military as it is the same style used on my dog tags.
The pendant is a work of art, the black enamel background makes the raised letters of the word "TOP" stand out, and your eyes are immediately drawn to it. I enjoy wearing it, and when I wore it to the last BDSM event, I got a lot of attention from other Dominants and submissives asking where they could get one to wear or give as a gift.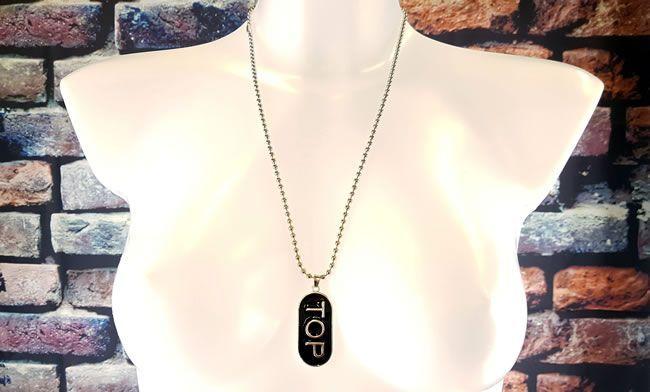 The necklace and pendant look really nice when worn and it gets lots of attention
I lost count of the number of comments that it received about it with all of them being positive.
This is indeed the perfect gift to give to a Dominant as if it comes from a submissive or bottom it will show the Dominant that they know their place as they are acknowledging the Dominance over them by their Top.
This is one of those simple products that you wish you had found a long time ago and it makes a quick, cheap and comfortable addition to any Tops wardrobe and goes with any outfit. Its classic black and white colour scheme is perfect for the piece of BDSM equipment that it is.
Make no mistake the TOP necklace and pendant from @MEO_TEAM leaves no doubt as to your Dominance.
Click to Tweet


The pendant looks fantastic and the necklace compliments it well
Key Features
Key features:
Stainless Steel
Thick pendant with raised letters
Ball chain with quick release connector
TOP and BOTTOM styles available
Final Thoughts
I really like this necklace and pendant, it is beautifully made, and it looks great. Wearing it was a lot of fun and it got a lot of attention and admiring glances. It leaves no doubt at all as to my Dominant nature and wearing it will do the same for you.
It would make an ideal gift for a Dom from their submissive and as a BOTTOM version is also available that one would make an excellent present too.
If you are looking for something to add to your dungeon wear that screams you preference for Domination, then give this a serious thought as it is fantastic.
I was sent the TOP Necklace - Men's BDSM Necklace With Pendant by Wolf at Meo.de and I would like to thank them for giving me the opportunity to review it for them.
Where Can I Get One From?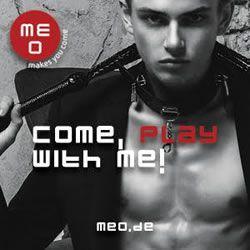 Grab one of these fantastic Men's BDSM Necklace With Pendant from meo.de for just 12,90 € (£11.39), at this price why not get a TOP and BOTTOM set so your submissive and yourself can wear them together?
Check them out and don't forget to tell them that Joanne says "Hi".
---
---
Disclaimer - I was sent the TOP Necklace - Men's BDSM Necklace With Pendant to review free of charge and this has in no way affected the outcome of this review. This post contains affiliate links and if you purchase something when you follow one of these links I may receive a small commission at no cost to you. For more information check out my disclosure page.