I am pretty sure that The 2B is now shipping with 2.105 firmware. So you can see how far the versions have already come along. This shows the dedication that E-Stim Systems have for their products.
You can always download the latest release firmware on the 2B page on the E-Stim Systems website. New versions are actively developed, and then a team of testers help to hammer out any bugs before it is released to the public. The latest stable version is 2.105, and all new releases are available through their forum - https://www.e-stim.net
What do you need to be able to upgrade your 2B
Well, you can always get E-Stim Systems to upgrade your box for you for a fee, but it is easy to upgrade it yourself as long as you have the optional Digital Link Interface Cable. This allows you to connect your 2B to a PC or Mac and upload the new firmware.
If you one the digital link cable you will have everything you need to carry out the update yourself. Just install the drivers and the uplink software. Then by following the straightforward included instructions, you can set your 2B into bootloader mode and then connect it to your computer.
The process of uploading the new firmware only took me eight minutes, and I now have a control box with even more features.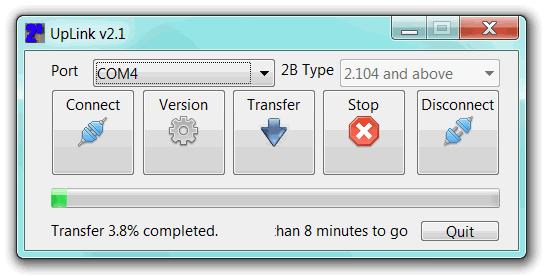 Image showing the uplink software sending the new firmware to my 2B
Tonight I get to try it out on sub'r' to see what she thinks of the new features, but I think I will have a play myself this afternoon - for research purposes of course.
Disclosure
Disclaimer - This post contains affiliate links and if you purchase something when you follow one of these links I may receive a small commission at no cost to you. For more information check out my disclosure page.