This Titus Puppy Tail Pro was supplied by Clonezone for free in exchange for a fair and honest review. This one is the small size, and Clonezone also stock the medium for someone who wants more of a challenge.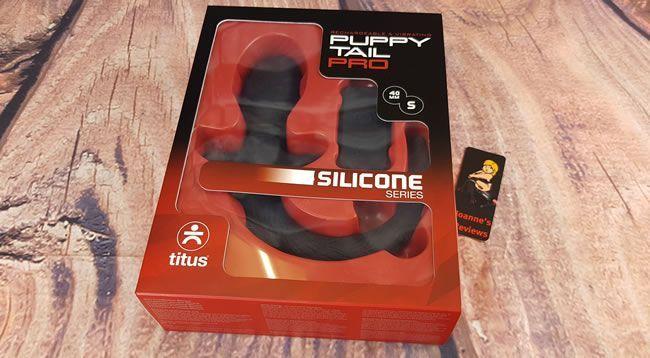 I love the retail packaging of the Titus Puppy Tail Pro Butt Plug
The small measures in with a circumference at the widest point of 5"/12.7cm, and it has an insertable length of 3.2"/8.1cm.
The Titus Puppy Tail Pro comes with a CR2032 button battery already installed in the vibrators remote control unit that has two buttons. They act as a power button and a button that is used to cycle through the tails 10 vibration settings.
The control box is made of ABS plastic which is a non-porous body-safe material that is easy to keep clean. It is also well designed and easy to hold and use.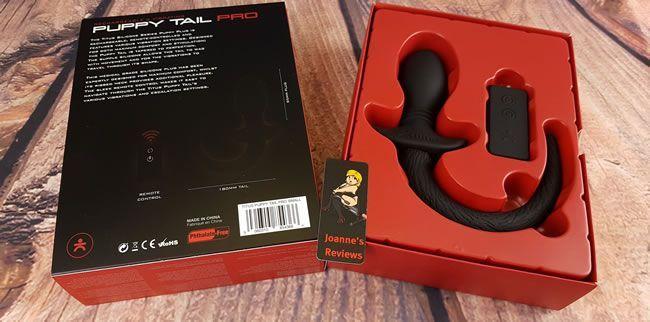 This is very nice packaging and the butt plug is held securely in its case
The puppy tail butt plug, on the other hand, is coated with a lovely blend of black silicone that is very soft and silky to the touch. It's a bit of a dust and lint magnet as you can see from the pictures but that is common with most silicone sex toys and nothing that a quick rinse under the tap won't take care of.
The tail is exceptionally flexible and features beautiful hair detailing which makes it look amazing. It does, however, mean that you need to pay extra attention to the tail when cleaning this butt plug to ensure that you get into every nook and cranny to clear out any gunk or lube.
As it's made out of body-safe silicone, it means that it is both latex and phthalate free. Silicone is also none-porous which makes it pretty much the perfect material for sex toys as no bacteria can grow within the material itself due to its hydrophobic properties.
Make sure that you use a good quality water based lube or a hybrid lube with this butt plug to prevent any surface deterioration. If you need to use any other type of lube, then try a small amount on a small area of the plug to make sure that there is no adverse reaction.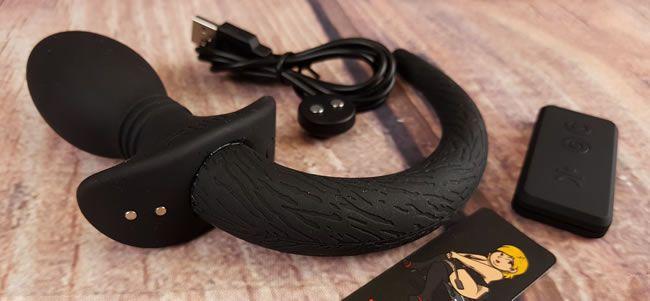 The charging cable attaches to two metal studs on the base of the plug
This plug has beautiful proportions, and it is 1.6"/4cm in diameter, so even though this is small so it may be unsuitable for first-time butt plug users due to its girth.
It does have a very rounded tip that makes insertion fun, I would have preferred more of a taper at the nose end of the plug though to aid insertion.
You just apply pressure and once it starts to slide in, the taper takes care of the rest of the journey. It has a broad base which helps to prevent any accidents, and that is important with anything that you stick up your butt.
There are two metal studs on the base of the plug, and these are where you attach the magnetic USB charging cable. Charging is very simple just connect the cable and then plug the other end into a power source. Charging takes around four hours, and that will give you one and a half hours of play time.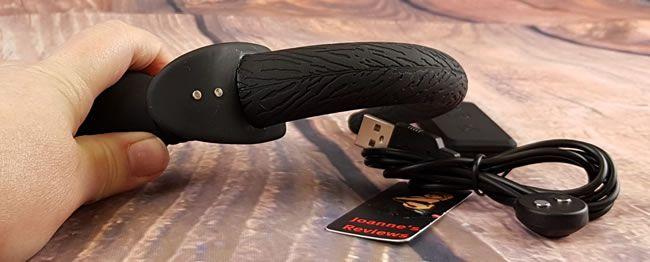 Charging is easy with the magnetic USB charging cable
The base also carries a power button that is used to switch the vibrating function on and off as well as allowing you the cycle through its settings without the remote.
The neck of the plug has three delightful rings that are designed to give you extra stimulation when wearing it. They sit just where your anus will rest against the broad base.
There is a TITUS logo on the side of the base, and this is recessed, so again extra care must be taken when cleaning this area.
The tail has a delightful upwards curve and is very flexible. Once fitted any movement of your butt cheeks will be translated into a pleasant wagging of the tail and this feels lovely.
Performance
This is a filling plug that you definitely know that you are wearing. After applying lube to the plug and myself it was on with the insertion, I found it a bit tricky to start with due to the rounded nose but once I got it going it slid in easily, and that felt amazing. I love butt plugs especially fitting them, when you reach the widest part in their diameter they just sort of pop in and that always gets me going.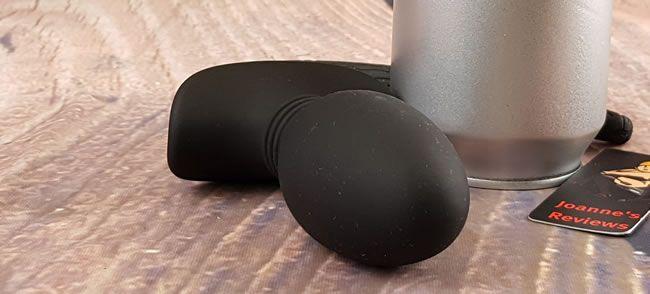 Insertion is fun with the rounded nose but once it starts going in it feels amazing
I just closed my eyes, enjoying the feeling of being stretched and filled at the same time, it is a delicious feeling.
The butt plug is switched on using the button on the base, and it springs into life delivering very pleasant vibrations that travel through your nether regions. The power button can also be used to cycle through the patterns of vibration and the power levels. You get three steady vibration settings followed by seven modes of vibration.
Pressing the power button again turns the vibrator off just leaving you with the full feeling of being plugged. When it is on though you can enjoy changing the settings using the remote control, and you can put it into a standby mode to save power using the remote. The controls are straightforward to use, and it is so much fun to hand the controls to someone else. Giving up control and submitting to them while they tease you.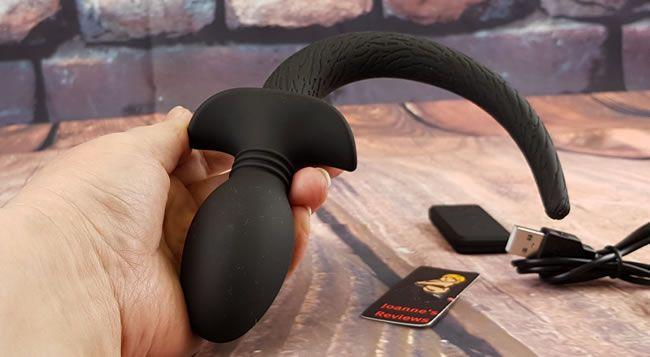 This is a butt plug that is nicely proportioned and that is so much fun to use
Indeed when sub'r' wears it I can really enjoy teasing her and driving her wild as she plays on all fours with her tail wagging.
On all fours you can really appreciate the tail as you start a gentle wagging motion going, that coupled with strong, deep vibrations never fails to get me or sub'r' going. The sensations change as you get the tail wagging and this makes it much better than just an ordinary butt plug.
When you use the vibrator things really heat up. The vibrations are powerful, and on some of the patterns of vibration, it feels like the plug is swelling and throbbing deep inside you, and that feels amazing. I haven't experienced sensations like this before with any other butt plug, and I love it.
The Titus Silicone Series Puppy Tail PRO from @ClonezoneUK will have you wagging your puppy tail with joy.
Click to Tweet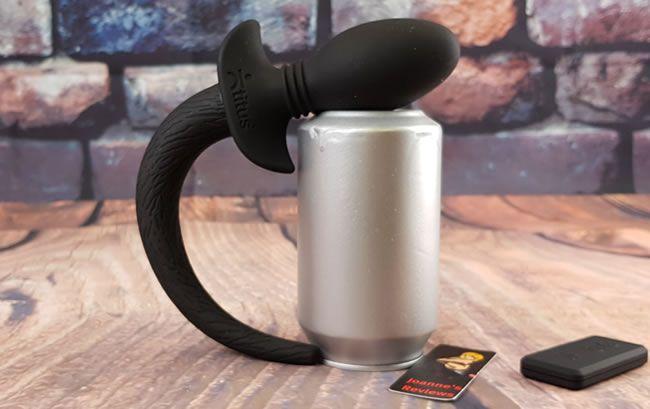 We had so much fun reviewing this puppy tail butt plug
Key Features
Key features:
Silcone and ABS construction making it body-safe
Rechargeable vibe, battery supplied for the remote
10 vibration settings, 3 power and 7 patterns
Magentic USB charging lead supplied
Easy to operate and nicely detailed
Final Thoughts
This really is an excellent butt plug that is both comfortable to wear, even for extended periods of time and also is a lot of fun due to the addition of the tail.
The vibrations are fantastic and make this an excellent butt plug. The ability to hand over control to someone else is a huge bonus too, but even if using it just by yourself the remote makes it so easy to change the vibration settings.
This is a fantastic plug not only for puppy play enthusiasts but also for anyone who wants to try something a little different and it's ideal for a submissive who likes to hand over control to someone else.
I would like to thank Clonezone for giving me the opportunity to review this puppy play butt plug for them.
Joanne's rating
Where Can I Get One From?
Clonezone is the UK and Europe's FIRST Gay superstore. They first appeared on the UK Gay scene in 1982 and opened their first walk in shop in 1984, they have grown year after year ever since then. They are world leaders in what they do.
You can get one of these Titus Puppy Tail Pro Butt Plugs from Clonezone for just - £59.99, they carry an exceptional range of butt plugs and other puppy play products so it is defintiely worth having a look around their fantastic site.
Check them out and don't forget to tell them that Joanne says "Hi".
Disclaimer - I was sent the Titus Puppy Tail Pro Butt Plug to review free of charge and this has in no way affected the outcome of this review. This post contains affiliate links and if you purchase something when you follow one of these links I may receive a small commission at no cost to you. For more information check out my disclosure page.