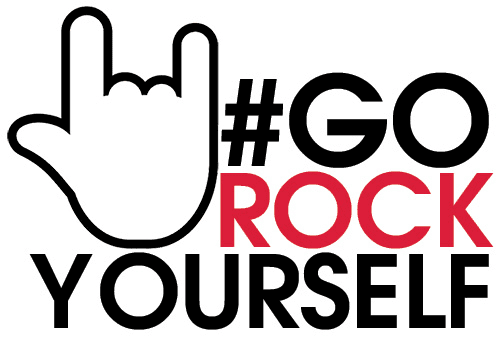 You can pick up a Tremor from TheTremor.com for just $849, that is a considerable saving over a Sybian which comes in at $1245.
You will, of course, need to factor in customs charges though if you are importing one into the UK if not buying from a UK retailer. I had to pay a customs fee of £139 on this one to get it to me from the US.
You get peace of mind when you buy a Tremor as it comes with a two-year warranty which is excellent as it's a significant financial investment to make for a sex toy.
The Tremor arrived once I have paid the customs fees (VAT and a handling fee), and it was delivered by a well known international courier. It was discreetly packaged with no indication as to what was inside on the outside of the box. The first thing I noticed was just how light it felt compared to a Sybian or Motorbunny.
Features and Form
I took the Tremor out of its box and spent some time just admiring it and looking at all the extra attachments included with it.
The two features that make it really stand out are its bright white body and the red cover. The Tremor also has a different profile to the Motorbunny and Sybian, it is more triangular in shape, and that makes it much more comfortable to ride.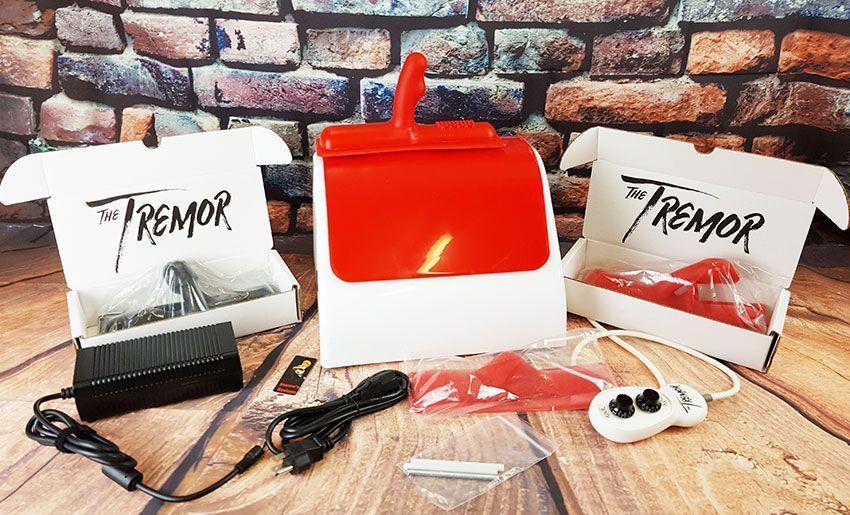 The Tremor is easy to set up and comes with everything you need except a power adaptor
You get the following items included when you purchase a Tremor:
The Tremor
Silicone Comfort Mat
Attachment "A" - The Bridge
Attachment "B" - The Whammy Bar
Stems & Springs
Remote Control
Power Adaptor
Power cable
Instructions
The Tremor has a rounded triangular cross-section. This shape is very comfortable to straddle especially if you have thicker thighs. In comparison, the Sybian and Motorbunny almost look like barrels that are cut in half, and this rounded shape gets a little uncomfortable during long play sessions. This is due to the pressure exerted on your inner thighs. The ergonomic shape of the Tremor gets over this issue.
Both sub'r' and I have tried it and actually prefer this profile shape, as it's so comfortable to straddle.
There are two recessed handholds, one at each end and these make moving or carrying the tremor very easy. It's very light, weighing in at only 13.5 pounds/6.12 kg which is excellent as it makes it easier to carry around than the Motorbunny or Sybian.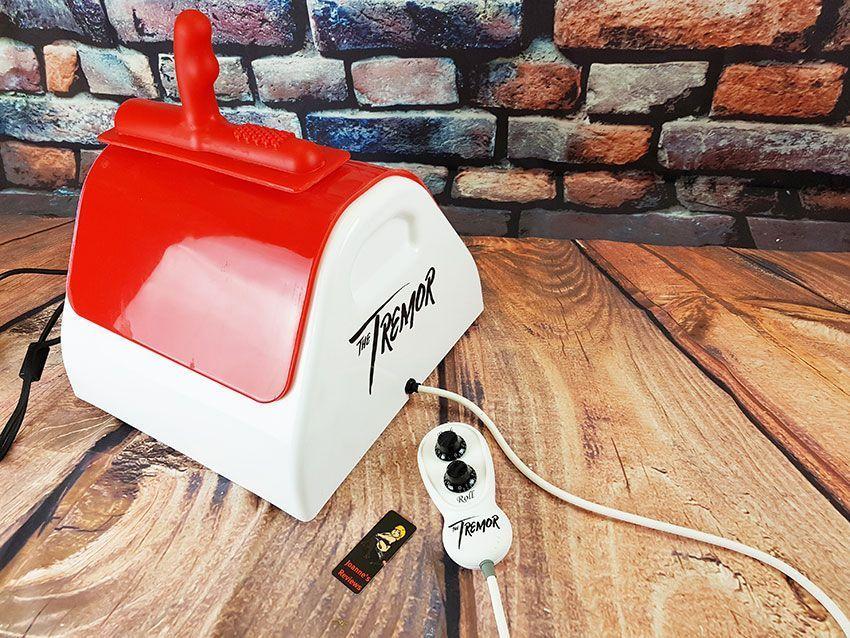 The Tremor is comfortable to straddle due to its rounded triangular shape
The comfort mat and attachments for the Tremor are made out of 100% body-safe silicone. You fit the red mat to the Tremor by sliding it under the attachment mounting plate and then letting it drape over the body of the Tremor.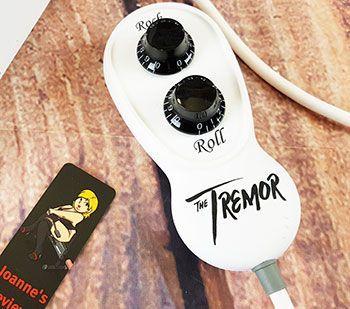 As it's made from Silicone, the mat is non-porous, as well as being latex and phthalate free. It is also very easy to clean. The red mat provides some cushioning and is perfect.
The mat on the Tremor can be removed to aid cleaning, unlike the pads on the Sybian and Motorbunny. You can quickly remove it and throw it into the dishwasher on a sterilise cycle together with your attachments after use or just use warm soapy water to clean up after a play session.
The controller is hard-wired to the Tremor, it comes out of the front of the unit, and it has a lovely curved design. It's so nice to have an organic looking control unit rather than a rectangular box. The two control knobs are labelled "Rock" and "Roll", they are actually made out of guitar controls which is great. Single handed use is straightforward and this leaves your other hand to tweak things or to hold onto something as you have the ride of your life.
I do like the names of the two features - "Rock and Roll", it conjures up images of rowdy rock band after show parties complete with groupies. The Tremor is the long-haired bad boy rock star with slick hair and boyish looks. The sort of character that has the establishment tutting at his antics.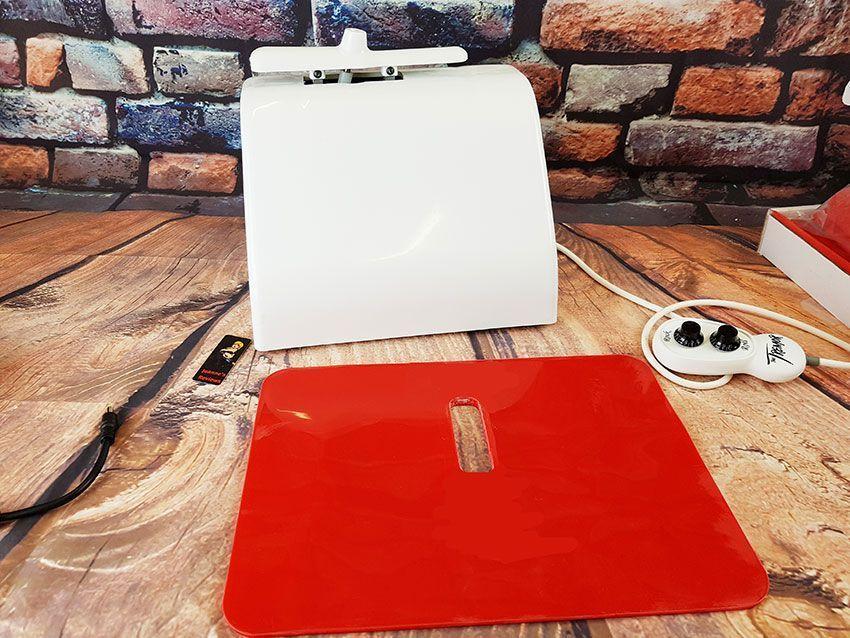 The red silicone comfort pad is easy to fit and remove for cleaning
The "Rock" knob controls the speed of vibration of the Tremor. This control is smooth and very responsive. The Tremor is capable of a leg trembling 7,000 RPM, and these vibrations feel incredible.
The "Roll" knob controls the rotation of the insertable section of the Whammy Bar attachment. It can rotate at up to 160 RPM which is slightly faster than the Sybians rotation feature. This function really gives your g-spot a good workout, and I love it.
You get a spring and two plastic rods included with the machine, and one of them is inserted into the Whammy Bar. You then fit the attachment over it, and it transfers the rotating motion of the "Roll" control inside you for enjoyable g-spot stimulation. The spring gives gentle internal sensations while the plastic rods produce more robust internal stimulation.
I like the fact that you have no mains electricity inside the Tremor at all and this is good for obvious safety considerations. It comes with a laptop-style power adaptor that drops the mains voltage to a much safer level making the Tremor very safe to use if you are a squirter.
It arrives with a power cable with a US plug on the end, and so you will need to either replace the plug or use an international plug adaptor. The cable has a standard D shaped plug on it that goes into the power adaptor, this is the same as the cables used with most personal computers or kettles in the UK.


The included instructions for the Tremor and clear, concise and easy to understand
Attachments
It's nice to see a manufacturer actively promoting silicone attachments instead of TPE ones. There is a wide range of silicone attachments available for the Tremor. Silicone is a perfect material for sex toys especially if you intend to let others ride your machine. It is non-porous, latex and phthalate free and straightforward to clean. It can even be sterilised easily.
All of the attachment for the Tremor are compatible with the Sybian and Motorbunny so if you already own one of these machines then check-out the body-safe Tremor attachments. They have some fantastic designs available.
You get two attachments with the Tremor, and these are the Bridge and the Whammy Bar. I was sent an additional two attachments to evaluate, and I will mention them in more detail below. Each attachment is sealed in a plastic pouch when it arrives, and it is covered in talc to protect the surface in transit. Just rinse off this talc before using the attachment.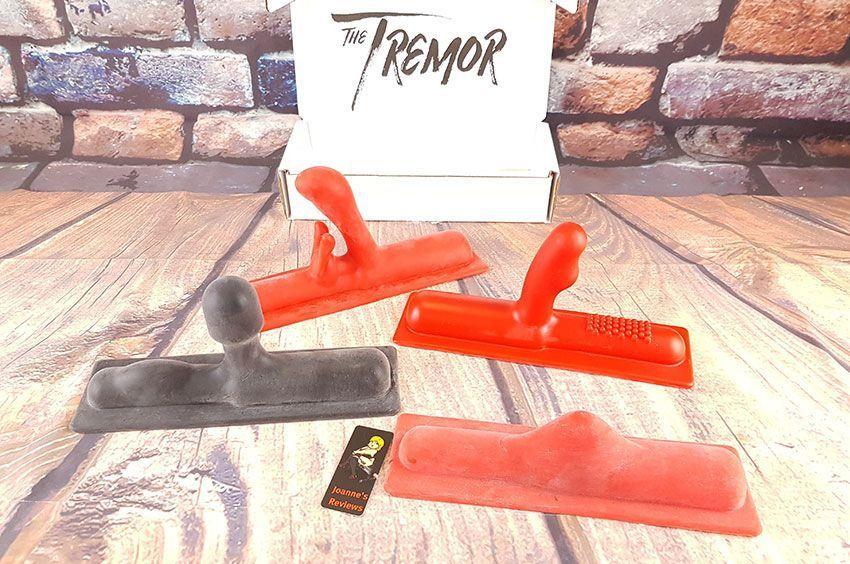 I tested four attachments and all were very enjoyable indeed. The top right one has been washed to show what they look like without the talc
The Bridge Attachment
The bridge is a smooth top classic attachment that is non-penetrative so it can be used through clothing. This makes it the perfect option for showing your friends how good your Tremor is or for kinky party games. Your parties will never be the same again, and you will be known as a legendary party host.
You get amazing vibrations from the Tremor, so wearing clothes makes no difference at all to your experience or enjoyment. The raised bulge makes squirming around on it so much fun. Both sub'r' and I had no problems reaching some fantastic orgasms while wearing panties and jeans when using the Bridge.
The Whammy Bar Attachment
The second attachment that you get is the Whammy Bar, and this one does have an insertable element to it. It features clitoral stimulating nodules on the front upper face that feel incredible and an insertable shaft with two prominent ridges.
You insert either the metal spring or plastic rod into the Whammy Bar, and this enables smooth rotation of the insertable element while deep inside you, teasing and delightfully pleasing your g-spot. The spring gives softer sensations while the plastic rod gives a hard ride which feels like you are being fingered by a pro.
The combination of the g-spot rubbing and the intense vibrations always results in both sub'r' and I squirting. This is one of my favourite attachments as the combination of internal and external stimulations feeling amazing.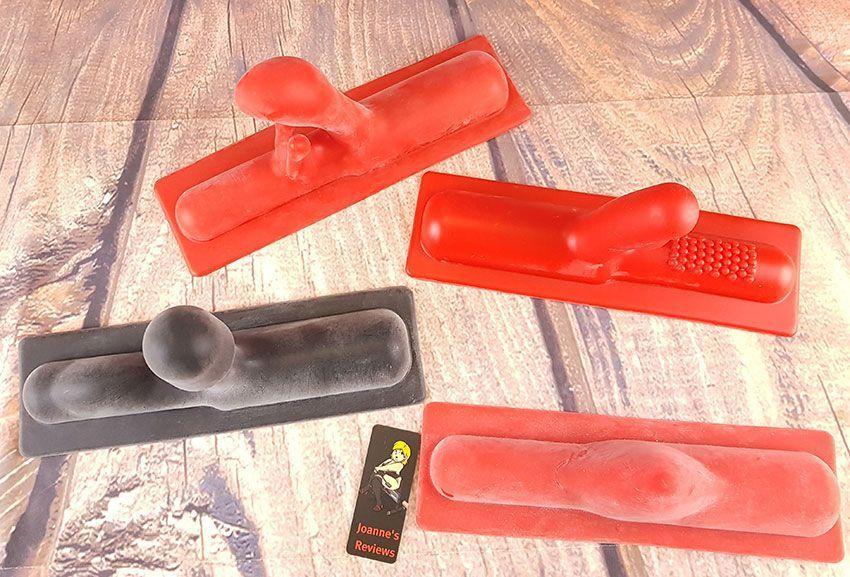 I enjoyed the Fretful Rabbit the most, its ears just felt amazing on my clitoris
The Bass
The Bass attachment is made out of black silicone and it a has nice clitoral mound for you to grind against. The insertable element has a nice bulge on it that feels amazing as you insert it.
The added girth of this bulge feels fantastic as you bear down on it and it forces you open to accommodate its size. I love the feeling of it opening me as it passed past my labia and on into my vagina. I have no problems at all reaching very wet and sticky orgasms with this attachment.
The Fretful Rabbit
An interesting take on the humble rabbit vibrator, the Fretful Rabbit takes a classic design and feeds it on steroids to produce orgasmic pleasure on a new scale. It features a delightfully contoured insertable shaft together with two classic bunny style ears for clitoral stimulation.
This was my favourite attachment by far. The combination of the shaft rotating inside me and the bunny ears delivering intense clitoral stimulation has me coming quickly and effortlessly. The G-spot stimulation together with the clitoral stimulation is almost too much to bear, and I tend to use low power levels with this attachment as it is just so good.
If you are looking for an extra attachment, then get this one. It is also available without the insertable shaft if you prefer just to enjoy some non-penetrative clitoral stimulation.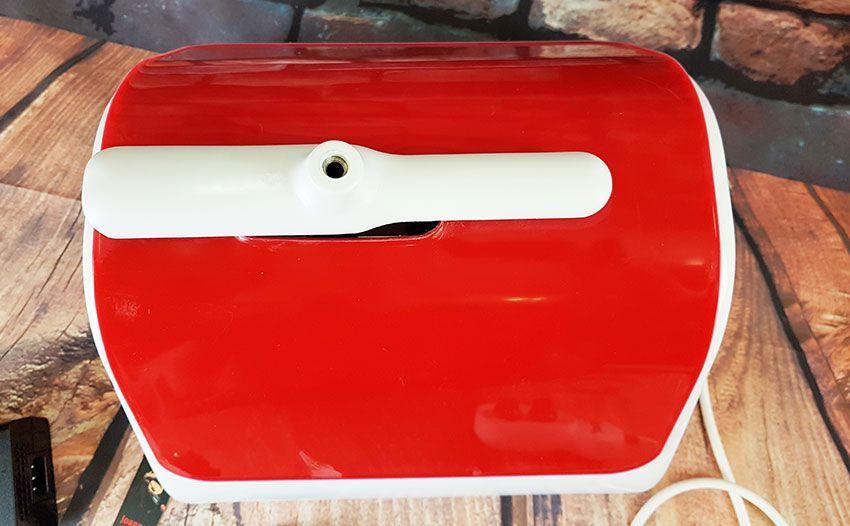 The Tremor will accept all of the attachments for the Sybian and Motorbunny as well as the Tremor ones
Performance
Performance is everything where sex machines are concerned. When you spend the sort of money that these machines cost, you need to know what you are getting it really worth it.
I can attest that the Tremor most definitely lives up to its very apt name.
"A tremor is an involuntary, somewhat rhythmic, muscle contraction and relaxation involving oscillations or twitching movements of one or more body parts."

Wikipedia
I am always blown away by the power of this style of sex machine. Straddling it and slowly turning up the power, you can feel waves of pleasure pulsing through your lower regions. The incredible sensations generated penetrate right through your body turning your legs to jelly as you move on towards an earth-shattering orgasm.
I relish the combination of deep g-spot stimulation coupled with intense clitoral pleasure from the vibrations that penetrate so profoundly and rumble through your body.
It amazes me when I close my eyes and listen to the almost primaeval noises emanating from myself when I ride it. It's a fantastic beast, almost primal in nature and it can stalk your orgasm before chasing it down and utterly blowing you away.
A ride on the Tremor isn't just a way to get off, it is embarking on a journey to "orgasm-ville" on the non-stop express train. Seated in first class of course.
The first time that I let sub'r' ride it was in a dungeon environment. I placed the tremor on top of a cage with overhead bars. She was positioned on it, blindfolded and gagged before I secure her wrist cuffs to the overhead bars so that she couldn't move.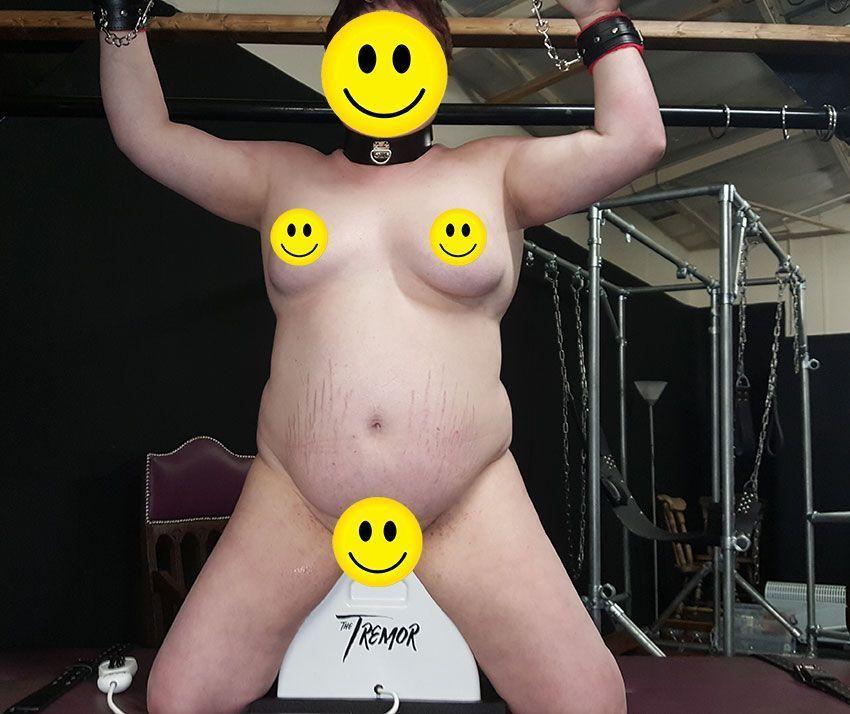 I took sub'r' to a dungeon for some play time and I restrained her on the Tremor
I loved watching and hearing her on the Tremor, she was writhing around on it grinding her clitoris into the pad. When she came, her whole body convulsed, and she squirted all over the tremor, and it was quite a sight to behold. The Tremor is as comfortable in a dungeon environment as it is in your bedroom.
A huge drawback of this style of sex machine is the noise though. The Sybian and Motorbunny are legendary in their noise generating ability. I was surprised that the Tremor is actually a bit quieter than them though. Now, don't get me wrong it is by no means a quiet sex toy or discreet but it is quieter than the competition, and that is a good thing and a huge selling point.
You can make it even quieter by placing it on something soft like a folded duvet or a foam pad.
Take your orgasms to the next level with the Tremor sex machine from @TermorRocks #GoRockYourself
Click to Tweet
Key Features
Key features:
Ergonomic design makes riding comfortable
Removeable silicone comfort mat
Attachments are silicone and compatible with the Sybian and Motorbunny
Single handed control
Up to 7000 RPM
Two year warranty
External power supply
Final Thoughts
The Tremor is much more comfortable to straddle than its competition due to its ergonomic rounded triangular design. It comes with body-safe silicone attachments and a removable silicone comfort mat that is easy to clean
It is quieter than both the Sybian and Motorbunny while still retaining incredible performance. I have no problems at all in giving it a solid recommendation.
I can't think of anything I would like to change to improve it as it is pretty much perfect for anyone who relishes having orgasms ripped from them by incredibly powerful vibrations.
I love the Tremor, it is nice to see a cheaper alternative that has the same performance as the big boys on the market. If you like bling then check out the Chrome edition Tremor, it looks amazing.
I was sent the Tremor by TheTremor.com and I would like to thank them for giving me the opportunity to review it for them.
Joanne's rating
Where Can I Get One From?

Grab one of these amazing ride on sex machines from TheTremor.com for just $849 (£645 at the time of publication). Be sure to check out the optional other attachments as there are some fantastic ones to choose from.
Check them out and don't forget to tell them that Joanne says "Hi".
Disclosure
Disclaimer - I was sent the Tremor to review free of charge and this has in no way affected the outcome of this review. This post contains affiliate links and if you purchase something when you follow one of these links I may receive a small commission at no cost to you. For more information check out my disclosure page.