Delivery & Packaging
This Doc Johnson electro-play wand arrived in a plain cardboard box, which was large enough to ensure the display box for the wand was not crushed or damaged.
The retail display box shows you an image of the contents on the front, and it is to scale. The back of the box shows information about the contents, giving you enough info to make an informed decision before you buy if you were looking at it in a physical store.


The branding of the retail packaging is really on form.
The dark theme of the packaging is perfect for this, a tool designed to instil fear and compliance. I had to resist the urge to rip the packaging open to raise the electro wand above my head before proclaiming "I have the power" in the most child-like fashion.
Materials and design
The Stinger is made from ABS and is sized well to give you a safe reach; it also looks the part. The handle is wide enough to be held securely and comfortably, and the bright red design at the thinner (stinging) end lets you know quickly which side is safe to hold in use.
I love the red and black colour scheme; it screams danger to me, which is a good thing. After all, this is a tool to motivate and punish, so it should look a bit daunting.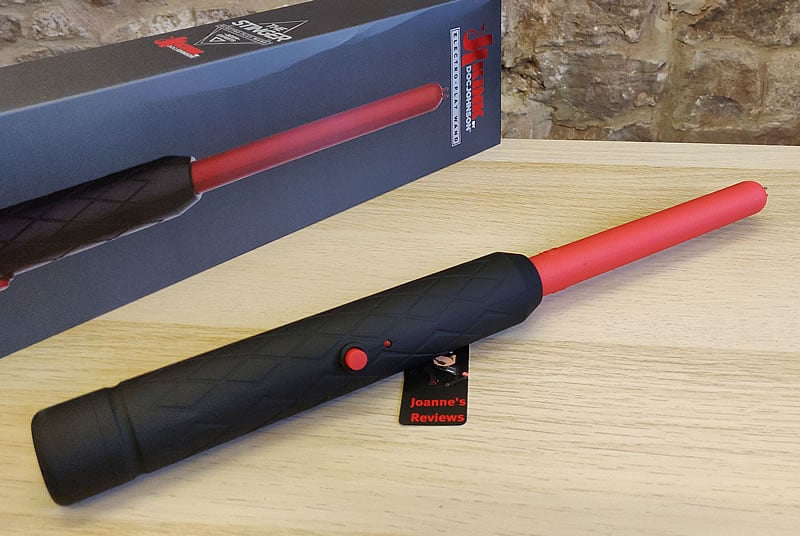 I love the colour of The Stinger, it looks the part and will evoke all sorts of emotions.
The Stinger measures 38.1cm/15" in length and has a diameter of 3.8cm/1.5". It is shaped a little like a baton or cattle prod. It's straightforward to hold and use. The handle has a hatched texture to make it easy to grip even with fingers coated in lube. The centre of the grip area has a red 'charge' button and a small red LED.
At the tip of the red prod section are two small metal loops. These are the electrode surface or fun spots, and it is these metal loops that will terrify your partner the most.
The Stinger arrives without instructions which I found very surprising. I was astonished in fact, as with a piece of equipment like this, you would have thought that safety and correct use would be paramount to the designers (and their solicitors) thoughts.

The two metal contacts at the tip are where all the hurty zappy action occurs.
I was left to work out how to use it and found three ways to activate it but more on that later in the review.
The base screws off to reveal the battery compartment, which is clearly labelled as which way to slot in the batteries. The Stinger takes two AA batteries (not included). Ensure you remove them when storing The Stinger, as it has a habit of holding a charge.
You activate the electro wand by pressing and holding the small red push button. Above the button is a small led light that only lights up when there is a charge stored in the electro wand. Once this LED is lit up, you can let the fun begin.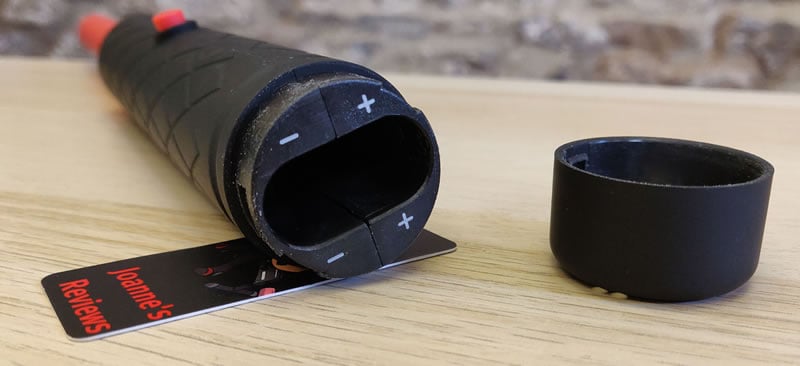 The battery compartment (2xAA batteries - not included) is well labeled and it is easy to fit the batteries.
Performance
So picture the scene, a helpless sub'r' in collar and cuffs, restrained so that she can't get away. Now you can call me callous, but I was thinking of her safety (honest). I didn't want her running around screaming, likely to bang her head, or something else once I had used The Stinger on her, so some tight restraints were in order.
Honest, it wasn't like I would enjoy zapping her repeatedly or anything like that, of course; this was an experiment, and as such, the subject matter needed to be kept under tight control.
I had familiarised myself with The Stinger before first using it on sub'r' as I didn't want any nasty surprises. I started off by giving her a quick zap on the lower thigh before moving higher and higher, eliciting some delightful squeels and other sounds from sub'r'.
One of the things I really love about The Stinger is the bright flash and loud crack you get when it discharges on someone's skin. That alone is enough to have the receiver jumping, and that's without the sting.
The Stinger is like one of those handheld fly zappers. It stores up a high voltage but low current charge. This charge is then released when the contacts are shorted out by someone's skin. Unlike a fly zapper, though, it does not mark or incinerate its victim; I mean receiver of the zaps.
In fact, it doesn't leave any marks at all, which surprised me as I was expecting a red dot at least. You can sometimes get the smell of burning hair, though, if the discharge is through a hair.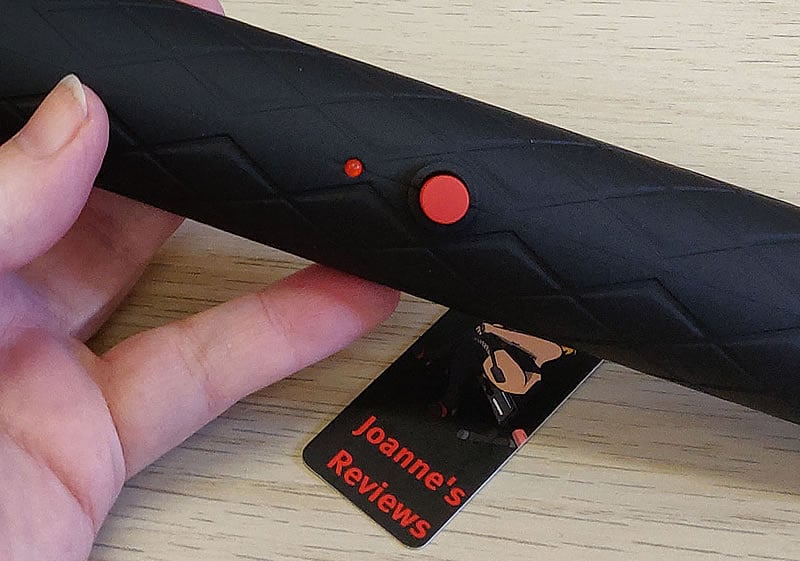 The charging button is easy to use and the LED light tells you when it is holding a charge.
Pain wise, The Stinger delivers two types of sensation; a full charge creates a loud crack and bright flash, which doesn't hurt much. A partial charge hurts much more as the current goes through the skin rather than arcing through the air. A partial charge doesn't create much of a noise or flash of light but hurts much more.
You can quickly press and release the button to load a partial charge or press and hold it for the full "lights, camera, action" effect.
The third way to use it is to press the contacts against the skin before pressing and holding the button down. This delivers a constant sting for as long as the button is pressed.
My preference is for the full-on light show of a full charge, though. While not being the most painful, it certainly gets a good reaction due to the loud noise and flash of light, reducing sub'r' to squeals and me to evil chuckles.
In my experiments, I moved ever closer to the sweet spot between my submissives legs. The closer I got to her pussy, the more nervous she became, understandably so.
As such, now just the mere suggestion that I am going to "fry her lips" is enough to bring her into line and get total compliance if I need her attention.
In that respect, The Stinger is a powerful motivational tool. It is ideal for BDSM play, especially for punishment play and interrogation play. It can be used to significant effect with mind games once someone has experienced it.


The handle is comfortable to hold and The Stinger is very light and easy to weild.
When someone is blindfolded, just a suggestion that their sensitive regions are about to receive a zap can evoke strong reactions.
Yes, it stings, but compared to other forms of punishment, it is very tolerable. It is not the sting that gets you; it is the sting coupled with the noise and bright spark working together to make it seem worse than it really is. The three ways it can be used give you a bit of flexibility in how you play with it.
One word of warning though, always remove the batteries when you finish playing. It has a habit of storing up a charge even when the button is pressed, as I found out when picking it up once by the wrong end - ouch.
The Stinger from Doc Johnsons Kink range is devilishly good fun, check out Joanne's review of the one @BettysToyBox sent her.
Click to Tweet
Key Features
Key features:
Creates painful or zappy sensations.
Powered by 2 AA batteries.
Light and comfortable to hold.
Three ways to play with it.
Creates bright flashes of light and a loud crack sound when used.
I would recommend it to:
Anyone looking to experiment with electro-forced discipline.
Anyone who enjoys mind games.
Anyone who like electroplay.
Anyone who is a masochist or sadist.
I wouldn't recommend it to:
Anyone scared of electroplay.
Anyone not into pain play.
Final Thoughts
The Stinger is one of those toys that can be so much fun or devilishly evil, and it just depends on which end of the handle you are.
It is so much fun to play within a BDSM session, and it can be a powerful motivational tool. Just the sound of it firing in enough to make someone jump.
I am happy to confirm that it left no marks when I played with it, but it has left some lasting memories. Get one if you want to explore this sort of power dynamic. It is another fun aspect of electro play and one that I can highly recommend giving a go.
Go for it, enjoy some shockingly good fun. Grab one from Betty's Toy Box and let the current flow.
I was sent The Stinger by Betty's Toy Box and I would like to thank them for giving me the opportunity to review it for them.
Joanne's rating
Where Can I Get One From?

Grab one of these fun yet devilish "human-prods" from Betty's Toy Box and take use it to spice up your play time and enforce some discipline. Grab The Stimger by Doc Johnson for just $34.99, which is great value for money.
Check them out and don't forget to tell them that Joanne says "Hi".
Disclosure
Disclaimer - I was sent The Stinger to review free of charge from Betty's Toybox and this has in no way affected the outcome of this review. This post contains affiliate links and if you purchase something when you follow one of these links I may receive a small commission at no cost to you. For more information check out my disclosure page.