Disclaimer - I was sent the Satisfyer Pro 2 to review free of charge and this has in no way affected the outcome of this review. This post contains affiliate links and if you purchase something when you follow one of these links I may receive a small commission at no cost to you. For more information check out my disclosure page.
I have directly compared this version of the Satisfyer Pro2 and the 2nd generation in this article.
The manufacturer describes it as a "high-tech gimmick" but it isn't a gimmick, this is one toy that guarantees explosive pleasure and it really does live up to this statement. The innovative pressure wave and vacuum technology gives mind blowing clitoral stimulation that I really can't get enough of. It has 11 programs, offering clitoral contact-free enjoyment, which can be experienced everywhere and anywhere because of the rechargeable Li-ion batteries. I found the retail packaging to be very smart and clean and loved the Hygiene seal affixed over the end that you open.
It is made out of ABS plastic which is easy to clean and very strong and it features a removable silicone nozzle that is comfortable in use and also easy to clean. Both materials are body safe being latex and phthalate free.
The Satisfyer Pro 2 fits nicely in the hand and has a nice weight and balance to it making it easy to hold in use for prolonged periods of time. The whole design is sleek and stylish, this gives it a quality look and feel.
To use I highly recommend using some water based lube on the nozzle before placing the toy into position. Simply place the opening in the nozle over your clitoris. Switch it on by pressing the smaller of the two buttons for two seconds, this activates the toy in its lowest setting.
This is the easiest and quietest setting to move the toy around to find that perfect spot for you. Once you have found the ideal position you can press the larger button, each click will take you up to the next highest setting. The first two setting are fairly quiet (as long as it has the head in contact with your body), however, the other settings do get quite noisy so it is not a toy you can use without someone in the next room hearing. Saying that though, by the time you get to the higher settings you may be making more noise than the Satisfyer Pro 2.
Whilst it is enjoyable just holding the Satisfyer 2 in position I also enjoyed moving it around and over my clitoris and found that circling it was just as pleasurable as having it over your clitoris and I could edge myself to last longer like that.
Once you reach setting 11 (which is the highest), you can't then gradually reduce the intensity again as by pressing the larger button again it just jumps to the lowest setting. This is the only thing that I don't like about this amazing toy. If you like to take your time and enjoy being taken to the precipice, but not ready to go over it (just yet), you cannot easily lower the settings. I found the best way for me was to switch it off then on again, as being that close, if I went up to the higher settings if would have sent me right over the edge. I cannot understand why Satisfyer don't have a down button like the one adorning the cheaper Satisfyer 2 that allows you to cycle back down the power settings.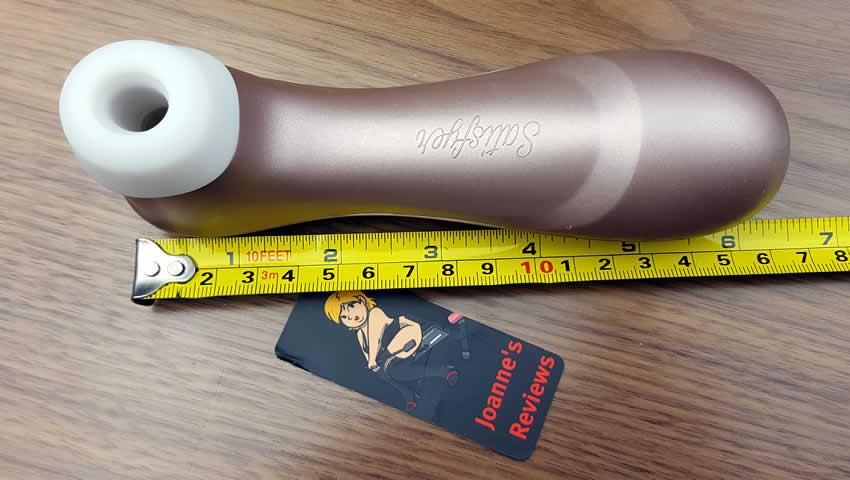 This toy doesn't require direct clitoral contact like most other toys, but I can guarantee that it certainly feels like it is making plenty of contact in use. The pulse wave sensations given are really difficult to explain, but it feels almost like someone sucking on you and licking at the same time and in the same spot. It is a sensation that blows me away every time I get to enjoy it. I found that my orgasms were quick when using this toy and mind blowing, leaving me feeling that I wanted to continue as the sensations are just so enjoyable.
Being fully waterproof (IPX7) you can really enjoy yourself in the shower or bath, although the bath would be my better suggestion purely for positioning and comfort. It isn't any quieter under water, so you do have to bear this in mind but you will also find the sensations much stronger when used underwater.
The magnetic USB charger cable attaches magnetically to the toy, so it makes for easy charging. The toy doesn't come with a power adaptor so you will need one of your own to be able to charge it. I recommend giving it a good charge prior to its first use. The manufacturer claims that with a 150 minute charge you will get 30 minutes of playtime but I found mine lasts longer than that which is probably down to me enjoying the lower settings more than the higher ones.
It is very easy to clean, I remove the white silicone nozzle from the head to enable me to get it fully clean, cotton buds are also a good way to help with the cleaning. Just rinse in warm soapy water and then apply some sex toy cleaner to finish the job. Ensure that it's completely dry before you put it away for storage.
This is definitely not the quietest of these toys, but it is much more powerful than the others from the range that I have tested. Whilst I love the Penguin for its quiet play, and small size, this is so much better and if you don't have to worry about the noise then I highly recommend this one.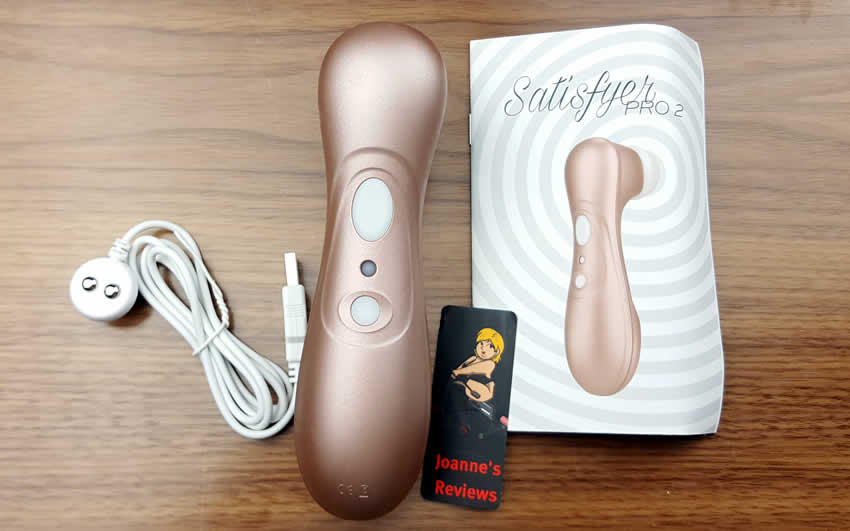 Key Features
Key features:
Silicone and ABS construction making it body safe
Rechargeable
Removable silicone nozzle so cleaning is easy
It features 11 programs
Magnetic charging lead
Final Thoughts
This is definitely not the quietest of the three Satisfyer sextoys that I have reviewed, but it is much more powerful than the others I have tested. Whilst I love the Penguin for its quiet play, and small size, this is so much better and if you don't have to worry about the noise than I highly recommend this one. That said though the Satisfyer 2 is £20 cheaper and with it you can go up and down the power settings so if it were me I would opt for the Satisfyer 2 over this model but if it is power and a rechargeable sex toy that you are looking for then this one packs a punch and is very well priced against its competition.
I enjoyed the Satisfyer Pro 2 for its ability to literally rip orgasms out of me in well under 30 seconds on its highest settings and it is a great sextoy for a quickie when you just have to get yourself off. Edging with it is harder due to the control issues but it is still a sextoy that I can heartily recommend.
Recommendations
I would recommend this sextoy to people who:
Enjoy strong quick orgasms
Are looking for a rechargeable luxury sextoy for under £60
Interested in suction based sex toys
I woudn't recommend it to anyone who:
Needs a discreet sex toy
Don't like sucking sensations on their clitoris
Joanne's rating
I was sent my Satisfyer Pro 2 by Satisfyer.com in exchange for a fair and honest review and I hope that you have enjoyed reading this review and that is has hopefully left you curious to try one out for yourself.
Where Can I Get One From?
You can get your hands on a Satisfyer Pro 2 for only £59.99 from Bondara.co.uk.
I was sent this item to review free of charge and that has not affected my review or perception of it at all, this is a fair and honest review, This review contains affiliate links.