Features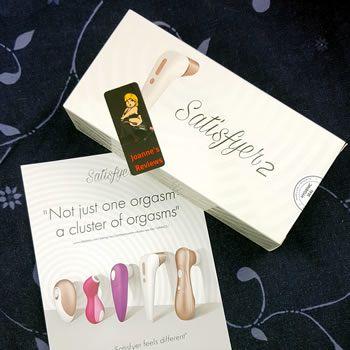 The Satisfyer 2 comes in a very attractive sealed retail box. Upon removing it from the box the first thing that strikes you is the silicone cup at one end with a hole in the middle leading inside of the toy to its working parts. This is no ordinary clitoral vibe, it is designed not to be used to rub the clitoris is it instead designed to cup the clitoris and this vibrator actually sucks on your clit delivering amazing sensations.
It works by vibrating as well as drawing air in and out of the cup shaped nozzle on the working end of the toy, this movement of air actually sucks on your clitoris and it is a delicious sensations in use.
The Satisfyer 2 is battery operated and it takes two AAA batteries and I found the battery life isn't too bad but as it is sucking and vibrating you can expect the batteries not to last as long as in a regular clit vibe. Simple remove the end cap and insert the batteries ensuring that you fit the cap tightly so that the Satisfyer 2 remains waterproof.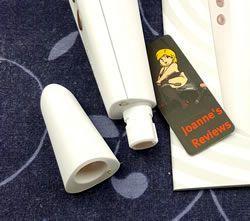 Batteries are not included so make sure you have a good supply in. As it is battery powered you needn't worry about problems taking it abroad on holiday as you won't have any lithium ion battery woes at the airport.
You can use the Satisfyer 2 in the shower or bath and it actually performs an even better job when used underwater in th bath as the sucking sensations are so much stronger so I highly recommend that you try it in the bath if you get one.
The Satisfyer 2 has an on/off switch together with an up/down switch that allows you to cycle through the power settings, these buttons are a nice brushed gold colour. The ability to be able to dial down the power settings is and advantage that the Satisfyer 2 has over both the Satisfyer Pro 2 and the Penguin and it is a great feature as you can tweak the sensations as you play.
The cup at the business end of this vibrator is removable for cleaning, simply wash it is warm soapy water and use a sex toy cleaner, you can use an ear bud to get right inside it to remove any play residue. It's made out of silicone and so it is body safe, phthalate and latex free. Replacement cups can be obtained from the manufacturer should you lose or damage yours. The main body is made out of white ABS so again this toy ticks all of the boxes for body safe materials.
The nozzle is quite large and it is a comfortable fit around my clitoris, its walls are thick and the silicone is nice and soft so it is very comfortable in use.
The Satusfyer 2 is a long slender toy that tapers from its head down to the end of the handle and it is comfortable to hold in use. The controls are very easy to use but are two far down the toy for my liking, in use it can be a bit fiddly to operate them.
I personally think that this is the least attractive design out of the three models that I am reviewing and to me it almost looks like one of those infra-red ear thermometers. It is function over form though as whilst it may not look like something special it certainly is when you get to using it.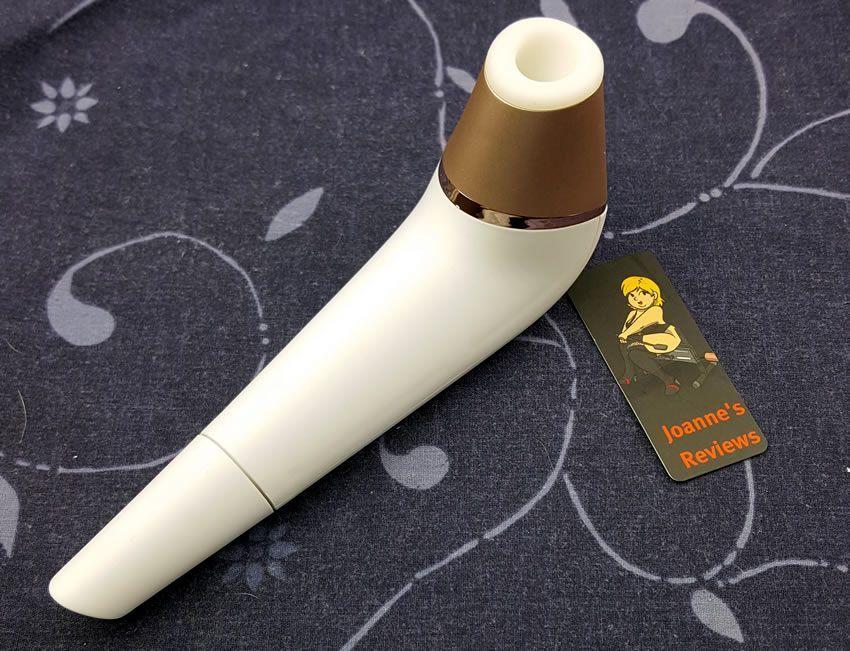 Dimensions
Length: 7.1"/18cm
Diameter: 2"/5cm
Performance
This toy quite literally opened my eyes as to just how good this new range of sucking vibrators are. I usually like to edge myself but when I first tried the Satisfyer 2 it was just like I was on a run away roller coaster and I came in under 20 seconds - definitely a first for me. It is quite addictive as it is just so good. The sensations when in use are incredible and I can only describe it as feeling like the best oral sex you have ever had and the combination of suction and vibrations is amazing..
It has 11 power levels and I can't take it over five or six and on the first setting it is still incredible and it had my free hand clawing at the bed sheets.
The Satisfyer 2 relies on a vacuum and so you need a good seal, I recommend using a bit of water based lube over and around your clitoris before you put it in place as this will heighten the sensations but for even more power try using it in the bath with the nozzle underwater.
Now it isn't all good news, this toy is loud and I mean very loud on it highest settings. You can get away with not hearing it through a bedroom door when in use on its lower settings but it is very loud at the top of the scale. It is also much louder when not in place and with a good suction seal so place it over your clitoris before switching it on if you need to be discreet.
It is easy to move up the power scale and also to move back down again as you play, this is a feature lacking in the other two satisfyer products that I am reviewing. This toy is quite addictive and it will surprise you as to how quickly you can bring yourself off with it, the combination of suction coupled with vibrations is very sensual and feels incredible to me.
Key Features
Key features:
100% body safe silicone nozzle and an ABS body
Suction waves coupled with good vibrations
Waterproof
Easy controls
Phthalate free
Battery powered (2 x AAA batteries - not included)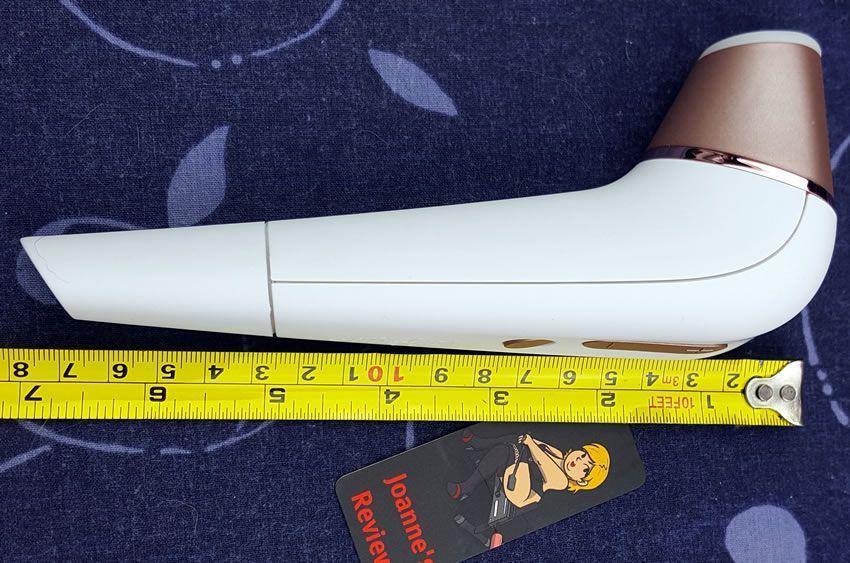 Final Thoughts
I think that the Satisfyer 2 is an amazing vibrator and if you don't own a suction clitoral vibe then this one is a strong contender, it delivers orgasms easily and extremely quickly which was a huge surprise to me but I now use it a lot especially in the bath where being able to just have a quickie is so much fun. Priced at only £39.95 it offers very good value for money and it is available from Bondara.
Joanne's rating
About Satisfyer
Satisfyer are relatively new guys on the block, since their inception they have rapidly become big players in the industry because of their innovative designs. Based in Germany their products are sold and recognised globally.
They currently have five unique designs of clitoral suction vibrators and they have to be experienced to be believed.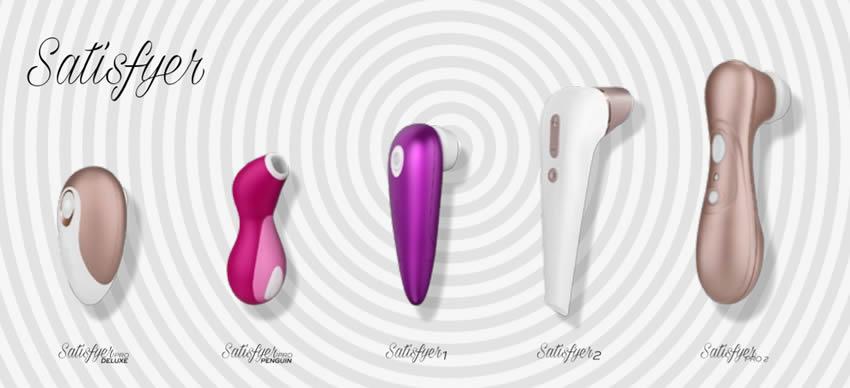 Where Can I Get One From?
Grab a Satisfyer 2 from Bondara.co.uk for only £39.99 which is great value for money.
I was sent this item to review free of charge and that has not affected my review or perception of it at all, this is a fair and honest review, This review contains affiliate links.