I am just so excited about this range of products. They are created by Vee International, which is a Blush brand. Now Blush produces some fantastic creations in body-safe materials so as soon as I learned of this pedigree, I knew these were going to be quality products.
Packaging and Delivery
The Realm Drago Lock On Dragon Sword Dildo Handle and Realm Draken Silicone Lock On & Harness Compatible Dildo were sent to me by PeepShowToys in the USA.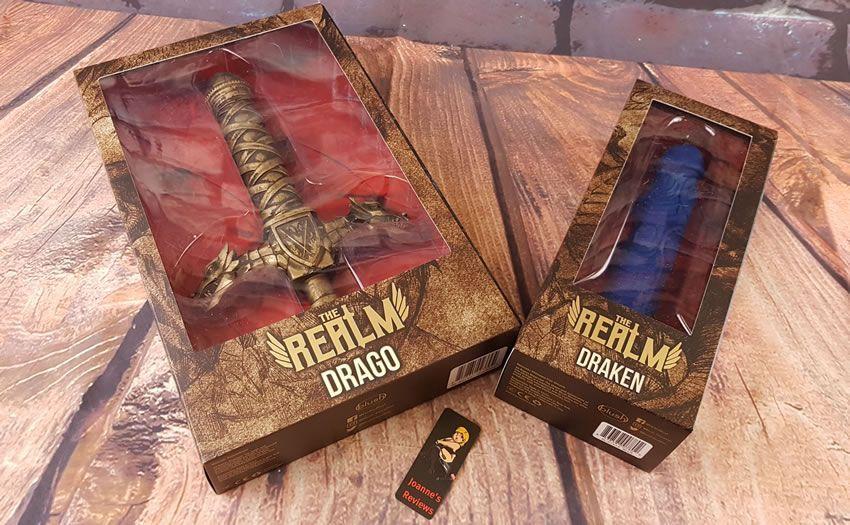 The packaging of the Draken and Drago looks fantastic
The delivery process was very smooth, and they came in a very plain looking cardboard box which carried no indication as to the kinky contents inside.
The product packaging, on the other hand, looks fantastic with its dark cartoonish look that carries "The Realm" branding onto the packaging well. I love packaging where you can see the actual toy through a window, and you get to see the Draken and Drago in all of their glory.
About the range
The Realm carries a range of kinky dildos and a sword handle, yes you read that right a sword handle for dildos.
Their range of dildos looks very nice indeed, but the one that really stands out from the crowd is the Draken with its blue silicone. This is the one I am lucky to be reviewing, and I couldn't wait to get started on it.

The dildos in The Realm range look fantastic but this one is definitely my favourite
But before it got anywhere near my nether regions, I found myself hoisting the dildo on its sword handle over my head while loudly proclaiming "I have the power" in homage to He-man and of course She-Ra. I then started giggling like a schoolgirl.
The thing I love about fantasy dildos like this one is that they are just so much fun and awaken long-forgotten childhood memories. I can remember sitting in front of the TV avidly following the exploits of He-man and She-ra and holding this dildo over my head just felt so good.
Not as good as holding it between my legs though, but more about that in a but. Let me first tell you all about the dildo, and of course its fantastic handle.
The Realm Drago Lock On Dragon Sword Dildo Handle
The handle looks amazing, and it is exceptionally well made out of solid polyurethane plastic, stylised as a fantasy sword handle. It is solid so it will hold up to a sturdy pounding with a heavy toy attached.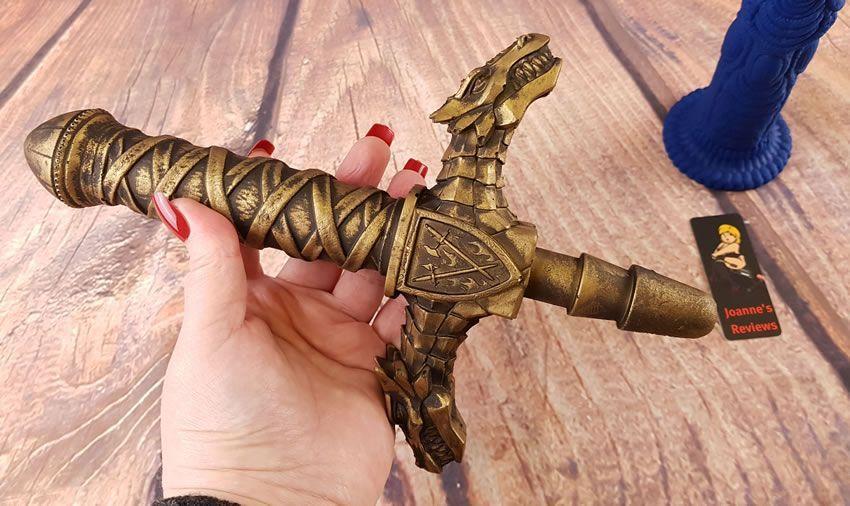 The Drago dildo handle looks and feels amazing. It is body-safe and heavy giving it a nice feel
I had the game of thrones tune dancing inside my head as I carefully examined it. The handle features a bronze look to its finish, and the handle is comfortable to grip thanks to its fantastic details.
The guard has two dragon heads as motifs, and this gives it, a very striking and unique fantasy look.
The design gives an excellent grip for the holder, even with slightly slippy hands it provides enough texture to enable you to hold it well and easily.
Made out of body-safe materials it is both latex and phthalate free, it also has no fragrance, so you don't get any chemical smells with it as it is completely inert and body-safe.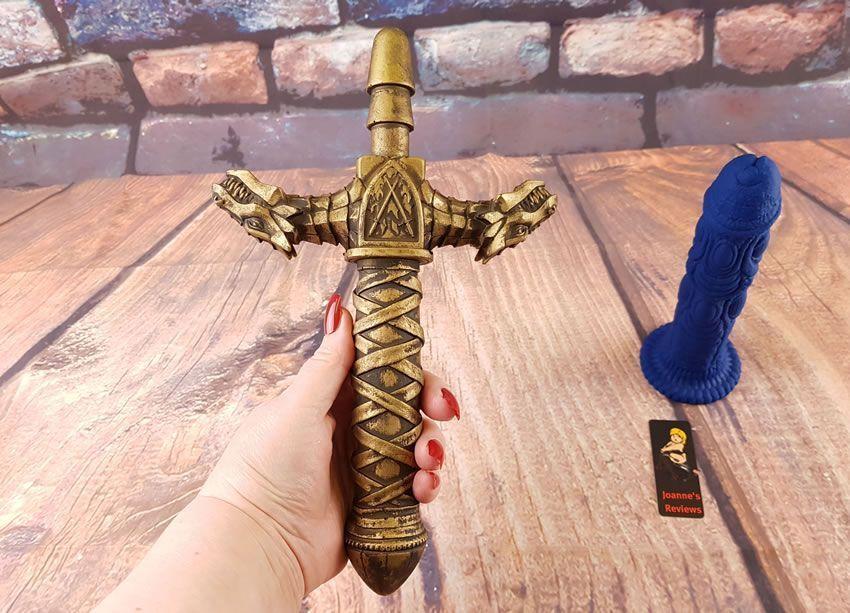 The handle is easy to hold and it looks amazing
The end has a dildo adaptor that looks very much like the vac-u-lock system, but The Realm go to great lengths to say it is only compatible with The Realm Lock On Toys. However, it will take dildos designed for the Vac-u-lock system, although they are a tight fit.
Talking of tight fits, you will need to put some corn starch or water-based lube on the attachment when fitting a dildo to it as it is a very close fit and this will aid removal.
On to the dildo then which is sublime.
The Realm Draken Silicone Lock On & Harness Compatible Dildo
The Draken is a thing of beauty, it has layers of texture that look incredible as well as feeling amazing.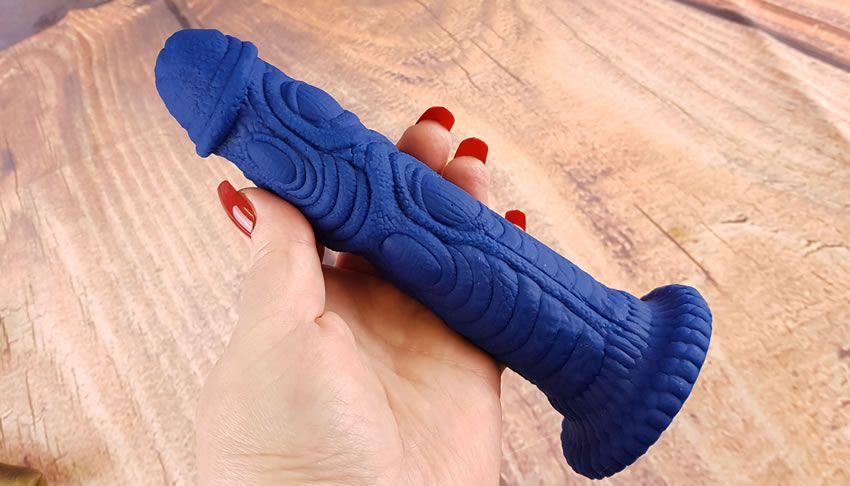 The Draken dildo has some incredible textures on its surface
Length: 7.75"/19.7cm (overall)
Insertable Length: 7.25" inch"/18.4cm
Width: 1"/2.5cm (head), 1.5"/3.8cm (coronal ridge), 1.375"/3.5cm (top of shaft), 1.75"/4.5cm (base of shaft), 2.75"/7cm (base)The texture and bumps, ridges not only look good but really do feel great moving inside you. Even the rim detail feels amazing as it hits against your clit. You really can picture the creature this belonged to if you are into fantasy play.
Made out of body-safe hypo-allergenic silicone you know it has no nasty phthalates or latex in it. Its non-porous body won't harbour bacteria but, you will need to be careful cleaning it to get into all the nooks and crannies on this beautiful dildo.
It has a hole in its base for the Drago sword handle, and this is a tight fit so remember to use some water-based lube or corn starch in there before fitting the handle.

The Draken dildo has a hole in its base that is vac-u-lock compatible
The satin smooth silicone surface looks fantastic with its dragon skin textures and all-seeing eyes. Just running my fingers down it sends shivers down my spine.
I am a bit of a texture queen and relish the feeling of textured toys stimulating the inside of my vagina as I thrust with them. I knew right from the outset that the Draken was going to be fun.
The pronounced glans makes for a great sensation as it pops in and out of your lubed up holes, every bump, ridge and line can be felt in play, it's designed to really thrill your nerves.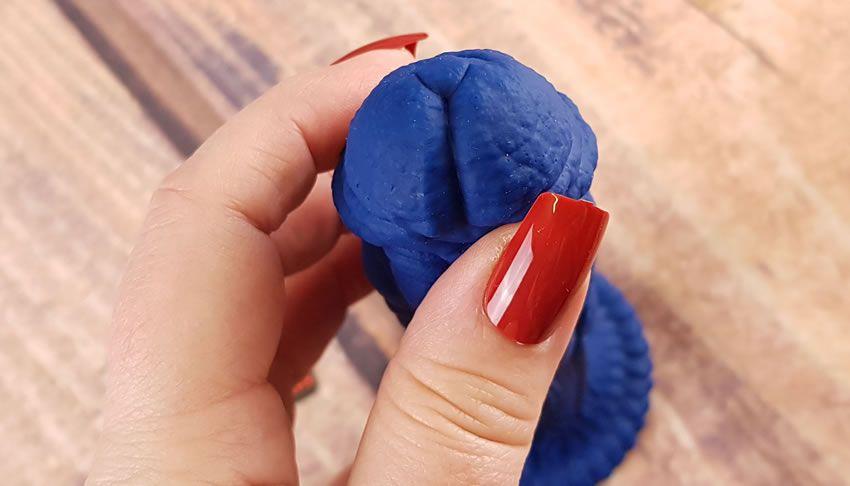 The Draken dildo has a lovely design but it is a vag-goo trap in places so care must be taken when cleaning it
The blend of silicone is quite firm, but I can fold it almost in half with ease, this makes it a versatile and comfortable dildo to use.
It fits snuggly onto the Drago Handle, and as a combination, it is a delight to hold and use. The handle makes thrusting so much easier, and if you have a large belly, it means you can thrust easily and deeply.
The broad base on the Draken makes it strap-on harness compatible and if you are on the receiving end of it prepare to have your world rocked.
The texture feels incredible in use, you can feel every bit of it as it opens you and you thrust with it.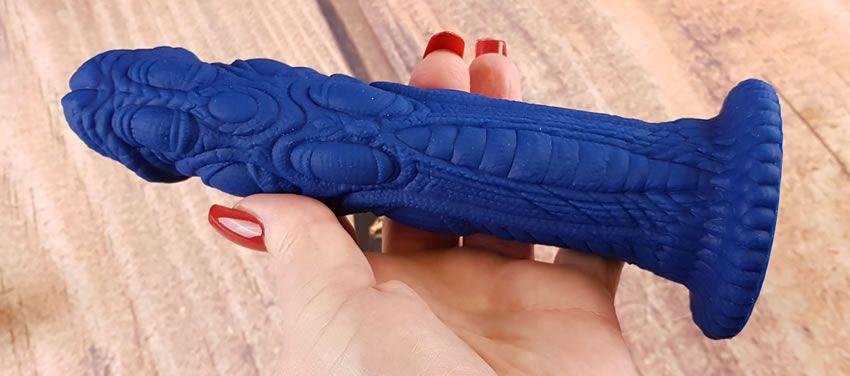 The Draken dildo is covered in the most delicious texture I have ever seen on a dildo
If using the Drago handle you can almost let gravity plunge the dildo into your waiting orifice but be warned, the weight of it can tire your arm out if used for long periods of edging.
This is by no means a smooth gliding toy and will require lube to be able to insert it. However, this is what I love about it. It truly gives you some fantastic stimulation. It is firm with just a little give on squeezing and very flexible. It 's a nice sized dildo, and I certainly thoroughly enjoyed testing it.
This is a dildo designed for fast or slow thrusting, and it can lead to some incredible orgasms. Once removed after use, you will be able to see just how wet you got as the texture will be full of vag-goo.
The flared base does make it safe to use anally as well, it also rubs your clit wonderfully, so it's a plus point no matter how you want to play.

The Draken dildo is a very tight fit on the Drago sword handle
Cleaning is simple, but you need to take care to get into all the nooks and crannies. Just use warm soapy water to clean off body fluids, you can even put the dildo in the dishwasher on a sterilise cycle.
The amazing Drago and Draken combination deal from @peepshowtoyscom offers great value for money on this amazing silicone dildo and handle. Great for fantasy sex toy enthusiasts.
Click to Tweet
Key Features
Key features:
Body-safe materials
Silicone dildo with a wide base and a hoel for the handle
Detailed and heavy handle makes using the dildo so much fun
Incredible surface texture
I would recommend it to:
Anyone who likes dildos with lots of texture
Anyone who needs some extra reach when holding and using a dildo
Anyone who loves fantasy dildos
Anyone who likes body-safe materials
I wouldn't recommend it to:
Anyone who doesn't like lots of texture
Anyone who doesn't like fantasy dildos

The Draken dildo is quite a sight on top of the Drago sword handle
Final Thoughts
The Drago handle really does make a great addition to my toy box, not only because it allows my partner to be able to use my vac u loc toys with more vigour and more comfortable play. But it also looks fantastic, especially for those who like to role play or just enjoy the antique look of the sword handle.
The Draken dildo is sublime, the texture is fantastic and makes for some very fun and creamy dildo fucking sessions. Fit it to the end of the Drago handle, and you have a toy that is easy to use, feels incredible and also turns heads.
This combination of products works so well together, I love the handle, and the dildo is just fantastic. It has just the right texture to have me clawing at the sheets and biting my lips as I thrust away with it.
I was sent these products by PeepShowToys.com and I would like to thank them for giving me the opportunity to review it for them.
Joanne's rating
Where Can I Get One From?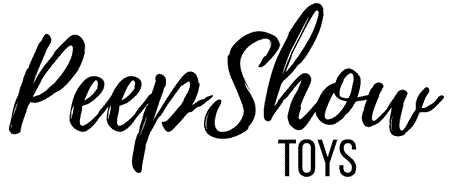 Grab one of these The Realm Draken Dragon Dildo with Sword Handle Bundles for jusy $99.99 which is a saving of $30 on the usual $129.99 from PeepShowToys.com in the US.
Check them out and don't forget to tell them that Joanne says "Hi".
Disclosure
Disclaimer - I was sent The Realm Draken Dragon Dildo with Sword Handle Bundle to review free of charge and this has in no way affected the outcome of this review. This post contains affiliate links and if you purchase something when you follow one of these links I may receive a small commission at no cost to you. For more information check out my disclosure page.