For anyone not aware, Orgasm Alley in the USA manufacture their own fucking machines by hand in small quantities, and they are highly desirable for one main reason - their power.
The make incredibly powerful fucking machines using Bodine motors, these are highly respected US motors that deliver a lot of torque. Torque is your friend when looking for some fucking machine fun. Torque is the figure often quoted in horsepower, the higher the number, the harder the machine can push a dildo into an awaiting orifice.
If you plan on using huge dildos, especially anally then Orgasm Alley machines are definitely the market leaders regarding their ability to thrust a large dildo into the tightest of holes.
I am delighted to see that sexmachines.co.uk now stock these legendary machines and the good news is that they are CE approved which means they have passed stringent electrical safety tests and are safe to use.
The Probe was one of their first creations and it has been copied by lots of other manufacturers, due to popular demand they have brought out a much more powerful model called the Probe Beast and I am lucky to have both sat in front of me as I type up this review. They have other even more powerful creations but this review will concentrate on just the Probe and Probe Beast.
Delivery & Packaging
As always, this delivery of fucking machine hardware from sexmachines.co.uk arrived exceptionally fast, but I am not a big fan of the packaging that Orgasm Alley uses. The boxes are corrugated, but just not up to the job of holding heavy machines like these safely during transit.
Inevitably the boxes arrived crushed and deformed making me worry about the contents. A sturdy tri-wall box like the ones used on the heavy Sybian would have been much more suitable.
Upon opening the boxes, I was met with a packaging peanut nightmare. The machines themselves are wrapped in bubble wrap and dropped into a sea of packing peanuts which went everywhere. My little dog had a field day stealing as many as she could before I managed to pick them all up.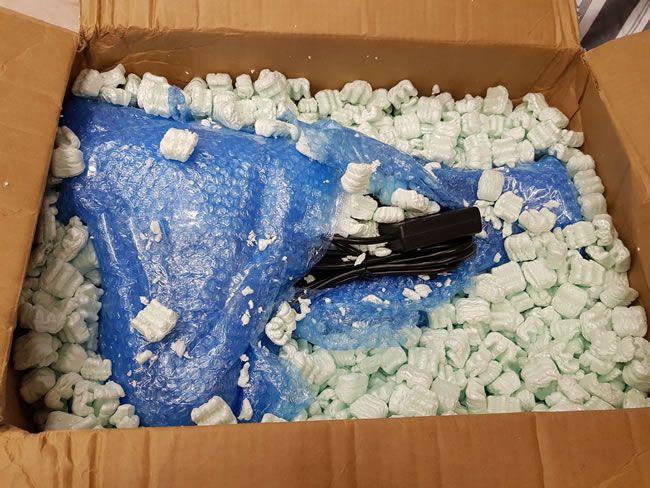 The boxes and packaging materials from Orgasm Alley are not to the job but sexmachines.co.uk have that in hand
This packaging solution lead to some light damage to one leg and the control box of the Probe. Damage that could have easily been prevented with a better box and packing, as peanuts just move around and don't end up protecting heavy items. So far things didn't look good, but it was on with the review. Hopefully, the assembly and performance would make up for these niggles.
UPDATE: Sexmachines.co.uk are re-packaging these machines into sturdier boxes as the Orgasm Alley packaging is crap to be honest and that is great news it means that machines will be protected on their journey to customers.
Assembly
Both machines were pretty straightforward to assemble although there were no assembly instructions found in the packaging at all. There are four main components to the machine, and these are two sets of legs, the main body and a thrust rod with a vac-u-lock adaptor. Other optional attachments can be purchased when you buy one of these machines, but those are the basic components.


These fucking machines are extremely easy to assemble and you don't need any tools to do so.
They are rated for 220V - 240V European electrical supply but the machines both come with US cables hardwired into them. Sexmachines.co.uk have that covered though as these machines were supplied with a converter plug which was easy to fit and use.
Both machines have the same legs, once I had worked out which way round they go (one side is longer than the other, this long side goes on the motor side of the main body) fitting them was easy. When installed they allow easy infinite adjustment of the thrust angle.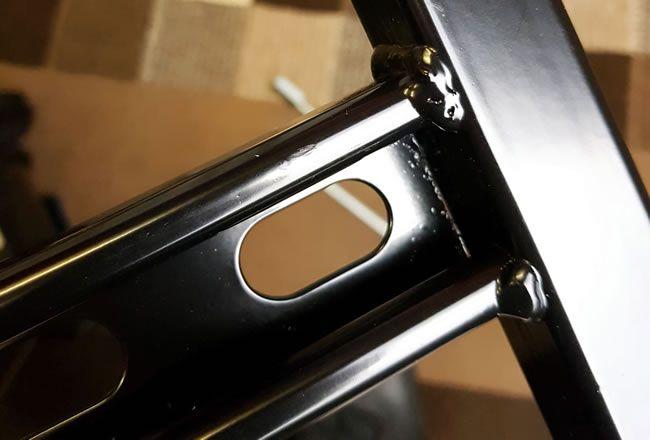 The legs are common to both machines and the welding and finish is excellent.
In common with a lot of fucking machine designs (this one was one of the first and copied by lots of others), the motor turns an arm which is attached to the thrust rod by a link arm.
This rotating arm has several threaded holes so that the length of thrust can be mechanically set by moving the link arms attachment point to different screw holes. It isn't as easy an adjustment as on other lighter machines but due to the high torque that these machines generate it is a necessary feature that a threaded hole is used rather than a quick adjustment mechanism that could just slip under load. The wingnut design of the attachment point for the link arm to the rotating arm interface is a little Heath Robinson in my opinion, not looking like a good engineering solution at all, but it does work. There is much more adjustment on the Probe Beast as it has a longer arm and more holes to choose from.


There is much more adjustment of thrust depth and deeper thrust on the Probe Beast due to its longer rotating arm.
I would have also liked to have seen locknuts on the link arm to lock it to the attachment points at either end. As at the moment when you adjust the thrust depth you can alter the length of the link arm.
The rotating arm design is functional, but I prefer the traditional flywheel for a number of reasons. Firstly they are safer as there is less chance of catching something between the link arm and a flywheel. But primarily as a flywheel has more mass, it helps with the torque when a dildo reaches a "tight spot" where the added rotating mass can help the motor work more efficiently. That said though the rotating arm on the Orgasm Alley machines functions well as it is easy to work out which settings you are on regarding thrust length and torque isn't an issue as their motors are just so powerful.
These two machines use a unique style of linear bearing for the thrust rod. They use what I can only describe as drawer bearings, the sort of thing you would find in an IKEA flat pack set of drawers or a computer desk. This type of bearing uses multiple ball bearings to smooth out the movement and redcue friction, the biggest downside with this set up though is the noise. These machines are much noisier than other machines with phosphor bronze or nylon linear bearings.


The design of linear bearing is functional but a little noisy.
The thrust rod mounting bracket that moves back and forth has a threaded metal block welded to the end of it. It is here that you screw in the Vac-u-lock adaptor or extension rods to give your machine extra reach.
There is a small plastic box mounted to the left of the fucking machines main body and that is the electronics that drive the motor. the control box is also hard wired into this box and it has a generous legth of cable.
Assembly was really quick and easy taking under five minutes from start to finish and not needing any tools at all. If you want to change the thrust length or securely tighten any extension rods, then you will need some basic spanners though.


The Probe and Probe Beast fucking machines look similar but have different performance characteristics
Specifications
These two handmade machines differ regarding performance, and while the Probe is a fantastic fucking machine regarding its performance, it is the Probe Beast that dominates. The Beast is an ideal choice if you are looking for hardcore anal fun with large toys like the fantastic Mr Hankeys range stocked by sexmachines.co.uk as they really need a lot of torque behind them.
This table summarises the differences between the two machines regarding their physical characteristics and more importantly their torque and performance.
*
PROBE
PROBE - BEAST
Watts:
90W
250W
Horsepower:
1/12th HP Bodine Motor (20in-lbs)
1/11th HP Chinese Motor (25in-lbs)
1/4th HP Bodine Motor (46in-lbs)
1/4th HP Chinese Motor (55in-lbs)
Size:
20" x 17" x 12" (assembled)
20"x 4" x 12" (disassembled)
22" x 17" x 14" (assembled)
22"x 4" x 14" (disassembled)
Weight:
10kg/22lb
12.3kg/27lb
Stroke Length:
1"/2.5cm to 5"/12.7cm
2"/5cm to 8"/20.3cm
Stroke Speed:
0 to 250 strokes per minute
0 to 250 strokes per minute
Price:
£550+VAT (£660) Chinese Motor
£850+VAT (£1020) Bodine Motor
£650+VAT (£780) Chinese Motor
£950+VAT (£1140) Bodine Motor
The main differences between the two machines are power, size, weight and length of thrust with the Beast having the larger figures. The Beast is the better machine out of the two hands down but the Probe shouldn't be underestimated as it is still a very capable fucking machine.
Both machines are available with cheaper chinese motors or much better high torque Bodine motors If your budget can stretch that far the Bodine option is defintiely worth considering especially for larger dildos.
The bodies of both machines are powder coated to prevent corrosion and the finish is nice, giving them a dark menacing look which would be ideal for BDSM play sessions.
Ease of Use
Operation of the Probe and the Probe Beast is incredibly simple.
Ensure that the speed control is set to zero before you set your required thrust depth and angle of thrust by adjusting the legs before fitting a dildo to the Vac-u-lock adaptor.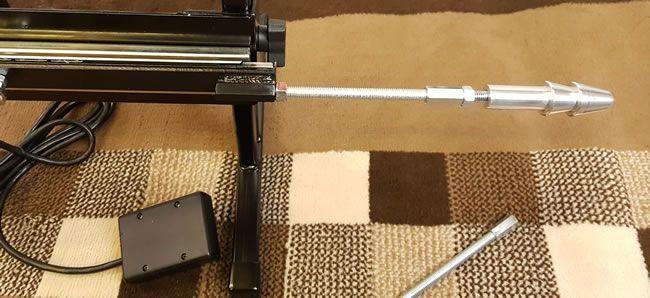 These fucking machines come with a Vac-u-lock adaptor to allow for quick dildo changes during use
Then rotate the mechanism of the machine by hand to retract the dildo fully before sliding the tip of the dildo into a waiting orifice.
SAFETY: If you are with a partner, I always recommend rotating the machines flywheel/arm by hand to move the dildo back and forth for a complete cycle to make sure that you can take the depth of thrust before switching it on.
Make sure that you have plenty of lube on the dildo, on you and also inside you. I recommend good quality waterbased lubes but hybrid lubes can be just as good these days. You will need a lot of lube when enjoying some fucking machine action.
Then just flick the power switch on the control box and then start off slow, building up the speed as you relax and get into the hard pounding that these machines can deliver.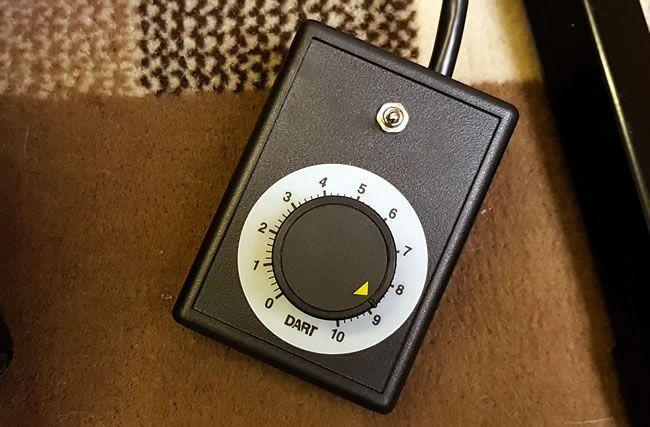 These fucking machines are very easy to operate, just turn the dial to change the speed and the switch starts and stops the machine
The Probe Beast has a fantastic motor that I couldn't stall no matter how hard I tried. This is the perfect machine for hard anal fucking although you may have to lock the legs down to something as Newton's third law states that thusting a massive dildo into a tight hole can make a fucking machine walk. Well, I'm sure it was something like that. Trust me tying down a machine when using big toys is a must although the weight of these two brutes does help in that regards.
Capable of soft starts these machines can get up to some seriously fast thrusting although with a massive dildo the mass of it will mean an inevitable loss of high-end speed as it takes a lot of energy to accelerate and decelerate a giant dildo inside a tight orifice.
This happens with all fucking machines but the Probe and Probe Beast cope with it much better than any other fucking machine I have tried due to their high torque motors. Both machines are capable of thrusting at upto 250 strokes a minute.
I am very impressed by the performance of both. I recorded two videos of them both on a table to demonstrate the speeds that can be enjoyed, and I could only get to 3/4 on the beast before it had my desk rocking around like a wild thing. Beast is an apt name for this powerhouse. These machines are noisier than similar machines with a different linear bearing arrangement, but you will probably end up making more noise than the machine anyway. The Probe is the quieter of the two machines and that is understandable as it has less power.
The Probe Fucking Machine In Action
The Probe is an excellent machine that is relatively stable even at full speed compared with other machines that I have reviewed.
---
The Probe Beast Fucking Machine In Action
The Probe Beast is a monster of a fucking machine with so much power that at 3/4 speed it started to rock my table.
---
Attachments
As you would expect, sexmachines.co.uk carry a full range of attachments for both of these machines, and you can get extension rods, Fleshlight adaptors, universal dildo adaptor plate and a double dildo adaptor plate. This gives you lots of opportunities to expand your play sessions and what I really like is that it means all genders can enjoy sex machine fun and not just anally.
I was sent a set of extension rods and these are fantastic, they really allow you to customise the machine so you can have it further away from your body.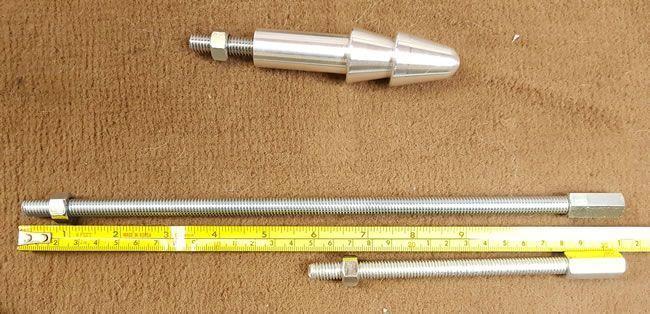 The extensions and Vac-u-lock adaptor gives great flexibilty
Made by Orgasm Allay and stocked by @buysexmachines, the Probe and Probe Beast are two fucking machines that will give you a wild ride.
Click to Tweet
Key Features
Key features:
High torque motors give plenty of power
Upto 250 strokes a minute
Sturdy construction
Easy to assemble and use
Lots of attachments available to customise your play
CE approved
ROHS compliant
US power cord but UK or European adaptor plug supplied
220V-240V European model
1 Year UK & Worldwide Warranty
Deisgned and manufactured in the USA
Final Thoughts
I like both the Probe and Probe Beast, and if I were buying one I would definitely try and go for the Beast, it wins hands down regarding performance. The Probe itself though definitely holds its own and outperforms other machines in its class.
The design makes it quick to assemble and pack away at the end of a session, and the high torque motors mean that these fucking machines are capable for driving even the largest of dildos into tight lubed up holes.
The speed is very impressive, and the machines are pretty stable at low to mid speeds. On their highest settings, you do get some rocking especially if they are used on a soft surface like a bed. I would definitely recommend securing the legs down if you are using huge dildos (remember Newtons 3rd law).
It is great to see these machines available in the UK and check out the amazingly powerful big boys from Orgasm Alley in the sexmachines.co.uk stable.
I was sent these two amazing fucking machines by sexmachines.co.uk and I would like to thank them for giving me the opportunity to review them.
Joanne's rating
Where Can I Get One From?
Check out these amazing fucking machines over at sexmachines.co.uk, both the Probe and Probe Beast are highly recommended.
Sexmachines.co.uk have an amazing selection of fucking and sex machines for sale together with a huge range of attachments, with a fast and discreet service.
Check them out and don't forget to tell them that Joanne says "Hi".
Disclosure
This review does not contain affiliate links, for more information about affiliate links check out my disclosure page.