About Godemiche
I love the products that Godemiche make and they are produced with great pride and attention to detail. All of their sex toys are hand mixed and poured and they are available in some spectacular colour combinations.
They are a small family run business and as such you can expect to receive a personal service. They only use body safe materials and they are now stocked by a number of well known retailers which is great news for both them and potential customers as it means that their wares will become more widely recognised.
Thier complete range is available from their website - www.g-silicone.com and trust me when I say sign up for their newsletter to receive an insight into their world and to receive some amazing special offers and early access to new toys as they bring them out.
"At GODEMICHE we are not trying to break the mould, but recolour it, restyle it and make you fall in love again with your dildo"
---
Delivery
I received my Peg from Godemiche in with the Adam Dildo that I bought to review and it was well packed in very discreet packaging. I also received a Plug-B Beginners Anal Butt Plug and I'm really looking forward to reviewing it as I had so much fun with the Peg.
The Peg was sealed in a plastic bag and upon opening it there was no smell, yes I am a dildo sniffer and there is nothing worse than a dildo that smells of chemicals when you open up the packaging (that is a sure indicator of a none body safe dildo). The Peg is of course made out of body safe silicone so no worries there.
Features
My first impression of the Peg was that it was a nice sized anal toy for a beginner or someone like me who doesn't enjoy larger anal sex toys. It measures in at only 5" (12.7cm) long and is a nice 0.78" (2cm) in diameter, so it is basically just like a very long finger.
It has a nicely rounded tip to aid insertion and a flared base for safety so you needn't worry about losing the toy followed by a rather embarrassing trip to A&E to retrieve it. I particularly like the flared base as it meant I could experiment with it not just by hand but I could mount it to one of my Fucking Machines for some added fun - more on this later. The peg sits on its base at a slight angle which actually made it easier to hold for me.
It is made out of 100% Platimum grade silicone which makes it body safe, hypoallergenic and none porous, the latter is a must for anal sex toys as it makes it easy to clean and sterilise. The blend on silicone used is a firm one which is good because whilst a soft would feel slightly better you would never be able to insert and use it. This mix is absolutely perfect and it allowed me to use it on a machine which again would be impossible with a softer blend. Now when I say firm I do not mean hard, it is still sort of squishy and you can bend it but it resists bending.
The Peg is available in a myriad of colours and colour combinations, some of which look absolutely stunning. I have an orange one but you can also get it in pearlescent mixes and ten other standard colours so there is something for eveyones tastes.
Halfway down the shaft is a series of six ridges that have been hand carved into the original sculpture and these are irregular in shape and give an added feel that this is a hand made piece of art. These ridges are there to give added stimulation to an otherwise smooth dildo and they do feel very good indeed when in use.
Cleaning is easy but you need to be extra careful when cleaning the ridges, use warm soapy water and a sex toy cleaner. Alternatively it can be sterilised in a 10% bleach solution or washed in a dishwasher (without the detergent).
Use
So the real question that you are probably asking yourself is "How was it"? It actually surprised me at just how much fun this thin little anal dildo is to use. After lubing myself and it up with some Sliquid Sassy Lube (which is ideal for silicone sex toys as it is water based), I made myself comfortable and then it was the moment of truth.
It was really comfortable to insert, some anal toys that I have used really stretch me and that is quite uncomfortable but this feels just like a finger and it is nice, very nice in fact. I slowly played with it edging it deeper and deeper until I felt the ridges and that almost sent me over the edge. They give a really nice texture to the toy and feel great.
I soon found that I could set up a steady rhythm enjoying the texture as I focussed on just moving that section of the toy in and out and I soon gave myself an anal orgasm - something I struggle to do usually. I think it is a combination of the comfortable diameter of the Peg coupled with the ridges that made it oh so easy to orgasm.
After my first orgasm with it I can't believe that I actually started giggling as for some reason the image of me being fingered by ET sprang to mind - yes I know it's a weird thought (don't judge me LOL) but this toy does feel like a really long finger with a kinky bonus in the middle.
Top Tip: Don't use too much lube as the base can become pretty slippery to hold onto if you do.
Fucking Machine Compatability
The flared base on the Peg means that you can easily attach it to most Fucking Machines if you have a universal mount. The one I use is a flat plate and I use medical cohesive bandages to hold the dildo firmly in place and it works a treat.
I must admit that I was a little nervous about fucking myself anally with one of my machines but I had so much fun using this toy by hand I just couldn't resist strapping it to my Shockspot and having some fun with it.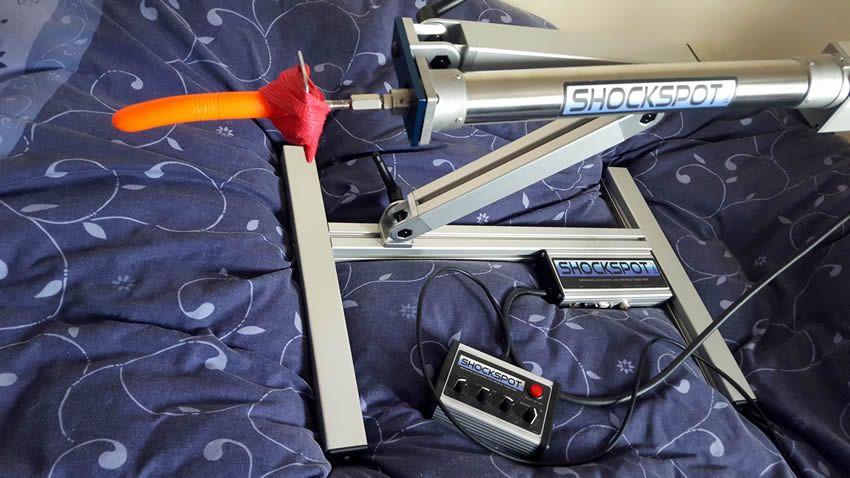 I set it to a very short stroke and inserted the tip before switching the machine on. I gasped as it started to slowly slide in and out and whilst laying there biting my lip I experimented with the controls taking it deeper and deeper before long I had the whole thing hammering away at me. Needless to say it didn't take me long to orgasm like this and I had to catch my breath before sliding it out as the experience left me light headed and breathless LOL.
So I can totally recommend the Peg for anal pleasure both my hand and also by sex machine and yes I was curious so I have used it with a second dildo for some double penetration fucking machine fun and that was #SquirtTastic.
Performance
This is a very nice anal dildo and I have had a lot of fun using it and reviewing it. I will be using it again and from a woman who has literally dozens and dozens of sex toys that says something. In the past anal sex toys have never really done it for me as I have found them too uncomfortable to use. Sex Toys like the Peg have changed that for me and I now enjoy more anal fun now that at any point in the past. Thank you Godemiche for helping me with that.
I love the design and size of the Peg and the added ridges in the middle are a great touch, the best bit about this toy though is that it's gender neutral so anyone can use and enjoy it.
It's very comfortable to hold and use and is ideal for anyone new to anal pleasures or someone who is naturally very tight 'back there'.
I find it great for long slow anal sessions or to use it in conjunction with a vibrator for some two hole action. I have even inserted it whilst being fucked by my partner but had trouble keeping it in when I orgasmed LOL.
Key Features
Key features:
100% body safe Platinum Grade Silicone
Flared base for safe anal use
Nice texture midway along the shaft
Small diameter makes it easy to use even for first timers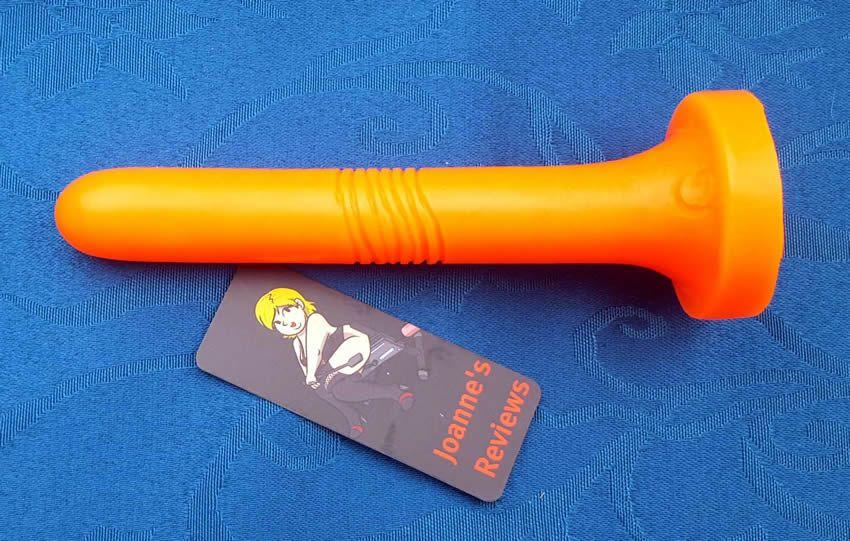 Final Thoughts
I think that this is a great anal sex toy and really enjoy using it. The only problem I have with it and its a small one that can't really be alleviated with this design is cleaning the ridges after use. You need to be very careful cleaning them to get all body fluids out of it. It is a small niggle and nothing that is a big issue and I wouldn't change the ridges as I love their effect too much.
Silicone is always my go to material for sex toys and Godemiche produce excellent silicone sex toys, check out their full range and I can also highly recommend the Adam (they now do an even bigger one Wooohooo!).
Recommendations
I would recommend this sex toy to:
Anyone looking for a body safe anal dildo.
Anyone new to anal pleasure who wants to start gently.
Anyone looking for a thin dildo for use anally and vaginally.
Anyone looking for a beautiful dildo.
Anyone looking for a dildo with a flared base.
I wouldn't recommend it to anyone who:
Joanne's rating
Where Can I Get One From?
You can get the Peg from g-silicone.com with prices as low as only £12 for a basic model, which makes it a very reasonably priced body safe anal sex toy. Check out the amazing range of dildos and plugs available from Godemiche.
I was given this toy in order to review it and this review doesn't contain any affiliate links.
I would love to hear what you thought of this review. What can I do better, what did you like? Let me know in the comments form below. Thank you for taking the time to read it. Joanne xx