Delivery and packaging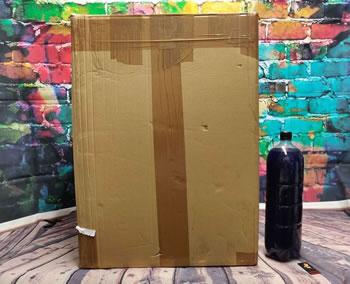 On the delivery day, as soon as I realised I had a delivery man coming up the drive, I waited patiently (okay not patiently at all), behind the closed door. Social distancing and all, I needed to wait for a minute so that the delivery guy could step away from the door.
As soon as it was safe, I opened the door and was greeted with this huge box, and yes I do mean huge. Quickly dragging the box inside, I dove right in so that I could see all that silicone cock up close and personal (if you know what I mean) Woohoo.
As always the dildos arrived safely packaged in a strong box. It was plain, so the delivery guy had no idea how much silicone dildo he was delivering. But I do feel sorry for his back, I hope he didn't do himself an injury.
On opening the box, I found three different designs, Spock's Cock, The OGLIN and the one I am going to talk to you about now is the PARASITE.
I like the minimalistic packaging John Thomas Toys use, after all, why waste lots of material? All I am really interested in is what's inside. I have to say though, that I love the little holographic stickers on the packaging to show you that your dildo is indeed a genuine John Thomas Toy.
The product packaging only needs to ensure that the dildo arrives clean as far as I'm concerned. Plus with the storage bag that John Thomas Toys provide with every dildo, it means that you have somewhere safe to store your dildo after cleaning. These bags look great and function well; the black velvet type cover with the white branding looks fantastic. The internal lining means that you do not have to worry about your dildo getting covered in fluff. A drawstring on the bag allows you to secure your dildo away from prying eyes.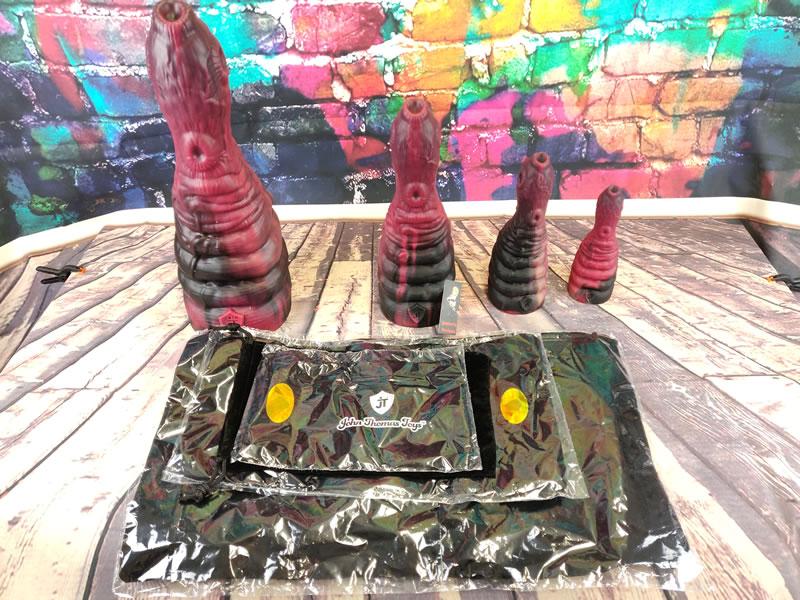 The PARASITE comes with its own branded storage bag which is a very nice touch
Materials and design
Now on first look, you may think the Parasite does not look very appealing. But look past the ick factor, focus on all those fantastic ridges, bulges and the challenge of the increasingly broad base.
You might get as excited as I did, I mean come on, the long neck with a slightly bulbous head, which then goes down to join with the main body that has veins and ridges to enjoy is right up my street. As a size and texture queen, this dildo ticks both of these boxes.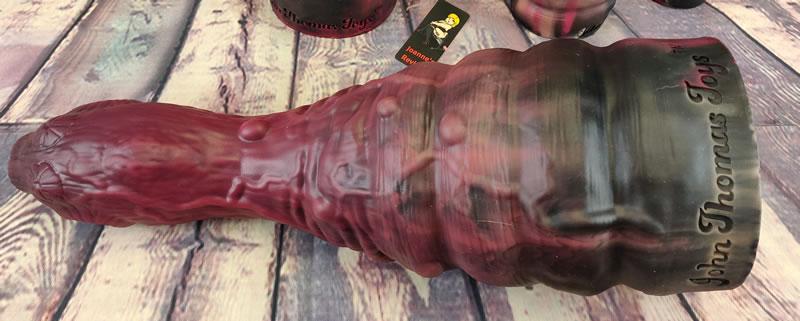 The PARASITE has some nice textures and girth that just keeps expanding
I like the fact that it's different from some of the more standard looking dildos, I suppose you could call it quirky. The John Thomas Toys Parasite dildo is manufactured from a lovely blend of 100% platinum silicone. The colour is produced by a hand pouring technique called fusion. This gives every dildo a unique colour, making the whole toy stand out and ensuring that no two look the same.
If you have read any of my other reviews, you will know that silicone is my go-to sextoy material. There is an excellent reason for this; not only is it body-safe and non-porous, but it is also latex and phthalate-free too.
Silicone is also capable of being cleaned at high temperatures, so you can boil it, wash it in the dishwasher or clean it with warm soapy water. It is also good to temperature play so try warming your dildo in a bowl of warm water or cooling it for some interesting sensations.
As silicone is non-porous, it means that as long as you look after it, you can keep playing with your toy for a long time. One main thing to remember with any silicone toy is to only use a good quality water-based lube.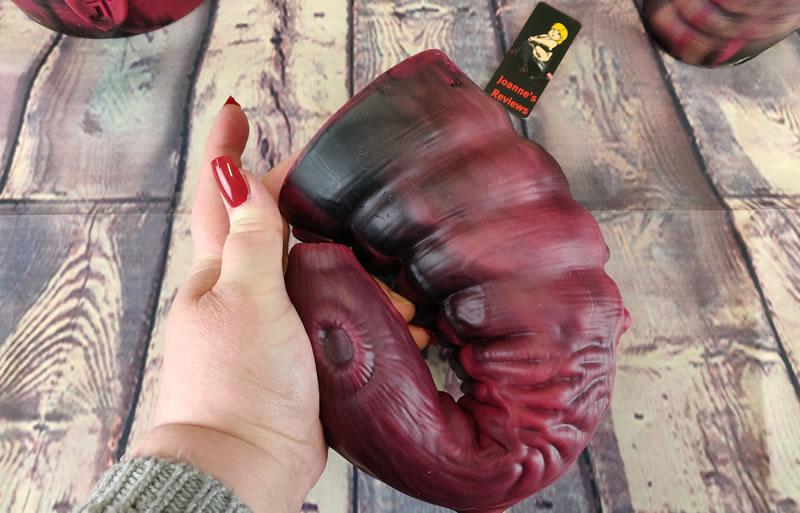 The PARASITE is very flexible, this is the large one
All John Thomas Toys are made using copper moulds, and this is an expensive process. But it means that no matter how many toys they produce from that mould, every crease and vein will always be the same. So if you buy toy 10 or 2000, you would not be able to tell the difference. Quality matters and I am always delighted with the quality of John Thomas dildo and plugs.
Okay, so that's enough about the materials, what about the dildo itself?
As briefly explained earlier Parasite has a lot going on, and all of it good. The tip looks like it has three suckers or mouths, with the largest one right on the tip. I can say that it feels fantastic when pressed against your cervix or prostate depending on how you are biologically equipped.
The top of the head also has two small bumps, then as you move down, there is an excellent ridge. Now you may ask why I say it is excellent? This is because I found it would hit my g-spot every time I thurst with it, and that feels amazing.

The underside of the PARASITE features some amazing textures half way down it
Then moving down again there is another sucker type mouth then the ridges begin. It even has veins that start right from the tip of the toy to enjoy. The fact that the toy gets wider the further down you get means that you can challenge yourself. It's something I like to do when faced with a dildo like Parasite. See how far I can go down and enjoy the stretch as I go.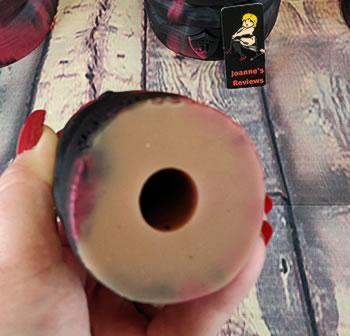 The designer has really gone all out with this dildo, but to be honest all the dildos I have seen from John Thomas Toys, have the same attention to detail. The designer has even added some nodules, which I lovingly think of as pustules (yes I know gross) at various points around the toy. I love these details, mainly because of the look of horror on sub 'r's face when I say it, (evil grin). Parasite was actually inspired by the 1975 cult horror classic "Shivers". Okay, hands up who has seen it (ME lol)? I had to watch it again after using this dildo.
The base has a vac-u-lock compatible hole so that you can enjoy playing on your own terms. Giving you more freedom on how you want to play, so it's suitable for strap-on play, fucking machines etc.
Performance
As I said earlier, some may be a bit dubious about trying this one due to its looks. But as I love old horror movies, I was not going to be put off.
With the narrow neck, the variety of bumps that stand out, especially the larger one towards a little further down the head towards the thinner section it feels great.
I found this would hit my g-spot just right. I did not feel challenged by the head of the dildo, but I did still have that lovely feeling of being full. I could feel every bump, ripple and vein when I was fucking myself with this dildo.
Then when I was wet enough, I started the challenge of how far I could go. The stretch felt terrific, and the deep ridges riding along my vaginal walls not only stimulated me internally but would catch my clit too Mmmmm.
With the neck being quite thin, it makes the top reasonably flexible, so I found it more comfortable to take deeper than other dildos in my collection.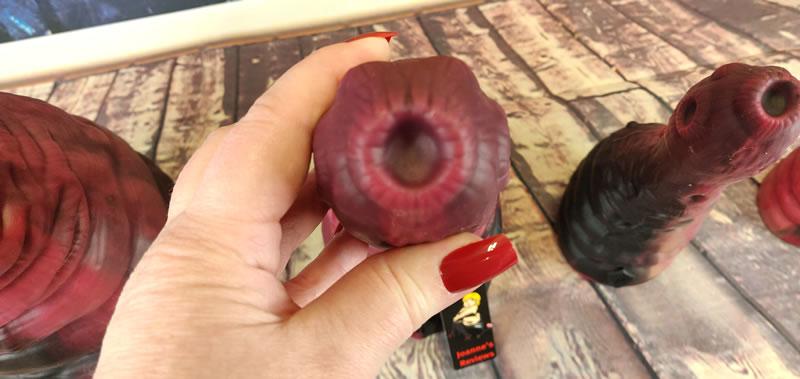 The tip of the PARASITE features a concave feature that looks quite menacing
I like to try toys out using a fucking machine or suction cup as well, a reviewer needs the full experience after all. This toy worked out fantastically with both options. As this dildo is available in two textures, Soft or firm, you can choose the best option for you. I have the firm blend, which I would recommend if you are going to be using this with a machine.
| * | SMALL | MEDIUM | LARGE | X LARGE |
| --- | --- | --- | --- | --- |
| Length: | 7"/17.78cm | 9"/22.86cm | 12"/30.48cm | 16"/40.64cm |
| Base Height: | N/A | N/A | N/A | N/A |
| Circumference top of shaft): | 4"/10.16cm | 5.2"/13.2cm | 6.6"/16.76cm | 8.8"/22.35cm |
| Circumference (middle of shaft): | 6.2"/15.74cm | 6.6"/16.76cm | 9"/22.86cm | 12.2"/30.98cm |
| Circumference (base): | 7.5"/19.05cm | 9.8"/24.89cm | 13"/33.03cm | 17"/43.18cm |
| Max Insertable Length: | 6.2"/15.24cm | 8"/20.32cm | 11"/27.94cm | 15"/38.1cm |
| Weight: | 0.26kg/0.57lbs (*variable) | 0.57kg /1.26lbs (*variable) | 1.25kg/2.75lbs (*variable) | 3.26kg/7.18lbs (*variable) |
| Price: | £69.99 | £99.99 | £169.99 | £229.99 |
It did not take long for all those bumps and ridges to bring me to climax, which is the ultimate test in my book.
After a play session, it's easy to clean. You can use a dishwasher, or simply wash it in a bowl of warm soapy water. You will need to make sure you get into all those lovely ridges and mouths, as you do not want to miss any vag-goo. As with any toy, ensure it is thoroughly dry before placing it into its storage bag until next time.
The only negative I found with this dildo is the fact that it really is a magnet for any dust or hair, but this is common to a lot of silicone sex toys. I would thoroughly clean it, put it down then find more hair on it. This probably stands out more than with others because of the dark colours. Just ensure you rinse it off before playing with it.
I had a lot of fun getting to know the PARASITE.
Not for the faint hearted, check out Joanne's review of the PARASITE dildo that was inspired by the 1975 cult classic horror film "Shivers".
Click to Tweet
Key Features
Key features:
100% body-safe platinum cure silicone
Four sizes available
Two hardness ratings
Hole in the base for vac-u-lock attachment
Free - Velvet feel drawstring storage bag
Unique colouring in each dildo
An abundance of ridges and bumps with some nodules
Horror fans perfect toy
I would recommend it to:
Anyone looking for a body-safe silicone dildo
Anyone looking for a vac-u-lock system compatible dildo
Anyone no matter what size they like, as the four sizes available mean there is something for everyone.
Anyone who loves ridges and bumps
Anyone who wants a fantasy cock
I wouldn't recommend it to:
Anyone not into fantasy dildos
Anyone looking for a penis shaped dildo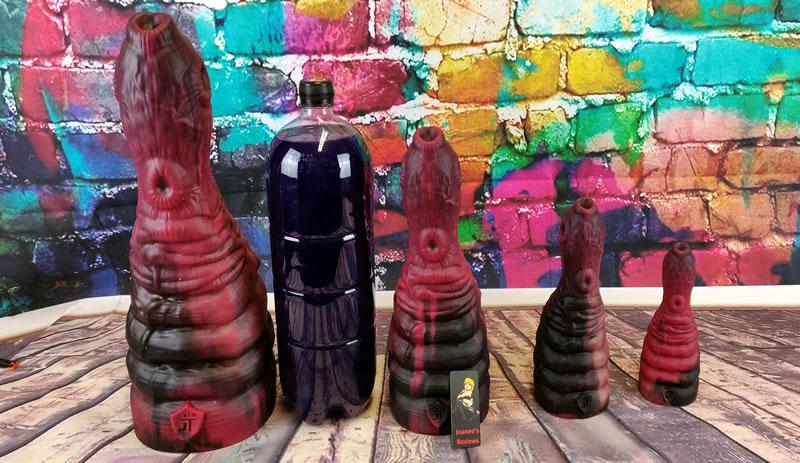 All four sizes of the PARASITE and yes that is a 2 litre soft drinks bottle
---
Check Out The Video Review On Youtube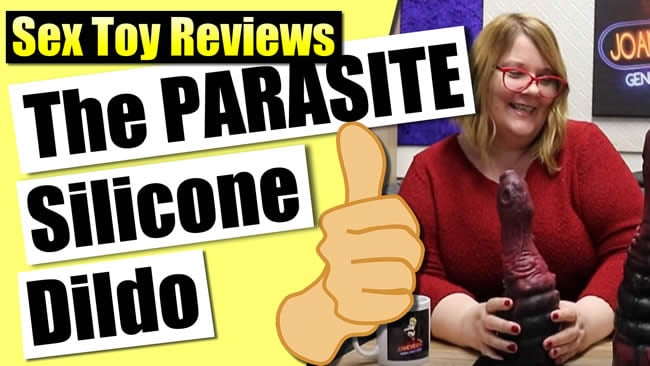 ---
Final Thoughts
Okay, so it's not the prettiest looking dildo out there, but it was inspired by a cult classic. Please look past how it looks and focus on those delicious textures and the unusual shape.
It really is an enjoyable dildo to play with. I love the whole feel of every ridge and the features on it, then you get the challenge of the stretch as you get halfway down it. How much do you think you will be able to take?
Each one is unique, and with its bespoke colour scheme, you are getting something personal, and the quality is top-notch.
For those who like fantasy toys with a difference then take a look at the PARASITE, it could be right up your alley :-)
I was sent the PARASITE by John Thomas Toys and I would like to thank them for giving me the opportunity to review it for them.
Joanne's rating
Where Can I Get One From?

Grab one of these cult classic dildos and see what I mean about it being so much fun to use. Get one from John Thomas Toys before they run out, with prices starting at £69.99 it's enough to give you the 'Shivers'.
Check them out and don't forget to tell them that Joanne says "Hi".
---


If you enjoyed reading this review then check out my other reviews of John Thomas Toys products:
Silicone Dildos
---
Disclosure
This review does not contain affiliate links, for more information about affiliate links check out my disclosure page.