Delivery & Packaging
John Thomas Toys packages are sent out in discreet packaging. So there is no way the postie has any idea of the contents. The boxes I receive are strong and well sealed. With the weight of the four sizes, they need to be strong, and I pity the poor posties back.
The contents are packaged using brown paper to stop them from moving in transit. Each dildo is covered in a robust and transparent heat-sealed film; this film protects the dildos in transit, and it also features stickers on them. One of the stickers is a holographic JTT logo. The others are the firmness rating and a reminder to wash before use.
When you buy from JTT, you really get great value for money. You get a high-quality silicone dildo, plus you also receive a JTT vac-u-lock compatible suction cup and a branded storage bag.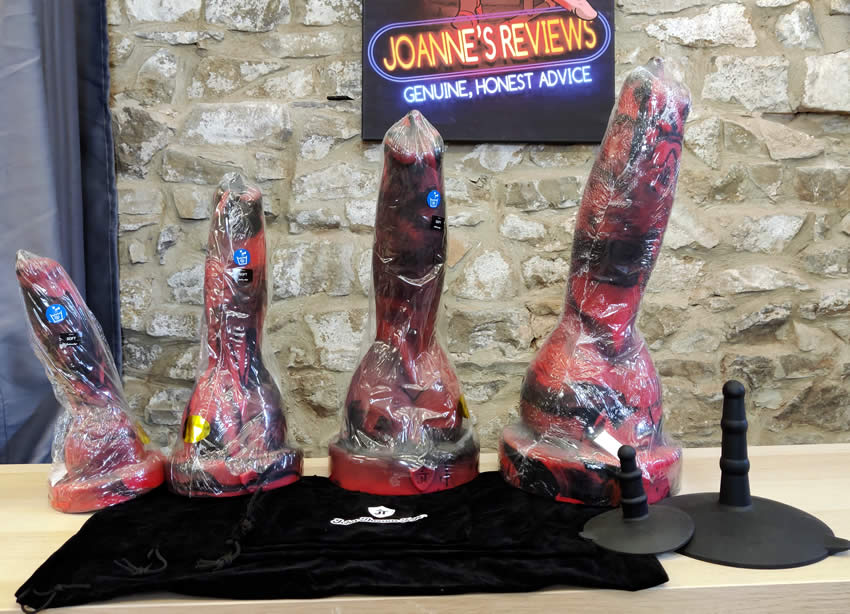 All four sizes are quite a sight, this is a lot of silicone.
---
Check Out My Unboxing Video On Youtube
---
Materials and design
John Thomas Toys use platinum medical grade silicone to make The Original Dog's Cock. This is important not only because silicone is more robust than some other materials but also because it is body-safe. Silicone is also non-porous, latex, rubber and phthalate free making it hypo-allergenic.
Silicone is my preferred material for insertable toys. I can trust that once washed, it won't be housing any harmful bacteria. But also because it is fantastic for some temperature play (both hot and cold).
I recommend using water-based lubes with silicone. If you don't already own some John Thomas Toys, have a good selection in stock.
It's also so easy to clean a silicone dildo; you can simply use warm soapy water or just pop it in the dishwasher for a thorough clean.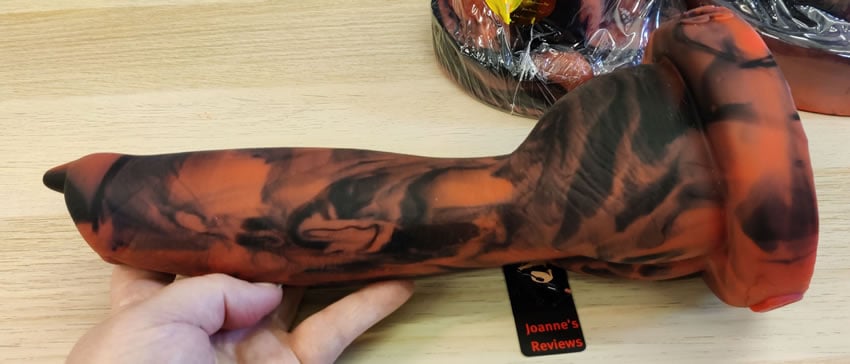 Even the small is quite a challenge and the knot is eyewateringly large.
The design team at JTT really do go a step further when they design a silicone quimstick. They wanted to ensure that The Original Dog's Cock was true to its name; they ensured it was as anatomically realistic as possible.
"This amazing dog penis has been designed and researched with much love and attention to detail unlike many animal dildos available currently, ours is true and anatomically correct in every way...Woof!"

John Thomas Toys
Using copper moulds also ensures that every dildo produced in that mould will have precisely the same features as the ones before. This is a more expensive manufacturing process, but JTT wants to ensure that its quality is second to none.
I have never actually looked into the actual anatomy of a real dogs cock. I decided that I would trust their judgement on this one (as I don't need google tracking that sort of online search, thank you very much LOL).
Using a hand pouring technique called 'fusion', JTT have ensured each Original Dog's Cock will have a unique colour.
The finished design looks terrific, from the slight spike at the tip to the impressive knot at the base. Although I do not want to meet the dog if these are true to size. You can always trust JTT to create sex toys that stretch more than just your imagination.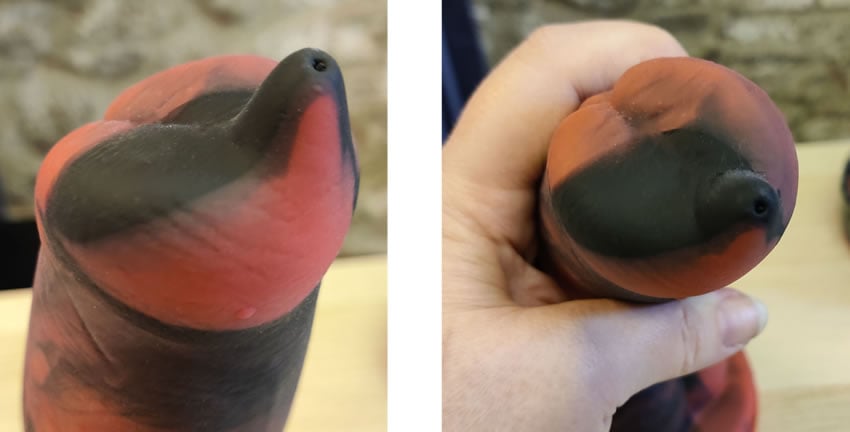 I was surprised by how much I love this little feature.
I love the whole look of this dildo. The knot looks like an extreme challenge that I probably won't manage to make.
The shaft bulges out from the tip before tapering down near the knot. Although the shaft is smooth, the knot has a skin effect with small creases over them. All of which create an impressive looking dildo.
The Original Dog's Cock does have a special addition that you really would not find on the real thing. That is the vac-u-lock compatible hole in the base. You can use this to attach it to a fucking machine or other equipment that can hold a vac-u-lock attachment, such as a strap on harness.
You will receive a John Thomas Toys own design of vac-u-lock compatible suction cup holder with your dildo. These are strong, and the rounded ridges help reduce the risk of your favourite toy ripping on removal. The suction cup adaptors stick very well to any smooth surface - hello, shower time fun.

The suction cup adaptor that you get with John Thomas Toys dildos is fantastic and sticks down really well.
John Thomas Toys offer The Original Dog's Cock in various colours, four sizes and two firmness ratings. They also publish extensive measurements, which are essential to check before purchase. This is because a small in one design can vary drastically from a small in another.
Finally, you will also receive a John Thomas Toys branded faux velvet storage bag. These bags are well made and are made with a robust material. With four sizes, you will be sent the right size for your purchase. These bags are excellent at keeping dust and fluff off your dildo in-between playtimes.
| * | SMALL | MEDIUM | LARGE | X LARGE |
| --- | --- | --- | --- | --- |
| Length: | 12"/30.48cm | 15"/38.1cm | 18"/45.72cm | 20.5"/52.07cm |
| Circumference (top of head): | 5.51"/14cm | 7.08"/18cm | 8.26"/21cm | 9.84"/25cm |
| Circumference (middle of shaft): | 7.08"/18cm | 9.05"/23cm | 10.82"/27.5cm | 12.99"/33cm |
| Circumference (bottom of shaft): | 5.9"/15cm | 7.48"/19cm | 8.85"/22.5cm | 10.43"/26.50cm |
| Circumference (knot): | 11.41"/29cm | 14.37"/36.5cm | 17.12"/43.5cm | 20.07"/51cm |
| Max Insertable Length: | 11.4"/29cm | 14"/35.56cm | 16.14"/41cm | 18"/45.72cm |
| Weight: | 1.14kg (*variable) | 2.24kg (*variable) | 3.92kg(*variable) | 6.32kg (*variable) |
| Price: | £139.99 | £239.99 | £359.99 | £459.99 |
Performance
I can honestly say that this is my first time with an anatomically correct dog dong. I did feel a little intimidated with these dildos as the small is a lot larger than I expected. I was sent the soft firmness option, so the dildo has a nice squish to it whilst still being firm enough to hold its shape.
With the bulging shaft, I decided to try the small first to see how I went. The bulge does give a glorious full feeling as you move down it. The knot at the base is too much of a challenge for me, though. But I had lots of fun trying to squeeze it in. I still enjoyed the feel of it hitting my clit each time I thrust the shaft fully inside my pussy.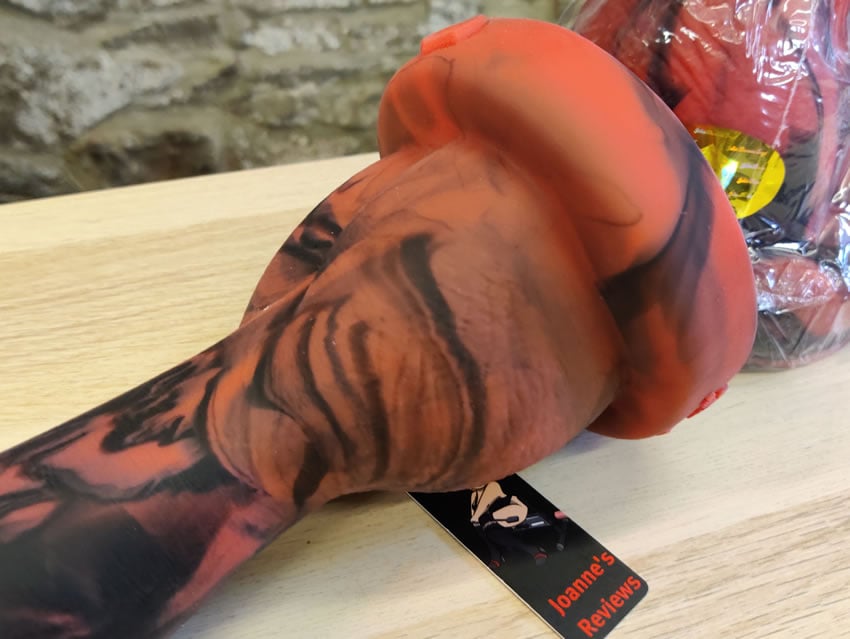 The knot is an amazing feature that will challenge any #SizeQueen.
The smooth silicone slides in wonderfully with some water-based lube to help. I recommend a lube like J-Jelly or Sliquid H2O.
I really enjoyed using the spike at the tip to flick my clit during play, and it also felt incredible when it hit my cervix just right.
I did try adding extra lube for the knot, but it just was not to be.
I also enjoyed some shower play using the suction cup supplied. First of all, adding a small amount of corn starch into the hole in the base. I then slid the suction cup adaptor into the vac-u-lock compatible hole, ready to play.
I always add a little corn starch into the hole as it makes it easier to remove the dildo at the end of playtime.
It's so easy to clean; I use anti-bacterial soap and warm water. You could even put it in the dishwasher if you prefer. Just ensure that you remove it before someone else in the household :-). Ensure that it is cool and totally dry before placing back into the storage bag, ready for next time.
Let's just say that using it had me panting in no time, and one thing I love about the soft blend of silicone that JTT uses is that orgasms with it deep inside feel amazing. I love being able to clamp down on it during orgasm, relishing the feeling of squeezing it as I cum hard after a good session with one.
While I have enjoyed this dildo vaginally, if you can take it then it would feel amazing during anal play. Just remember to use lots of lube as it is a tight squeeze.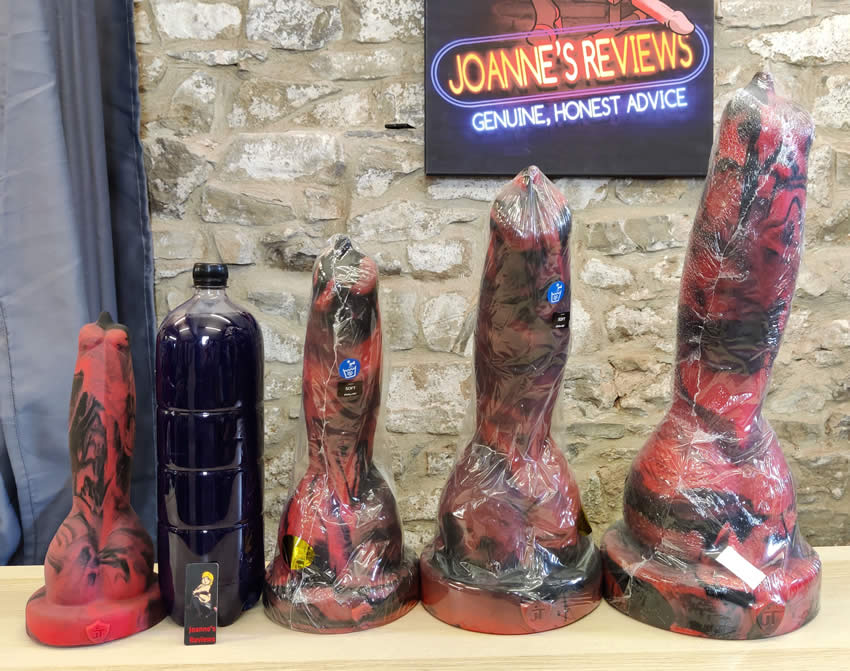 These are big toys for fans of stretching and feeling incredibly full.
---
Check Out My Video Review On Youtube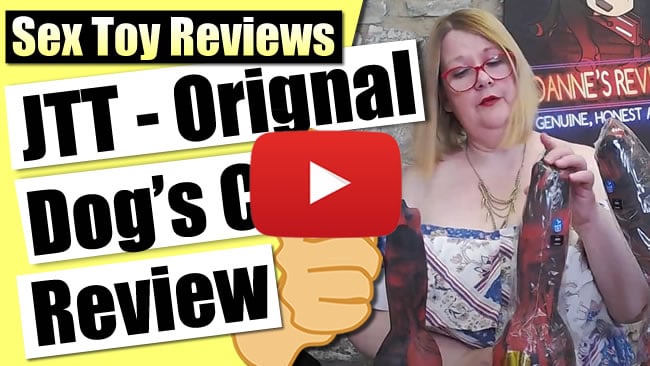 ---
Conclusion
I was not sure how much I would enjoy using the Original Dog's Cock at first. But I can honestly say it was more fun than I expected.
If you enjoy fantasy dildos that are different from a standard realistic one, why not check out this one. The Original Dog's Cock may surprise you. The knot most likely will ;-)
Looking for something different, something to stretch more than just your imagination? Check out Joanne's review of The Original Dog's Cock from @JohnThomasToys.
Click to Tweet
Key Features
Key features:
Made from high-quality medical-grade silicone.
Copper moulds are used to ensure that you will get the same features like the ones before.
Choice of different colours.
Four sizes to choose from.
Realistic fantasy dog's cock.
Large knot.
Selection of two firmness ratings.
Lifetime guarantee.
Comes with a storage bag and vac-u-lock suction cup adaptor.
I would recommend it to:
Anyone who would like a challenge.
Anyone who enjoys fantasy dildos.
Anyone who prefers high-quality silicone insertable toys.
Anhyone looking for a vac-u-lock compatible silicone dildo.
I wouldn't recommend it to:
Anyone who does not enjoy fantasy dildos.
Anyone who does not like a bulging dildo
Anyone looking for a small dildo.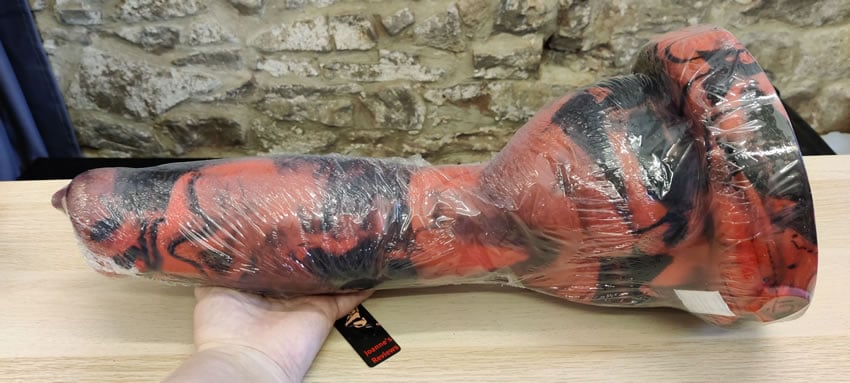 I have the upmost respect for anyone who can tackle the XL, it's a beast (literally).
Final Thoughts
I enjoyed my playtime with The Original Dog's Cock. Before use, I had underestimated the incredible bulge of the shaft. It looks understated but feels fantastic.
The knot was too much for me, but it did feel great hitting my clit each time I pushed against it.
I cannot say this enough. It really is essential to check the measurements on JohnThomasToys.co.uk (yes, I am talking to you Carl xx), to avoid any surprises when you get to use your toy. Don't be that person whose eyes are bogger than their intended orifice LOL.
The Original Dog's Cock is another fantastic addition to the range of silicone dildos, plugs and stretchers available at John Thomas Toys.
I was sent these amazing fantasy dildos by John Thomas Toys and I would like to thank them for giving me the opportunity to review it for them.
Joanne's rating
Where Can I Get One From?

Grab one of these fantastic body safe silcone dildos from one of my favourite manufacturers, John Thomas Toys. You can grab one from £139.99 and keep a look out for their sales where you can grab a bargain.
There is a huge Summer Sale on at the time of publication of this review and the entire range is available for less than 50% of the usual retail price, so act quick and snap up one of these barkingly good deals.
Check them out and don't forget to tell them that Joanne says "Hi".
---


If you enjoyed reading this review then check out my other reviews of John Thomas Toys products:
Silicone Dildos
---
Disclosure
This review does not contain affiliate links, for more information about affiliate links check out my disclosure page.