Delivery and packaging
As usual for my deliveries from John Thomas Toys the box, these arrived in was plain, so the postie had no idea how much dildo he was delivering.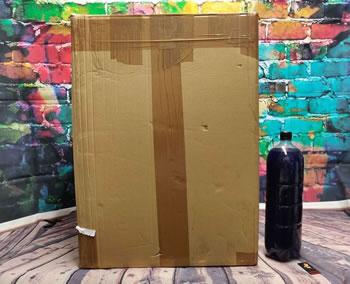 This is the largest box of cock that I have received to date. I was so excited to dive right in, which is just what I did. I was like a kid at Christmas :-)
I can always rely on John Thomas Toys (JTT), sending me products in plain packaging. They take customer discretion very seriously, which is very re-assuring.
Dildos from JTT come in very minimal packaging, which is good for the environment, and it also keeps costs down. I love the little holographic stickers that are attached to the shrink-wrapped dildos, these show you that it is a genuine JTT sex toy.
It always galls me when companies put more effort into the product's packaging that they do on the product itself. The opposite is true for JTT sex toys, their packaging is purely functional. They put all their efforts into designing and producing the best silicone dildos and plugs on the market. Their packaging is just there to get the dildo to you in a clean and hygienic condition ready for use. I like that.

With four different sizes to choose from you can get an Oglin to match your tastes
Materials and design
John Thomas Toys are made from a delightful blend of 100% platinum cure silicone which is poured into copper moulds. This process ensures that every dildo will be precisely the same as the last in terms of shape and size. To me, this shows how much JTT value their customers, as it costs much more to produce a copper mould compared with other manufacturing processes.
The Oglin was made using a hand pouring technique called fusion. This ensures that even though the design and size of each toy will be the same, the colour mix will be unique. So, if you purchased two Oglin dildos, their colouration and patterns would be different, making these bespoke dildos.
Silicone is my go-to material for insertable toys because it's non-porous, latex and also phthalate-free. This is very important for insertable sex toys.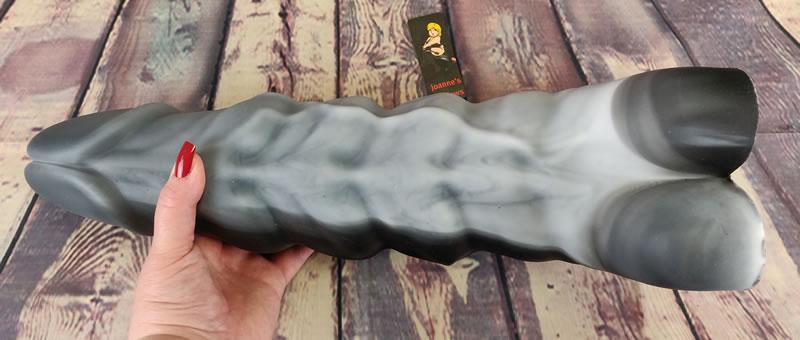 The Fusion colouration technique produces some nice effects and ensures that every dildo is different
Silicone can be boiled or put in the dishwasher to clean, which again is a definite plus in my book. Just remember to remove it as soon as the cycle has finished and let it fully dry and cool down before storing away. Of course, you can clean it as you would for any other dildo, using warm soapy water or an antiseptic toy cleaner if you prefer.
Do not forget you can also enjoy temperature play with silicone toys as well. Place the dildo in warm or cold water before play to enjoy some delightful sensations.
The velvet style bags that arrive with each toy look great with the JTT branding in white on the black faux velvet. They are also the perfect way to safely store your dildo until the next playtime is due. The smooth interior means that it won't get covered in fluff, and the drawstring keeps it secure and away from prying eyes.
Now, not all JTT fantasy dildos have a story behind them, but this one does and, it made me smile and laugh when I read it:
"Oglin is a cross between an Ogre and a Goblin, never really fitting into either culture Oglin still lives with his parents even though he is nearly 38 years old.

Oglin has had a hard and rather unsettled life, but one thing he has been happy with is his hot beef love injection "Aww - it's beautiful Oglin we all love it and you."

John Thomas Toys
The designer of Oglin has genuinely made a beautiful dildo. The deep ridges that run around the shaft of the dildo stand out, they look fantastic, I felt myself getting wet just looking at it.
The thinner tip makes taking the head easy, and the glans stand out enough to make it almost pop as it fully enters you. Then you feel the first ridge, each one on the firm blend (which is the blend I was sent if you are wondering), are slightly squishy. This means they are soft enough to enter smoothly but firm enough to feel great once they are inside you.

The tapered tip makes the Oglin easy to insert especially if you are playing analy with the Oglin
Then there are the veins that run along the shaft, bringing incredible stimulation alongside the ridges. They really are drool-worthy, in my opinion. The shaft of the Oglin also grows slightly wider the further down you go, so you can enjoy the stretch.
I think the balls on Oglin are actually quite cute, they feel good against your entrance if you can take it deep enough. They also give you something to easily hold onto in play.
You do have a choice of two textures soft and firm, and four different sizes, which means you can really choose the best option for you.
| * | SMALL | MEDIUM | LARGE | X LARGE |
| --- | --- | --- | --- | --- |
| Length: | 7"/17.78cm | 9"/22.86cm | 12"/30.48cm | 16"/40.64cm |
| Base Height: | 1.2"/3.04cm | 1.8"/4.57cm | 2"/5.08cm | 2.8"/7.11cm |
| Circumference top of shaft): | 4.6"/11.58cm | 5.8"/14.73cm | 7.4"/18.79cm | 9.8"/24.89cm |
| Circumference (middle of shaft): | 5.5"/13.97cm | 7.2"/18.28cm | 9.5"/24.13cm | 13"/33.02cm |
| Circumference (base): | 8.2"/20.82cm | 10.5"/26.67cm | 14"/33.56cm | 18.5"/46.99cm |
| Max Insertable Length: | 5.1"/14.73cm | 7.6"/19.3cm | 10"/25.4cm | 13.4"/34.03cm |
| Weight: | 0.26kg/0.57lbs (*variable) | 0.57kg /1.26lbs (*variable) | 1.39kg/3.05lbs (*variable) | 3.29kg/7.24lbs (*variable) |
| Price: | £69.99 | £99.99 | £169.99 | £229.99 |
I do like the John Thomas Toys branding on every dildo, it not only reminds you where you purchased this but also looks great. You do need to ensure you clean it thoroughly if any vag-goo or other body fluids gets into the designs though.
Of course, you cannot forget about the vac-u-lock compatible hole in every base, meaning that you can really choose how you want to play with this dildo. Use it by hand or fit it to a strap-on harness or my favourite choice, a fucking machine.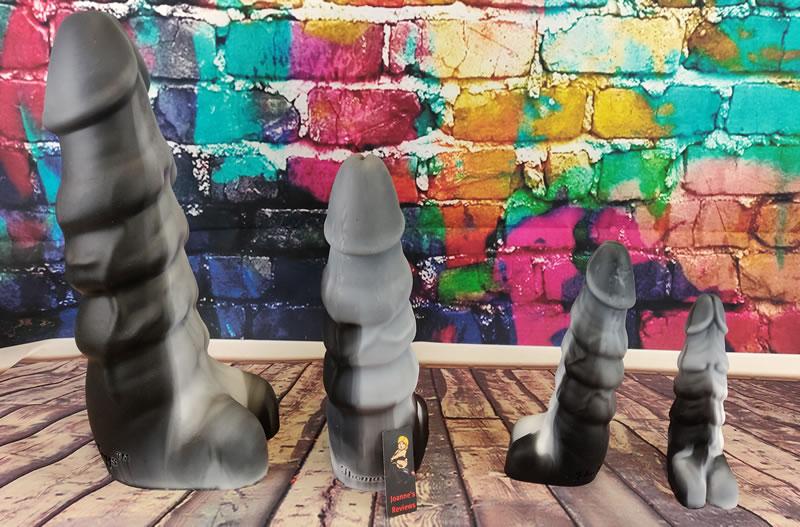 The Oglin is a dildo with lots of textures and a delicious blend of silicone which makes it so much fun to use
Performance
So now for the fun part. Do not get me wrong I enjoy looking and photographing the items sent to me, but I enjoy playing with them so much more.
The head of the dildo is shaped to make insertion easier. But you will probably want to add some good quality water-based lubricant before you start, I did :-)
I always recommend using Sliquid H2O or Secret Play Natural lube as both are fantastic and body-safe.
It slides in very well, then I felt that delightful feeling of having the glans fully inside. As I pushed the Oglin in further, I enjoyed the extra slight stretch before the pop of each ridge. It's almost as if each ridge is designed to keep the dildo buried deep inside whichever hole you are pleasuring with it.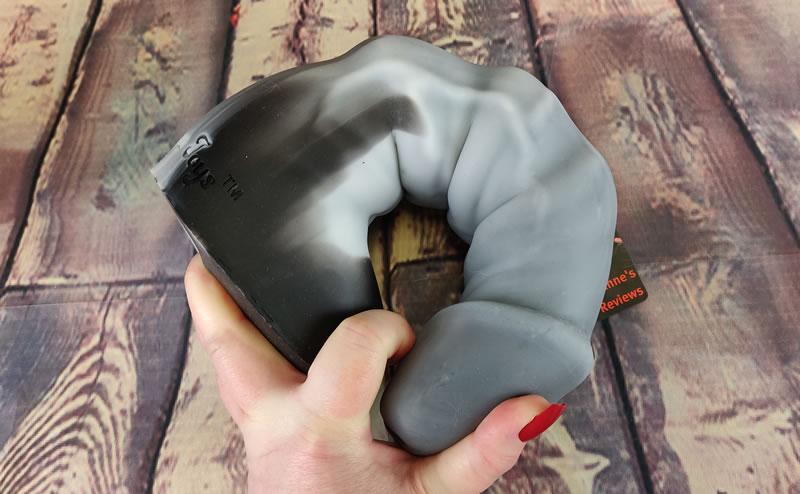 The tapered tip makes the Oglin easy to insert especially if you are playing analy with the Oglin
I could still feel the veins as well, and I enjoy the firm texture that gives me that full feeling. Giving enough squishiness to allow for comfortable use, especially when orgasming, without it being floppy.
The firmness of the Oglin also worked really well on either a fucking machine or a vac-u-lock suction cup. I do like to be thorough when reviewing. The only thing I have learnt is if you prefer the XL dildo, then you do need to secure the legs of your fucking machine, as the weight of it can tilt the machine.
It felt absolutely amazing having this dildo slide in and out, the ridges and veins work very well in giving me the stimulation that I enjoy. If I angled it correctly, I could get it to rub my clit each time I pushed it back in.
It did not take long before I was happily squirming on the bed, with my pussy screaming yes, Yes, YES!
While I favoured the large size Oglin, that meant that sub 'r', got to enjoy the small and the medium. We both really enjoyed these dildos and can understand why Oglin is happy with his hot meat. He would definitely get a lot of attention and repeat requests if you ask either of us.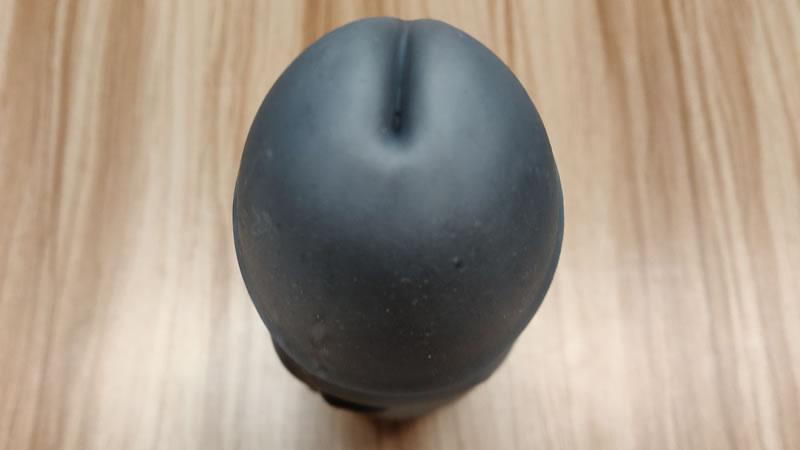 The meatus of the Oglin looks amazing but is a vag-goo trap so take care when cleaning it out
Once playtime has ended, you can wash this dildo in warm soapy water, in the dishwasher or you could even boil it. Make sure you get any gunky stuff or vag-goo from under the glans and between the ridges. Make sure it is thoroughly dry before you pack it away in the drawstring velvet bag.
Looking for a fantasy body-safe dildo? Check out Joanne's review of the OGLIN dildo from @JohnThomasToys.
Click to Tweet
Key Features
Key features:
100% body-safe platinum cure silicone
Four sizes available
Two hardness ratings
Hole in the base for vac-u-lock attachment
Free - Velvet feel drawstring storage bag
Unique colouring in each dildo
Lots of deep ridges
I would recommend it to:
Anyone looking for a body-safe silicone dildo
Anyone looking for a vac-u-lock system compatible dildo
Anyone no matter what size they like, as the four sizes available mean there is something for everyone.
Anyone who loves deep ridges
Anyone who wants a fantasy cock
I wouldn't recommend it to:
Anyone not into fantasy dildos
Anyone wanting a human-looking dildo
Anyone who prefers smoother dildos
---
Check Out The Video Review On Youtube
---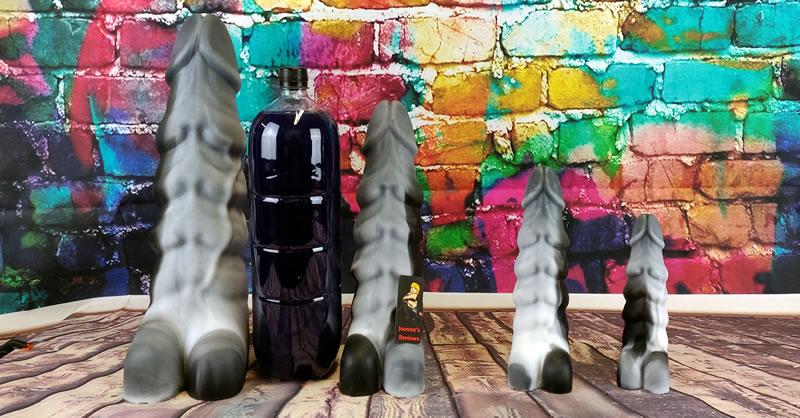 The four sizes of the Oglin means that there is something for everyone's capabilities to enjoy
Final Thoughts
What can I say, I am in love with this dildo. Every inch of Oglin feels fantastic as you thrust it in and out. The deep ridges are spaced far enough apart for you to feel every single one no matter how fast you enjoy thrusting it.
This is another stunning looking dildo, while the colour is not as pretty as Spock's Cock, the lovely blend of the black and white makes a lovely marble type effect.
The designer has done a really great job on Oglin, and the inspiration of a crossbreed of Ogre and Goblin is inspiring.
The firmness and vac-u-lock compatible hole give you so much more leeway on how you want to play.
John Thomas Toys really are fantastic quality, with so many different ones to choose from. Their site is well worth a visit, especially if you want to give one of their delightful creations a home for life.
I was sent the OGLIN by John Thomas Toys and I would like to thank them for giving me the opportunity to review it for them.
Joanne's rating
Where Can I Get One From?

Grab one of these fantastic body-safe fantasy dildos to see just why I had so much fun getting to know it. Grab one from John Thomas Toys before they run out, with prices starting at £69.99 you too can enjoy the OGLIN.
Check them out and don't forget to tell them that Joanne says "Hi".
---


If you enjoyed reading this review then check out my other reviews of John Thomas Toys products:
Silicone Dildos
---
Disclosure
This review does not contain affiliate links, for more information about affiliate links check out my disclosure page.