About Godemiche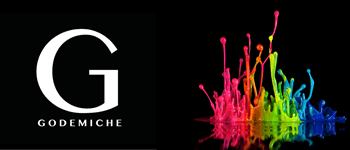 Godemiche pride themselves in producing fantastic silicone sex toys in colours you wouldn't think were possible. Some of their colour options are the stuff of dreams and even their primary colours rock.
They are a small family run business and as such you can expect to receive a personal service. They only use body safe materials and they are now stocked by a number of well known retailers which is great news for both them and potential customers as it means that their wares will become more widely recognised.
They strive to produce the best products and the brightest colour combinations, and they succeed at both. Joanne really enjoyed reviewing the Hercules, Adam and the Peg Anal Dildo, I must admit to also enjoying being involved in those reviews but adopting more of a wide-eyed voyeur to the process. It's so nice to see them catering for penis owners now as well.
"At GODEMICHE we are not trying to break the mould, but recolour it, restyle it and make you fall in love again with your dildo"
This review sees me centre stage and to be honest I am really enjoying having the opportunity to review some sex toys myself. Especially when they are ones that work well for me and spoiler alert the OffBeat really works well for me.
Packaging
The OffBeat (I love the play on words for that name) arrives from Godemiche in very plain packaging. Godemiche, quite rightly place great importance on their customer's privacy and discretion.
The stroker itself comes in a cheap and cheerful cardboard tube with two plastic stoppers, one on each end. I love the branding on the tube, it is very much in line with the Godemiche fun attitude and take on life.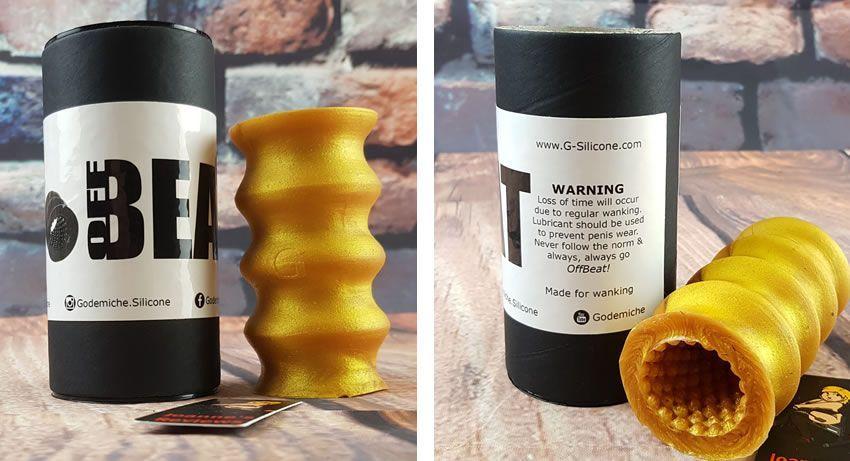 The OffBeat comes in a simple packing tube that has brilliant branding
I love the quote - "Made for wanking".
Opening the tube up I couldn't wait to get the stroker out to give it the once-over. The one I have been sent is a gold 'Venti' model, and it looks stunning, turning it inside out was easy so I could see the internal patterns. The OffBeat is available in numerous colours, and the bright and colourful ones make a nice break from the usual black or clear strokers on the market.
Specifications
The OffBeat is a stroker that has had a lot of thought put into its design. Having owned a few strokers in the past, I can see that this one has been logically designed. It isn't just another pussy sleeve or gelatinous blob of simulated flesh.
The OffBeat has been designed to be comfortable to hold and stroke with while still having an interesting internal texture that at first glance looks pretty plain but that belies its excellent performance.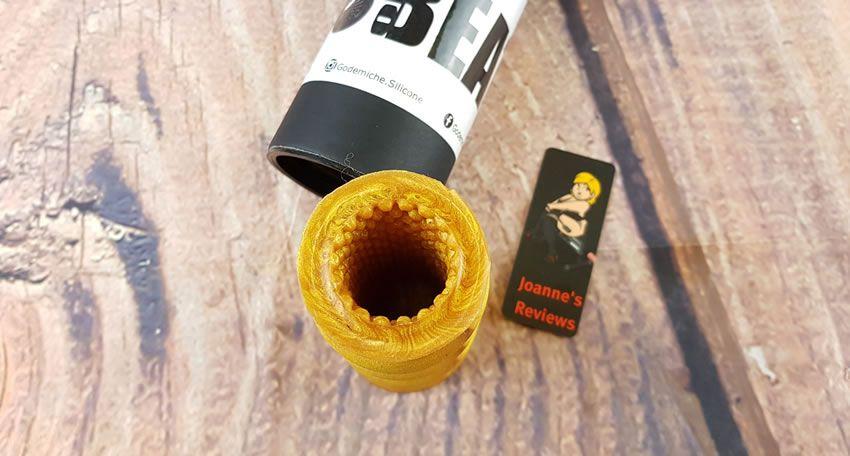 The is a simple looking stroker that belies its performance
It is available in two sizes, these are for different masturbation styles, and the internal diameter is the same in both. The shorter one is called the 'Grande', and it retails for £20, it's designed for excellent head stimulation with lots of twists to enjoy. Measuring in at 2"/5cm in length.
The longer one (and the one that I am reviewing) is called the 'Venti', which is available for £25, and it's great for long slow strokes where you can really enjoy its internal texture. This one measures in at 4"/10cm in length.
Both strokers have an internal diameter of 1.2"/3cm which should cater for most penis owners rather well.
This is a stroker that isn't trying to fool you into thinking that you are sticking your happy chap into a pussy or a waiting anus. It's a sleeve, and it knows that, taking great delight in showing you just how good a generic sleeve can be when you use it.
It always makes me laugh when I see strokers designed to look like body parts. It isn't as if you can hold that body part in your open had anyway. The only thing that matters with a stroker is its internal texture, its materials and how well it performs, certainly not how anatomically correct it is. It's a piece of silicone for heaven's sake, and it's nice to see Godemiche taking the sensible route by not creating another pocket pussy.

The inner texture is subdued but very finctional
Materials
Godemiche products are made from only the finest body safe materials. By that I mean silicone, they only make 100% body safe sex toys, and it is excellent to see that this sleeve is also silicone and not some crappy TPE/TPR creation. Silicone is our go-to material for sex toys. It's non-porous, easy to clean (you can even put silicone sex toys in the dishwasher) and durable.
The OffBeat is made from "00A platinum Silicone", and it feels very nice indeed, soft but with some firmness and that allows you to really enjoy the inner texture. This texture is simple but very effective when drawn across the glans of the penis and down tha shaft.
This blend of silicone looks amazing, the gold really looks nice. You can rest assured that your happy chap will be encased in the brightest stroker you can possibly enjoy.
The colour choices are simply amazing, with so many to choose from:
8 UV colours, Blue, Magenta, Orange, Pink, Purple, Red, Yellow and Green.
12 Pearlescent colours, Pearl, Black, Blue, Boltgun, Bronze, Copper, Gold, Green, Purple, Red, Scarlet and Yellow.
6 Standard colours, Black, Clear, Dark Green, Navy Blue, Red and Yellow.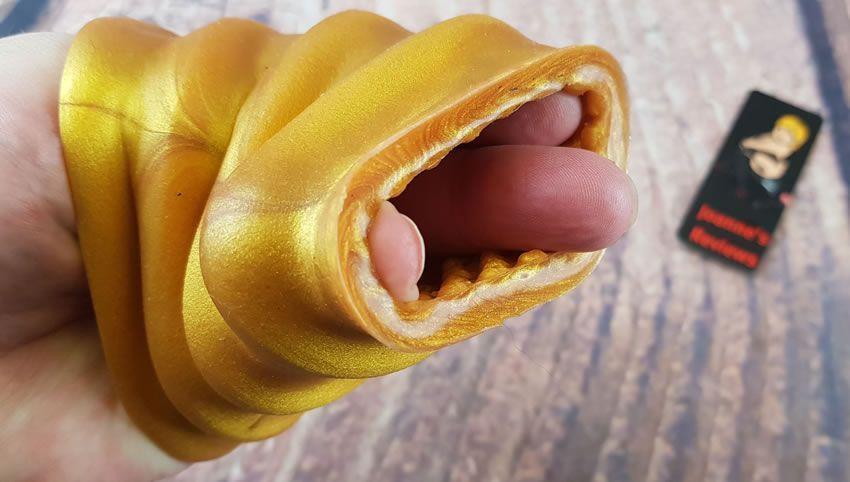 The gold silicone really shows off the inner texture
The flexibility of this material means you can turn it inside out in order to clean it thoroughly but you don't really need to do that as cleaning after use is really very simple.
Just rinse thoroughly under warm water and then clean it out with soapy water before using your favourite anti-bacterial sex toy cleaner on it. Make sure that it is thoroughly dry before storing away in its storage tube though.
As with all strokers you will need to use a good quality lube, and I can recommend either Sliquid H20 or Secret Play Natural as both provide long-lasting slippery fun.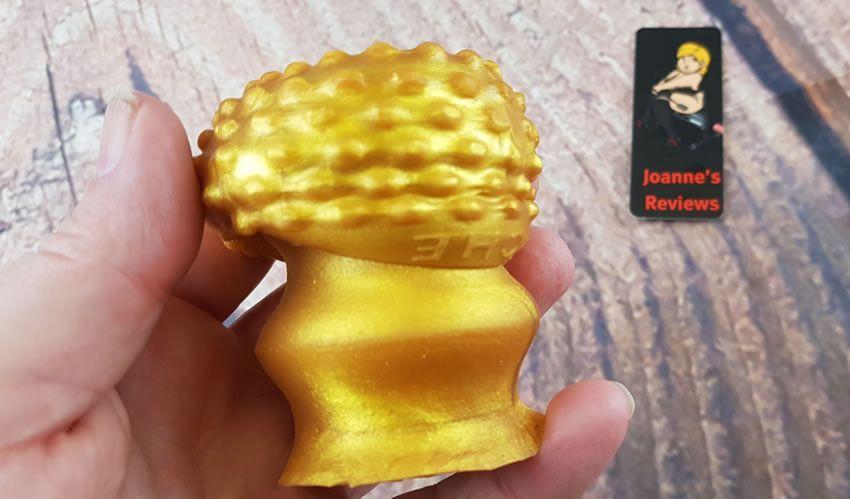 You can turn the OffBeat inside out for cleaning but you don't really need to
Performance
Now the bit you have been waiting for, how does it perform? After applying some lube to the inside of the OffBeat and my happy chap I made myself comfortable and slid myself into the OffBeat.
The interior texture consists of lots of nodules that apply some great sensation as you glide up and down the shaft of your penis.
Pulling my foreskin back and holding it back with one hand really increased the sensations and it felt fantastic. It wasn't long before I found myself having to slow down to delay an approaching orgasm.
One thing I really like about the OffBeat is how easy it is to hold, and it doesn't really change your masturbatory style, it enhances it. You can squeeze the OffBeat to increase the sensation or hold it gently to tease yourself.
I like the fact that the ridges line up with your fingers making gripping it and using it so easy. It is an ingenious design and one that works incredibly well.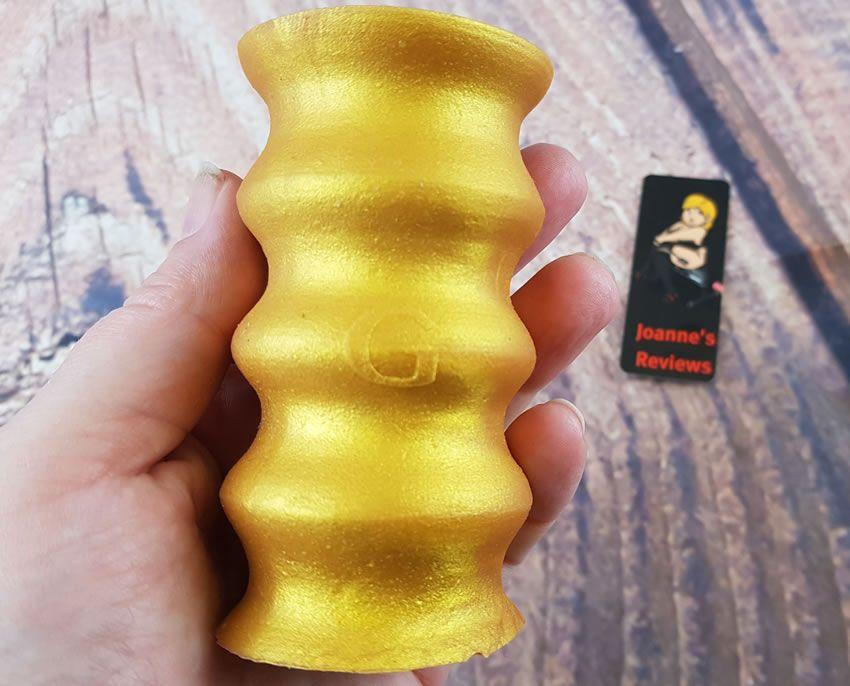 The OffBeat Grande is just shorter than a can of soft drink at onlt 10cm long
I had no problem reaching an orgasm and Joanne was entertained with a fountain of cum erupting from the end of the OffBeat when she watched me. I just lay there with a big smile on my face thinking "I like this".
I have used it several times now and have always enjoyed the sensations it delivers, sometimes I have to reapply the lube but that is normal with water-based lubes as they dry out over time.
Giving it a twist as you stroke makes the sensations all the more intense and the Grande can even be used during oral sex. The giver can hold it next to their lips as they bob their head up and down to provide even more stimulation to the receiver.
The OffBeat isn't a Fleshlight, but it isn't trying to be one. It's set in the right place in the market and at the right price to appeal to a lot of penis owners, its performance is excellent. It would make an ideal travelling companion, in fact, I took mine to Germany when I attend Erofame, and the OffBeat was a fine travelling companion. You know, for those lonely quiet times when I may have needed to cheer myself up with this little silicone wonder.
There is a new male stroker in town. Check out the OffBeat from @GSilicone and give your happy chap a real treat.
Click to Tweet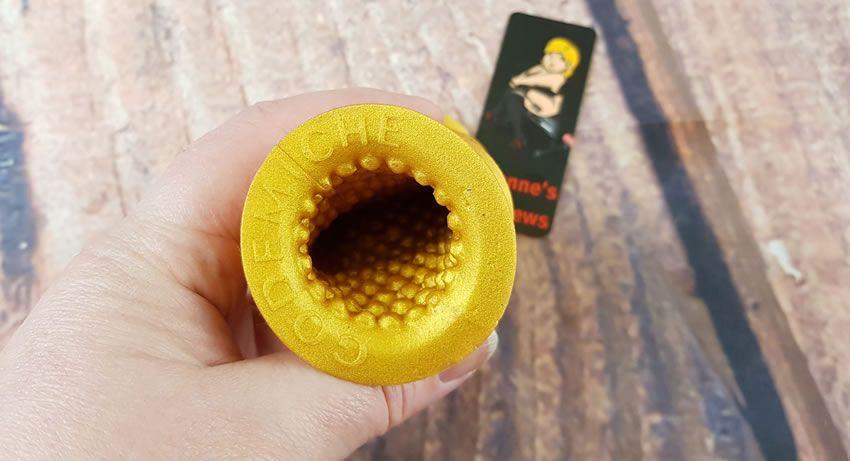 The OffBeat Grande is a heck of a lot of fun to use
Key Features
Key features:
100% body safe silicone
Two sizes available
Easy to clean
Ideal for traveling
Hand poured
Final Thoughts
Joanne loves Godemiche, and I must say that having got to enjoy the OffBeat, I join her in shouting from the rooftops about how good their products are.
Godemiche produces products by hand, they take great pride in their creations and use the very best materials available. Their dildos are works of art, and the range of colours available for the OffBeat just shows their passion for creating sex toys that not only work well but look amazing too.
The original OffBeat was 3D printed and as we have a 3D printer I know just how much post print work must have bene involved to make a product as good looking as this and I love the fact that Godemiche are using this tech in their designs now.
Price wise, it really is a body-safe winner, directly competing with strokers made of dodgy materials by the big boys. Well done Godemiche for coming up with a penis focussed sex toy that works and is available for a fantastic price.
I really like the OffBeat, and it's a sex toy that I will be continuing to use long after this review is published. I have no hesitation in giving it a strong recommendation. Well done Godemiche.
I was sent the OffBeat by Godemiche and I would like to thank them for giving me the opportunity to review it for them.
Joanne's rating
Where Can I Get One From?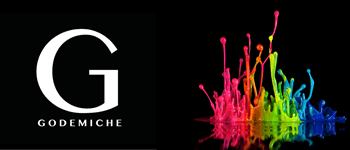 Grab one of these cracking little silicone strokers from Godemich. Choose from a fantastic raneg of colours and two sizes. While there check out the rest of their incredible range of body safe sex toys.
Get your hands on and your pecker in an OffBeat from Godemiche for just £20-£25, your happy chap will thank you afterwards.
Check them out and don't forget to tell them that Joanne and Stunt Cock say "Hi".
Disclosure
This review contains affiliate links, for more information about affiliate links check out my disclosure page.