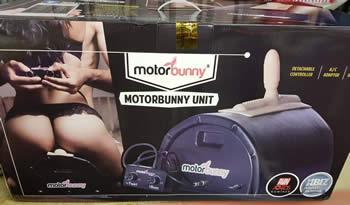 The Motorbunny is delivered by courier from the US. So, if you are not a US customer and based in the EU/UK then you will be liable for customs charges and VAT when it arrives. So make sure that you factor that into the price.
The a Motorbunny is available in black but you can get covers for it that attaches to it. These are hand washable and they come in five colours, black, blue, purple, pink and white. They fit to the Motorbunny using velcro fasteners.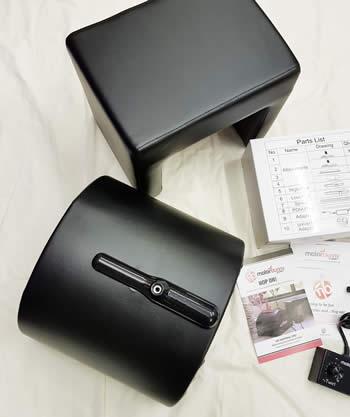 It arrives in a very plain cardboard box containing another box that contains the Motorbunny. This retail packaging leaves nothing to the imagination about what is inside. Inside you will find the following items:
Motorbunny ride on sex machine
Stool
Power supply and cable
Control box and cable
Universal mains power adaptor
Set of risers
Four Attachments
Springs and rods
Instructions and Warranty information
Right, if you are not sure what a Motorbunny or Sybian is, it's a ride on vibrating sex machine. You straddle it and you can fit different attachments on top of it. These attachments either penetrate you or press against your clitoris and vulva.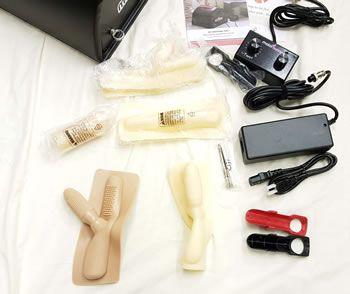 The Sybian, which was designed 30 years ago was the first sex machine to utilise this layout and combination of functions. You can trace the lineage of all modern cars to the Model T Ford. The lineage of all saddle style vibrating sex machines goes back to the incredible Sybian.
The Motorbunny has two functions and the first I will discuss is 'Twirl'. This causes the insertable portion of an attachment to move around inside you in a circular motion. This gives good G-spot stimulation as pressure is applied to it and released again.
The second function is called quite simply 'Buzz'. This, as you have probably guessed, is the vibrator function of this machine. It can vibrate at up to 7,000 RPM which is faster than the Sybian by 1,000RPM. It has a more powerful motor inside which is how it can improve on this performance statistic.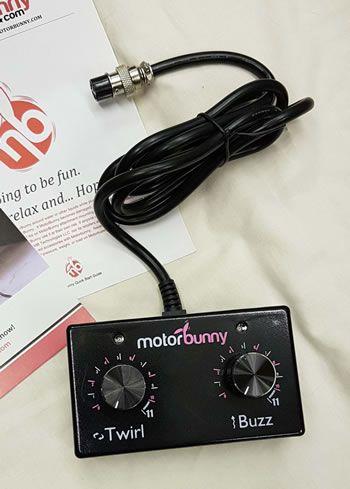 Both of these functions are controlled through a corded controller. This controller features two control knobs and two Lights that show when each function is active. These controls are labelled 0 - 11 and I like that. It's a cheeky way of showing that you should always go for more, so why stop at ten.
The control cable simply plugs into one of the sockets at either end of the machine. The other socket takes the power cable from the computer style power supply. These sockets are keyed so that you can't fit the cables to the wrong ones.
As the power supply is a universal one this machine can be used in any local from 110V-230V. The Motorbunny also comes with a universal plug adaptor which means you can use it anywhere in the world straight out of the box.
The Motorbunny carries both the CE and RoHS Safety Certifications. This means that it has passed all safety requirements for a machine to go on sale in Europe and the US.
The machine itself is slightly larger than the Sybian, being a little longer, wider and taller as you can see in the pictures. It is slightly lighter though which makes moving it around easy. The foam used on the cover is also softer than that used on the Sybian. The foam cover does buckle a little around the edges unlike the smooth finish on the Sybian. As this is cosmetic it doesn't affect performance in any way.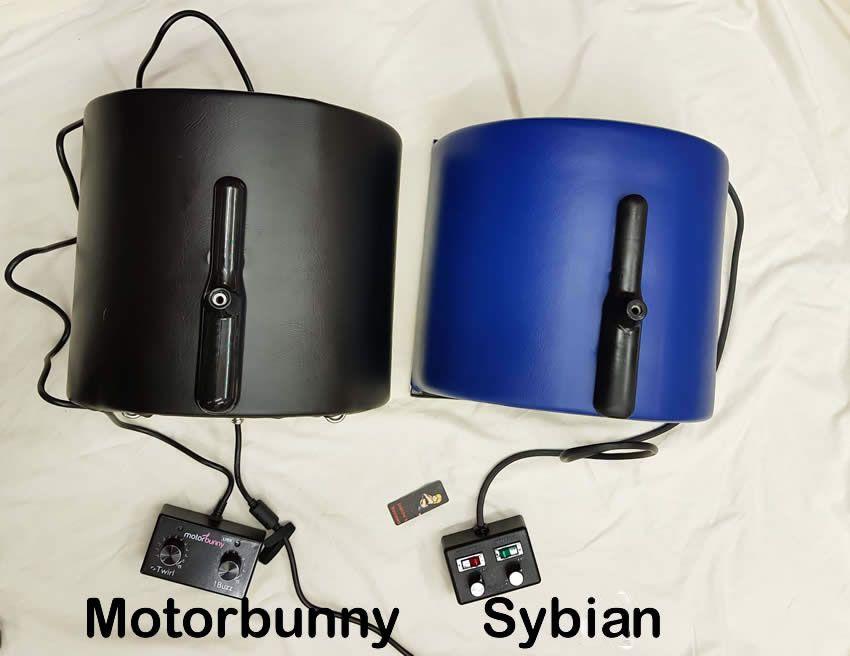 At either end of the Motorbunny, there are recessed handles that are deep and easy to use, together with two tie-down points. These metal rings make it easy to secure a rider to the machine. This is ideal for BDSM or forced orgasm play and I love this feature.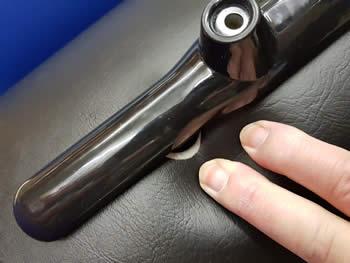 The ABS saddle at the top of the machine is used to hold the attachments in place. The hole through which the mechanism exits the machine is not sealed and so you will need to take care when cleaning the machine after use. The attachments cover this area, so body fluids should not be a problem but keep an eye on it.
The Motorbunny comes with three attachments made out of TPE and one slip on cover. As TPE is porous, you will need to clean them thoroughly after use. You can't effectively sterilise them after use so you will not be able to share attachments with others unless you use a barrier over them.
In the kit, you get a small and medium insertable attachment together with a flat top one and a slip on phallic cover.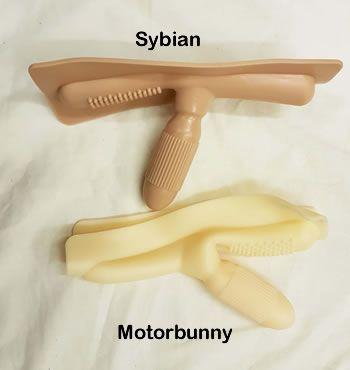 The basic attachments bear an uncanny resemblance to the Sybian ones. However, on the underside, there are two pockets that are used to tuck under the saddle to secure them in place unlike the one found on Sybian attachments. The insertable attachments have a hole on the inside to accept either a spring or a plastic rod. This is how the Twirl movement is transferred into the insert. Using the spring gives gentle sensations whereas the rod gives stringer sensations. Silicone attachments are also available and I would recommend getting these.
In a side by side comparison of the Motorbunny medium attachment and a Sybian one, the Sybian material (C-Flex) is darker and heavier. Attachments are interchangeable with the Sybian ones and so you have a wide choice to choose from.
The slip-on cover is phallic shaped and slides over the medium if you want an insertable section with more girth. Simply put some lube inside before fitting it to aid removing for cleaning.
You can even get a pussy and ass masturbator that can fit to the Motorbunny. This is great as penis owners can get in on the action as well as having the anal option.
Clean the attachments in warm soapy water before using a good antibacterial sex toy cleaner on them. Make sure that they are thoroughly dry before putting them away. You may find that dusting them with cornstarch will extend their life.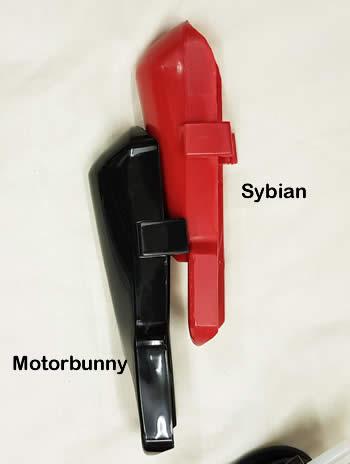 You also get a black riser with the Motorbunny and this clips onto the saddle underneath the attachment that you are using. It raises the clitoral stimulation nodules on the attachment to give more clitoral contact. Its use is a personal preference and will depend on your own body shape. It does mean that the Motorbunny can be used by riders of all shapes and sizes which is a great thing.
So what is it like to ride?
Well firstly, the Sybian was the first sex toy or machine that ever made me squirt (oh happy memories). The Motorbunny has that effect on me as well. Now I am not going to say buy one and experience squirting orgasms as we all orgasm differently. But the power that this thing has is incredible and it will rip orgasms out of you.
A normal orgasm is amazing, powerful and I enjoy the waves that rush through my body from my clitoral area in waves. Orgasms on the Motorbunny are almost primaeval.
If I use an analogy to describe the difference in my orgasms lets just say that a regular orgasm is like a kettle being brought gently to the boil. Whereas an orgasm on the Motorbunny is like someone has dropped a hand-grenade into a kettle. Yes, the water slowly starts to boil and then 'BANG' the grenade explodes and blows the kettle apart.
I often find that I end up rolling off the Motorbunny as my legs turn to jelly. The vibrations aren't just felt in your genitals they travel down your legs and up through your abdomen as they are just so strong. The noise is slightly more than you get with a Sybian. I downloaded an app (not too accurate I know) and I measured the Sybian at 72dB and the Motorbunny came in at 74dB.
The Motorbunny made Joanne squirt and it turns her legs to jelly as the orgasms are so strong.
Click to Tweet
I like the feeling of the insert moving around inside me rubbing against my G-spot. The combination of this and the vibrations always gets me off in quick time. Whilst it is possible to edge yourself at low power levels you always end up turning it up a bit more, then more again.
Motorbunny actually sells its own brand of restraints designed for the job.It really comes into its own in BDSM play sessions where is it easy to secure the rider to the machine. You can even get nipple clamps on chains that attach to the Motorbunny.
I would really enjoy reviewing a set of those as I can only imagine the vibrations being transferred up the chain.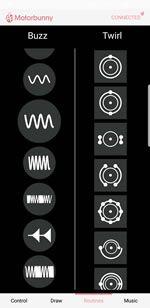 The Motorbunny comes with a one year warranty and a 45-day satisfaction guarantee.
I was also sent what is called the Link Controller and that is a modified controller with Bluetooth capability. You simply unplug the normal controller and swap it for the Link Controller. It functions just like the normal one having the two knobs and lights.
The difference comes when you download the Motorbunny App into an android or Apple iOs device. Once installed you can connect to the Motorbunny and control it through your App.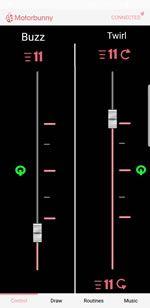 It has the basic controls mirrored on the device but you can also sync it to music for some very interesting session. You can even design your own patterns for teasing the rider and can reverse the rotation of the insert. This all adds up to some impressive features.
Older Motorbunnies will need a conversion which Motorbunny will do for free. Full details are available on their site.
Later in the year, you will also be able to control the Motorbunny across the internet using the Link Controller. This opens up a whole new world of possibilities for anyone in a long distance relationship. It will also appeal to cam girls as a way of increasing their sales.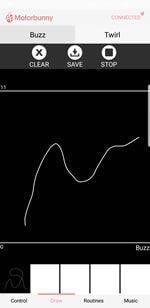 This feature is amazing and sets the Motorbunny apart from the Sybian. The other thing that sets it apart is the price, the Motorbunny retails at $899 compared to $1245 for a Sybian.
Key Features
Key features:
Incredibly powerful vibrations
G-Spot stumulation
Interchangeable attachments that are Sybian compatible
Inbuilt restraining points
Universal voltage and plug adaptor
Comes with three TPE attachments and a phallic sleeve
1 Year Warranty and 45-day satisfaction guarantee
Final Thoughts
Whilst the finish is not as good on the Motorbunny as on the Sybian it will definitely appeal to anyone looking for performance on a budget. You can buy a Motorbunny and Link Controller for less than a Sybian on its own. As the performance is pretty much similar you still get amazing performance for less money. Whilst dungeons may want to invest in the brand name and prestige that comes with owning a Sybian the Motorbunny will find favour with lots of people due to its no-frills price tag and the extended features of the Link Controller.
It's an amazing machine that has huge BDSM potential, it also has an attractive range of covers, attachments and accessories. I have no hesitation in recommending it to anyone.
I was sent the Motorbunny by Motorbunny.com as part of the Pleasure Panel Program and I would like to thank them for giving me the opportunity to review it for them.
Joanne's rating
Where Can I Get One From?

Grab one of these amazing sex machines from Motorbunny.com, don't forget to check out the Link Controller and also their range of accessories.
Use the following discount code to get $40 off when you buy one - JOANNESREVIEWS
Check them out and don't forget to tell them that Joanne says "Hi".
Disclosure
This review does contain affiliate links, for more information about affiliate links check out my disclosure page.