The Honour Subservient Starter Set Review
A beginners bondage set that is exceptional quality and value for money
It's not often that a BDSM starter set comes along that really grabs my attention and also my imagination. But, that is what happened when Honour.co.uk asked me if I would be interested in reviewing theirs, as you can imagine, I jumped at the chance to try it out.
Often beginners sets are filled with low-quality products designed to work for a short length of time, so you need to replace them.
"The amount of equipment you get in this set is fantastic but more importantly, it is quality equipment, and it makes a brilliant way to experiment with some light BDSM play."

Joanne
This set is different, totally different in fact and as you will see from this review, I am quite taken with it.
This is the first product ever to get a 10 out of 10 from me so let me show you why this is "the set" to get if you are looking to dip your toes into the kinky waters of the BDSM scene.
About Honour
I just want to take a moment to give everyone some background on Honour before diving into the meat of this review.
They started the business by opening their first store in Waterloo, London in 1988 selling primarily lingerie.
Quickly realising that having a more fetish range of products was what was required, they rapidly expanded opening another store in Watford which is where their mail order operation is based.
They have closely worked with Skintwo, and are renowned globally for their BDSM and fetish products. With this impeccable pedigree, you can understand that I had high expectations for this product set.
Delivery
Honour value customer privacy and discretion, and when you order something from them, you can rest assured that it will arrive under plain wrapper.
Packaging
First impressions matter and I was blown away by the packaging of the Subservient Starter Set. It came in a black branded box that looks really nice.
Upon opening it, I was greeted by the products nestled within black tissue paper, and I knew right there and then that a lot of attention has gone into the design of this set.

The packaging of this BDSM starter set is fantastic
A grin crept over my face, and my sub'r' was almost jumping up and down at my shoulder with joy as her eyes feasted on what was within.
It really is lovely to open a package as luxurious as this one, the products nestled within the black tissue paper looked amazing, and I took them out one at a time.
This is a very comprehensive set, and you get the following products in the Subservient Starter Set:
Luxurious blindfold lined with lace trim (I was sent two but you usually get just one)
Leather collar lined with red faux fur
Leather ankle cuffs lined with red faux fur
Leather wrist cuffs lined with faux red fur
Black leather leash
Breathable ball gag
Beginners flogger
Length of black rope
Two nipple clamps with red bells


The Subservient Starter Set is full of fantastic products
That is an impressive line up for just £29.99, this is a fantastic value for money set giving you lots of play options. But, and there is always a but, that doesn't matter if the products are of low quality.
I am happy to say they aren't, they are fantastic quality. Obviously, some of the products are not top of the range, but they are more than adequate for a beginners set.
So, here are my thoughts on each and every part of this beginners set.
Blindfold
A blindfold is always the first piece of equipment I tell people to get when they inquire about getting into the BDSM scene. They are just so versatile and when you are wearing one you are immediately vulnerable and put into a submissive state of mind.

The blindfold is luxurious and lots of fun to use
This blindfold features a padded velvety center section coated in luxurious black lace trim. It is held in place by tying two lengths of black ribbon around the back of your head.
It's very comfortable to wear and feels soft and luxurious against your skin. I am usually a leather blindfold loving gal, but I do like feel of this one over my eyes.
Collar And Leash
The collar is a pretty standard design featuring a shiny riveted 'D' ring on the front for the leash to attach to. The buckle on the back is good quality, and it is easy to fit the collar securing it in place.

The collar looks amazing with its contrasting colour scheme
The collar is lined with red faux fur giving it a comfortable fit and a distinctive look. When worn you can see a band of red fur at the top on bottom of the collar that contrasts nicely with the black leather.
The leather used on the collar and cuffs feels like it is very good quality. It's nice and reassuringly stiff although it will get more subtle with use. As with the blindfold the collar feels luxurious and is fantastic quality with neat stitching and a high standard of finish.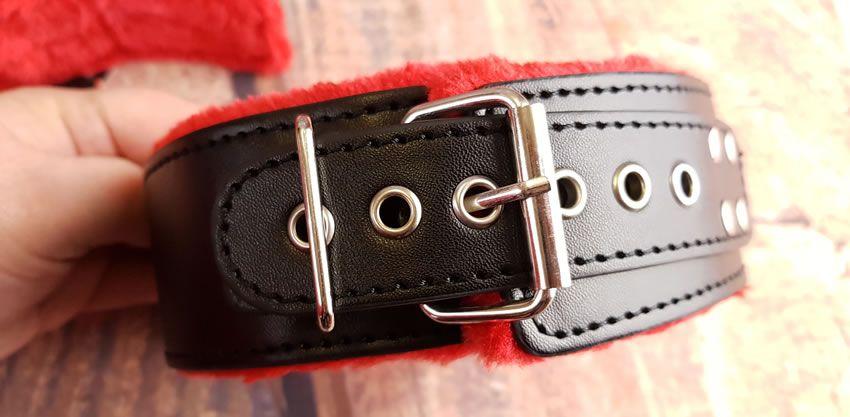 The quality of the fittings is excellent and the stitching is neat and tidy
The leather leash has an easy to operate catch at one end for attaching it to the collar. I love putting a leash on sub'r' as it reinforces her submission and gives me an easy way to control her.
Wrist And Ankle Cuffs
The cuffs are of the same excellent quality as the collar. They also feature the red faux fur lining, and this makes them comfortable to wear. These cuffs are not for anyone looking for harsh restraints, and they are ideal as beginners cuffs.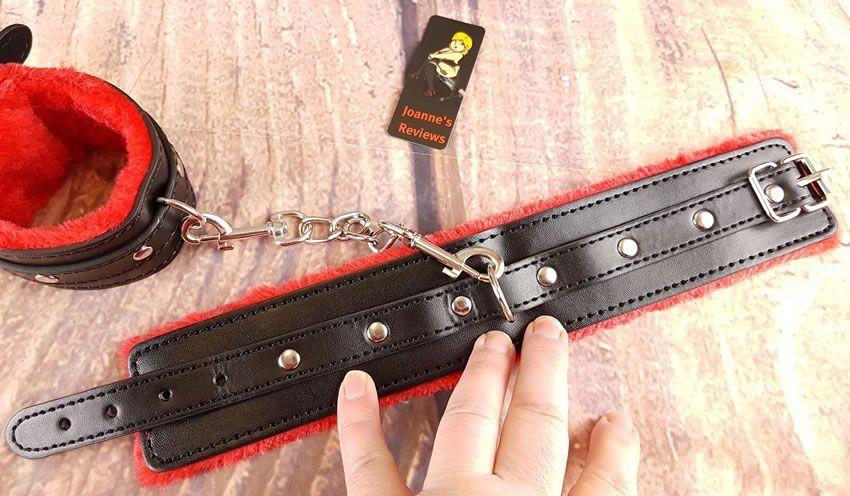 The cuffs are fantastic quality too and are comfortable to wear
The buckles are easy to operate, and each cuff features a riveted metal 'D' ring on it that is used for restraining a submissive. You get two metal chains with two latches on the end, and these are ideal for locking the wrista nd ankle cuffs together.
They look amazing and like the collar the combination of red and black is just fantastic.

The cuffs are very secure when fastened around a limb
These cuffs make it so easy to immobilise your submissive, use them together with the chains or with the rope for some more imaginative fun.
Breathable Ball Gag
You get a gag in this set, and it has a hard plastic ball that goes in the mouth of a submissive to lock his or her jaw open. This ball has holes in it for safety, and they make it easy to breathe with it fitted securely in place.
It has a leather strap that is used to hold it in place, this leather is much thinner than that of the cuffs but it is comfortable. I prefer silicone ball gags, but this one is ideal for beginners. It is both safer, and you still get the uncontrollable drolling you get with any type of gag.

The breathable ball gag is so much fun to play with
This drooling can cause embarrassment as you can't swallow with a gag fitted, and it just reinforces submission. Gags are fantastic play items and combine one with a blindfold and your submissive will be putty in your hands.
Long time wear can get a bit uncomfortable but its a gag, that is to be expected, as it isn't designed for comfort.
Length Of Black Rope
I was surprised to see this in the set, and I love the fact that it is in there. It isn't long enough for things like chest harnesses, but it is more than adequate for some tie tease fun and games.
A rope is just so versatile, and this one can be used to hogtie a submissive or restrain them to a bed for instance. This rope is soft, and it feels incredible slowly drawn across your skin as you are tied up, this is a sensation that always turns me on.
Two Nipple Clamps
Another fantastic addition to this set is a pair of adjustable nipple clamps. Each has a small bell on the end, and these are red which ties in with the colour scheme of the set nicely.

The adjustable nipple clamps with bells on them are so much fun to use
The jaws of the clamps are covered in soft rubber to prevent any damage to the nipple. Each has a thumb screw that can be used to set the minimum opening width of the jaws.
This means these clamps are suitable for nipples of all sizes as you can vary the pressure of them. When fitted to a nipple they deliver delightful sensations and depending on how tight you set them you can stimulate or you can enjoy some pain play.
When they are fitted, the slightest movements cause the bells to tingle which can bring a smile to your face. I like these nipple clamps, and I have another set that we use in our play often. These red ones look amazing.

The adjustable nipple clamps are so kinky and lots of fun to experiment with
The best bit about nipple clamps though is the rush you get when they are removed, and the blood rushes back into the nipples. This makes them feel almost electric, and the sensation is one that I never tire of.
Beginners Flogger
You get a red handled flogger in the kit too, and it is definitely a starter flogger. It can deliver quite sharp impacts or swung softly; it can almost caress an upturned bottom.

The black and red flogger gives you the chance to try some impact play scenes
The fronds are relatively stiff which makes it easy to swing and use. The handle has a small loop on end, it won't fit around your wrist, but it is handy for hanging the flogger up between uses.
It is light and straightforward to swing, needing no experience to deliver some distinctly stingy sensations. As a beginners flogger, it is perfect for gaining some experience in impact play.
The Subservient Starter Set from @HonourClothing is fantastic value for money and has some quality products at its core.
Click to Tweet
---
---
Key Features
Key features:
Enough equipment to satisfy anyones curiosity
Great play options for restraint and submissive play
Quality products
Collar and cuffs have a soft faux fur lining that feels and looks incredible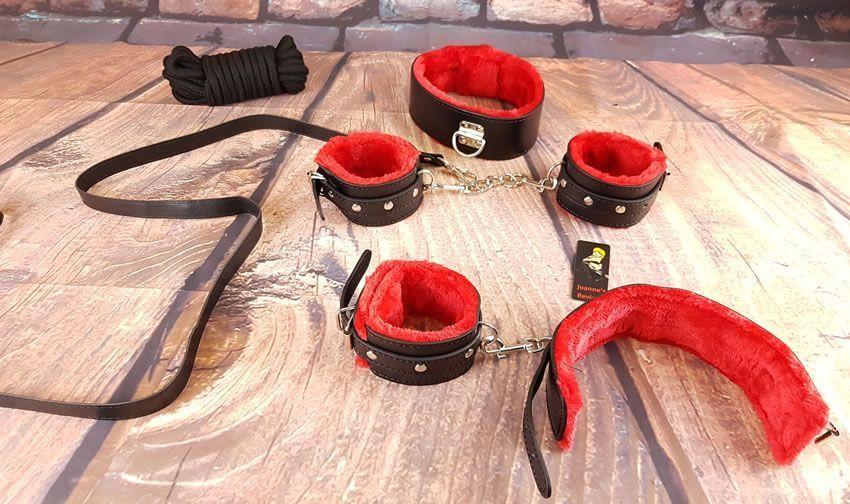 The black and red colour scheme really works well and these restraints look amazing
Final Thoughts
This starter set is incredible, and it is the first product ever to get a straight 10 out of 10 from me. It's both excellent quality and also extremely functional too.
The amount of equipment you get in this set is fantastic but more importantly, it is quality equipment, and it makes a brilliant way to experiment with some light BDSM play.
As your confidence grows, you can then go on to buy additional equipment to add to this range of core items.
It focusses on both comfort and quality, and I have no problem in both giving it a ten out of ten as well as an extremely strong recommendation. Honour has surpassed themselves with this set, get one before they are gone.
I was sent this fantastic Subservient Starter Set by Honour.co.uk and I would like to thank them for giving me the opportunity to review it for them.
Joanne's rating
10Overall10Design10Features10Functionality10Ease of use10Price
Where Can I Get One From?
Grab one of these fantastic Subservient Starter Sets from Honour.co.uk for just £29.99, this is excedptional value for money.
This is a set that will allow anyone to experiment with some light BDSM fun and games, I believe you will not find antyhing better for the price on the market and everything in it is both functional and a lot of fun to use and enjoy.
Check them out and don't forget to tell them that Joanne says "Hi".
Disclosure
Disclaimer - I was sent the Subservient Starter Set by Honour.co.uk to review free of charge and this has in no way affected the outcome of this review. This post contains affiliate links and if you purchase something when you follow one of these links I may receive a small commission at no cost to you. For more information check out my disclosure page.
---
Found Something Useful, Or Do You Just Like What I Do?
---
Additional Info
Overall Rating:

9.0
You May Find These Articles Interesting
2 comments
Sandra

Thursday, 07 March 2019 03:06

Great review, and the kit looks hot :)
I am going to check it out. Thanks for sharing!

Sandra

Joanne Summers

Thursday, 07 March 2019 11:18

Thanks, Sandra, it is a fantastic set and one I am more than happy to recommend.
Leave a comment