Delivery and packaging
We didn't have to wait long at all for The Handy to arrive, and it came by courier from Prague in a very plain cardboard box. Inside the box, I found The Handy wrapped in bubble wrap to protect it in transit, and it didn't have a scratch on it when removed from the packaging.


The Handy comes in a very attractive box with lots of information on its exterior.
The Handy comes in a lovely dark-themed retail display box emblazoned with the title "The Ultimate Handjob Machine".
I thought, "I'll be the judge of that", but as it turns out, that pretty much sums it up - review finished.
Just kidding, I have so much to talk about with this little cracker of a sex machine.
I chuckled when I removed the outer cardboard sleeve to open the box and get The Handy out. When you remove the inner box, it just says "You're welcome" on it.
So what do you get for the €199 price tag? Inside the box, you will find The Handy itself together with their own masturbator sleeve, which is clear and made from a very soft blend of TPR. You also get a mains power charger, some lube samples and a very easy to understand manual.
---
Check Out The Intro Video On Youtube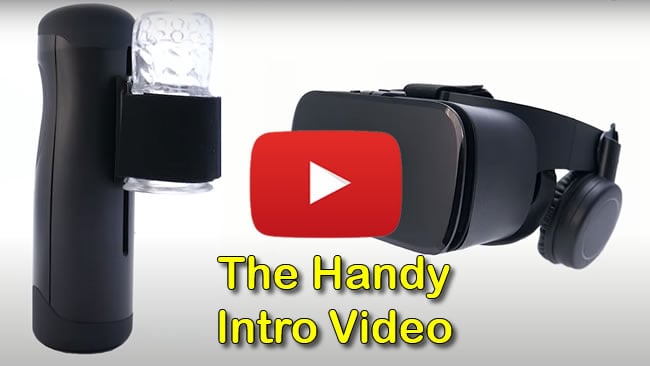 ---
Design and materials
The Handy is made from black ABS and silicone, I would have preferred to see the sleeve made from soft silicone too, but it is TPR instead.
The sleeve will be an expendable item as it won't last as long as a silicone product, but replacements are available on The Handy website for just €12. Look after it and clean it properly, though, and you should get lots of use out of it before needing to replace it. I hope that in the future, The Handy will make a silicone sleeve as an option as that would be the icing on this penis pleasuring cake.
The included sleeve features lots of inner nodules designed to increase friction and massage the penis in use, and it does feel fantastic.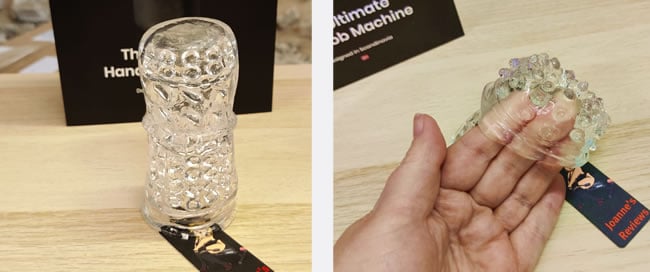 The included sleeve is very soft and with internal nodules for extra stimulation.
The outside of the sleeve has ridges that help to hold it in place on The Handy. The moving sleeve carrier on the side of The Handy has a velcro strap that is used to hold the sleeve in place. This strap also serves as a way of adjusting the tightness of the sleeve in use. It also allows you to fit other sleeves or even a fleshlight to The Handy, which is brilliant.
It's nice to see a masturbator on the market that isn't designed to lock you into the manufacturers own brand of attachments. Competitors like the Fleshlight Launch didn't get a wider audience because it ties users into using their own products (plus that thing is massive).
The Handy doesn't have an internal battery, so you have to use the included mains adaptor when playing with it.
The controls are well placed on the front of the machine, and they are easy to see and use. You get a power button, four control buttons, a Wi-Fi connect button and a multi-colour LED that shows you the state of the connection.
Now onto what I consider the only downside to The Handy; the open back where you can see the lead screw inside.
I would have liked to see some form of wipers used to seal this gap. It will just allow dust, lint and other crud into the inner workings of the machine. In its current form, it could also foreseeably lead to accidents with things going inside.
I haven't heard of it happening, but the makers have considered it as the manual has lots of warnings about putting your fingers or anything else in the gap. Hopefully, this can be addressed in future models as it would finish the design nicely.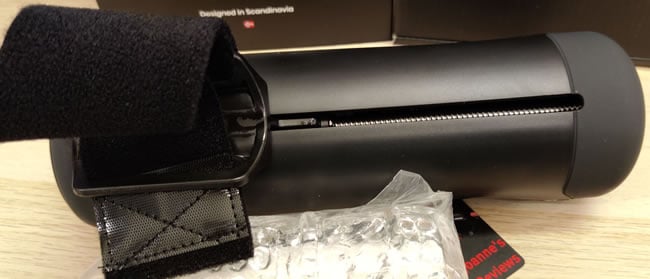 The gap in the back is something to be aware of, and as far as I am concerned is the main downside of the design.
Right, that said, I think The Handy is a fantastic masturbator, so let me tell you why.
Performance and Use
The first thing you have to do when you receive the Handy is configuring it to use your Wi-Fi. A complicated process that is made incredibly simple if you follow the easy to understand manual. Just remember to note down the connection password when you are presented with it. I found it easy to connect and even upgrade the firmware through the online system.
Once done, you can use your Handy in remote sessions with someone controlling it over the internet. Or, and this is a feature I love, you can sync The Handy to online porn videos through services such as SexLikeReal. This isn't free, but there are lots of demo videos with scripts, so you can get a feel for if it is for you or not.
Now think about using this with a VR headset and having everything all linked together, and you can see how that could be a fantastic experience. But I will limit this review to just using The Handy, as otherwise, it will go on and on.
The designers of The Handy have put together and excellent resource site that makes it easy to find and use services to sync with your Handy. Be sure to check out https://www.handyfeeling.com/ to see just how easy it is to use your Handy online to spice up your play sessions. You can even find and install the latest firmware for your Handy there so you can keep abreast with the latest developements. Now let me tell you how I like to play with it.
I like to switch on The Handy before attaching it to my "happy chap".


The Handy is easy to fit, adjust and use
The trick with the sleeve is to get hard, put lots of lube inside the sleeve and then slide it over your erect penis. Twist it around a couple of times to distribute the lube and then slide the velcro strap of The Handy over it. Line the strap up between the two ridges and then tighten it to your prefered level of squeeze.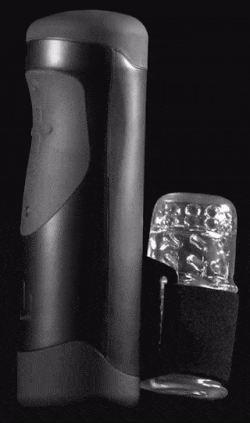 Now you are ready to play. The controls are easy to use and understand. You can increase or decrease the stroke length and, of course, speed it up or slow it down.
The cradle and stroker move very smoothly, and if you select a short stroke length, it can really shift. I relish the long, slow strokes, but it is nice to vary things to keep yourself on the edge.
Holding the handy and pushing it against yourself means all the torque from the inner stepper motor is going into moving the cradle and stroker. If you feel yourself drying out, just remove the sleeve and apply some more lube.
I can honestly say I have had a lot of fun using The Handy, and it does exactly what you would imagine it should do. It strokes you, and if you let someone else control it either locally or over the internet, you can enjoy some fantastic play sessions. The Handy is ideal for anyone in a long-distance relationship (LDR).
The Handy isn't silent, but it is very quiet. So you will be able to use it and not worry about other family members, housemates or nosey neighbours knowing what you are doing. A TV or radio will completely mask the noise of it in use.
Its smooth action and its ability to be controlled by someone else or synced to videos mean this is a sex toy that won't end up gathering dust in your bedside drawer.
Orgasms with it feel incredible, and I love fitting it and letting it do all the work - the perfect lazy wank.
Post-play cleaning is as simple as turning the sleeve inside out and rinsing it clean with warm soapy water. Make sure you dry the sleeve thoroughly after cleaning it.
Check out @TheHandyNorway and see why this masturbator is blowing the others out of the water. With some amazing features and even long-distance remote play, The Handy takes the Five Knuckle Shuffle to the next level.
Click to Tweet
Key Features
Key features:
One size fits all and you can use other sleeves.
Powerful motor.
Adjustable stroke length (0-110mm or 0-4.3") and speed (upto 10 strokes a second).
Can be used remotely.
Can be synced to adult movies.
Vibrant community coming up with mods and attachments.
Uses WiFi and Bluetooth 4.2.
I would recommend it to:
Anyone looking to try a stroker machine.
Anyone wanting to exxperience stroking synced to videos or VR.
Anyone who is looking for a toy to play with a partner in a LDR.
I wouldn't recommend it to:
Anyone looking for a machine to use out and about as this one needs mains power.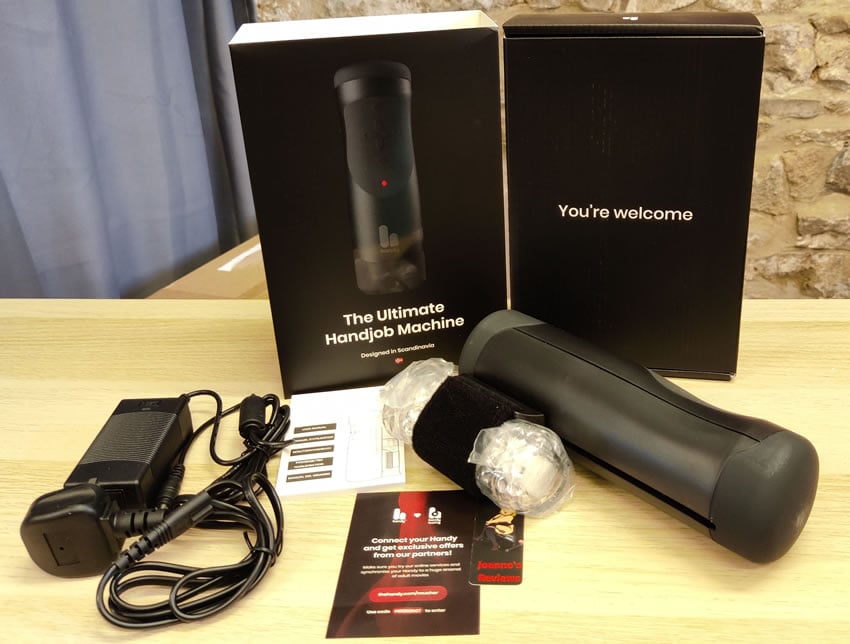 The Handy is a great option for anyone looking to take their masturbation to the next level.
Final Thoughts
I am really impressed with The Handy; its ease of use coupled with its performance means it is a surefire winner.
It outperforms the competition and has features that will mean it can be used repeatedly for many years to come. Being mains powered rather than relying on internal batteries that degrade over time ensures it will last a long time.
If you are looking for a next-level masturbator and a way to automate or sync your stroking, then The Handy is perfect for the job.
I hope they continue to improve the design, and if they eventually produce a silicone stroker, that would be perfect.
I have no hesitation in giving The Handy a solid recommendation; now pass me the lube. I think I need to give it one last try - for science, obviously.
I was sent The Handy by Sweet Tech AS and I would like to thank them for giving me the opportunity to review it for them.
Where Can I Get One From?
Grab one of these fabulous masturbators for just €199 and get free shipping.
This is a high end piece of #sextech with performance that is great and features that mean you are not going to get bored of it any time soon.
Check them out and don't forget to tell them that Joanne & Stunt Cock say "Hi".
Disclosure
Disclaimer - I was sent the The Handy to review free of charge and this has in no way affected the outcome of this review. This post contains affiliate links and if you purchase something when you follow one of these links I may receive a small commission at no cost to you. For more information check out my disclosure page.