Lodbrock
Firstly though let me tell you a little bit about Lodbrock, they are a German company manufacturing a fantastic range of bespoke BDSM products in a classical design.
Formed by three friends Frank, a successful entrepreneur, Torben, a master craftsman and Paul who is an award-winning media specialist all agreed that the market needed a shakeup. With too many overpriced and substandard products available in the marketpleace, they set out to rectify that situation by applying German processes and knowledge to produce the very best dungeon equipment.
Their first collection the Schlossmeister Collection looks fantastic, with something for everyone. This classic collection relied heavily on Germanic history, and the rustic look really hits home with me. I love it. If the Goo Plate whets your appetite, then the rest of the Schlossmeister collection will really flick your switch.
Delivery
I was amazed at just how quickly the Goo Plate was delivered, considering it came all the way to me from Germany. It only took three days to get here by a reputable courier. The Goo Plate arrives in a discreet cardboard box banded with two packaging tapes.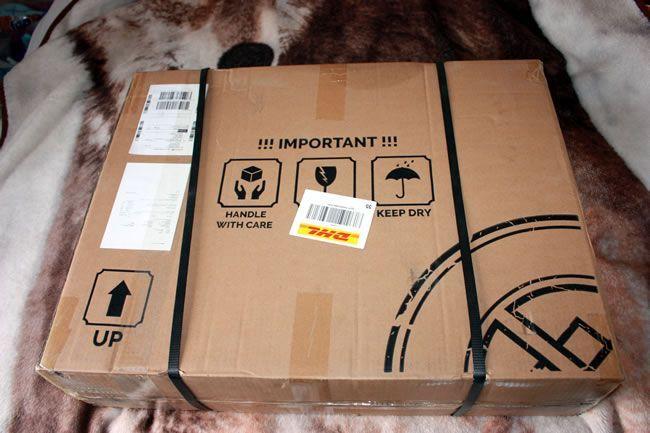 The delivery was quick and flawless
The delivery was perfect, discreet and considering that the box weighs in at about 13kg, absolutely fantastic. The packaging held the Good Plate in its carry case very securely, and there was no damage to it at all.
The Goo Plate
The Goo Plate is a beautiful rustic looking restraint that has so many uses. It comes in its own carry case which has a hinged lid and two lovely locking hinges. I love the weathering that has been applied to the metal and woodwork. The fantastic looking wood is New Zealand Pine and Cedar, and together they are just the perfect choice for this piece of equipment.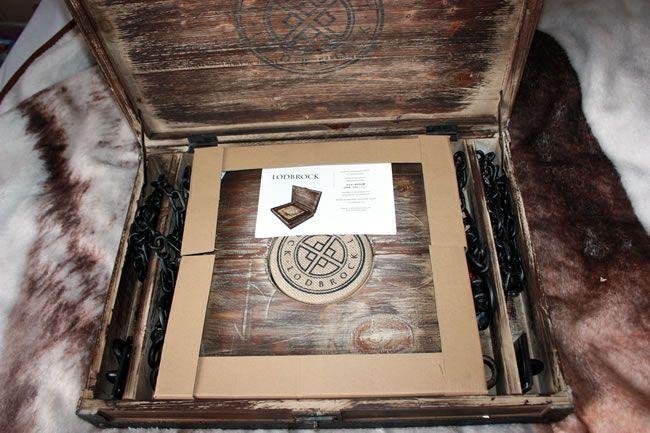 The Goo Plate is well packaged even having extra packaging inside its box
Goo Plate: 46 x 40 x 5 cm
Box: 610 x 41 x 10 cm
Goo Plate Set Weight: 13 kg
Goo Plate Neck Hole (without inlays): 150 mm
Materials: New Zealand pine, cedar, steel, real leather, canvasThe Goo Plate is a hinged restraint consisting of two halves that are held securely closed with a nice metal clasp and included pin. It has four metal fittings, two on each side that can be used to attach chains but it can be used without the chains if you just want to put your submissive in their place.
The weathering on the wood and metalwork is really very well done, and it looks rather ancient, the sort of thing that would be hung in a medieval dungeon with a torturer waiting for his next victim.
The box, just like the Goo Plate itself is bounded with iron that has a rustic hammered finish, and again this has been aged well giving it a lot of character. The stunning box sets the scene as to what awaits you inside when you open it.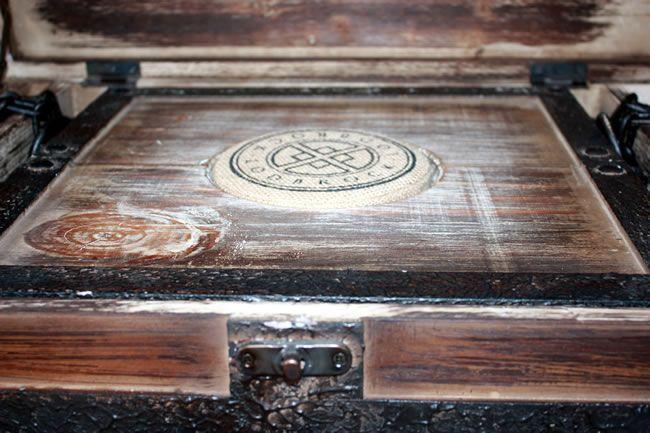 The Goo Plate comes with a storage box that is right on theme
Opening the box for the first time was a real treat. The lid has two arms that hold it securely open, and these are a nice touch. Looking into it for the first time honestly put a massive smile on my face. Inside the carry case, you find the Goo Plate itself in the centre surrounded by its fittings. The Goo Plate has extra packaging and either side of it you have the accessories that come with it. You get:
1 x Goo Plate
2 x Ceiling Mounts
2 x 1.8 m Chains
8 x Bow Shackles
2 x Chain Triangles
1 x Canvas Box
2 x Leather Neck Inlays
1 x Security Pin
1 x Case
1 x Care Instructions
The metalwork, including all of the chains and shackles, is a lovely matt black and this really does compliment the Goo Plate. I love the fact that you even get a set of ceiling fixings so you can mount the Goo Plate anywhere you want. Fancy turning your bedroom into a dungeon? Lodbrock have you covered there.

The chains and shackles are all blackened so that they fit in with the design
Lodbrock has their logo everywhere, and that is really nice. I love the way that the removable magnetic leather collar liners are held inside their own canvas container held in the centre of the Goo Plate, and this carries the logo making it a beautiful focal point when you open the box. You can use the Goo Plate with or without these liners depending on whether you want to give your submissive a comfortable or rough fit.
Everything is designed to look rustic while being excellent quality. I was fascinated by the metalwork on the Goo Plate it looks fantastic and really does give this piece of equipment and old school feel. The wood has been weathered to give it a distressed look that really fits in with the black metalwork.
With the chains though, it is so much fun and it's very effective at restraining a submissive firmly in his or her place.
Performance
I used it in TP Dungeon to securely hold sub'r' on top of a Motorbunny for some forced orgasm play and judging by the massive puddle of squirt and girly juice all over the machine and even the floor it certainly did its job well.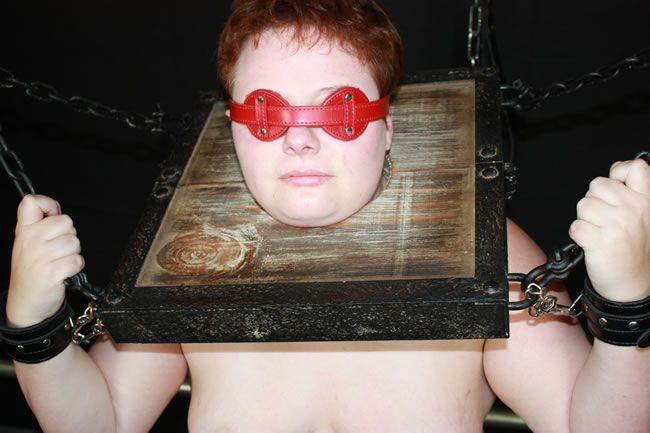 It was a lot of fun putting sub'r' into the Goo Plate for forced orgasm fun
I secured it horizontally for her first session using all of the chains to see how it looked and sub'r' was almost scared of being locked into it but once secured within it she loved it. We initially had a couple of problems closing it around her neck, but once we worked out how to do it without pinching skin, it is now a straightforward task.
Attaching the chains using the enclosed metal shackles is easy and also fun, just setting it up can be incorporated into your scene to add some suspense to your play and to tease your sub.
The solid hinge makes it easy to open and close and once the catch is fitted and the pin locked into place you are really stuck and at the mercy of your Dominant. You will not be wriggling out of this restraint.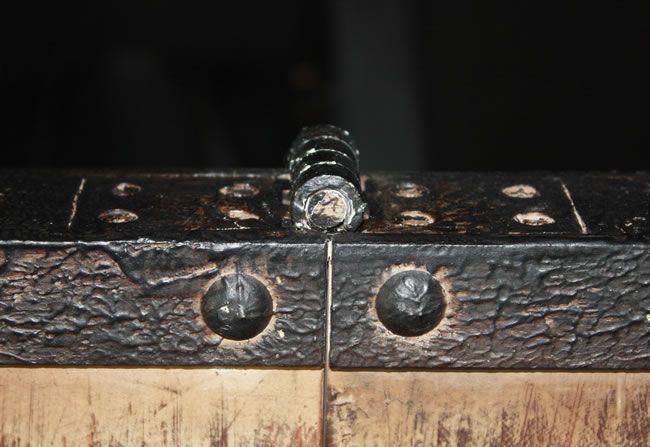 The hinge is very sturdy, smooth and effective
I fastened her wrist restraints to the Goo Plate too, so she was thoroughly immobilised. That is one of the great things about the Goo Plate, there are so many ways to use it, and you can also attach other things to it in use making it extremely flexible.
It was fantastic watching sub'r' struggling as I forced orgasm after orgasm out of her and she was almost in tears when she was eventually let out for a break. She loved the feeling of utter helplessness when locked into the Goo Plate.
We then hung it vertically to see how much fun could be had with it in this configurations. When your submissive is held securely in it while bent over it means that corporal punishment can be effectively delivered. You can even fuck your submissive in this position which is a lot of fun, your submissive is left exposed and vulnerable, so it is also great for humiliation play too. Oral is also a lot of fun in this position.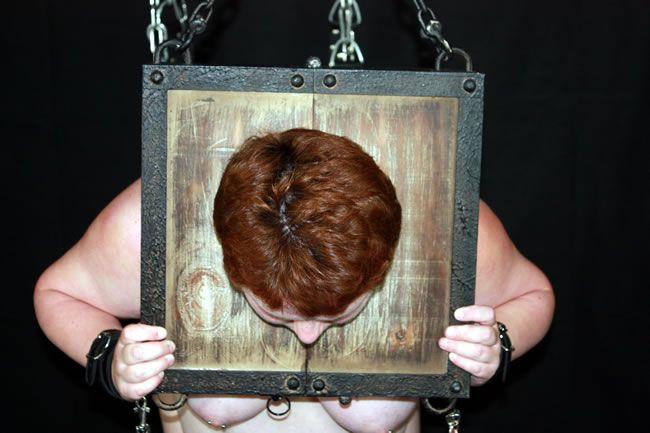 The Goo Plate is very flexible and it is as much fun vertically as horizontally
Using it off the chains was a lot of fun too, when wearing it you are left in no doubt of your bondage, the heavy Goo Plate locked around your neck feels fantastic and puts you into a very submissive mindset. It is impossible not to feel submissive when locked in wood and iron. Lodbrock has the design of the Goo Plate spot on.
All in all, we had an amazing amount of fun with the Goo Plate, there is nothing I don't like about it. It is very well built and will give anyone years of use. If I had a dungeon, I would have to fill it with the entire Schlossmeister Collection from Lodbrock as it is perfect in every way.
The Goo Plate from @Lodbrock_world is stunning. This rustic piece of BDSM equipment is flexible and rustic providing many ways to control a submissive.
Click to Tweet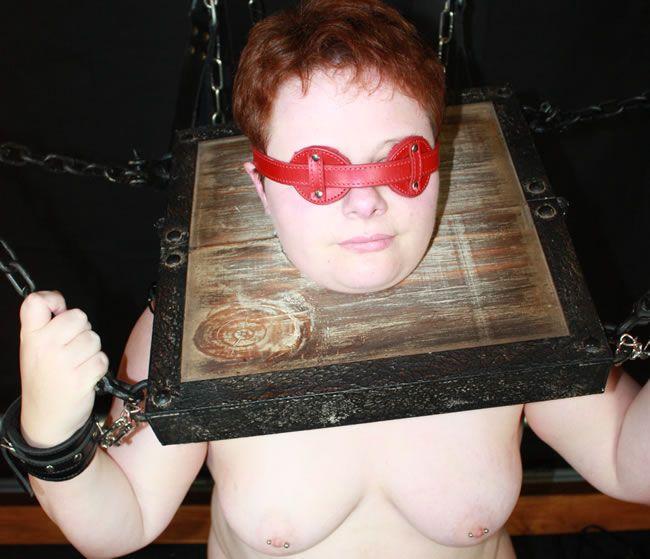 The Goo Plate is fantastic and so much fun to use
Key Features
Key features:
New Zealand pine wood, Cedar and Metal construction
Storage box containing lots of accessories
Detachable leather neck protectors
Ceiling mounting plates included
Chains and shackles supplied
Final Thoughts
To say that I was blown away by the Goo Plate would be an understatement, it is a work of art. A handmade piece of BDSM equipment with the kind of looks and style that I relish.
You get a complete package with the Goo Plate, no expense has been spared with procuring bespoke products, the branded shackles being a good example.
This is a piece of equipment ideal for use in any dungeon and it can be used to liven up any bedroom, with the ceiling mounts you can use it anywhere. I think Lodborck have come up with a winner. The Schlossmeister Collection is a thing of beauty, its functionality belies the thought and effort that has gone into the creation of this unique line of BDSM equipment.
I highly can recommend having a look around their site at the rest of the range of eyewateringly beautiful pieces of equipment and furniture. I can't wait to see what they produce next. The Schlossmeister range is going to be well received and with good reason, I have absolutely no hesitation in giving the Goo Plate a very strong recommendation. It is a stunning piece of equipment ideal for any amayeur, professional or the connoisseur of fine BDSM products.
I was sent the Goo Plate to review by Lodbrock and I would like to thank them for giving me the opportunity to review it for them.
Joanne's rating
Where Can I Get One From?
Grab one of these amazing pieces of BDSM equipment from the Lodbrock website for €299.00 (£269.81), check out the rest of the Schlossmeister Collection, I was blown away by the designs and I am sure that you will too.
Check out the Pillory Set, it is to die for.
Check them out and don't forget to tell them that Joanne says "Hi".
Disclosure
This review does not contain affiliate links, for more information about affiliate links check out my disclosure page.