Delivery and packaging
I can always rely on John Thomas Toys shipping dildos or butt plugs to me quickly and discreetly. This package was no exception to that.
Let me just say that all four dildos weigh an absolute bomb, I felt sorry for my postie's back.
Once again, this package of silicone pleasure showed no indication of the delights that lay within.

All four of The Extremity dildo's and their storage bags with the free Vac-u-lock suction cup
Upon opening the box, I found all four sizes of The Extremity sealed in shrink wrap and carrying the John Thomas Toys logo in holographic sticker form. This minimalistic packaging solution helps to keep costs down and reduce landfill waste which is good for the environment. I cannot forget the four faux velvet branded storage bags, one of each size, and the Doc Johnson vac u loc suction cup.
Design and materials
With the small-sized Extremity, the hand is roughly the same size as a petite ladies hand, but the fingers are slightly elongated to allow deep penetration. The fingers are also wider than the hand would generally suggest, giving you much more enjoyable penetration than thinner fingers would give.
The XL size is as you would expect, about the size of a small giant. The fingers make a nice size dildo, although it is a little challenging on initial entry due to the difference in length of the two fingers.
My biggest challenge with this size is the weight, excellent for squatting over, it's just I struggle to lift it as it weighs a bomb. Which of course Stunt Cock thought was very funny and I quote "You know you are a dirty girl when your dildos are so large you struggle to lift them".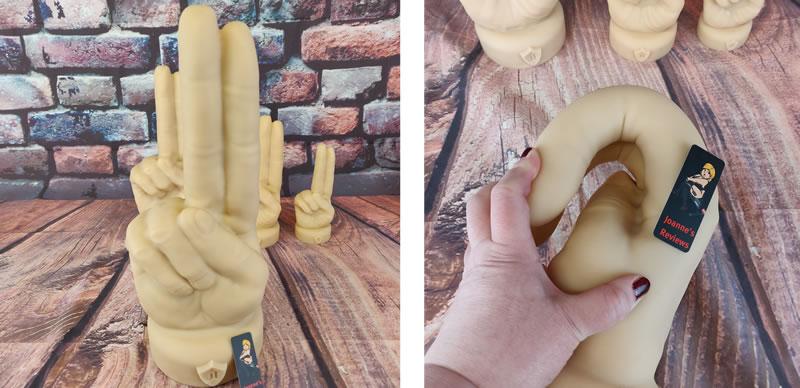 The XL sized The Extremity dildo is huge, weighing a bomb, but it is still really flexible
The slightly squishy texture makes it comfortable once inside so that it gives slightly as you squeeze, but it's still solid enough to be able to use comfortably either with or without a machine.
The beauty of the finished product is you can almost believe it is a real hand. The base allows for an effortless hold in use, as well as to stop the fist from entering too far if you can take it.
I always have confidence in John Thomas Toys as they only use a blend of 100% platinum cure silicone. I find it fascinating that they use copper moulds, as although these cost more than regular moulds, they do ensure that every dildo will come out the same. So no matter if you buy the first or the 500th, you would not be able to tell the difference. Quality is important when purchasing sex toys.
As it's silicone I recommend using a good water-based lube, like Sliquid H2O or Secret Play Natural. This also means that these dildos are body-safe as well as being latex and phthalate-free.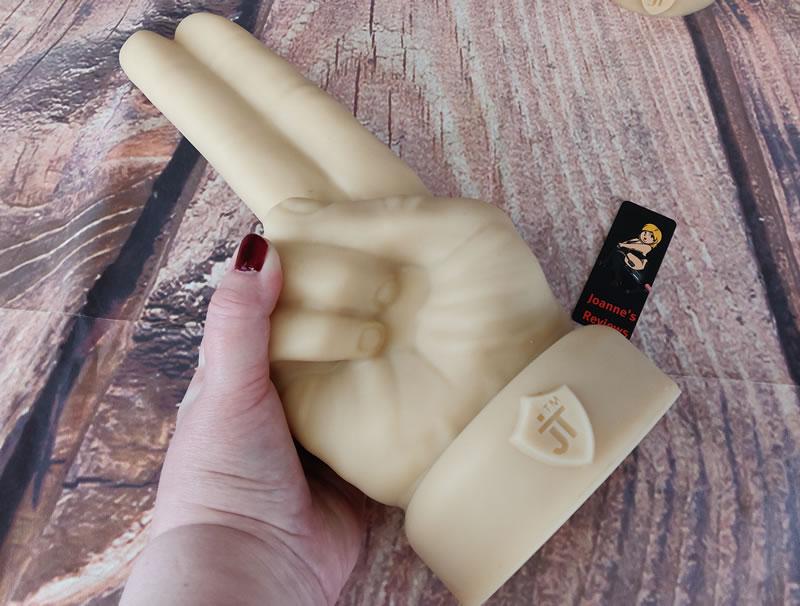 I love the logo on The Extremity dildo
I love the fact that these dildos are so easy to clean. You can wash them in warm soapy water, or use a sex toy cleaner. Heck, you can even be lazy and clean them in the dishwasher on a sterilise cycle.
The only negative I have found is cleaning the fist can be a little fiddly, it is easy enough if you only take the fingers, but if you take the fist, you need to ensure that all the gaps are totally clean of any vag-goo or other bodily fluids.
I love the storage bags that you get for free with John Thomas Toys. The outer is faux velvet, but the inside is smooth, so you don't get lint stuck to your toy. Once you have cleaned and dried your dildo, you can put it into its branded drawstring bag until you get the urge to enjoy it again.
Quote - "The Extremity is a must have in any dildo connoisseurs collection, giving two fingers up this wild creation will stretch, penetrate & cause you sexual excitement like you've never experienced before".
The different size options give you a choice of not only size but on how you want to use this dildo. If you're looking to just use the fingers, choose the right size to suit your capabilities. But if you fancy trying the fist then select a size, you think you can enjoy. Of course, you can always buy more than one size to play with.
| * | SMALL | MEDIUM | LARGE | X LARGE |
| --- | --- | --- | --- | --- |
| Length: | 7"/17.78cm | 9"/22.86cm | 12"/30.48cm | 16"/40.64cm |
| Base Height: | 1"/2.54cm | 1.2"/3.04cm | 2"/5.08cm | 2.2"/5.58cm |
| Circumference (middle of fingers): | 4"/10.16cm | 5"/12.7cm | 6.8"/17.27cm | 8.5"/21.59cm |
| Circumference (middle of fist): | 7.4"/18.79cm | 9.5"/24.13cm | 12"/30.48cm | 16.5"/41.91cm |
| Circumference (base): | 8"/20.32cm | 10.5"/26.67cm | 14"/35.56cm | 18.5"/46.99cm |
| Max Insertable Length: | 6"/15.24cm | 7.8"/19.81cm | 10.4"/26.41cm | 13.5"/34.29cm |
| Weight: | 0.26kg/0.57lbs (*variable) | 0.55kg /1.20lbs (*variable) | 1.33kg/2.92lbs (*variable) | 3.26kg/7.17lbs (*variable) |
| Price: | £69.99/£79.99 | £99.99/£109.99 | £169.99/£179.99 | £229.99/£239.99 |


The Extremity dildo comes in four sizes and two hardness ratings
Performance
I have never used a toy quite like this before, but it certainly had me excited, and my imagination racing. I love being fingered, and this toy gives the same pleasure with the added flexibility. Not only do you get to enjoy it whether you are on your own or with someone else, but you can also warm it in warm water to give it a more realistic feel.
Playing with The Extremity is like going on a date with a cross between ET and Lord Kitchener. The fact that you can also attach it to a fucking machine to get a really good pounding is fantastic.
The silicone blend of the ones I was sent is firm enough to not droop at the end of a fucking machine. If you plan on using the larger dildos on a fucking machine, you may need to strap or anchor the legs to stop any tipping though.
The vac u lock suction cup holder that you get for free with John Thomas Toys is fantastic. It really does give you a wide variety of ways to play with the dildos, and at no extra cost too - bonus.

You get a free Doc Johnson suction cup Vac-u-lock attachment with The Extremity
The other beauty of this toy is you can try fisting it, if you are too small to take your partner's fist, this could be a way of enjoying the experience or stretching yourself.
I love the feeling of the fingers sliding inside, the fingers are flexible and so with some added pressure, in the right place, you can bend them to hit your g-spot. It also allows for your partner to finger or fuck one hole while this dildo fucks the other.
I really enjoy the feel of the hand smacking against my clit as I fucked myself with the fingers, as well as the challenge of pushing the fist against myself to see if I can take more. Having said all that this is fast becoming a favourite dildo for me.
---
Check Out The Video Review On Youtube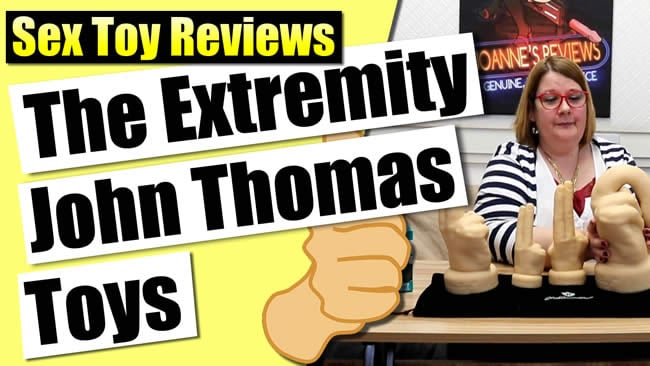 ---
If youre looking for something different then check out The Extremity from @JohnThomasToys.
Click to Tweet
Key Features
Key features:
100% body-safe platinum cure silicone
Four sizes available
Two hardness ratings
Excellent detail
Hole in the base for a vac-u-lock attachment
FREE - Suction cup vac-u-lock adaptor
FREE - Velvet feel drawstring storage bag

The Extremity dildo is available is sizes to cater for all tastes and abilities
I would recommend it to:
Anyone looking for a body-safe silicone dildo
Anyone looking to a vac-u-lock system compatible dildo
Anyone no matter what size they like, as the four sizes available means there is something for everyone
I wouldn't recommend it to:
Anyone who doesn't like dildos
Anyone who does not like unusual dildos
Final Thoughts
So what are my final thoughts about the Extremity from John Thomas Toys?
I can honestly say they are really great fun, and yet another extremely well-made dildo from John Thomas Toys with an usual design.
If you are looking for something different, then why not have a look at one of these. Take your finger fucking to a new level.
I was sent these The Extremity Dildos by John Thomas Toys and I would like to thank them for giving me the opportunity to review it for them.
Joanne's rating
Where Can I Get One From?

Grab one of these distinct and interesting dildos direct from John Thomas Toys with prices staring at just £69.99 grab something to tease yourself with - Check out The Extremity at John Thomas Toys.
Check them out and don't forget to tell them that Joanne says "Hi".
---


If you enjoyed reading this review then check out my other reviews of John Thomas Toys products:
Silicone Dildos
---
Disclosure
This review does not contain affiliate links, for more information about affiliate links check out my disclosure page.