Delivery
Everything that I have ever ordered from E-Stim Systems has always arrived in a timely manner in very discreet packaging which of course is to be expected but you would be surprised to know how many companies use inadequate packaging when dispatching items. I have had dildos arrive with torn packaging in the past but I can honestly say that e-stim.co.uk package their products well and can be depended upon to deliver discreetly - great if you have nosey neighbours like I do.

Your ElectroPebble® arrives Vacuum sealed inside its own foam lined storage case with internal space for the ElectroPebble®, cables, battery (supplied) and instructions, you can also store some other electrodes in there as well. I like the fact that it arrives sealed as you know that it hasn't been tampered with at all or for that matter used as a demonstration unit. The ElectroPebble® is also vacuum sealed inside the box for added confidence, I wish other manufacturers would take note.
Features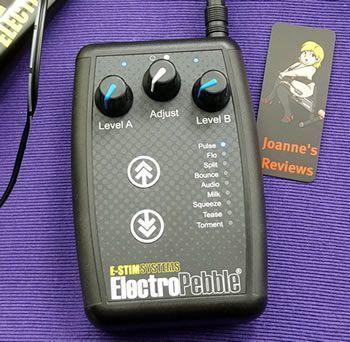 For those of you new to electrosex or e-stim fun and games you can check out my guide HERE. Basically any e-stim set up uses electrodes which are inserted or placed in contact with your skin, some cables and a control box.
The control box is the heart of the whole set up and it is responsible for delivering the electrical impulses to your skin to generate the sensations that will excite and pleasure you.
Only use control boxes that are CE approved (that is that they have passed stringent safety tests to ensure that they are safe to use) and I am delighted to say that like all equipment from e-stim systems the ElectroPebble® is of course CE approved.
The form of the ElectroPebble® is really nice to behold, it reminds me of apple products in the way that its organic lines please the eyes. The front of the unit has all of the controls and the 'Lifeline Display' - more on this later in the review. The back just has the battery compartment and the top of the unit has two 3.5mm sockets that you use to connect your electrodes to each of the two independent outputs and a simple on/off sliding switch. The ElectroPebble® is a sleek black unit that fits in the hand well which makes operation with just one hand a simple matter.
Three things really make the ElectroPebble® stand out from the crowd and these are a great improvement over my Series 1 box (don't get me wrong I still love my Series 1 though) and these are:
The ElectroPebble® has dual outputs which means it can power two circuits, so play with insertables and pads or other combinations are possible and as each channel can be individually controlled this gives you some incredible possibilities in terms of sensations and styles of play.
It also has a built in audio function using its inbuilt microphone to allow you to enjoy audio stimulation, just select this option and play your favourite audio tracks playing over the radio or other medium to enjoy stimulations that are tuned in time with the beat and sound of the track - this mode really is a lot of fun.
It has nine, yes you read that right, nine independant operating modes or programmes and this makes it almost as powerful (although not as tweak-able) as a 2B™ Power Box.
It is these nine operating modes that really makes the ElectroPebble stand out from the crowd and there is something there for everyone no matter what sort of kinky mood you are in.
The Lifeline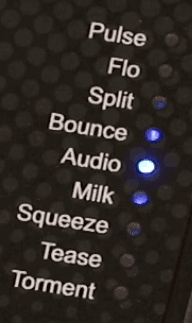 The lifeline is a multi purpose display, when you switch on the unit it goes through a self test routine and this is shown on the lifeline display before it acts as a battery strength meter. In use it shows you which mode the ElectroPebble® is currently in and provides visual feedback as to the strength and style of pulses being generated by the unit. The animated image on the right shows the lifeline when the ElectroPebble® is in audio mode.
Top-Tip: If the battery strength indicator shows less than 50% of life left in the battery think about replacing the battery as whilst you will still get some play time out of it you will notice a drop off in terms of power if you use the ElectroPebble on its highest power settings.
The front of the ElectroPebble® features two large tactile buttons that look like up and down arrows. In use you can tap either of these buttons to see which operating mode you are currently enjoying, if you then press either button again you can manually go up or down through the nine operating modes and a blue LED will show you where you are by lighting up next to the selected mode. This is a rather intuitive method of operation and you very quickly get the hang of moving between modes as you get more excited whilst playing.
I really like the way that the lifeline provides visual feedback as to the mode style and strength, it can be quite mesmerising to feel the sensations whilst watching the lifeline during your play sessions.
E-Stim Systems are so sure of their quality control that they give lifetime guarantees on all of their electrodes and control boxes and this gives you great confidence when buying from them.
Operating Modes
I often get asked what the sensations feel like when enjoying e-stim sessions. Well some of the sensations are very difficult to describe, you can experience feelings like the fluttering of butterfly wings inside you, pins and needles, or the feeling of actually being fucked and all the way up to Ouch if that flicks your switch. You are in complete control of the sensations all of the time. As the ElectroPebble® has nine modes of kink for you to explore I thought I should try to explain each in terms of how they feel when in use and so hold on to your hats, here we go:
Pulse
In pulse mode the output simply pulses on and off, this is the same as the Pulse setting on my series 1 control box. It feels great, the Level A and Level B knobs control the sharpness and power of this mode on each channel and the Adjust knob controls the speed of the output pulses. The fact that with two channels you can easily use an insertable Bi-polar electrode with a set of pads and finely tune the output for each means that you can easily generate some amazing sensations with this mode. If I had to describe the internal feelings when using a Bi-polar electrode with this mode the word I would use would be 'Buzzy' - in a good way.
Flo
This mode is pretty much a continuous output and you can use the Level knobs to alter the power settings and the Adjust knob alters the feelings from soft to hard with this mode. I imagine this mode would be very useful if you were using this unit on a sub for some tormenting fun but I preferred the more interactive operating modes.
Split
This is a combination of the first two operating modes 'Pulse & Flo' output A is continuous like the Flo setting whilst Output B pulses giving you a good set of options to explore. The adjust knob alters the speed of the pulses. I found this mode great when using pads on my vulva in Flo mode and an insertable bi-polar electrode in my pussy in Pulse mode. It felt amazing as in pulse mode you actually feel like you are getting a good fucking and having the pads either side of my clit made for some amazing play sessions.
Bounce
This is a very nice mode as well and as its name suggests the outputs bounce from side to side with the adjust knob controlling the bounce speed. This again with pads and insertables or two insertable electrodes is a hell of a lot of fun as the action moves from one circuit very smoothly to the next and then back again.
Audio
This was one of my favourite settings, it uses the inbuilt microphone to tune your play outputs to the sounds the unit hears. Put your favourite track on the stereo for some amazing fun, you get to enjoy your favourite songs in a whole new dimension.
Click on the image on the left to open a new browser window and view a video of the ElectroPebble operating in Audio mode to see how its outputs match the song being listened to. Thank you to e-stim.co.uk for allowing me to use this video in my review, I asked if I could do so as it expertly shows the audio mode in action.
Milk
This is a great mode for showing the versatility of this little control box. The outputs pulse and these pulses get quicker and quicker before slowing down again, it really is a nice mode and one of my favourites. The Adjust knob controls the overall speed whilst the two Level knobs control the feel of the pulses.
Squeeze
This is similar to the milk mode as it has pulses that get faster and faster but instead of slowing back down again it resets and starts all over again. I like this on a fairly high setting so that just as it gets to its peak you think you can't take any more and then it gives you a nice breather before starting all over again. The adjust knob again controls the speed.
Tease
This one is a bit like the milk mode but instead of getting faster and faster it gets stringer and stronger. It starts off very gently and then builds with harder pulses before going back down slowly again before repeating. I can enjoy long slow sessions enjoying the sensations produced in Tease mode.
Torment
This one has a continuous output that ramps up from soft sensations to hard sensations before dropping back down again. It certainly lives up to its name and this one could be amazing in a tie tease situation (depending on which side of the controls you are).
Performance
In a nutshell, I can honestly say that I am blown away with the performance of the ElectroPebble®, it is so much fun to use. My favourite modes are Audio, Pulse, Bounce and Squeeze and I love to cycle between them when playing. It's so much fun to be able to use pads and insertable electrodes together and to be able to fine tune them and have them doing different things to me at the same time. The controls are super easy to learn and use and the dials are very smooth and responsive. This is now my favourite control box and to make sure that everyone knows where they stand I have officially handed my Series 1 box to stunt cock (he has to ask if he can use my ElectroPebble® LOL).
From its lowest settings to the highest you can smoothly and effectively control the sensations it creates, riding the waves of pleasure that the operating modes can deliver to some amazing hands free orgasms. Chuck in a blindfold and some restraints and you have pretty much the perfect set-up.
The only negative point I have about the ElectroPebble® (and if you bear with me I will flip it on its head into a positive) is the battery compartment. The battery is, lets just say a very snug fit and you will need a nail file or small screwdriver to help prize the battery out when you need to change it. That said though, it stops the battery rattling around when in use which was one of the things I don't like about the Series 1 box. Lets face it, if that is the only bad thing I have to say about this kit and the ElectroPebble® you know that it's pretty damn good.
Key Features
Key features:
Quality construction
Dual channel outputs
Good for external, vaginal and anal use
Lifetime guarantee
Built in microphone
Nine functions
Battery powered by a PP3 9V battery (supplied)
Made in the UK
Important Specifications
Here are some facts about the ElectroPebble® that I thought you might find useful, they are lifted straight from the manufacturers site and help to show some of its specifications:
Channels/ Outputs:
Dual Channels via industry standard 3.5mm mono sockets.
Display:
High brightness Light Emitting Diodes indicating Status, Battery Level, Channel and Mode Activity.
Program Modes:
9 - Pulse, Flo, Split, Bounce, Audio, Milk, Squeeze, Tease and Torment.
Audio Input:
Internal Microphone.
Controls:
Two independent controls for Channel intensity, Mode Adjust control and two Mode Select buttons.
Output Waveform:
BiPhasic AC.
Power Supply:
Standard 9 Volt Alkaline (PP3) - Included.
Dimensions
(approximate.):
116mm x 77mm x 38mm
(4 9/16" x 3 1/32" x1 1/2")
Weight (with battery):
176g
Guarantee:
Lifetime (Power Box).
ElectroPebble® Pack Options
The ElectroPebble® is available in three different packs, the first is the one I have. The standard pack retails at £149. To really enjoy the ElectroPebble® I suggest seriously considering the XPE or XPF packs. This pack is amazing value for money as it contains all of the following:
ElectroPebble®
Storage Case
PP3 9V Battery
2 x 3.5mm to 2mm/TENS Connection Cables
4 x Self Adhesive Electrode Pads
1 x Quick Guide
1 x User Manual
ElectroPebble® XPE Pack £209
The ElectroPebble® is also available in the XPE pack, this pack is aimed at guys and couples and retails at £209. In addition to the contents of the standard pack it also features a set of conductive cock loops and the amazing ElectroEgg which I have recently reviewed. Again it is great value for money as it contains all of the following:
ElectroPebble®
Storage Case
PP3 9V Battery
2 x 3.5mm to 2mm/TENS Connection Cables
1 x Pair of 2mm Conductive Rubber Loops - Check out my review of the Cock Loops Here.
1 x Medium Electro Egg - Check out my review of the ElectroEggs Here.
4 x Self Adhesive Electrode Pads
1 x Quick Guide
1 x User Manual
ElectroPebble® XPF Pack £209
The ElectroPebble® is also available in the XPF pack, this pack is again aimed at guys and couples and retails at £209. This one exchanges the ElectroEgg for a Flange Bi-Polar electrode and the Flange is one of my favourites. It is also great value for money as it contains all of the following:
ElectroPebble®
Storage Case
PP3 9V Battery
2 x 3.5mm to 2mm/TENS Connection Cables
1 x 4mm Connection Cable
1 x Pair of 2mm Conductive Rubber Loops - Check out my review of the Cock Loops Here.
1 x Flange™ Electrode - Check out my review of the Flange™ Electrode Here.
4 x Self Adhesive Electrode Pads
1 x Quick Guide
1 x User Manual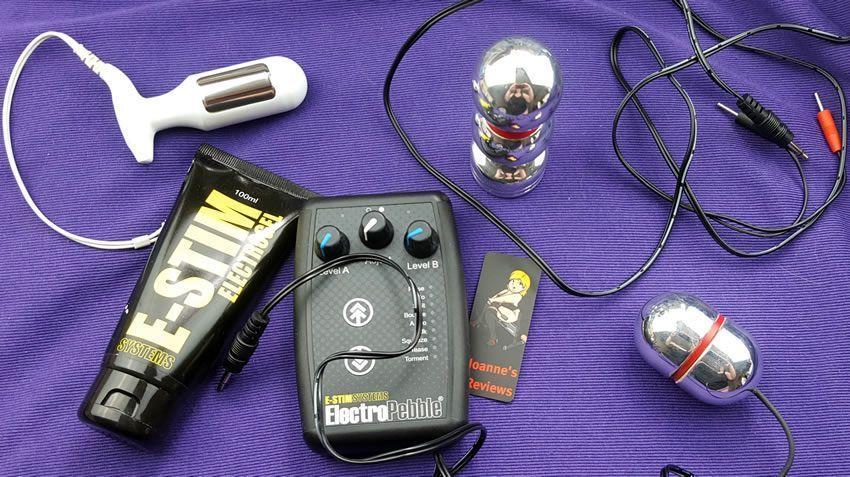 Final Thoughts
The ElectroPebble® is brand new and cutting edge in terms of its technology and functionality, it's a great addition to the range of products from E-Stim Systems. The fact that it has so many modes of operation together with the excellent audio mode with its built in microphone means that you won't tire of using it and every time you do it will feel like the first time.
If you are looking for an e-stim control box with excellent features bundled together with everything you need to get going then look no further, whilst it isn't as tweak-able as a 2B box it dominates the middle ground between the Series 1 and the 2B and I can see it being one of their most popular control units.
I was sent my ElectroPebble® by e-stim.co.uk in exchange for this review and I hope that you have enjoyed reading it. Hopefully it has left you curious to try one out for yourself.
Where Can I Get One From?
Grab one of the ElectroPebble® for yourself - £149 for the kit I have or £209 for the XPE and XPF kits.
Website links:
From their humble beginnings in a garage back in 2004 E-Stim Systems has grown and grown with an army of loyal customers. They manufacture their own goods and that gives them total control of their range of equipment, they even offer a lifetime guarantee (how's that for confidence).
Check out their great range of Intro2Electro™ Packs, E-Stim Systemsand the Flange™electrode.
Check them out and don't forget to tell them that Joanne says "Hi".
I have really, really been enjoying myself experimenting with my Intro2Electro™kit for her from www.e-stim.co.uk as well as the ElectroPebble®. Not only is it a lot of fun but I have discovered sensations that are completely new to me whilst using it. I loved the Veriprobe in the Intro2Electro™kit and was blown away by the Flange™Electrode and so I decided to treat myself to another electrode from the E-Stim Systemsrange.
---
If you enjoyed reading this review then check out my other reviews of E-Stim Systems products:
CONTROL BOXES
PUSSY & ASS ELECTRODES
PENIS/BALL PLAY
OTHER
Website links:
---
Disclosure
This review contains affiliate links, these links allow me to get a small commission if anyone uses them and then goes on to buy one of these units at no added expense to the shopper. It is common practice to use affiliate links and the small fees I earn this way go towards the running costs of my site, anything left over goes to wards buying in more toys to review.