Delivery and Packaging
As usual, these John Thomas Toys were sent in plain packaging, sealed with durable tape to ensure that the box doesn't open accidentally while in transit.
Although I do feel for my poor posties back as the boxes weigh quite a considerable amount as I have been lucky enough to receive all 4 sizes to play around with.
My postie was even kind enough to place it just inside the door for me, due to the weight of the box.
With the robust and discreet packaging, my postie has no idea as to the contents of the box. All he knows is that my face lights up when he delivers a new package to me.
I was a little disappointment when the latest batch of toys arrived from John Thomas Toys. My fault, it was due to the fact that I missed the delivery. I had to wait an additional day for the postie to deliver them. If you have ever missed a sex toy delivery, you will know the feeling of pent up frustration well.
As usual, I was so excited to open the package to see what these latest toys looked and felt like. The size of the XL took my breath away when I saw it, all I can say is WOW!
All John Thomas Toys dildos come shrink wrapped with a holographic seal which is a really lovely touch. They also come with a genuine Doc Johnson suction cup vac-u-lock adaptor and a branded storage bag. I didn't receive any storage bags with these due to a break down in communication.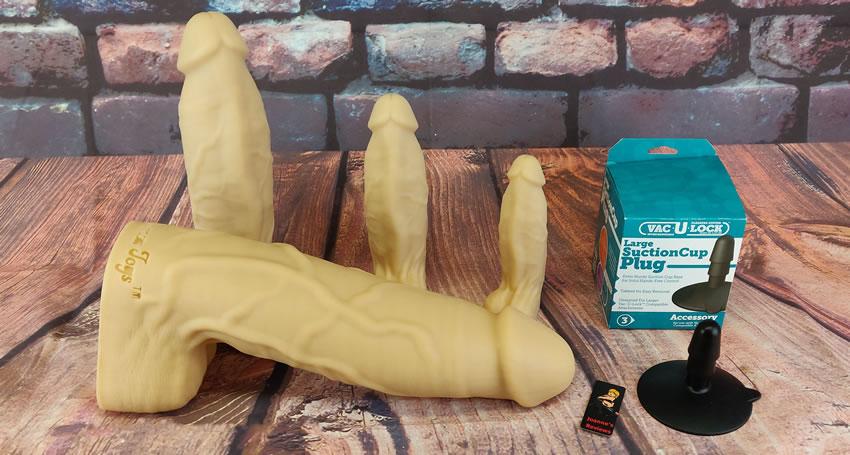 The Don is available in four incredible sizes so there is one for everyone
Design and materials
John Thomas Toys always give me confidence as they only use a blend of 100% platinum cure silicone. This blend is poured into a copper mould. Copper moulds are more expensive than regular moulds, but the copper ensures that the thousandth toy produced from that mould will have the same detail and finish as the first. In essence, John Thomas Toys have invested in their manufacturing process.
These dildos are made from a medium-firm blend, making them firm enough to hold their shape and ridges, but with a nice give when squeezed to make it comfortable to use.
They come in a realistic flesh colour, you could almost picture it belonging to your next lover. I always recommend silicone for insertable sex toys, this is because it is non-porous, as well as being latex and phthalate-free.


The four sizes gives you lots of choice, from small to "visit to A&E", John Thomas Toys has you covered
This makes it very easy to clean, and safer to use as the surface cannot harbour dangerous bacteria. If you look after your silicone dildo, you can enjoy years and years of pleasure.
These toys are so easy to clean, wash in warm soapy water, or use an anti-bacterial sex toy cleaner. You can even choose to place them in the dishwasher on a sterilise cycle or boil them. Just remember to let them cool down and dry fully before storing.
These dildos may look very realistic, the veins on the shaft are very pronounced, and the detailing is impressive. The girth flares out just under the glans (penis head), making the shaft nice and wide. The (ok here is a big word I had to google) Corpus Spongiosum (The ridge along the underside of the penis) stands out well and is nice and firm giving great stimulation.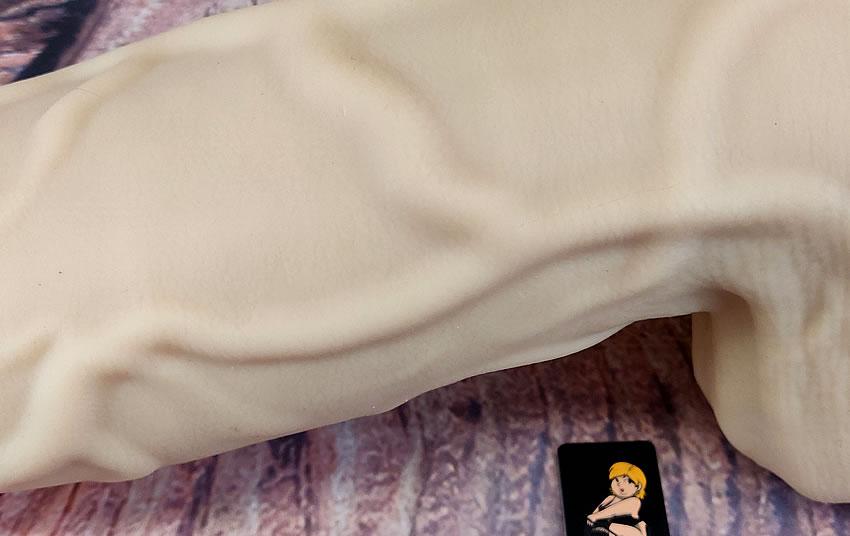 The scrotum (balls) are wonderfully firm and slightly flared, giving a good base to hold up the toy or to hold onto during use.
The texture of the silicone is a little draggy, so unlike the silky smooth nature of some silicone blends, it gives you some lovely stimulation in use. The blend has just the right amount of give when you squeeze it and that feels incredible as you clamp down on it mid orgasm.
The hole in the base allows for easy use with a vac-u-loc attachment, giving some excellent versatility on how you can enjoy the dildo. I really like the branding on all John Thomas Toys.
However, you will need to be careful to ensure that you clean it out thoroughly so as not to leave any vag-goo or other fluids inside after play.
John Thomas Toys send a free Vac-u-lock suction cup adaptor with every purchase.
This powerful suction cup means that you can enjoy the dildo in a variety of positions without holding onto it. Stick it securely onto any smooth, clean surface, like the wall of a shower, or the bath.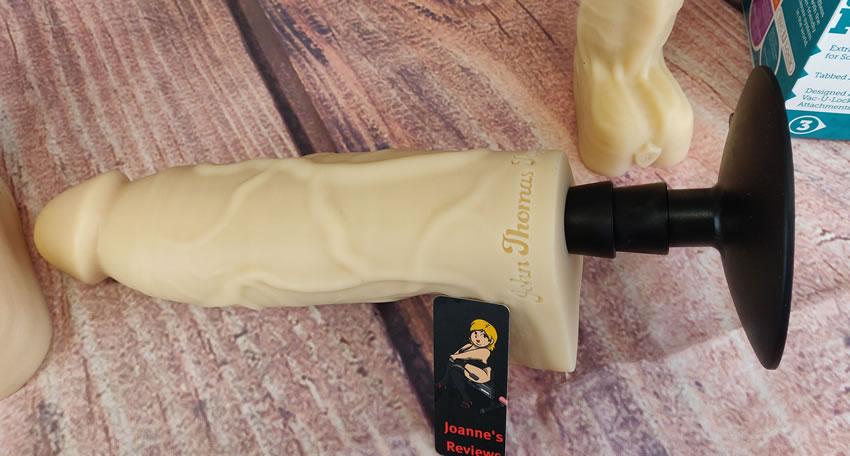 The free Vac-u-lock suction cup adaptor extends your play possibilities
As with all silicone toys, don't forget to use a good water-based lube, I always recommend Sliquid H2O or Secret Play Natural lube.
With such a large range of sizes, there really is one for most people out there. Whether you are a beginner or a #SizeQueen who likes the larger sizes, John Thomas Toys has a dildo for you. Just be prepared for the weight of the larger sizes as well as the girth.
| * | SMALL | MEDIUM | LARGE | X LARGE |
| --- | --- | --- | --- | --- |
| Length: | 7"/17.78cm | 9"/22.86cm | 12"/30.48cm | 16"/40.64cm |
| Base Height: | 1.1"/2.79cm | 1.2"/3.05cm | 2.3"/5.84cm | 3.4"/8.63cm |
| Circumference (top of shaft): | 4.8"/12.79cm | 5.9"/14.58cm | 7.8"/19.81cm | 10"/25.4cm |
| Circumference (middle of shaft): | 5.6"/14.22cm | 7.1"/18.03cm | 9.7"/24.64cm | 12.8"/32.51cm |
| Circumference (bottom of shaft): | 5.5"/13.97cm | 7"/18.78cm | 9.3"/23.62cm | 12"/30.48cm |
| Circumference (base): | 8.2"/20.82cm | 10.8"/27.43cm | 13.8"/35.05cm | 19"/48.26cm |
| Max Insertable Length: | 5.8"/14.73cm | 7.4"/18.79cm | 10"/25.4cm | 12.8"/32.51cm |
| Weight: | 0.27kg/0.61lbs (*variable) | 0.61kg /1.34lbs (*variable) | 1.46kg/3.23lbs (*variable) | 3.49kg/7.71lbs (*variable) |
| Price: | £69.99/£79.99 | £99.99/£109.99 | £169.99/£179.99 | £229.99/£239.99 |
You can get this dildo in four sizes and two blends of silicone, supersoft firm and supersoft medium.These ones are the supersoft firm blend, which I highly recommend. With just the right amount of give on squeezing, but plenty of firmness to easily pound away when wanted.
I love the product description from John Thomas Toys:
"The Don is the head of one of the top Mafia families in NYC he's not a man to mess with, he won't leave a horses head on your bed pillow but he will track you down and ram you to death with his awaiting cock. Gorgeous lines, ridges & muscular penile shaft that will satisfy & fulfil your fantasies."

John Thomas Toys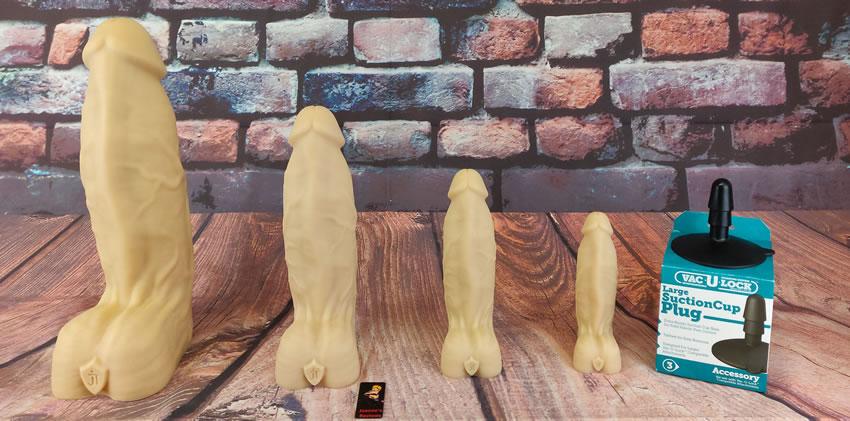 The Don comes with a free vac-u-lock suction cup adaptor
Performance
Once again, I was spoilt for choice on which size I wanted to try. I settled on the small and the medium. Although I do sometimes enjoy a challenge, the more considerable dimensions of girth on the Large and XL are just a little much for me.
The small always looks so cute in size compared to the other sizes, but on saying that it is still a good option for those who prefer a more standard size dildo.
The flexibility, firmness and squish are a perfect balance. Allowing for easy insertion, without the discomfort you might feel with a firmer toy.
But saying that, it isn't flopping everywhere, which is ideal when you want to use it for a fast or hard pounding by hand or on a fucking machine. The glans is shaped nicely for easy insertion, then you get the girth flair which fills out giving a lovely stretch.
I really enjoy the way the girth fills out, and the whole feel of the veins and ridge on the shaft create fantastic stimulation together with the drag of the silicone blend.
I found it fun to twist in use and to use it upside down so that the ridge rubbed along my clit, which was frankly a fantastic feeling. The well defined glans provided excellent stimulation of my G-spot as I thrust it in and out, and the veins felt incredible on my vaginal walls.
I really enjoyed attaching it to my HiSmith fucking machine, so that I could really play around with various speeds, it did not take long before my toes were curling and I was holding on for dear life. I made sub'r' enjoy the small this way, and she also thoroughly enjoyed herself.
Dare you take on The Don from @JohnThomasToys, a dildo of magnificent proportions. Check out Joanne's review if it.
Click to Tweet
---
Check Out The Video Review On Youtube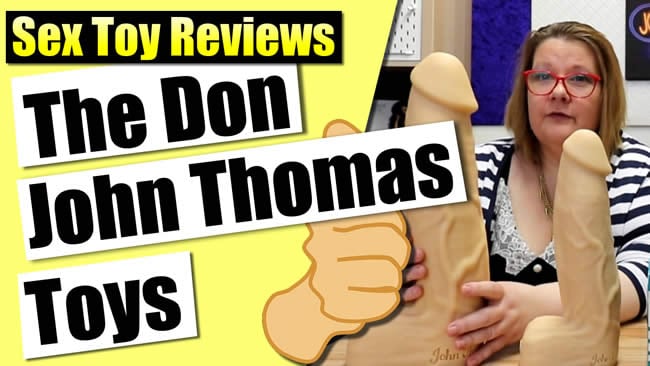 ---
Key Features
Key features:
100% body-safe platinum cure silicone
Four sizes available
Two hardness ratings
Nice vein detailing along the shaft
Hole in the base for a vac-u-lock attachment
FREE - Suction cup vac-u-lock adaptor
FREE - Velvet feel drawstring storage bag
I would recommend it to:
Anyone looking for a body-safe silicone dildo
Anyone looking to a vac-u-lock system compatible dildo
Anyone no matter what size they like, as the four sizes available means there is something for everyone
Anyone who enjoys exagerated textures
I wouldn't recommend it to:
Anyone who doesn't like phallic shaped dildos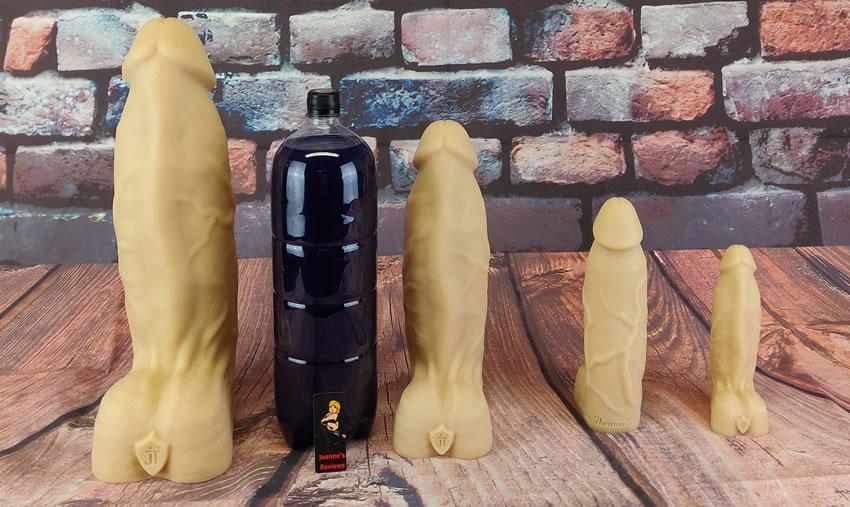 The range of sizes of The Don is fantastic, choose your next challenge
Final Thoughts
I have really enjoyed reviewing another fantastic dildo from John Thomas Toys. The Don is a realistic dildo with some really pronounced features to enjoy.
The designer has not gone too mad and has kept this dildo looking realistic. But they have expanded on the features, and that really makes this dildo much more fun to play with.
Would I enjoy this dildo? This is something you may be asking yourself, and all I can say is that I certainly did. I am also looking forward to having many more sessions enjoying these dildos. The firmness makes it so easy to also enjoy using the vac-u-lock system to expand on your experience.
John Thomas Toys really are fantastic quality, with so many different ones to choose from. Their site is well worth a visit, especially if you want to give one of their delightful creations a home for life.
I was sent these The Don Dildos by John Thomas Toys and I would like to thank them for giving me the chance to review it for them.
Joanne's rating
Where Can I Get One From?
Grab one of these amazing dildo's from the John Thomas Toys collectionm with prices starting from just £69.99, dare you take on The Don?
Check them out and don't forget to tell them that Joanne says "Hi".
---

If you enjoyed reading this review then check out my other reviews of John Thomas Toys products:
Silicone Dildos
---
Disclosure
This review does not contain affiliate links, for more information about affiliate links check out my disclosure page.