Yes, you read that right, it is a whopping 4"/10cm in diameter, and if that doesn't set your heart racing, making your hands go sweaty, I don't know what will.
Name: Decimator
Type: BiPolar electrode
Diameter: 100mm (4")
Circumference/Girth: 314mm (12.3")
Overall length: 225mm (8.8")
Weight: 3600g
Connections: 4mm Sockets
Guarantee: LifetimeImagine cramming that up your ass. You will, of course, need lube, lots of it in fact and an anus that is used to tackling a challenge.
I am going to have to take a bow and pass on reviewing one of these as I couldn't manage it no matter how long I took or how much lube I used.
But, that doesn't prevent me from admiring it and thinking that anyone who can take it has put in a lot of hard (and fun) work into training their anus to appreciate this behemoth.
It weighs in at 3.6kg so good luck keeping it in if using it standing. It is something that any fan of the Marquis de Sade can appreciate. Just the sight of it makes you gulp, and you can feel your anus tightening in tense, nervous anticipation of the torture that inserting this would be.
Perfect for pain sluts and lovers of anal fisting or huge dildos. You will need a powerful e-stim control box like the E-Stim Systems 2B (here is my review of the E-Stim Systems 2B) or the ET-312 to be able to enjoy its full potential as it has a lot of surface area.
I first laid eyes on the Decimator at the ETO Show in 2016, and I couldn't take my eyes off it. I know for a fact that sub'r' was blown away by its sheer size recently at Erofame 2019.
It intimidates with its sheer presence, any dominant using it on their submissive if going to push their limits to the full. I guess "full" takes on a different meaning in this context.
The 4mm sockets allow you to connect it to your e-stim control box of choice before causing the anal muscles to clench and release in time with the pulses. Used on a male, you are going to experience intense pressure on your prostate that combined with the e-stim pleasure will have your cock dribbling pre-cum until you explode in a hands-free orgasm.
Use it with cock rings to focus the sensations in the tip of your cock for unbridled sensations.
Ideal for a professional dungeon it is built to last, coming with a lifetime guarantee. As usual, the quality and finish from E-Stim Systems are second to none. It can even be stripped down for a deep clean between uses.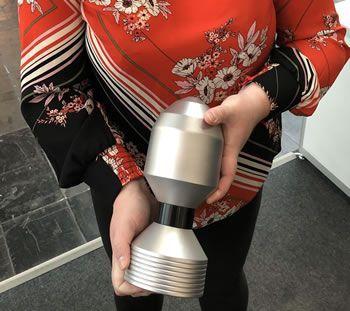 For a professional Mistress or Dom it can be used as a meer threat to enforce total submission as let's face it you would behave, wouldn't you?
Preparation for use would be similar to that needed for anal fisting. Use lots of lube and work your way up to it with different sized butt plugs over time. When you are ready to take it, you will enjoy the sensations of really being put to the test as it goes on. I can imagine that the feeling of it popping inside would be incredible.
Once in, the fun can really begin as you tease and pleasure your anus and genitals using e-stim while enjoying the feeling of being open to the point of destruction by the Decimator.
Great name, I can certainly see it Decimating any ass it is used on.
You can get one of these humungous e-stim butt plugs from E-Stim Systems in either their UK/EU site or their US one.
At £360 it isn't cheap, but if you want the ultimate e-stim challenge then go for it, your ass may not thank you though. But it will be one hell of a ride.
You can enjoy free shipping while this bomb of a butt plugs works its way from E-Stim Systems to your waiting anus.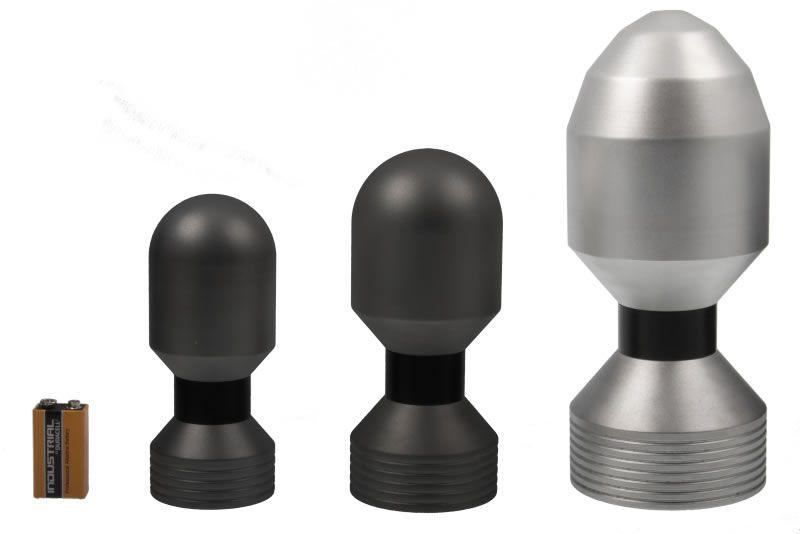 Decimator with other electrodes and a battery for scale
You have to be a real sizequeen to contemplate taking on the @EstimSystems Decimator butt plug electrode - good luck with that one.
Click to Tweet