Delivery and packaging
Now, Nat had saved the original box and packaging, and so I can comment on them. It arrives in a beautiful product box which is within a plain brown cardboard box.
This means that no-one will know that you are having a sex machine delivered, so you can rest assured that your sex machine will arrive discreetly.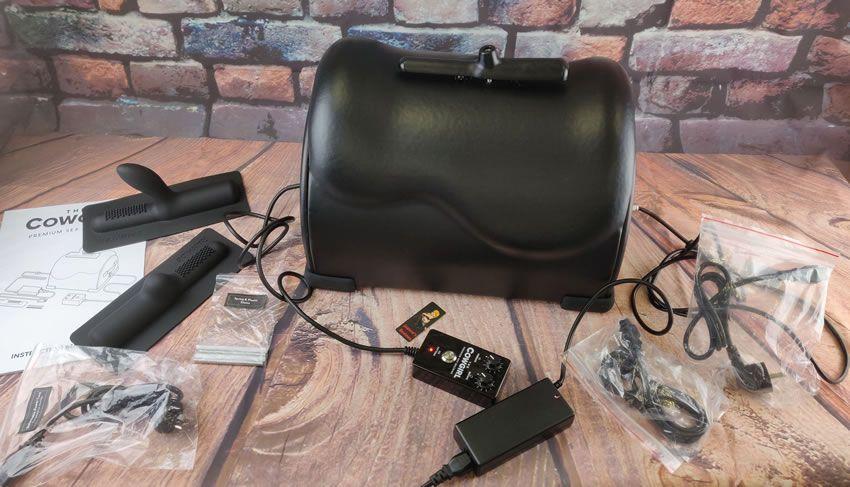 You get all of this in the box, note the three different styles of power cable for international customers
Everything is secure inside the box, and you get the following items:
The Cowgirl ride on sex machine
2 x Silicone Attachments
Corded LED Remote
Global Power Supply
Six Springs And Six Plastic Stems
User Manual
Ride To Guide
Design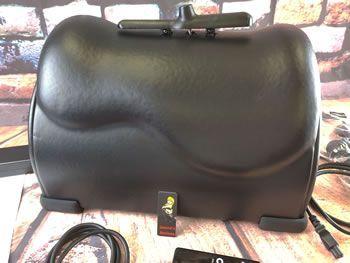 The Cowgirl is a Sybian style sex machine, that is, one that you straddle while it vibrates. It can accept various attachments, and these give different sensations and play options.
It vibrates like nothing else you have probably ever tried, it truly is a toe-curling sensation that can literally rip an orgasm out of the rider. With the penetrative attachments, the Cowgirl can make the inserted portion twist around inside you, providing more g-spot sensations and transmitting the vibrations internally.
It features a handcrafted saddle-style seat that is padded and made from vegan leather. This is easy to clean and wipe down after use.
There are two carrying or lifting handles at either end. These are easy to use and very sturdy.

The carrying handles are sturdy and they make moving the Cowgirl around easy
There is a socket at either end of the main body. The one at the rear accepts the power cable from its transformer while the one at the front accepts the corded LED control box.
This control box allows you to control the vibration level together with the speed of the internal rotation of the attachment.
It also features a fantastic button that will enable you to cycle through six preset vibration patterns. The controls are very responsive, and the patterns are an excellent addition to the usual features you get on a machine like this.
You can download an app to control the Cowgirl through your phone, and this is a great feature. It means someone else can control it while you are riding it. This is great for BDSM scenes. You need to disconnect the corded control box when using the app, though.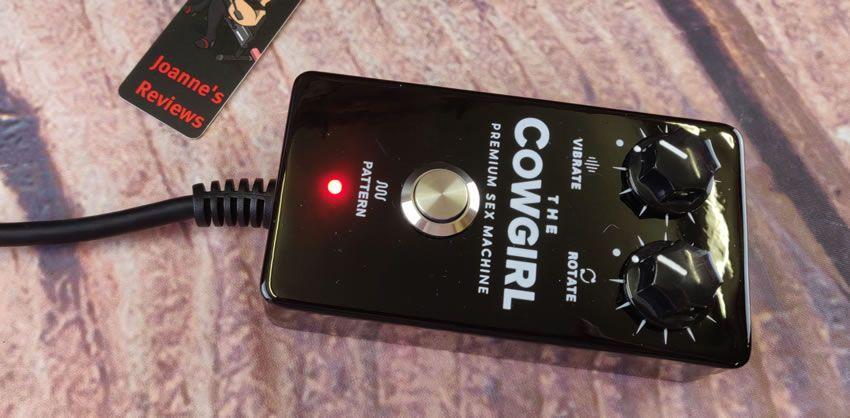 The control box is easy to understand and simple to operate
Having this much power and vibrating patterns gives you lots of different settings to enjoy, and they are amazing.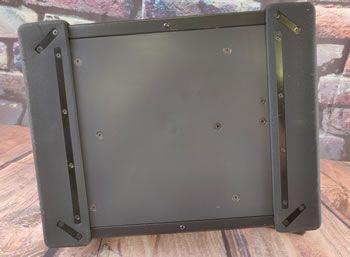 The base of the Cowgirl is fitted with two silicone bumper pads that protect it when you carry it. They also help to reduce or dampen the noise that it makes.
The body is incredibly sturdy, and it has been designed and rated for riders up to 400lbs/181kg.
The Cowgirl sex machine comes with two black silicone attachments (you can use regular Sybian, Motorbunny or Tremor attachments as well). These are the Rawhide and Wild West.
The silicone blend is very nice but a bit of a dust magnet which is not unusual for silicone-based products. As they are silicone, they are body-safe, phthalate and latex-free as well as being easy to clean.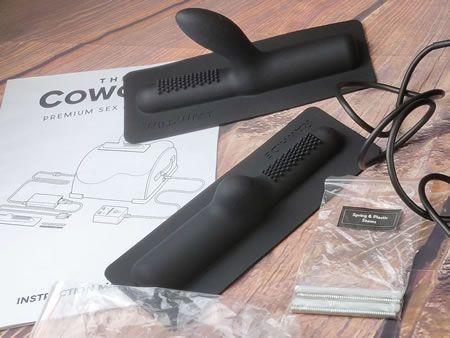 The Rawhide is a flat top attachment that doesn't penetrate you, it is ideal for riding with your clothes on. If naked though, the nodules at the front tease and caress your clitoris.
The Wild West is a truly wild ride, its insertable portion is shaped to provide excellent g-spot stimulation. The vibrations travel up deep inside your pussy.
The springs or stems are used to control the feel of the rotation inside you. The springs give a softer sensation while the stems provide harder stimulation.
Performance
Your first ride on a machine like this is going to be very special indeed. I hired my favourite dungeon as a venue. So, off we went to TP Dungeon in Walsall for our first rides on this fantastic machine.
I, of course, got to go first, and as having an audience is something that flicks my switch, it was so much fun.
Straddling the Cowgirl is comfortable, but I find rasing it on a platform makes it even better. The Cowgirl doesn't come with a stool like the Sybian, so we improvised.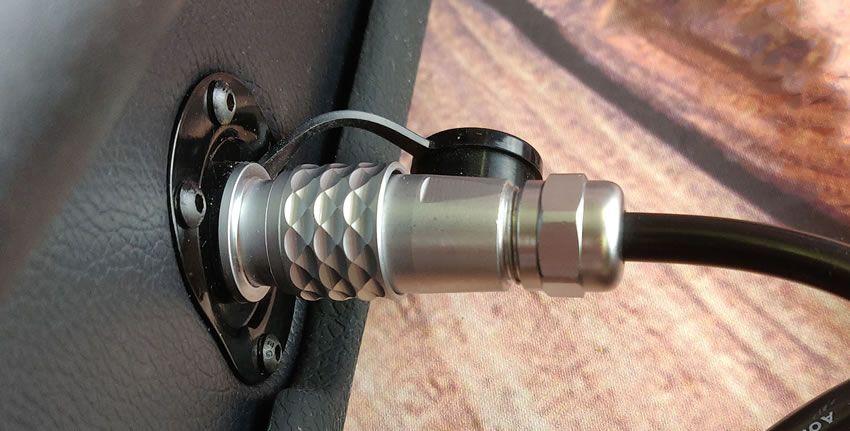 The plugs and sockets are very high quality and sturdy
I opted for the Wild West as I love g-spot stimulation on these types of machines, and I used a plastic stem for lots of it.
Use a good quality water-based lube like Sliquid H2O or Secret Play Natural as it helps with insertion and also the movements of the attachment.
I positioned myself on the Cowgirl relishing the feeling of the attachment opening me and entering me fully. I spread my labia so that the nodules on the front were in direct contact with my clitoris and got ready for one hell of a ride.
I started off just using the rotating motion, setting the speed so that the tip of the attachment rubbed against my g-spot and instantly knew I was really going to enjoy this.
I then slowly ramped up the power, relishing the way the plate the attachment is fitted to gyrates and vibrators sending intense sensations directly into my clit.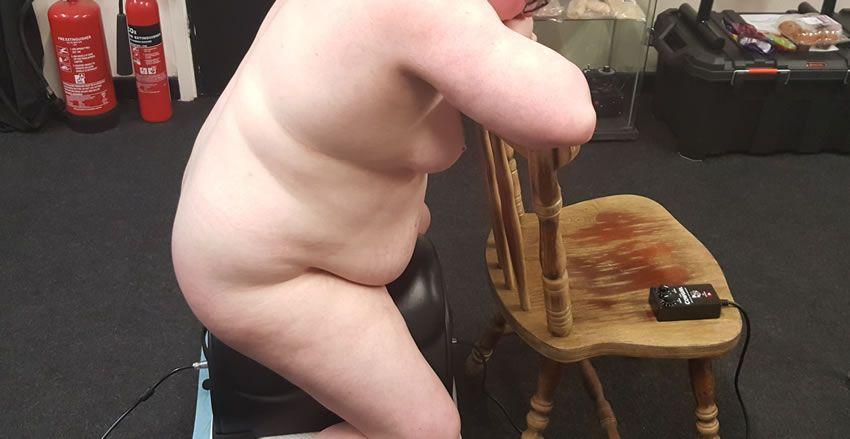 We had so much fun riding the Cowgirl but having something to lean on is recommended
I was soon panting and with my first orgasm well on the way. I was only up to about 40% of power when that orgasm washed over me, and I came hard. Now an orgasm on a sex machine is fantastic as the machine just carries on.
It is easy to let one orgasm roll into the next, or you can back off and tease yourself a bit before the next one.
I decided to try out the patterns and boy was I glad that I did. They are amazing and take a fantastic machine to the next level.
When using a vibrator, I usually prefer steady vibrations, mainly ignoring patterns, but on the Cowgirl, they are not only a fantastic option they are sublime.
Having something so powerfull changing its tempo and stimulation on the fly is mind-blowing. I would say buy one just to experience it yourself as it is truly amazing. I lost count of the number of times I came, even squirting all over the machine with my last orgasm.
I had to be helped off it as my legs were like jelly and the sight of the Cowgirl covered in squirt and pussy juice was something else. After calming down, I cleaned it up with the cleaners available in the dungeon, and it was the turn of sub'r' to ride the Cowgirl.
A chair was placed in front of her so that she had something to hold on to. This worked well as she could relax and enjoy the incredibly powerful sensations.
She used both the Wild West and Rawhide and again she came over and over again. She was quite a sight, face screwed up in agony and ecstasy as orgasm after orgasm was ripped from her. I used the controls to tease her, and we had a forced orgasm session, which is easy to achieve with the Cowgirl.
She also squirted again and again, and after her session, she too couldn't walk.
Now the noise is a huge consideration with machines like this one as they do generate a lot of noise. A lot of it is through the intense vibrations that they produce on a hard surface. Placing it on a soft surface like foam or a folded blanket or towel does help to dampen it a bit.
Reviewing the Cowgirl was just as much fun as I thought it would be. It is a very capable sex machine that delivers orgasm after orgasm effortlessly.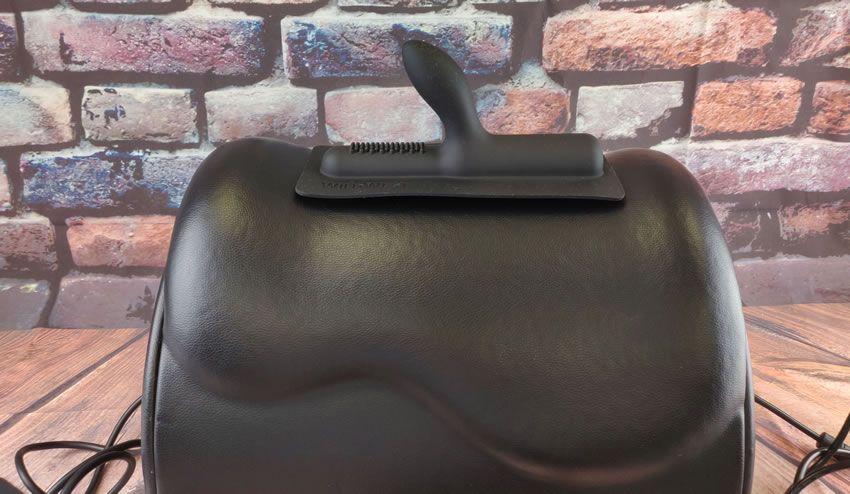 The Cowgirl is a fantastic ride on sex machine
Ride the Cowgirl for some intense orgasms, both Joanne and sub'r' had a blast riding it, grab one from @Lovehoney to see just how good it really is.
Click to Tweet
Key Features
Key features:
Ride on sex machine
Powerful vibrations and six inbuilt patterns
Silicone attachments
Can be controlled by an app
Comes with two attachments
Noisy
I would recommend it to:
Anyone looking for an instense sex machine
Anyone looking for a sex machine that can be app controlled
Anyone who enjoys intense vibrations
Anyone who enjoys patterns of vibration
Anyone looking for a Sybian style sex machine
I wouldn't recommend it to:
Anyone for whom noise would be a problem
Anyone with knee issues as straddling it may be painfull
Anyone who doesn't like intense vibrations
Final Thoughts
The Cowgirl is right up there with the Sybian in terms of performance and intensity. The patterns and the app though make it even better, and so it needs some serious consideration if you are looking for a sex machine like this.
We like the Cowgirl, in terms of performance and looks it is first class. I love the saddle design, and the pattern feature is brilliant.
The enclosed attachments are all body-safe silicone, which is another huge bonus point. They are compatible with all Sybian style attachments, available from other manufacturers too.
The Cowgirl gets a huge thumbs up from both sub'r' and I. Check it out for yourself on the manufacturer's website (ridethecowgirl.com) or through one of the many online retailers.
Joanne's rating
Where Can I Get One From?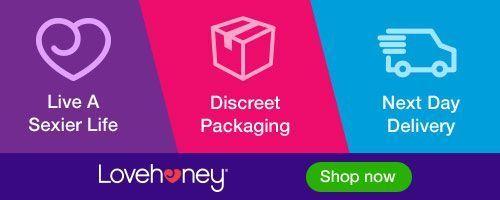 Grab one of these amazing sex machines from Lovehoney. In the UK you can buy a Cowgirl Sex Machine for £1,549.99 which is a lot of money, but it is a lot of sex machine that delivers where it matters.
Check them out and don't forget to tell them that Joanne says "Hi".
Disclosure
Disclaimer - I received the Cowgirl to review free of charge and this has in no way affected the outcome of this review. This post contains affiliate links and if you purchase something when you follow one of these links I may receive a small commission at no cost to you. For more information check out my disclosure page.