Delivery
I never have to wait long for goodies to come from Meo.de. Even though they are based in Germany, they dispatch quickly, and the system they use ensures that you get your order quickly, safely and discreetly.
I was almost jumping with joy when the Cock Cam arrived in its plain packaging. Meo always packages goods discreetly. This is great as my postie had no idea that I was going to be making some very intimate videos later that day. If only he knew.
Packaging
The Cock Cam comes in some lovely retail packaging with lots of useful information on it, and it is very well designed. Slide out the inner tray to reveal the Cock Cam and all of its accessories.


The Cock Cam from Meo.de comes in very nice packaging
You get the following things included with the Cock Cam:
1x Silicone Cock ring for housing the camera
1 x Wifi IP Micro Camera
1 x Magnetic Rotation Mount
1 x Magnetic Pad
1 x Metal Sticker
2 x Sticker
1 x User Manual English, Spanish, German, French
1 x Charging cable
1 x Magnetic back splint
1 x Magnetic films
1 x Data charging cable
The user manual is multi-language and very easy to follow. The first thing that you need to do is give the camera a good charging using the enclosed charging/data cable.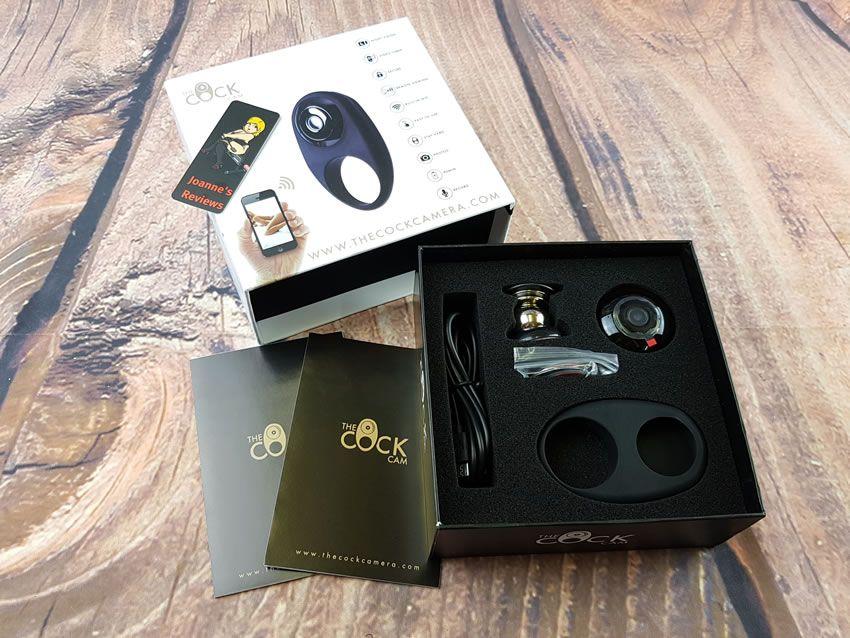 The Cock Cam is securely held in its packaging and you get everything you need to get going
Silicone Cock Ring Sleeve
The camera comes with a very lovely sheath that turns it into a cock ring camera. This sheath performs two functions, firstly as a cock ring, it can cause bigger and harder erections. It's most important job though is to carry the camera and allow for some kinky intimate pictures and videos to be made.
It is straightforward to slip the camera into the sheath, just make sure that the power button lines up with its hole in the sheath.
As it is made from silicone, it's both latex and phthalate free making it both hypo-allergenic and body-safe. Silicone is my go to sex toy material as it's non-porous and so very easy to clean after use.
Talking of cleaning you can clean the silicone sheath with warm soapy water before using an anti-bacterial sex toy cleaner on it. Make sure it is completely dry before you store it away until the next time you fancy creating some kinky videos.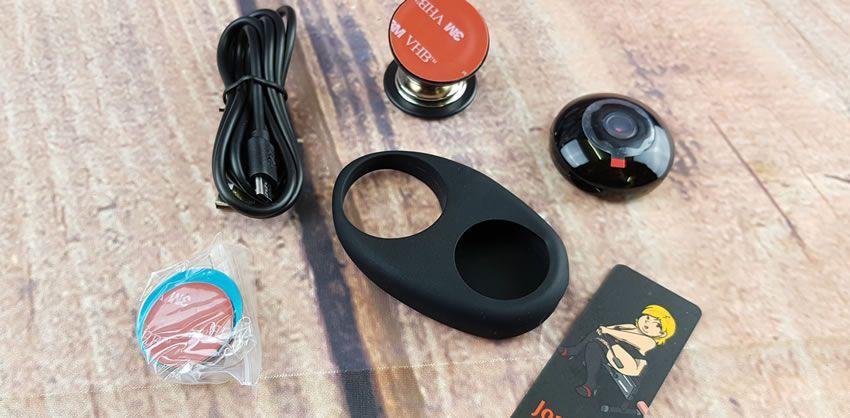 The Cock Cam has a handy silicone cock ring sleeve that allows it to be securely fitted to an erect penis
The silicone has a good amount of stretch so it should fit the vast majority of cock owners out there. If you have never used a cock ring before you need to be aware of some safety aspects, I have written an article on correctly measuring yourself for a cock ring, and this covers safety too. At 32mm diameter is it smaller than the average penis diameter which is 38mm so bear that in mind if you have a lot of girth.
Ease of use
It is relatively easy to set up and use but to be honest, I found it a little confusing, to begin with. I recommend downloading the instructions and using them to set everything up as they are easier to read on a screen that in the manual.
The QR code on the instructions takes you to the webpage, you then just need to navigate to the instructions etc. as required.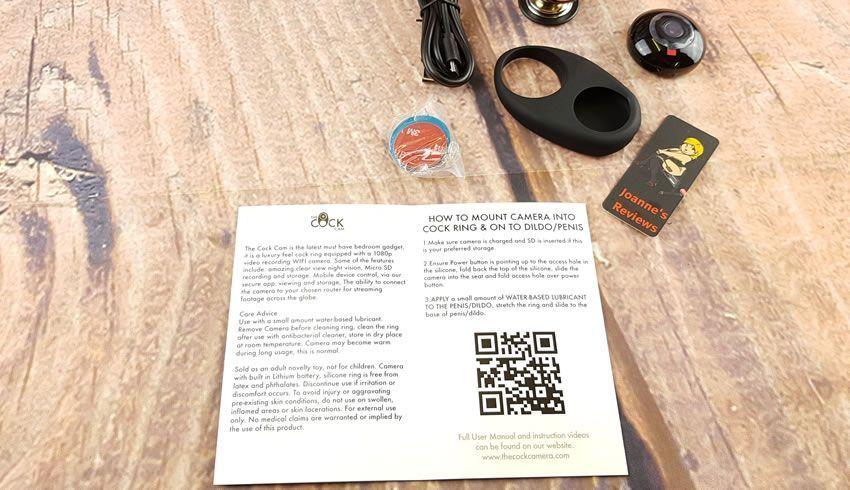 The Cock Cam come with instructions but download the fuller pdf one to make set up easier using the QR code
Online instructions:- https://www.thecockcamera.com/user-manual.html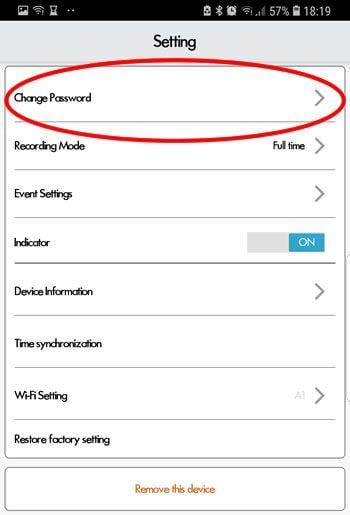 Rather than using Bluetooth the Cock Cam actually acts as a Wi-Fi hub and you need to connect your device to it to use the recording features. This, unfortunately, means you can't go online while using the Cock-Cam.
I found that having the charging cable attached actually made it easier to connect to the Cock-Cam, why that is I don't know. So I recommend this way and then unplug it and fit it into its silicone sheath.
It shows up in your wifi settings as "The_C-Cam_******" The * show the code for your specific camera. This isn't the most discreet name for this type of device, and it means when it is broadcasting anyone will see it as a Wi-Fi network with that name.
Download the TCCAM app to be able to use the camera on your device, you need to use the password provided to connect to the camera before you can access it.
As a security precaution, I recommend that you change the password straight away, this is very easy to do, just click on the cog symbol at the top right on the app you will need to enter the temp password, then enter your new password. There isn't a lost password function so choose your password carefully.
It is straightforward to connect to the app and to add the camera to your device. Follow the instructions by selecting the + and choosing "has not previously connected to router" when you go to the setup device page. You can then click on the next button, but if you are not connected to the Cock Cam on the wifi settings, you will not be able to go any further.
I found it easier to use the online instructions to set the camera up, as they are more detailed, with images to simplify the setup process.
I love the fact that you can add it to more than one device if you want to, the picture is of good quality. I kept it on the high-resolution setting. The night vision is actually rather good, it also records sound clearly.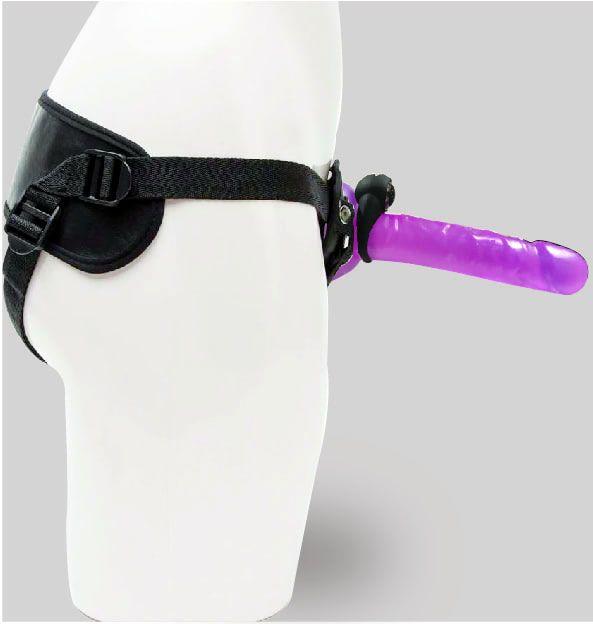 The Cock Cam is fun to fit and use and you don't have to have a penis to enjoy it
In the settings, you can choose to sync the time and date, and it will automatically sync to the device being used. It is easy to start taking video or to take images on both small and full screen.
I found that I couldn't use the button on the bottom left that is to check video and photos taken by the app, as they were saved into my gallery when in the camera mode. Before you go into the camera you have a simple rumpled white sheet on the top of the screen, at the bottom left there is a small gallery button which simply takes you into your gallery.
I cannot find out what the difference in recording mode between off, full time and alarm mean and how to use them, together with the event settings which give you a motion switch on and off and motion sensitivity. It would be helpful to have something in the manual to explain how to use these options.
Additional features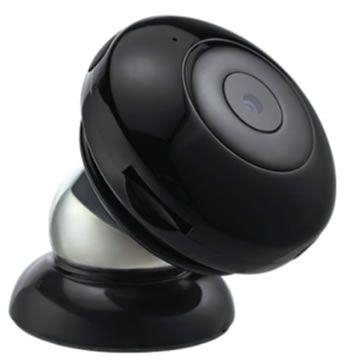 The Cock Cam comes with what I think is an exceptional mounting idea. It has flat stainless steel plates fitted with Scotch 3M double sided sticky pads. You also get a magnetic stainless steel ball bearing and two concave fittings for it. All of these together allow you to fit this camera mount to basically anything.
Just stick one of the plates to a bathroom tile, headboard or even a fucking machine, and you can then fit the Cock Cam and angle it to suit whatever type of shot you want to take.
It is genius and so simple to use. I fitted one of the plates to my Shockspot, and the videos of it in use are far too hot to post here but let me just say they look amazing. Once the novelty of using it as a Cock Cam wears off I can see this camera mount being the one most people will turn to.
Performance
The silicone ring does give a tight fit for those on the larger size, but it is stretchy and soft so shouldn't be uncomfortable, you may need some water-based lube to help get it into place though.
When using the Cock Cam in its silicone sheath, you just fit it to the base of a penis and enjoy the ride. If you have a large belly, you may have to hold the camera at the angle you want though.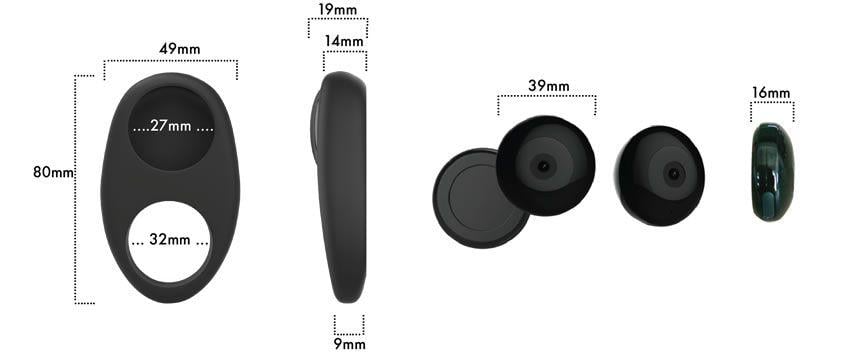 The Cock Cam is a good size and the silicone makes fitting easy
When using it on a dildo, I did find that I had to set it at an angle facing towards the tip. Otherwise, you missed all the action, so play around with the angle before you want to video correctly so that you know the best angle for you, and that you are not disappointed when you later go to view the video footage.
Using the magnetic mount on the fucking machine gave the best results though and the video quality, especially with the nightcam function, is excellent.
We found it highly erotic when having sex with the Cock Cam, knowing that what was happening down below was being recorded to watch later. Sitting back and watching as well as listening to the action is close up afterwards is also very exciting.
Anyone who enjoys close up sex videos will love the Cock-Cam, I love it for its sheer functionality and using the magnetic mount gives so many ways of using and enjoying it.
The Cock Cam from @MEO_TEAM allows for some very kinky recordings of close up action. Yes as its name suggests it's a cam you fit to your cock or a dildo.
Click to Tweet
Key Features
Key features:
1280p HD MP4 Video
6 Infrared Lightless Night Vision Lights
Intergrated Wi-Fi, can be streamed and viewed anywhere
Silicone Cock Ring
Magnetic mounting system included
Final Thoughts
We had an absolute blast with the Cock Cam and can recommend it to anyone who fancies something different. Ever fancied making your own close-up porn? Well now is your chance.
I love the universal mount and it has allowed us to fit the cam to our Shockspot Fucking Machine. The videos made with this are incredibly horny and fun to watch.
Worn of a hard cock, you get the benefit of a cock ring with the added knowledge of your sticky sexy fun is being recorded for future use.
All in all, this is a great product that allows you to dip your toes into close up porn, being able to watch a close up of yourself having sex is so much fun.
Meo yet again has come up with a winner. It makes me wonder what kinky things they are going to stock next. Definitely check out their site if you are looking for the best BDSM and kink equipment out there.
I was sent the Cock Cam by Wolf and Meo.de and I would like to thank him for giving me the opportunity to review it for them.
Joanne's rating
Where Can I Get One From?

Grab one of these fantastic Cock Cams for just 149,00 € (approximately £134.76), it gives you so many opportunities to record your kinky playtime.
Check them out and don't forget to tell them that Joanne says "Hi".
---
---
Disclaimer - I was sent the Cock Cam to review free of charge and this has in no way affected the outcome of this review. This post contains affiliate links and if you purchase something when you follow one of these links I may receive a small commission at no cost to you. For more information check out my disclosure page.