Deliveries from Meo are always swift and very discreet. You can rest assured that there will be no visible indication on the outside of the box as to what lays within. I am always pleasantly surprised at how quickly things arrive from Germany.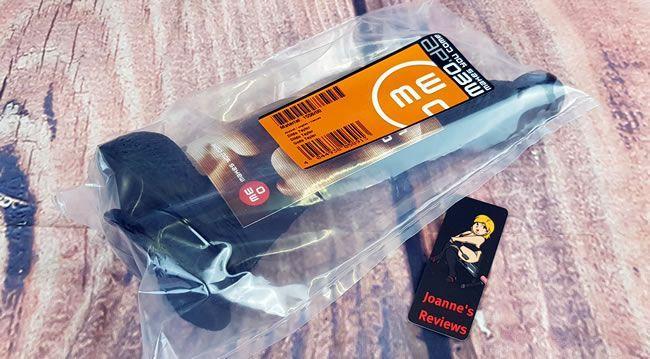 The Taylor Silicone Dildo arrives in minimalistic packaging
The Taylor Silicone Dildo comes in the usual minimalistic packaging solution from Meo. It arrives sealed in a plastic pouch with no fanfare, but I like this approach. Meo's approach to packaging helps to protect the environment and also keeps the costs down which has to be a good thing.
I also love the little flyers that accompany Meo products and this one introduces me to EZ2FUCK a silicone based lubricant under the Meo brand name that one day I hope to try out.
Before I go onto the dildos design and features, I first want to mention its materials. The Taylor Silicone Dildo as its name suggests is made out of 100% medical grade silicone and as such it is both phthalate and latex free while also being non-porous and hydrophobic.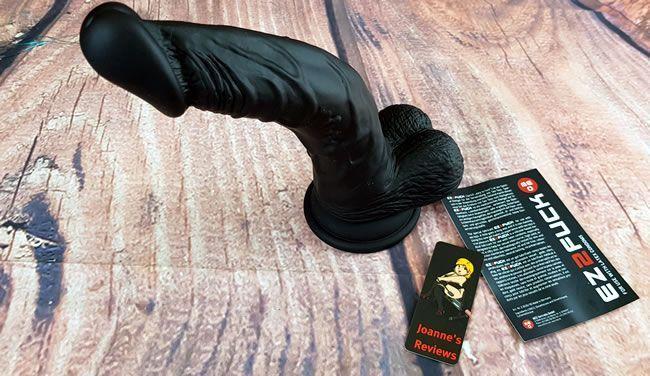 I love receiving the advertising flyers that are included with Meo products
Those last two features (non-porous and hydrophobic) are essential in any dildo as it prevents moisture from being absorbed into the surface of the toy becoming a breeding ground for mold and bacteria. They also make this dildo really easy to clean.
The blend of silicone used is a bit of a dust and lint magnet but that is common to most silicone sex toys and a quick rinse under the tap before use takes care of anything clinging to its surface. It has a good deal of "squish" when you squeeze it and it is also very flexible which makes aligning it with any waiting orifice easy and effortless.
To clean just wash in warm soapy water to loosen off and remove and vag-goo or other body fluids before cleaning with an anti-bacterial sex toy cleaner. You can even put it through your dishwasher on a sterilise cycle. I am in the middle of reviewing Meo's own brand of anti-bacterial sex toy cleaner - VERYCLEAN 2.0 Universal Cleaning Spray so watch out for that review coming soon.

The Taylor Silicone Dildo is very well proportioned and not too large
Design
I love the design of the Taylor Silicone Dildo, I have to admit that I am a bit of a texture Queen when using dildos, preferring dildos that stimulate me as I thrust them in and out. To that end, I like a dildo to have lots of external texture, like veins and a well-defined glans.
The Taylor has it all for me, starting at the tip then it has a well-defined glans that features an accurate representation of the male urethra. The coronal ridge of the glans is very well formed, and this feels divine when drawn over my g-spot giving me lots of extra stimulation there.
This is an uncut dildo, and as such, there is no sign of a foreskin. The coronal ridge has lots of detail under it that you need to pay attention to when cleaning as it is a bit of a vag-goo trap.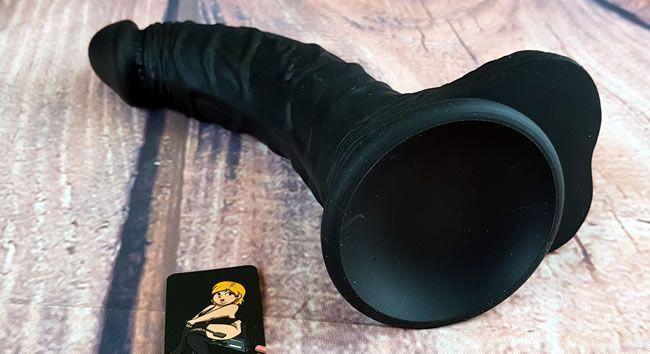 The Taylor Silicone Dildo has a very suction cup on its base
The shaft has an upwards curve and it features lots of well-defined veins, these are subtle near the glans but get more pronounced the further you go down the shaft towards a beautifully sculpted and well-proportioned pair of testicles.
Below the testicles, you have a very effective suction cup. This means you can have so much fun with the Taylor in the bath or shower as well as over or in front of any flat, smooth surface. The suction that it delivers is excellent, and it meant that I could also enjoy the Taylor on one of my fucking machines using a flat plate adaptor.
It is only available in black, and it looks fantastic, but if you look at the surface closely, it does have some imperfections which are probably mould related during manufacture. For me, they are not a problem but have a close look at the pictures to make your own mind up about them.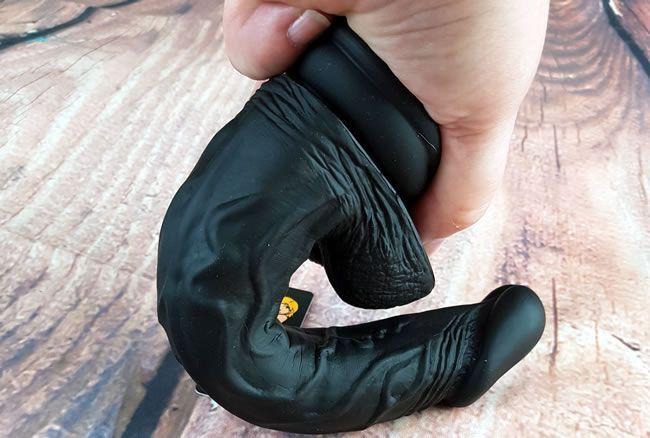 The Taylor Silicone Dildo is very flexible which makes it easier to use on its suction cup
Use whatever lube you like with this dildo but if you are using a silicone based lube then try some out on a small area of the base to make sure that there is no surface reaction.
The Taylor Dildo measures in at 8.7"/22cm long, of which 7"/18cm is insertable. The shaft is 1.6"/4cm in diameter. This makes it an easy dildo to insert, and while I am usually a bit of a size queen, the textures on the Taylor meant that I enjoyed it tremendously.
Performance
This what you really want to hear. Yes it looks great, it has very pronounced surface texture but what does it feel like in use? Is it a toe curler or a turn-off?
I have had a lot of fun with the Taylor Silicone Dildo. I really enjoy both its texture, and its nice size. The upwards curving shaft concentrates all of the delicious sensations generated by the well-formed glans onto my g-spot and thrusting it back and forth over this area has me very wet and has made me squirt.
Using it by hand was a lot of fun, but it was when I fitted it to my Blue Balls XL 2.0 Fucking Machine that I really had a fantastic time with it. The textures feel great when thrusting by hand, but when it is cycling back and forth at almost four thrusts a second, it is hard to describe the level of pleasure that it delivers.

The Taylor Silicone Dildo has a nice length and girth
This is one of the reasons why I enjoy fucking machines so much when using one you can just lay back and experience sensations that no man could ever deliver. Thrusting at the speeds that you can get from a fucking machine feels incredibly intense and squirting for me is almost guaranteed as I get so worked up while using them.
It was the same for sub'r' who also enjoys a good session on a fucking machine. She squirted for the first time when she was introduced to the Shockspot and actually had three hours in tight BDSM bondage while being pleasured continually by that fucking machine. Her legs were like jelly afterwards.
The Taylor feels incredible on a fucking machine, and the suction cup base holds it tightly to the end of a flat plate adaptor even at high speeds.
But it isn't all about high-speed mechanical sex. Using the Taylor Dildo by hand is just as enjoyable but for other reasons. Its flexibility means that even when using it with the suction cup firmly attached to a wall, mirror or even a tiled floor alignment with your waiting orifice is very easy.

The Taylor Silicone Dildo is a lot of fun on a Fucking Machine but also when using it by hand
This flexibility means that it's very forgiving when you ride it, and this makes it the perfect dildo for suction cup fun and games especially when in the shower.
It is also a good option for some anal or even strap-on fun and games. The non-porous nature of the silicone material makes it easy to clean, and the tapered glans makes insertion relatively easy. The textures feel just as good when experienced anally as they do when using it vaginally.
The Taylor Silicone Dildo from @MEO_TEAM offers some really nice texture and a strong suction cup on its base to increase your playtime options.
Click to Tweet
Key Features
Key features:
Made from 100% body safe silicone
Phthalate and Latex free
Strong suction cup on the base
Soft and flexible
Great textures

The Taylor Silicone Dildo is a lot of fun and I have thoroughly enjoyed reviewing it
Final Thoughts
The Taylor Silicone Dildo is another fantastic dildo from Meo, the home of kink in Germany. It is a dildo suitable for anal and vaginal fun, and the textures will appeal to anyone who likes a dildo with a well-defined glans and good shaft detailing.
The suction cup gives you much more play options that just with a standard dildo and it features a good suction cup. I had no problem with it in the shower and also on the end of a fucking machine.
The Taylor Dildo is also suitable for strap-on fun too, so whether you are using it by hand, on a fucking machine or in a strap-on harness, you are sure to have lots of fun when the thrusting begins.
I have no problem in giving the Taylor Dildo a strong recommendation.
I was sent the Taylor Silicone Dildo by Wolf at Meo.de and I would like to thank him for giving me the opportunity to review it for them.
Joanne's rating
Where Can I Get One From?

Grab one of these fantastic silicone dildos from Meo.de for just 49,00 € (£43.75 at todays exchange rate). While you're there be sure to check out their other dildos as they have a huge collection that all look amazing.
Check them out and don't forget to tell them that Joanne says "Hi".
---
---
Disclaimer - I was sent the Taylor Silicone Dildo to review free of charge and this has in no way affected the outcome of this review. This post contains affiliate links and if you purchase something when you follow one of these links I may receive a small commission at no cost to you. For more information check out my disclosure page.