Tantus has long been admired as being one of the first companies to produce nothing but silicone sex toys, and they are to be commended on that. They also create stunning sex toys designed to please the eye as well as the sex organs.
Their attention to detail is fantastic, and that even extends to their packaging, I love the bold colours used, and the box looks almost psychedelic in its appearance.
I just love fancy packaging, and I also like packaging that displays the product inside and why shouldn't it? The dildo itself looks fantastic inside its clear plastic blister packaging within the cardboard box. I could feel myself getting excited as I unboxed it.

I love the way that you can see the dildo in its box
The Flurry dildo is available in two colours, Candy (pink), and Twilight (purple) and both look lovely in the advertising pictures. The colours in real life look even better; this dildo is white at the tip an this fades to a deep purple at the base which is a nice effect.
The Tantus Flurry is the baby brother to the Tantus Cush, and it shares some of its features. Unlike the Cush, the Flurry is a much more manageable 1.5"/3.8cm in diameter giving it 4.7"/11.9cm of girth. Making it a great size for some g-spot fun, and it's great for thrusting, more on that later in the review.
The Flurry is designed to feel realistic, and it does this in a couple of ways. First, it features a glans but this has a double ridge (for added stimulation of the g-spot). Secondly, it has a matt dual density silicone blend.

The two ridges are very prominent and give lots of sensation
It is the dual density that sets this dildo aside from so many others. The firmer core is surrounded by a softer outer coating that has lots of squish to it.
This inner core gives it the feeling of a real cock, in that you can bend it but there is resistance there, and the outer softer coating feels very skin like. Squeezing it in your hand is remarkably relaxing and the dual blends of silicone compliment each other well.
The blend of silicone used (100% Ultra-Premium Silicone as Tantus call it) is body safe, hypoallergenic, phthalate free and super easy to clean. In fact, cleaning is as simple as washing in warm soapy water and then using an anti-bacterial sex toy cleaner. If you prefer you can even clean it in the dishwasher, or you can boil it or soak it in a 10% bleach solution to sterilise it. Like most other silicone sex toys the Flurry is a lint and dust magnet, but that is easily cured with a quick rinse under the tap before use.
It's a small price to pay for safe body materials.

The wide base is great for strap-on harnesses
The Flurry measures in at 7"/17.8cm long and this makes it a well-proportioned toy that is great for thrusting. The broad base also makes it strap-on harness compatible. I have tried it in my Aslan Leather Driver Strap On Harness, and it looks great wobbling around in front of me when I sway my hips.
I am going to talk about how good this dildo feels when using it vaginally, but you can use it just as well anally making it a great gender-free sex toy. In fact, the ridges that make it so much fun to use against my g-spot would also work well on a p-spot too for penis owners.
The soft outer coating makes it a lot of fun to insert; it has some give to it, particularly on the head. That helps you get it in, and its flexibility means that you can thrust with it at any angle with comfort. Use a good quality water based lube to maximise the sensations.

The Tantus Flurry is very flexible
This flexibility doesn't prevent the double coronal ridges from providing excellent g-spot stimulation though. In fact, the ridges coupled with the draggy blend of silicone offers loads of g-spot stimulation, and it feels so good as you slide it in and out. It effortlessly massages your g-spot, and you experience waves of pleasure as you thrust with it. It is probably the best g-spot orientated dildo that I have used so far.
When it's inside, you know its there, the filling nature of it means that you can just insert it and enjoy that feeling of being full. It's a lot of fun to insert when seated and by merely rocking your hips back and forth you can give yourself a real treat.
I love using it by hand and even on my fucking machines where I can just make it rock back and forth over my g-spot for some pretty spectacular orgasms.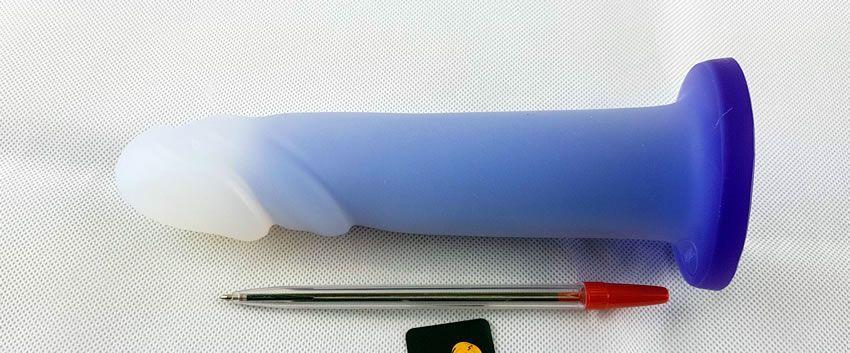 The Flurry is a very proportioned dildo
Using it by hand though gives you the ability to edge yourself for long slow masturbation sessions, and that makes for compelling orgasms when you eventually allow the crest of your orgasmic wave to break through your g-spot. Sending waves of pleasure throughout your body.
My orgasms with the Flurry are robust, reliable and very enjoyable. Its shape is just great for hitting that sweet spot over and over again and it is surprising how much control that you have over this sensation. Just by changing the angle of penetration or the length or speed of stroke you can really maximise your pleasure and if you want to delay orgasm you can rotate the ridges away from your g-spot to lower the stimulation a bit.
I love it when I am just approaching orgasm with the Flurry, and the sensations cause my muscles to tighten involuntarily. That creates even stronger g-spot sensations that quickly send me over the edge, and it is something that I love about this dildo.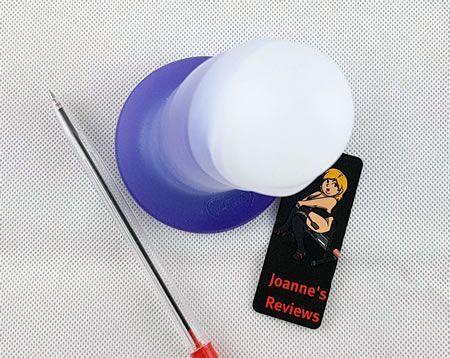 I head with its double ridges is a great design
I am writing this review while away from home on a short break, and the Flurry is the only sex toy that I have brought with me. It's great for taking on holiday too, as there is no need to worry about a battery powered device operating in your suitcase. There is a lot of being said for simple dildos when travelling.
All in all, I am very impressed by the Tantus Flurry, and it has given me a taste for Tantus toys now, and I can't wait to experience some more of them.
The Tantus Flurry is a cracking g-spot dildo but it's a toy that can be used by all genders for some great sensations. @TooTimid
Click to Tweet
Key Features
Key features:
100% body safe silicone
Two ridges for added stimulation
Dual density for better performance
Strap-on compatible
Final Thoughts
I love the Flurry; it was everything that I was expecting it to be and more. Its blend of silicone is just right to give it that real feel I like in dildos and the double ridges feel incredible against my G-spot. If you want something with more girth, then check out the Tantus Cush. Even though I usually opt for larger dildos, this one for me is a 'Goldilocks' dildo, it's not too narrow, and it isn't too girthy, it's just right.
I was sent the Tantus Flurry by TooTimid.com to review in exchange for a fair and honest review and I would like to thank them for giving me the opportunity to review it for them.
Joanne's rating
Where Can I Get One From?
Grab one of these fantastic dildos from the TooTimid.com site for just $49.95. That is a great price for a body safe silicone dildo with this much potential. I can recommend its use to all genders as it is just so versatile.
Check out the rest of the range of products including one of my all time favourite vibrator, the oh so cute Penguin from Satisfyer at TooTimid.com, they have some great special offers and a huge range so there is something for everyone.
Check them out and don't forget to tell them that Joanne says "Hi".
Disclosure
This review does not contain affiliate links, for more information about affiliate links check out my disclosure page.