A e-stim masturbator that is shockingly good fun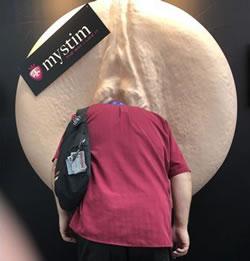 Stunt Cock here again for another penis centric review for Joanne. We have both had our eyes on the MyStim Opus E for ages now. There just don't seem to be any decent reviews of it around the net.
Having enjoyed meeting some of the MyStim staff at Erofame this year, I was delighted when they got in touch afterwards, asking if I would be interested in reviewing one of them. I think it was my "head in a vagina" stunt that swayed them.
"Orgasms when using it as an e-stim electrode are hard and ball crushingly powerfull. The first time I came using it as an electrode, I thought I had done myself some damage as I came so hard that my balls were aching afterwards."

Stunt Cock
I didn't have to wait long for the postman to bring me one to enjoy, I mean review.
So, if you fancy the idea of using a masturbator with a shockingly good extra feature then read on to see what I thought of it.