For BDSM clamping and stimming of the labia
After having so much fun creating my DIY Clitrode I decided that making DIY eletrodes is something that I want to explore and as I now own a 3D printer many more opportunities for doing so have just sprung up. My next electrode is a BDSM pussy lip clamp that can also be used for e-stimming.
It was inspired by the amazing creations of @_DeviantDesigns (Check out their Patreon Page and show them some love), in particular their pussy clamp EM60 mounting box. Check out some of their incredible creations here - There's no limit to the connected sex toys you can build at home.
So, as I am learning 3D design the hard way (trial and error), this was a huge leap forward for me and I decided to create a basic pussy lip clamp that uses two 6mm bolts. The center piece would have teeth to aid in grabbing the skin and preventing it slipping off due to lube and vag-goo. The outer sections are designed to hold two lengths of 6mm conductive rubber tubing.
This rubber tubing will have a wire threaded through it to remove any resistance issues with the rubber and to ensure there are no hot spots. In use it is deisgned to clamp the labia and then allow for you to attach the rubber tubing to your e-stim control box for some added 'stimulation'. It should be a lot of fun, especially in BDSM scenes.
This was the first prototype design, the little icons at the bottom of the pic show how many steps it took to sculpt in 3D using Fusion 360: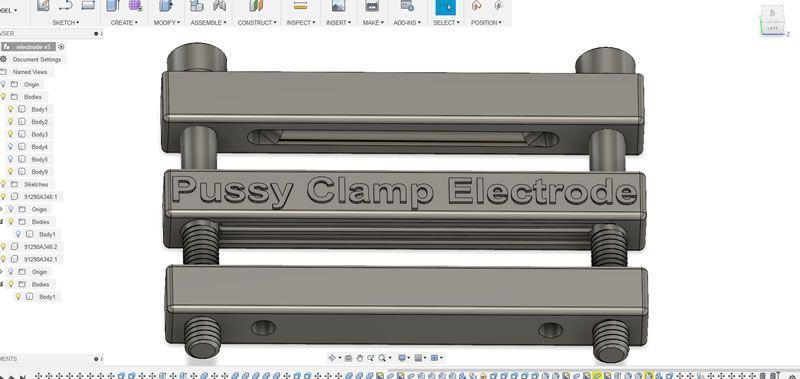 Here is a sneak peek at the design I have drawn in Fusion 360