I have no idea why no-one has thought of offering this service before. It seems an obvious one to me as it enables more people to enjoy this amazing machine.
I rented a Sybian for three days from www.fmachinefun.co.uk and in total the price was £145. This is great value for money considering the cost of buying one. This includes the delivery and collection of the machine (£40 by Interlink Express) together with a Medium attachment. I got to keep this attachment at the end of the booking.
When you see that the attachment alone costs £44.95, it meant that the machine was in fact £20 a day. As I now own the medium attachment it will be even cheaper to rent one again in the future. I do intend to rent one again as it'is amazing, but more on that in a moment.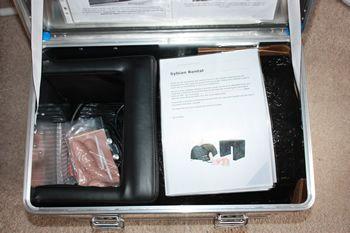 The machine arrived in a hefty aluminium transit case. This is secured by two combination padlocks which means you can lock it away from prying eyes.
This transit case carries no indications about its contents (thankfully). The package was delivered by Interlink express and they gave me a one hour delivery window. This meant I didn't have to wait around all day. But it also meant that closer to the delivery time I found myself getting more and more turned on though LOL.
I was given the combination codes to the padlocks when I made my booking and once unlocked I could open the case. The Sybian is very snug inside the box to prevent it moving around. It's securely covered in a layer of foam to prevent it moving around.
The box contains the Sybian, its matching stool, a medium insert, a set of 'Red Risers', a power lead and paperwork. It also has everything necessary for its return trip. The return packing label is also enclosed inside a sticky plastic window ready to be affixed to the outside of the box. All in all everything was pretty much well thought out and professional.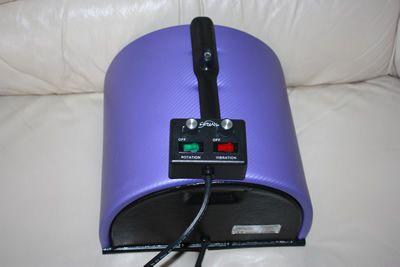 The instructions are a bit daunting and heavy reading. But having read up on the machine before its arrival by downloading the manual I knew the basics. The manual can be downloaded from the fmachinefun.co.uk website by following this link: MANUAL
The Sybian doesn't need any tools to get it set up and running and its very quick and easy to get it ready for use.
Assembly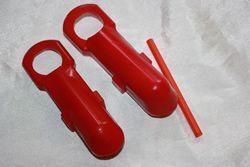 There isn't a lot to talk about here with the exception of the 'Red Risers'. You just remove the Sybian from the box and then you plug the power lead into it.
You then fit the medium attachment onto the top of the machine. With the medium attachment you get a spring and white plastic rods. These are first fitted to the top of the machibefore to sliding the medium attachment over it. Their purpose is to move the insert around inside your vagina stimulating your 'G' spot. The spring gives softer movements and the white rods gives a firmer rotation that you can feel more.
The 'Red Risers' can be fitted between the top of the machine and underside of the attachment. Their purpose is to alter the alignment of the attachment and your clitoris.
It basically raises the knubbed area of the attachment causing more pressure on your sensitive bits. Trial and error will let you know if you need to fit them or not - I didn't.
Operation
Onto the best bit. The Sybian has two controls and these are rotation and vibration, each has its own power switch. The controls are very smooth and responsive. Once you switch each function on you turn the dial until - well I think you can imagine what hapens next.
Included Attachments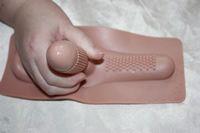 The Sybian arrived with a medium attachment. Others can be added to your booking if you need something with more length or girth.
I found the medium attachment to be the ideal size for me as this was my first time on a Sybian and I was nervous.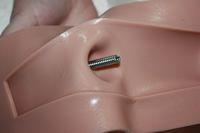 It features a ribbed phallus that you insert into your vagina or anus. It also has a very bumpy section which coincides with where your clitoris sits when you ride the machine.
As already mentioned you can raise the clit stimulator section by using the Red Risers if needed.
Performance
This machine is in a league of its own and it does live up to its enviable reputation. It literally drags orgasms out of you and I couldn't walk after using it the first time. My orgasms were so strong that they didn't center on my vagina or clitoris.
I felt that my whole lower body was contracting with my orgasms and that felt incredible. It's hard to describe the feeling when you straddle this beast and crank up the power. Your whole lower body vibrates.
Check out my YourTube video of it in action.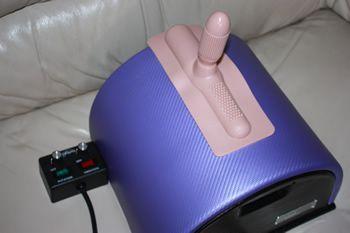 I came extremely quickly on the Sybian and actually squirted for the first time in my life (Yay for me). The vibrations are so strong you tend to lose focus on everything that is going on around you. All that you can feel and is the throbbing of your clitoris as it gets vibrated into an high state of arousal. Even your legs shale and wobble as it's just so powerful.
One word can be used to describe orgasms on the Sybian - Mindblowing. It really surprised me when I squirted, it was an extremely liberating event for me.
My partner loved watching me use it and enjoys taking the controls from me and teasing me. I even took him inside me alongside the attachment in the doggy style and neither of us lasted very long at all.
His comments - "Your whole pussy was vibrating and my balls were resteing on the machine. They took the vibrations as well - top notch, I want to do that again". That sums it up then coming from a man of few words LOL.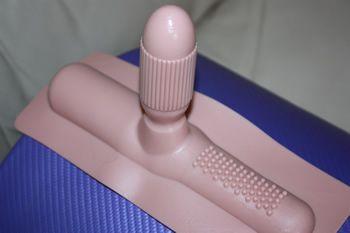 The only downside to the Sybian and it will be a biggie for some is that it can get very noisy. Using it on a soft surface like a bed or folded duvet on the floor helps though. But you might want to think twice before renting one if you are living in an apartment with wafer thin walls. Or the neighbours could get a noisy treat LOL.
Would I recommend the Sybian - " Oh Yes". It's the best sex machine I have ever tried to date and I am actually saving up to buy myself one now. The best thing is that www.fmachinefun.co.uk will give me half of what I paid for your rental off as a discount if you then go on to buy one - bonus.
Joanne's rating
WHERE CAN I GET ONE FROM?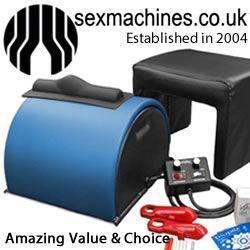 sexmachines.co.uk

This is the site that has an amazing array of Fucking Machines and Sex Machines. They are a firm favourite of mine for their customer service and great down to earth attitude. Nothing is too much trouble and they are very helpful. They are also a great source of information on sex machines in general.
Check them out and don't forget to tell them that Joanne says "Hi".