Now, using a sex toy that hasn't been cleaned effectively is akin to having sex without a condom. You are leaving yourself exposed to germs and bacteria that have built up on the surface of the sex toy if it isn't clean.
While washing a sex toy in warm soapy water does effectively clean it of vag-goo and other body fluids it won't kill the bacteria living on the surface. That is where anti-bacterial sex toy cleaners come in.
Most are designed to be sprayed onto a sex toy and then rubbed over it effectively killing any bacteria present, and there are lots of manufacturers out there selling their own take on this sort of cleaner.

The 0.25oz 7.5ml bottle is the perfect size for toy bags and to test this product out
Swiss Navy took a different approach to the problem of cleaning sex toys. While others effectively clean a toy, they do not prevent any bacteria or mould from growing on the sex toy while it is in storage. Let's face it if a sex toy is slightly damp when you put it into its bag or box then you have provided the perfect condition for nasty things to grow.
Ingredients
Ingredients: Water (agua), Propylene Glycol, Polysorbate 20, Phenoxyethanol, Melaleuca Alternifolia (Tea Tree) Leaf Oil, Lavandula Angustifolia (Lavender) Oil.
Swiss Navy also have a fungicide as an ingredient, and this prevents things from growing on your sex toy in storage, and I think that this is fantastic.
Easy to use
To use just spray the Swiss Navy Toy & Body Cleaner onto your sex toy after use before rubbing it in. Then rinse it off and let it dry before placing your sex toy into storage.
However, I prefer to wash any vag-goo or body matter from the sex toy before using the anti-bacterial cleaner as basically, I can then use less of the anti-bacterial cleaner making it go further. If you are in a hurry though you can just clean your sex toy using the Swiss Navy Toy & Body Cleaner before rinsing and drying.


The 0.25oz 7.5ml bottle is the perfect size for carrying in a handbag or inside a toy bag
If you don't rinse it off your sex toy after cleaning it, then you may get a slightly sticky texture on the surface after the Swiss Navy Toy & Body Cleaner dries. This can make you feel a bit dry when next using the toy so make sure to rinse off after cleaning your sex toy.
It really is as simple as that. It gets better though as this blend of ingredients also makes cleaning yourself up after play an easy process you can clean surfaces with it as well as your hands and fingers. This is an excellent feature if you enjoy multiple partners as you can quickly clean your hands between play partners.
I have a sample bottle, but when you buy the 6oz/177ml bottle, it comes with a fantastic pump dispenser that really makes the product mist as you spray it over your sex toy.

The 6oz bottle is much more cost effective than the smaller bottles
It has a light Lavender smell, and that makes a nice change from other cleaners that I have used that smell of chemicals.
Swiss Navy Toy & Body Cleaner is latex, rubber and silicone compatible so you can use it on any sex toy.
It even breaks down silicone lubricant well which is why I sometimes use it for cleaning my fingers after applying silicone lube to myself and my sex toys. It is indeed a fantastic all round cleaner.
I have used some on a cloth to clean myself after a play session with silicone lube too. Both sub'r' and I have used it this way, and we have sensitivities down there, neither of us had any adverse reactions to Swiss Navy Toy & Body Cleaner. After cleaning with it, both of us felt clean and fresh.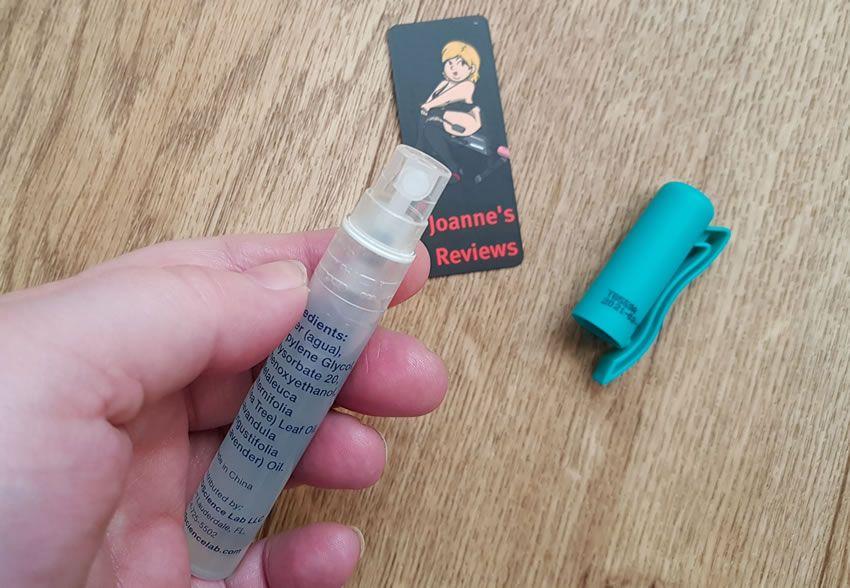 The 0.25oz 7.5ml bottle has a well designed pump dispenser that easily atomises the cleaner
A bottle of @UseSwissNavy Toy & Body Cleaner goes a long way and it's great for use on sex toys or for cleaning yourself up after a sticky play session.
Click to Tweet
Key Features
Key features:
Great pump action bottle that makes dispensing easy
Easy to use
Light fragrance
Effective and easy cleaning
Final Thoughts
As sex toy cleaners go this one is both easy to use and also very effective. I love the light fragrance and how well it acts as a hand and intimate area cleaner.
The small sample bottle that I have been using is perfect for keeping in a toy bag but the larger 6oz bottle is even better though. The spray nozzle produces a fine mist and it is easy to target areas of a toy that needs extra attention.
The Swiss Navy cleaner is effective and a great product, I have no problem in giving it a strong recommendation to anyone looking for a great sex toy cleaner.
I was given a sampel bottle of this cleaner to review by Swiss Navy I would like to thank them for giving me the opportunity to review it for them.
Joanne's rating
Where Can I Get One From?
Grab one of these fantastic bottles of cleaner from Swiss Navy in the US for just $11.99 for a 6oz bottle.
If you are in the UK then you can get a sample bottle like the one I have reviewed from Anne Summers for £10 or the 6oz bottle for £25.
Check them out and don't forget to tell them that Joanne says "Hi".
Disclosure
Disclaimer - I was given a bottle of Swiss Navy Toy & Body Cleaner to review free of charge and this has in no way affected the outcome of this review. This post contains affiliate links and if you purchase something when you follow one of these links I may receive a small commission at no cost to you. For more information check out my disclosure page.