Packaging
I have reviewed a number of sex toys from So Divine and I have been impressed with the packaging of all of them. The boxes are designed to clearly give advice and instructions and whilst you don't need many for a toy like this one - "Lube up and slip it inside" would suffice I guess, it does carry come pertinent information about its materials.
Features
The first thing that I am going to comment on is the fact that this butt plug is made out of platinum cure silicone and as such it is phthalate and latex free which is good news for anyone with allergies.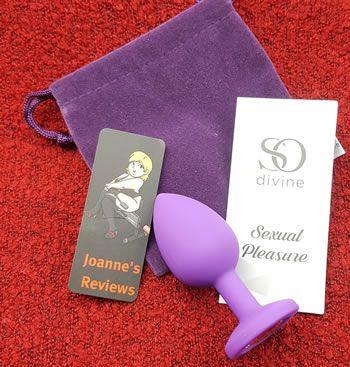 Silicone is my go to choice as a sex toy materials as it feels so nice, is non porous and it hypoallergenic. The blend used in the Sweet Sensation Booty Plug is very soft and it isn't a lint and dust magnet as some blends can be. I was really impressed by the material, there is a little bit of give when you squeeze it.
The next plus point from my perspective on this toy is its size, it's a small butt plug measuring in at only 3 inches long with 2.5 inches being insertable and it is only 4 inches in diameter at its widest point which makes it ideal for anyone new to anal fun and games or who is just tight back there like I am. it is a very comfortable fit for me and I have worn it for long periods of time and thoroughly enjoyed it.
It features a very nicely tapered tip which makes it easy to insert whilst the base is nice and wide to prevent accidental trips to A&E because it has slipped inside you completely. This base features a nice gem which is a very nice feature and looks amazing when fitted. This gemstone can be removed to make cleaning the butt plug very easy. You can simply use a 10% bleach solution, boil it, place it in the dishwasher on a sterilise setting or just use warm soapy water followed by an antibacterial sex toy cleaner. Simply clean and dry it then re-insert the gemstone before putting it away again for future use.
It comes with its own storage bag which is a nice feature you don't often come across with a sex toy as cheap as this one.
The Importance Of A Flared Base
Just a quick pointer from me as to just how important flared bases are when considering anal toys. The flared base has just one real purpose and that is to prevent the toy from moving inside you on its own or under the contractions caused when you orgasm. You would be surprised at how easy it is to lose something back there and that would mean a very, very embarrassing trip to the hospital to have it removed. The base should ideally be wider than the widest point on the toy and that is the case (just) with this toy, a little bit of extra girth would have been nice but I have found this butt plug to be very comfortable and I had no signs of it slipping inside deeper than it should be.
Wearing The Booty Plug
Always use plenty of water based lube with a butt plug and remember to never use a silicone based lube on a silicone sex toy. Apply plenty of lube to the butt plug and also to yourself. I find that slipping a finger inside to push some lube internally help a lot with insertion. Place the tip of the plug against your anus and apply gentle pressure. Never try to force things inside, when you relax you will naturally open to take the plug and this feels amazing especially when it 'pops' into place. This feeling isn't as pronounced as with other bigger plugs but it feels nice none the less.
I often find butt plugs hard to insert and that's probably because I am nervous and not relaxed enough but I had no troubles at all inserting this one. It felt soooo good inside me and I often wear it around the house and especially if I fancy some anal fun and it is a nice toy to warm up with.
When in place you can hardly notice the neck, you just get a nice full feeling.
Sex Whilst Wearing A Butt Plug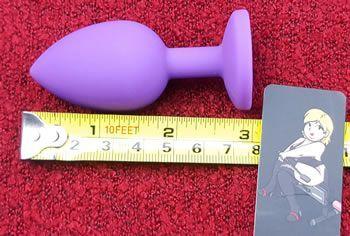 If you have never had sex whilst wearing a butt plug where have you been? It is something that I can highly recommend as both you and your partner will love it. A butt plug causes your vaginal canal to feel much tighter and your partner will love it, the bigger the plug the bigger the effect. It can really make the sparks fly when you both get going.
It is also a nice piece of bling for your partner to enjoy when enjoying some doggy fun and its a great turn on when I surprise my "Stunt Cock" by wearing it and flashing the jewel to him.
This is the perfect size for me for long term wear or as a way of warming myself up for a bigger plug or anal sex. Anyone who regularly enjoys anal sex may find it a bit small for them but for a beginner or someone just wanting to experiment with backside play then this is the perfect starter plug.
Key Features
Key features:
Quality product
Body safe silicone
Small diameter
Waterproof
Removable gem
Final Thoughts
In summary this is a very nice butt plug for beginners or just for someone looking for a very comfortable plug that doesn't stretch them too much. The fact that it has the gem in the base is a nice touch and it looks great as a princess type plug and your partner will enjoy the sight of it. The silicone blend used makes it a bargain for the price, it feels great, is comfortable to wear even for extended periods of time and it's really easy to maintain and clean.
I really can't see any negatives with it and if they brought out a bigger brother for it then that would make a great addition to the So Divine range of sex toys.
I was sent my Sweet Sensation Booty Plug by SoDivine.com in exchange for a fair and honest review and I hope that you have enjoyed reading this review and that is has hopefully left you curious to try one out for yourself.
Joanne's rating
Where Can I Get One From?
Grab a Sweet Sensation Booty Plug for yourself from So Divine for only £8.74 which is an absolute bargain at that price.