Delivery and packaging
This vibrator came straight from Svakom, and it arrived in a non-descript box discreetly. I couldn't wait to see what was inside, and I was delighted when I cast my eyes over the Svakom Siren packaging.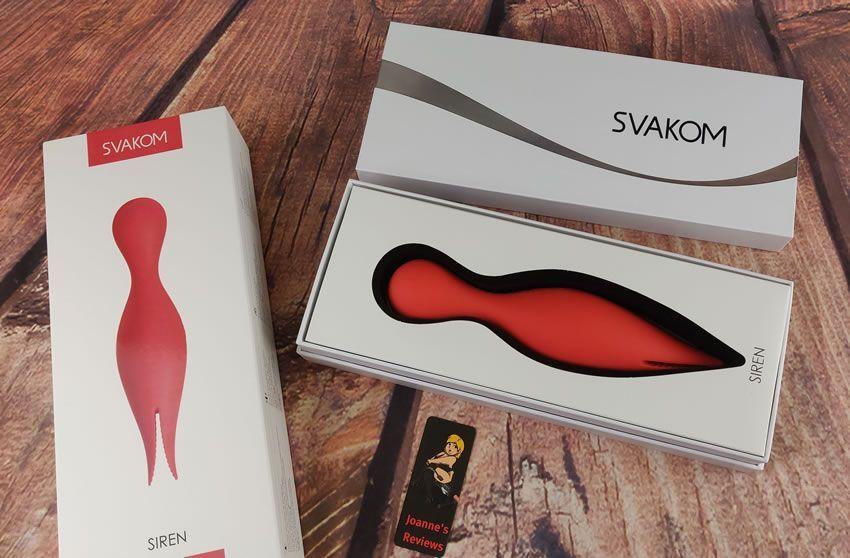 The packaging of the Svakom Siren is very nice indeed
It is very nice indeed, with a white theme with red branding and a picture of the Siren on the front. The rear of the box carries loys of information, but it was what was inside the box that interested me.
Upon removing the lid, I got my first look at the Siren nestled in a foam packing piece with a cut-out the same shape and size as the Siren. Very nicely done Svakom, first impressions were very good indeed.
I got everything out of the box. You get the Siren, a magnetic charging lead, lots of informational booklets and a delightful branded storage bag that is excellent quality.

I love the fact you get a nice branded stroage bag with the Siren
Design and materials
The Svakom Siren has a great design that immediately grabs your attention. With its bulbous base, narrow midriff and those two tempting tongues, it elicits a curiosity that can only be settled one way.
The Siren features two motors, one in the base delivering five different modes of operation and five unique patterns to choose from. That gives you twenty-five different settings to explore and enjoy. The bulbous base is a delight to insert, and it really does provide some very lovely g-spot pleasure.

The shape of the Siren is very interesting and also very functional
The other end of the vibrator has those two tongues or lips that vibrate and quiver in an almost blur. This end has three different styles of stimulation, and it really packs a punch. Direct contact with my clitoris is almost too much for me. But, cradle my clitoral hood in between those tongues, and I am in heaven.
The textures on the inside of the tongues also feels nice if you push it up and down your clitoris, almost jacking off using it.
The Siren is rechargeable, and the enclosed charging cable has a plug that pushes through a hole in the silicone to charge the toy up. A full charge takes only two hours, and that gives you up to three hours of playtime depending on what power settings you are using./p

The charging cable is held firmly in place while charging
It is also waterproof, which means it is ideal for some clandestine "me time" in the bath or the shower where you can relax and enjoy yourself with it.
Controls
The Siren has two buttons, these operate each end of the toy, pressed and held in together they operate the travel lock. This is a nice feature if you are travelling, so it won't come to life at an inopportune moment.
Performance
My first masturbation with the Siren saw me firing up the tongues and placing them on my clit. I almost hit the ceiling as it is so powerful. I can enjoy it directly on my clit once warmed up but prefer to tease myself with it first.
Placing the tongues over my clitoral hood and sliding it up and down feels incredible. The vibrating tongues are complimented with the inner texture to really have me gripping the sheets. I can easily orgasm using the Siren in this way.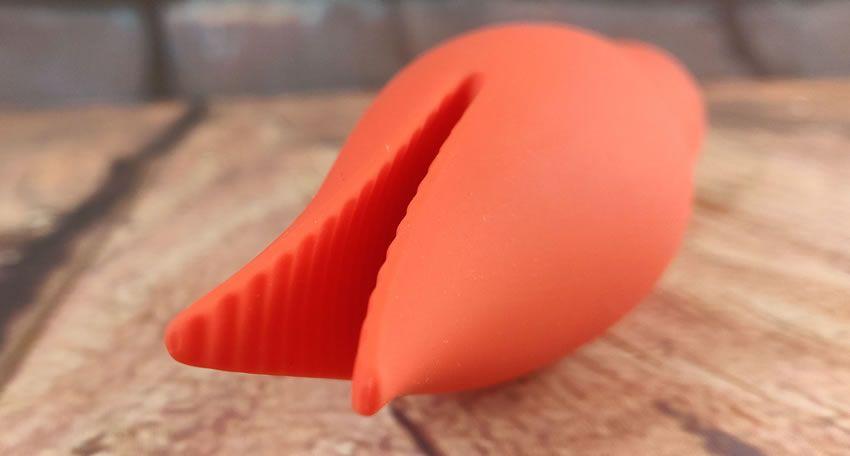 The texture inside the twin tongues makes them even more fun
But, it is so much more than just a clitoral stimulator. Inserting the head into my vagina felt very nice, those tongues being compressed by my vaginal walls really feel good.
By twisting it and lining them up with my g-spot, it gives me pleasure, unlike any other vibrator I have tried. The round base makes holding it and thrusting with it an easy task.
However, it isn't all good news, the two buttons which are low profile are in fact tricky to find and operate when the toy is in use. It is something you do get used to, but it takes a few goes to get competent with operating it smoothly.

The controls are a little bit tricky to use when playing with the Siren with slippery fingers
I also enjoy thrusting the base into my vagina, the rounded shape and narrow neck feels sublime when it is inserted and drawn out again. I enjoy long slow fucking sessions this way and then when I am ready to come I switch to the other end for a swift and happy finish.
I love the blend of silicone used by Svakom on this product, it is a little draggy, and that makes it feel very nice as you thrust with it. Like most silicone sex toys, it is a bit of a dust and lint magnet, and I am glad that it comes with a storage bag. This makes it easy to keep clean and ready for your next play session.
The Siren is a quiet vibrator, and that makes it discreet and ideal for anyone in a busy household or shared accommodation.
The second time I used it was in the bath, and that was a lot of fun. An orgasm came very quickly with the warm water lapping between my legs as I was using it. The tongues feel incredible underwater, and it also makes the toy even quieter when used this way.

The proportions of the Svakon Siren are really nice
The Siren is also ideal for couples to play with, used on nipples where the tongues can really delivery some pleasant sensations. Male or female, nipples love some playtime, and this vibe makes that very interesting.
I also used it on Stunt Cock down below, and he enjoyed having it played with around his frenulum where the vibrations could target this sensitive spot. He liked it and enjoyed having me use it on him, but he probably wouldn't use it on his own.
We both enjoyed reviewing the Siren, it is a little powerhouse, and if you enjoy intense clitoral stimulations, it is definitely one to consider.
The Siren vibrator from @svakom_usa is a delightful blend of clitoral vibrator with its delightful tongues and a g-spot vibrator with 25 settings.
Click to Tweet
Key Features
Key features:
Delightful dual vibrating tongues
Three vibrationg settings for the tongues
Twenty Five different settings for the bulbous base
Reachargeable
Waterproof
Body safe silicone
I would recommend it to:
Anyone who enjoys strong clitoral stimulation
Anyone looking for a quiet yet powerful sex toy with two styles of play
Anyone looking for a body-safe vibrator
I wouldn't recommend it to:
Anyone with a very sensitive clit who is averse to strong clitoral stimulations
Anyone who likes pinpoint stimulation
Final Thoughts
The Svakom Siren is another fantastic offering from this great company. It is both body-safe, and it packs a punch. I was delighted with the sensations from the double tongues, and it can be very intense even on the lower setting.
Having a great way to give good clitoral play coupled with a vibrator that is also great for thrusting is a real treat. Both ends deliver a completely different play sensation.
This is really two toys in one, and for that, it gets a strong recommendation from me for its performance and of course its excellent pedigree. I love Svakom sex toys, they are delightful and so much fun.
I was sent the Siren by Svakom and I would like to thank them for giving me the opportunity to review it for them.
Joanne's rating
Where Can I Get One From?
Grab one of these cracking little vibrators direct from Svakom for just $109.00 which is great.
Check them out and don't forget to tell them that Joanne says "Hi".
Disclosure
This review does not contain affiliate links, for more information about affiliate links check out my disclosure page.