Delivery
Once again I was left feeling very special when I opened the nondescript box that the flogger arrived in to find a presentation box inside containing the flogger.
I am always blown away by the packaging used by Kink Craft. Your erotic adventure begins the moment you open the box when you receive something from them.
The quality presentation box is a great touch and makes this an ideal present to give to someone that you really care about. When you lift the lid on this presentation box you are greeted with tissue paper lovingly folded over your new Flogger, it really is very nice touch.
Features
Upon opening the gift box you are greeted with the lovely smell of suede leather and this flogger really is a thing of beauty. It is available with Black, Blue and Purple suede but Kink Craft also have a range special edition suede colours to the range and these change as and when they can get their hands on suede of a suitable quality.
The wooden handle is turned on a lathe and is very well varnished. It has a warm colour and feel to it, I love wood and wish that more sex toys used this amazing natural material. You have the choice of three handle styles, these are Classic, Chic and Funky. The different handles and colours available give you a great choice of styles for your flogger when you buy one from Kink Craft.
The handle is approximately 7 inches (18cm) in length and is 1.5 Inches (3.8cm) in diameter and it features a stainless steel hanging loop on its end. This hanging loop has a great in built feature as if you press in on the plunger at the end you can remove the hangar completely for those who want a rounded handle when playing - you know, maybe for vaginal penetration (rolls eyes nervously and whistles out loud whilst blushing).
After that last statement I guess you now know that I gave it a very thorough testing and yes you can do that but trust me if you do then use a condom on it as it is quite fiddly to clean if you don't. Anyway enough about my depraved kinks on with the review.
The Wooden handle fits nicely into the hand, is of a good weight and is finished really well, so it not only looks good but it's also shaped to make it very easy to hold no matter how hard you want to swing it in use.
The purple suede feels very soft and luxurious, with the flogger made up of 26 soft thick strands and these feel great against your skin. Each strip of suede is approximately 17 inches (44cm) long. Depending on your mood you have the option of just gently teasing someone, or if you want to really add some power to the whipping you can and it really slaps well with a good swing. This is a very nice suede flogger for any collection wether it be your own of for use in a dungeon setting, this is definitely a good one to consider owning.
Kink Craft have this for sale for £70 on their shop and that is good value for money for a product of this quality and they also plan on providing it in kit form as well in the very near future. Having already made up two of their kits I can attest to the enjoyment that can be had from making something truly unique yourself so I expect that this will be a popular addition to their range of kits.
Use
I have had a lot of fun using it both softly, just teasing with it and also being a bit more foceful you can use it on a partner or even on yourself. I really enjoyed inserting the handle and then whipping my clit with the ends of the suede strips. Let your imagination run wild and you can soon come up with some great uses for it.
It delivers a lot of different sensations depending on how you use it and it is great for an enthusiastic amateur like myself but someone more familiar with BDSM equipment could really go to town with it - watch out subbies you are in for a treat if you get one for your dominant partner.
It sits well in your hand and the handle is very easy to hold and use with the texture on 'Funky' the handle providing excellent grip even with lubed up fingers.
Performance
I really can't fault it in any way at all. It does exactly what is asked of it and it looks and feels very sumptuous indeed. I enjoyed using it on my Stunt Cock as well as having him dominate me with it.
Using it on its own is also a lot of fun but I really enjoyed using it together with my other items from Kink Craft, my Nipple Sticks and Paracord Cuffs.
The suede felt particularly good when used on my breasts and nipples when they were clamped. The combination of natural wood for the handle and really soft suede make for a very luxurious high end sex toy.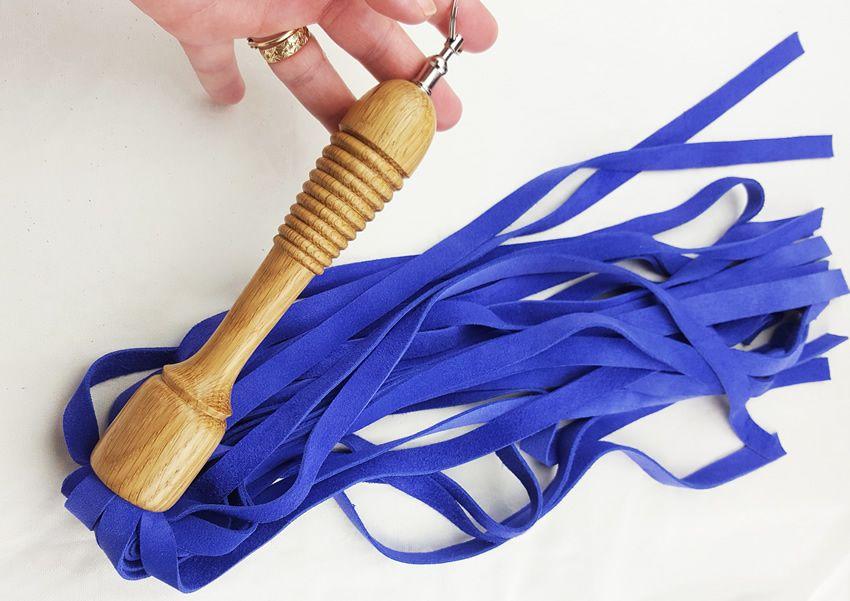 Key Features
Key features:
Choice of three core colours and special edition colours as well
Choice of three handle designs
Excellent quality
Arrives in a nice box
Removable hanging loop
Final Thoughts
Kink Craft have done it again, another superb product to add to their range of kits and products. For those of you looking for stylish BDSM equipment for use at home or professionally then look no further. Check out their site and extensive range of Kinky products and either get yourself a ready made item or try one of their fun kits to produce something truly unique.
Recommendations
I would recommend this sex toy to:
Anyone looking for a stylish suede flogger.
Anyone looking for a nipple clamps that are not too harsh in use (initially).
Anyone looking for a nice way to tease yourself or your partner.
About KinkCraft
KinkCraft are a UK company born of the desire to be able to teach others how to create useful and kinky sex toys easily, with minimal fuss through the use of high quality instructional videos. They want to show you how to make their kink rather than having you read how to make it.
Their range of kinky products is constantly growing as this review attests and what I love about them is the focus on handcrafts, kinky ideas and quality materials. Anyone can grab one of their kits and produce some extra-ordinary items. I know what I am talking about here as I have already made two of their kits and loved every minute of doing so. Their kits have instructional videos and I found them to be very professionally made and allow you to view and rewind them over and over again so that you never miss a trick or step and even the most complex of knots are easily explained. This is invaluable when you are making one of their kits.
They have an excellent range of paracord based kinky items that are a lot of fun to make and use.
Their mission is quite simply:
If there is one thing better than really good kinky toys, it is really good kinky toys you made yourself.

We want to teach you everything you need to know to make your own toys and have a lot of fun doing it.
Having made up two of their kits now I can attest to the fact that they are both fun and very therapeutic to make and they give you an immense sense of satisfaction when you view and use the finished product.
They also sell ready made items for anyone who hasn't got the time or energy to make up the kits, this is one of those ready made products as was the set of Nipple Sticks that I reviewed.
Joanne's rating
Where Can I Get One From?
You can get this Suede Flogger from KinkCraft.co for just £70. This is a very good price for a flogger if this quality.
I was sent this flogger in order to review it and this review doesn't contain any affiliate links.
I would love to hear what you thought of this review. What can I do better, what did you like? Let me know in the comments form below. Thank you for taking the time to read it. Joanne xx