DELIVERY & PACKAGING
My lube order was delivered quickly and in a plain brown cardboard box with no indication as to its contents, which is good as my postie got my neighbour to sign for the package as I was out when it arrived. It came via Royal Mail Signed For Service which was good as it meant that it wasn't likely to disappear with my name and address on it. I always worry when ordering sex items online but needn't have as every time that I have used the services of FmachineFun.co.uk I have always found them to be very professional and speedy.
Upon opening the package I was greated with the sight of my bottle of SPUNK LUBE together with some sample sachets of the other lubes in the SPUNK LUBE range. These are SPUNK LUBE Hybrid - the original lube (its colour and consistency is how the range of lubes got their name) and SPUNK LUBE Silicone which is an all silicone lube. It was a nice touch to have been sent the other samples as it meant I could compare the three types of lube.
This lube is available in a number of sizes and I opted for the 8oz/236ml bottle and it comes in a plastic bottle with a handy pump system on the top that can be locked closed and twisted to open. The bottle comes with a nicely designed wrap that carries the product information and its very strong branding. It also highlights the fact that this lube is Glycrein Free.
INGREDIENTS
Everyone should be aware of what products go into their lubes, there are a lot of brands that use some pretty nasty chemicals but I am delighted to say that SPUNK LUBE doesn't contain any of them:
Cyclopentasiloxane: This is a type of silicone often found in hair and skin products. It is used as a binding agent and lubricant as well as helping retain water and add a shine to the skin.
Cyclohexasiloxane: Same as above.
Dimethicone: Another silicone based polymer, FDA approved and used to make products more spreadable, like lotions and creams and of course, lubricants.
Propylene Glycol: Used as a preservative as well as being used to keep things moist, this ingredient is generally considered safe by the FDA.
Hydroxymethyl Cellulose: Used as a gelling or thickening agent. FDA approved.
Methylparaben: Used as a preservative and anti fungal agent. Generally considered safe but it can cause reactions in some people with paraben allergies.
FD and C Red 40: Used to colour the lubricant. It is a red dye.
Water
PERFORMANCE IN USE
I found that the colour of this lube is not as deep as shown on the manufacturers website, it is quite a pleasing shade of Pink. I applied a generous drop to the back of my hand to illustrate the colour and viscousity of this lube.
SPUNK LUBE Pink is a creamy lube, not too watery and when poured onto the back of my hand it held its droplet shape for quite a while until I tilted my hand to get it to run. It slowly dribbled down my hand and finger much in the way its namesake does.
I really like the look of this product and it feels really good in use, it isn't tacky and lasts a long time before eventually starting to dry out (as all water based lubes do). This is something that I prefer over lubes that leave you feeling slimy afterwards.
I only need to add a small amount to myself before starting to use my Fucking Machines and I generally don't need to add more or revitalise it at all. This is probably because it is a Hybrid lube containing silicone polymers. However if you do find it drying out then a drop of water revitalises it again and you can go on playing.
It claims to be stain free and due to its pink colour I thought I would test this by applying some to a piece of white panties and letting it dry for two days before washing it. The lube came out without leaving any mark whatsoever so it lived up to this claim.
It's a smooth, long lasting lube that is safe to use on all toys even silicone ones. I have used it several times on some of my Bad Dragon toys and they are still in pristine condition. If you are looking for a high quality lube that is a little different then this is the lube for you.
Would I recommend SPUNK LUBE Pink? - " Most definitely". It's a very good personal lubricant that last for a surprisingly long time and is great for use during sex and when using fucking machines.
Summary
Pros:
Long Lasting
Good Consistency
Nice Colour
Does Not Stain
Can Be Revitalised By Adding Water
Cons:
Coloured Lube Might Not Be For Everyone
Not The Cheapest Lube (but excellent quality though)
I bought my SPUNK LUBE PINK 8oz/236ml from www.fmachinefun.co.uk for £13.99
Joanne's rating
WHERE CAN I GET ONE FROM?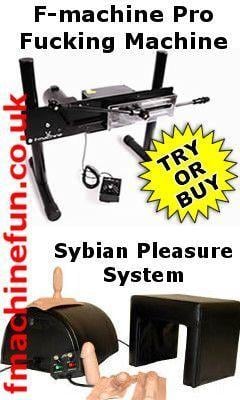 www.fmachinefun.co.uk

This is the site that got me interested in Fucking Machines and Sex Machines and they are a firm favourite of mine for their customer service and great down to earth attitude. Nothing is too much trouble and they are very helpful and a great source of information on sex machines in general.
They are the people that I rented a Sybian and got my F-Machine Pro from.
For anyone interested in trying a Fucking Machine or Sybian out before spending a lot of money on one it makes a lot of sense to check them out. Feeling kinky? Try out a sex machine for yourself in the comfort of your own home.
They run both a shop and a great rental service where you can hire a F-Machine Pro or a Sybian to use in your own home and I can attest to the discreet service that they provide. They include new attachment with their rental machines and you get to keep them so you are safe in the knowledge that they aren't recycling them "Eeew what a thought".
Check them out and don't forget to tell them that Joanne says "Hi".