Delivery and packaging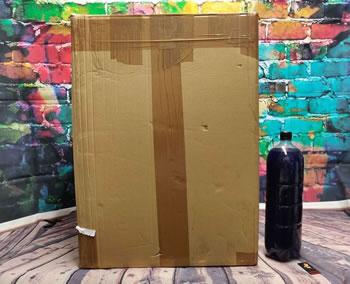 I was so excited waiting for the day of arrival that I nearly pounced onto the huge box that was left on my doorstep by a poor postman, who now has a bad back.
No, I did not jump on the postman, I smiled politely, said thank you dragged in the box, then I almost squealed in delight :-)
As I have come to expect the box was plain, well-sealed and sturdy enough to house the large dildos safely. I was informed when the box had been dispatched, and as always I was ecstatic when it arrived within 48 hours. I am still grateful when the boxes arrive with no markings to say what is inside, as I might give the postie a heart attack lol.
I like the fact that John Thomas Toys package their dildos in minimal packaging. With no need for fancy boxes or packaging, as the dildos speak for themselves. The gold JTT branded stickers are a lovely touch, though.
I enjoy seeing the range of sizes, and will often play a game to work out which one I would like to try first, decisions, decisions. The XL is not typically my first choice but has occasionally been my favourite size. The only downside for me with the largest toy in the range is the sheer weight of it. But please do not let that put you off.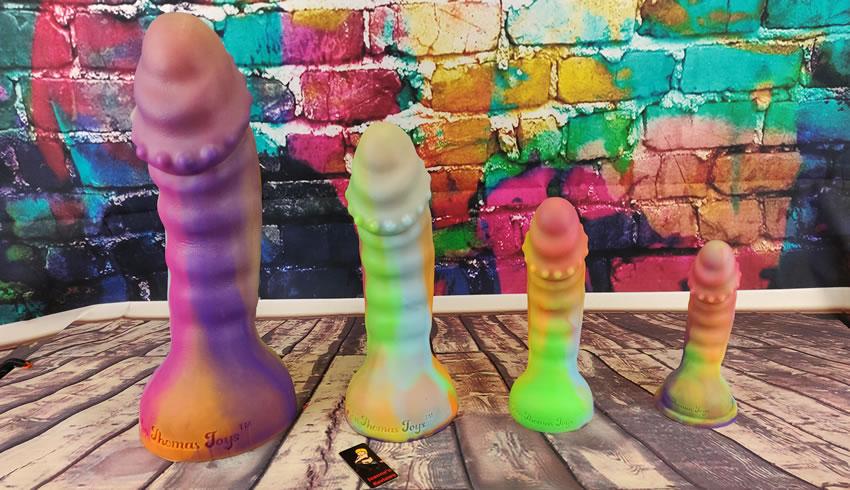 The colours and sizes of these dildos are amazing
Materials and design
Spock's Cock from John Thomas Toys (not the real one that belongs to Spock :-) ) is made from a blend of 100% platinum cure silicone which is poured into copper moulds. This ensures that every dildo will be precisely the same as the last in terms of shape and size.
However, having said that the colour of each of these dildos will be different. This is because they are coloured using a hand pouring technique called fusion, which will make your dildo colouration totally unique.
With a choice of four sizes, they do their best to provide a size suitable for anyone. Just choose the size you think would be best for you.


The XL is an utter beast and a serious challenge for anyone
| * | SMALL | MEDIUM | LARGE | X LARGE |
| --- | --- | --- | --- | --- |
| Length: | 7"/17.78cm | 9"/22.86cm | 12"/30.48cm | 16"/40.64cm |
| Base Height: | 1.6"/4.06cm | 1.8"/4.57cm | 2.4"/6.09cm | 3"/7.62cm |
| Circumference penis head): | 4.5"/11.43cm | 5.8"/14.73cm | 6.8"/17.27cm | 8.5"/21.59cm |
| Circumference (middle of shaft): | 5.2"/13.2cm | 6.8"/17.27cm | 8.6"/21.84cm | 11.5"/29.21cm |
| Circumference (base): | 10"/25.4cm | 11"/27.94cm | 14.6"/37.08cm | 19.5"/49.53cm |
| Max Insertable Length: | 6"/15.24cm | 7.8"/19.81cm | 10.4"/26.41cm | 13.5"/34.29cm |
| Weight: | 0.3kg/0.66lbs (*variable) | 0.58kg /1.27lbs (*variable) | 1.39kg/3.07lbs (*variable) | 3.32kg/7.31lbs (*variable) |
| Price: | £69.99 | £99.99 | £169.99 | £229.99 |
For me, it does depend on the dildo design. Some designs I am only too happy to go straight for the XL, while a few others provided more of a challenge. With Spock's Cock, I decided to play it slightly safer with going for the large one first.
Each dildo comes complete with John Thomas Toys branding on the side of the base. The important extra for me is the velvet feel storage bag which is fantastic.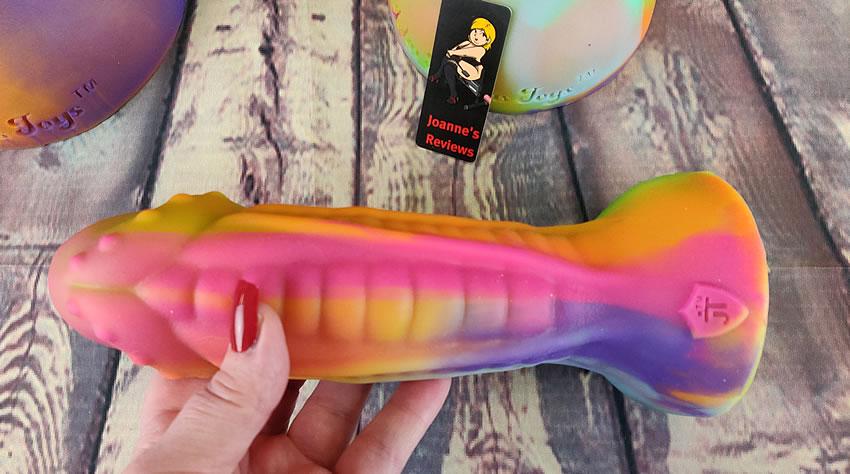 The branding is lovely as are the colours
Silicone as you probably know by now, if you have read my other reviews, is my preferred insertable sextoy material. The fact that it's so easy to clean is a bonus as is the fact that the surface cannot harbour dangerous bacteria.
It's non-porous, latex and phthalate-free and can be boiled or put in the dishwasher, which again is a definite plus in my book. Just remember to remove your dildos from the dishwasher before your mother in law decides to be helpful by doing so. That was an embarrassing moment for both of us, but I digress.
John Thomas Toys have produced another stunning dildo with Spock's Cock. With brightly coloured silicone, this dildo stands out, but not only because of its amazing colours. It's certainly not because it looks realistic, as it certainly does not. This is a fantasy dildo that elicits really kinky fantasies.
There are vein-like ridges that run down the length of the dildo, from just underneath the large glans. These are quite pronounced and slightly rigid. Spock's Cock comes with ridges galore, as you also have the broad and deep ridges along the width of the shaft, starting on the head. There are also smaller less spaced out ones along the sides and the underside of the shaft. Moving on to the rim of the glans, this is not only pronounced, but also has large nodules around the entire rim that feel sublime in use.

The flexibility of this blend of silicone is fantastic but you can still relish all of those lovely textures
The texture of the silicone used is slightly draggy, but I personally prefer this as I enjoy the feel of it in use. The selection I was sent was of medium firmness, my favourite. This makes the dildo nice and firm but with just the right amount of flexibility and squishiness for me. This makes it easy for hand use, but also along with the vac u lock compatible hole, it is perfect for attaching to a fucking machine, harness or attachment to enjoy. This gives you so much choice on how to play.
Performance
I could not wait to try out this fantastic looking dildo and quickly selected the large to try first. As with all silicone toys, I had some trusty water-based lube on hand. I recommend Sliquid H2O or Secret Play Natural, but any water-based lube will do.
Please remember that you should never use a silicone-based lube with a silicone toy, as it can degrade the surface of some silicone toys. Take care of your silicone toy, and it will last for a long time.
As the tip of the head is slightly narrower than the rest, it bulges out as you insert more and more. This makes insertion more comfortable, but also ensures that you get that lovely full feeling quickly. I found that the large glans and the nodules around the ridge would stimulate my G-spot wonderfully.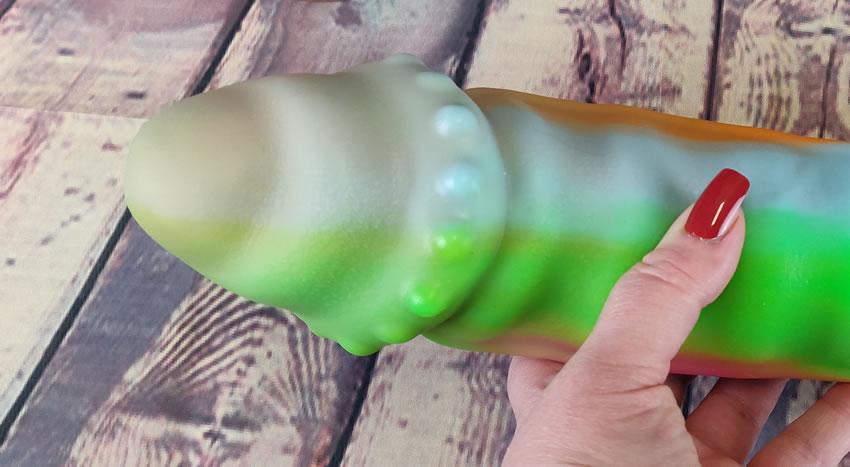 The nodules on the glans of the Spock's Cock dildo feel sublime when thrusting with it
I love the feel of twisting it and plunging it in at the same time. The firmness of the dildo meant that I could feel every ridge and bump as it moved inside me. The broad base gives a great handhold, or stopper if you can take the full length.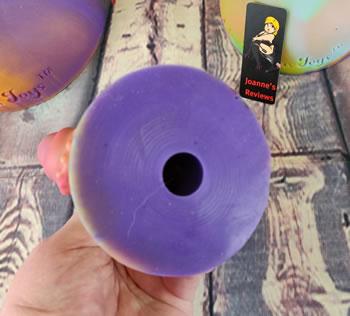 The deep ridges along the shaft give incredible stimulation, I loved the feel of these whether twisting the toy around or thrusting it in and out. The vein-like ridges and the nodules around the glans feel amazing. The nodules are relatively soft, but you still feel them wonderfully once Spock's Cock is inserted.
John Thomas Toys Spock's Cock works brilliantly with any vac-u-loc adapter. My preference is using it on a fucking machine, but I do like to change it up with one of the suction cup adaptors so I can have some bath time fun too. This is also a fantastic dildo for strap-on pegging fun.
It wasn't long before I found myself plunging into my first orgasm when using it for the first time by hand. I then decided to up the game by attaching it to my fucking machine. What can I say, except Yum!
This is one dildo I do not think I will ever get enough of.
But it isn't just me who has been enjoying Spock's Cock, the lovely sub'r' has been enjoying the small and medium. Let's just say using them on a fucking machine in her shaven pussy looks and sounded amazing. The sight of her cumming hard while being ploughed by Spock's Cock was incredibly exciting.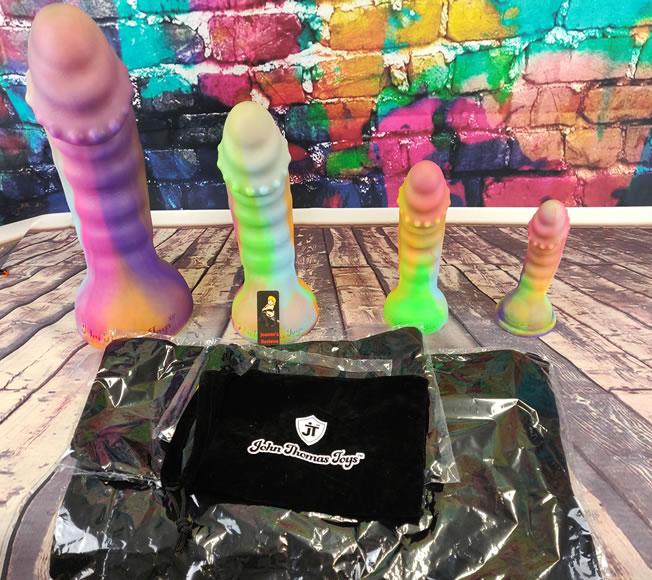 It's so nice to receive storage bags for the Spock's Cock dildos, they are a nice touch
I have no problem enjoying hard and fast or long slow lady wanks with Spock's Cock, and neither does sub'r'. Both of us have experienced some fantastic orgasms on Spock's well-endowed phallus.
This isn't just a dildo for vaginal play, far from it. Any hole is a goal for Spock's Cock, and he is equally happy dipping his Vulcan digit in the pink or the brown. The broad base makes this an exceptionally safe anal sex toy, and it also means you can stand it up and straddle it no matter which hole it is pleasuring.
Once playtime has ended, you can wash this dildo in warm soapy water, in the dishwasher or you could even boil it. Make sure you get any gunky stuff or vag-goo from under the glans and between the ridges. Before you pack it away in the velvet bag, make sure it is thoroughly dry.
Check out Joanne's review of the stunning looking Spock's Cock Silicone Dildo from @JohnThomasToys and see what she thought of this fantasy dildo'.
Click to Tweet
Key Features
Key features:
100% body-safe platinum cure silicone
Four sizes available
Two hardness ratings
Hole in the base for vac-u-lock attachment
Free - Velvet feel drawstring storage bag
Unique colouring in each dildo
Lots of ridges, bumps and nodules
I would recommend it to:
Anyone looking for a body-safe silicone dildo
Anyone looking for a vac-u-lock system compatible dildo
Anyone no matter what size they like, as the four sizes available mean there is something for everyone.
Anyone who loves ridges and bumps
Anyone who loves fantasy dildos
And of course Trekkies everywhere
I wouldn't recommend it to:
Anyone who doesn't like fantasy dildos
Anyone who doesn't like dildos with lots of textures
---
Check Out The Video Review On Youtube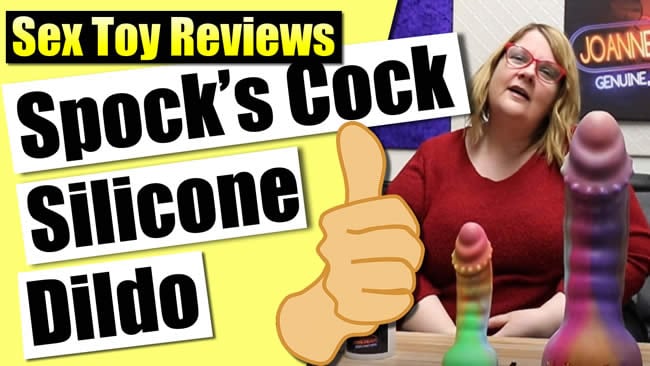 ---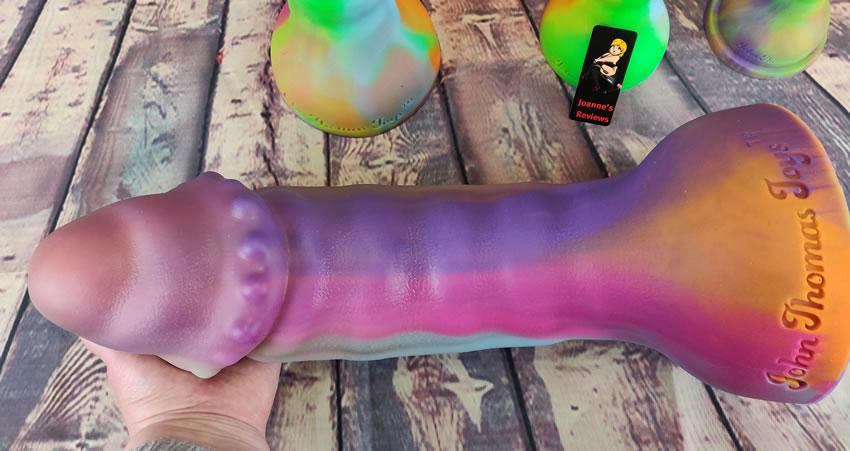 The XL Spock's Cock dildo is eye-wateringly huge
Final Thoughts
This is another fantastic dildo from John Thomas Toys that I have enjoyed reviewing. Spock's Cock is a very colourful dildo with an abundance of ridges to enjoy.
The designer shows that they know what would feel great and look great too. This dildo really does give you a lot for your money. The firmness and vac-u-lock compatible hole giving you so much more leeway on how you want to play.
John Thomas Toys really are fantastic quality, with so many different ones to choose from. Their site is well worth a visit, especially if you want to give one of their delightful creations a home for life.
I was sent these Spock's Cock Dildos by John Thomas Toys, and I would like to thank them for giving me the chance to review it for them.
Joanne's rating
Where Can I Get One From?

Grab one of these stunning looking fantasy dildos direct from John Thomas Toys, with prices starting at just £69.99, with four sizes and two hardness ratings there is something to please anyone holes.
Check them out and don't forget to tell them that Joanne says "Hi".
---


If you enjoyed reading this review then check out my other reviews of John Thomas Toys products:
Silicone Dildos
---
Disclosure
This review does not contain affiliate links, for more information about affiliate links check out my disclosure page.