My Split Peaches Unicorn Dildo arrived in discreet packaging which was lucky as my postie left it with my neighbour as I wasn't home when he tried to deliver it. My neighbour still doesn't know that he is living next door to a sultry sextoy reviewing legend and that's the way I like it LOL.
Inside the well-packaged delivery, I was delighted to find the dildo itself in a no-frills plastic wrapper carrying a US flag together with a Split Peaches sticker and care instructions. I also received a separate Split Peaches sticker that may very well end up adorning my laptop and an informative leaflet from Latex Leather & Lace.
If you ever get the chance to pay them a visit in Barwell, Leicestershire then I urge you to do so. You will get a very warm welcome, and their lovely well-stocked shop is a lot of fun to browse.

I love the minialistic packaging and the sticker.
I love fancy packaging as it makes me feel special but I guess as a customer we pay for that in the products price. No-frills packaging is the way ahead, it means companies can keep costs down, and it is also better for the environment so this dildo ticks my eco-warrior box.
Split Peaches are renowned for being one of the earliest companies to adopt an all body safe product approach to their creations and all of their products are made out of the finest materials.
Their dildos are made out of 100% Platinum Cure Silicone and in my opinion, this is by far the best sex toy material as it is body-safe, hypo-allergenic, latex and phthalate free and non-porous.So that is two big thumbs ups so far, minimalistic packaging and body safe materials.
While on the subject of the silicone, this blend is quite draggy and so I would recommend using a good quality water based lube. I find that some lube is useful at the start of a session, but once I get aroused my body fluids take over, and I don't need to top it up.
If you want to try a hybrid lube instead of a water-based one, then try a small amount on the base before observing it for any reaction. That way if you have a problem you don't damage the main surface of the toy.
Cleaning is simplicity itself, just wash in warm soapy water to get rid of any vagoo and then clean with an anti-bacterial sex toy cleaner. You can also boil it, but if you do then wrap it in a tea towel to stop the silicone touching the metal of the hot pan. Or you can clean it in a 10% bleach solution or even throw it into the dishwasher.
Top Tip: Always remove your unicorn dildo before your Mother-in-law helps out by loading the dishwasher for you as it will prevent embarrassment, trust me as I know what I am talking about here.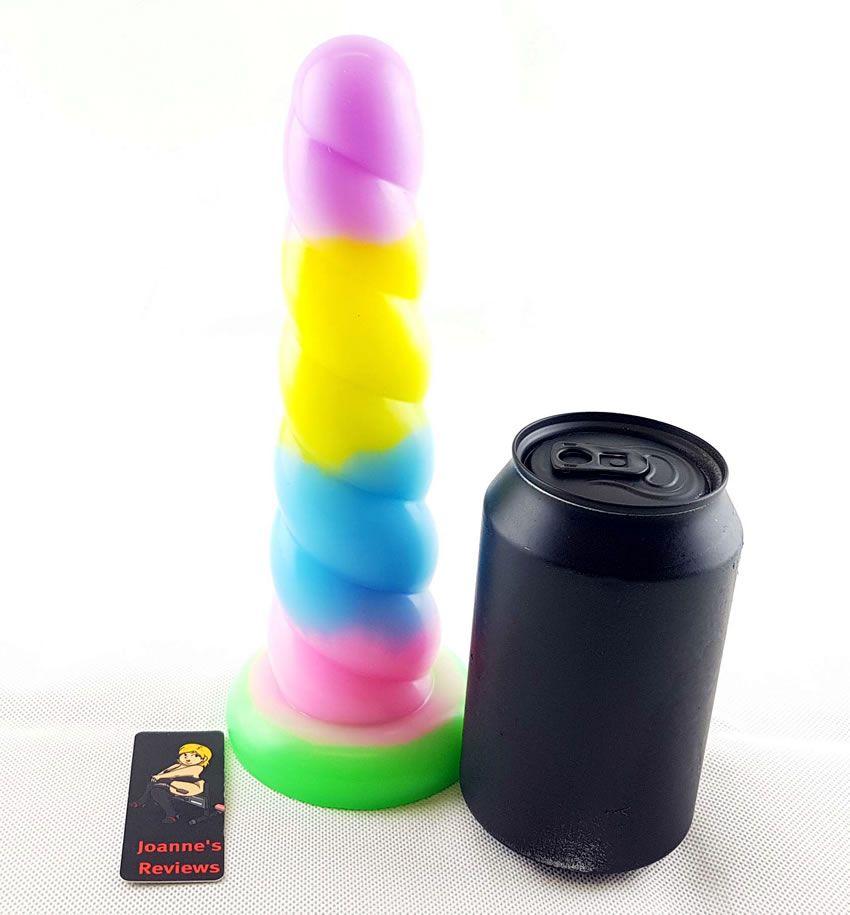 This dildo looks incredible with its bright colours and flutes.
This dildo has a dual blend of silicone, it has a firmer core and a softer outer coating, this gives it a very lifelike feeling, and it feels great to squeeze. The springy inner core gives it good rigidity while the outer layer makes it very comfortable and flexible. It is a bit of a dust and lint magnet though but that is common to a lot of silicone sex toys, and a quick rinse under the tap cures that problem. It is a small price to pay for safe body materials.
Split Peaches dildos are all hand poured which means that each is a handmade work of art and no two are the same. When you buy a Split Peaches dildo, you are getting a one of a kind piece of dildo art, and that is something I love about small batch sex toy companies. Nothing is mass produced, and everything has had care and attention given to it through the whole manufacturing process.
The design of the Unicorn dildo is mouthwatering (something else starts watering on me too I must admit). It reminds me of the fun I used to have as a child playing with plasticine. I would roll a long thin string of it out and then fold it in half before twisting it to make silly things - like unicorn horns. Oh, how life has a funny way of taking things full circle. The plasticine analogy correctly describes how this dildo looks, and it is brilliant in its simplicity.
As it is a horn, it has a straight shaft and while I usually prefer dildos with a curve for added g-spot stimulation the ridges and flutes on this dildo more than makes up for its lack of a curve.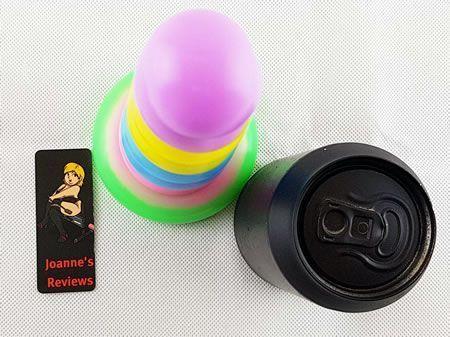 It's wider at the base than at the tip, and this makes it a lot of fun to use as I will describe in a moment.
It's available in three sizes together with two colour schemes at the moment both of which are stunning. It comes in rainbow colours almost giving it an LGBTQ+ pride look to it, and I love that.
I have the pastel version which as you can see looks lovely in its subtle colouration while the rainbow colour version is very vibrant in true unicorn fashion.
I love using it vaginally. Why? Well, because I have one and it's a lot of fun quimsticking with it. There's nothing stopping you enjoying some good old fashioned unicorn anal fun too with this dildo, and if that is your thing, then I encourage you to do so as it would feel very intense.
Just don't switch back and forth between the two without some form of barrier protection as let's just say you don't want bacteria transferring from your back door to your front door.
I have the medium and it has an insertable length of 8"/20.3cm and at the base, the shaft has a diameter of 2.25"/5.7cm which is nice and filling.
The small measures in at 6"/15cm of insertable length and 1.6"/4cm diameter at the base. While the large measures in at 10"/25.4cm of insertable unicorn-ness and has a diameter of 2.8"/7cm at the base.
The well-rounded tip makes insertion easy and a delight. As you insert it, the flutes generate a lot of sensations, especially when you thrust with it. You can vary the feeling of this dildo by screwing it into you rather than thrusting with it, and that feels very nice.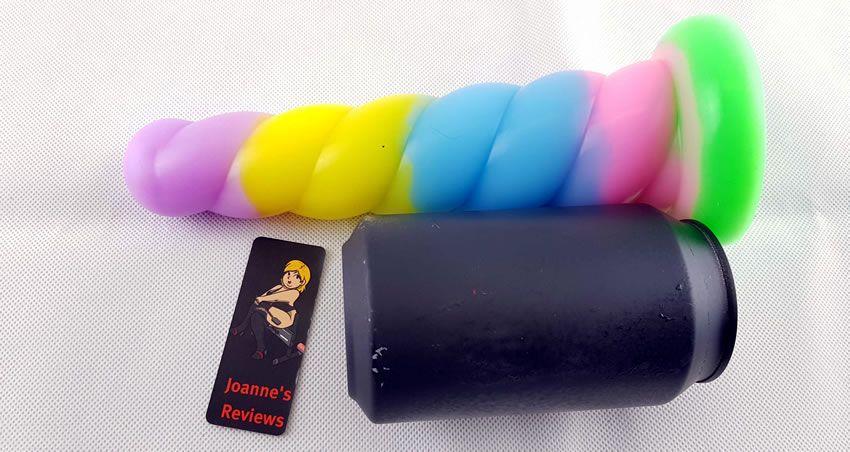 The gently tapered shaft openes you wider and wider.
The tapered body means that as you take more, you are stretched open wider and wider, and that is a fantastic feeling. Start by gently thrusting with just an inch or so and then gradually take more and more to see how far you can go.
I love the way that as you insert it deeper, it drags at the entrance to your vagina creating even more delightful sensations. This is one of those toys where you think you can take no more and then you suddenly get the urge to try taking it a bit further. It's very more-ish.
The twisting flutes coupled with its fantastic colours give it a striking look, and these flutes are very useful in use, you may need more lube than usual because of them, but they hold the lube and keep applying it where you need it most.
The flutes create bumping sensations as you thrust it past your g-spot and this feels incredible, and for a dildo not aimed at the g-spot audience, it pleases in that department too. After using this, you will be in no doubt that you have just been unicorned.
The only thing better than fucking myself with this dildo is fitting it to one of my fucking machines and laying back while letting it do all the work.
The broad base makes it stand up on its own if you want to use it by squatting over it or on all fours and it is also strap-on harness compatible. I used it in my Aslan Leather Driver Strap-on Harness, and it looked fantastic wobbling about as I wriggled my hips. This is a unisex toy that is perfect for all genders to enjoy and I am glad that I have finally managed to review one of these fantastic creations.
Experience a little Unicorn magic between your legs with the Split Peaches Unicorn Dildo from Latex, Leather & Lace @LatexLeather.
Click to Tweet
Key Features
Key features:
100% body safe platinum cure silicone
Three sizes available
Two colour options available
Tapered shaft for amazing sensations
Twisted design gives lots of texture
It's a Unicorn Horn!
Final Thoughts
This is a magical dildo that comes in two vibrant colour schemes, and with the three sizes, there is one that will be a challenge to anyone's orifices. The tapered shaft is one of my favourite things about this dildo, and the other is the flutes as they provide bags of texture and sensations in whichever orifice you decide to pleasure.
I am delighted to be able to recommend this fantasy dildo to anyone, go on step out of the closet and announce to the world that you like unicorns. I love them, and this dildo does them justice.
I was sent the Split Peaches Unicorn Dildo by Patrick at Latex, Leather & Lace and I would like to thank him for giving me the opportunity to review it for them.
Joanne's rating
Where Can I Get One From?
Grab one of these incredible dildos from Latex Leather and Lace for just £64.99 which is cracking value for money.
Check them out and don't forget to tell them that Joanne says "Hi".
Disclosure
This review does not contain affiliate links, for more information about affiliate links check out my disclosure page.